Can-Am Will Return To Motorcycle Market With Electric Bikes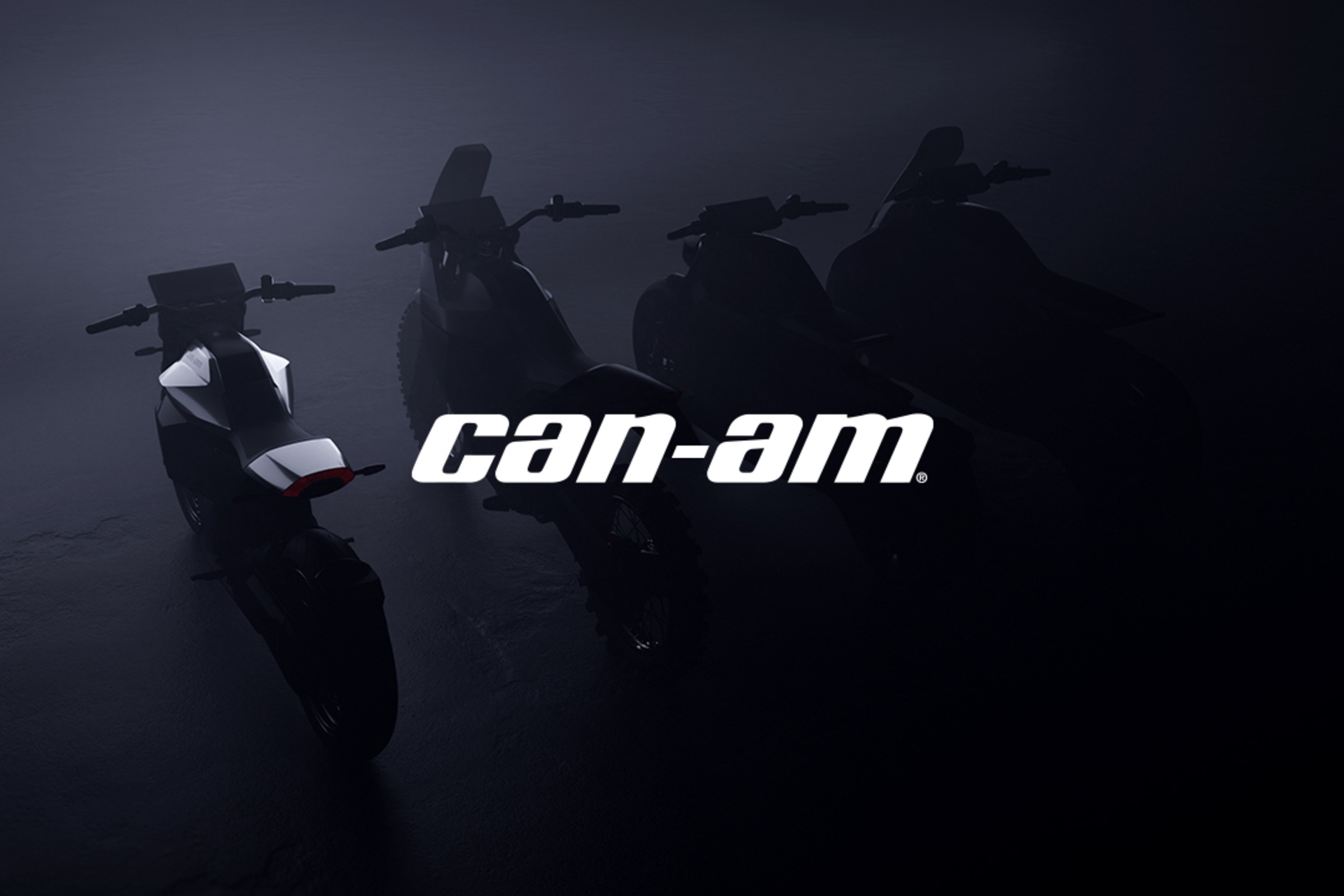 News popped up over the weekend than Can-Am, a pioneering brand during the growth of motocross in the 1970s, would return to the two-wheeled market soon with a new series of electric-powered motorcycles. Little is known about the bikes besides a PR with few details and a shadowy image showing a few bikes. However from what we can tell the new line will include street bikes and off-road recreation machines, but not a full-competition motocross-type bike.
Can-Am as a brand stopped producing motorcycles in 1987, but its parent company, BRP, is still very active in the powersports market with Can-Am ATVs, side-by-sides, Ski Doo snowmobiles, Sea Doo watercraft and more.
As a motorcycle brand, Can-Am experienced great success in the 1970s, including taking the 1974 AMA Supercross Championship with Jimmy Ellis.
The announcement of these electric motorcycles is timed to celebrate the brand's 50th anniversary. The company says the complete lineup of bikes will be available in 2024.
The press release is below:
BRP ANNOUNCES THE RETURN OF THE CAN-AM MOTORCYCLE WITH AN ALL-ELECTRIC LINEUP
Valcourt, Québec, March 25, 2022 – BRP Inc. announces today that the iconic Can-Am brand is returning to its motorcycle roots with a product line-up that will be completely electric. To mark the 50th anniversary of the beloved Can-Am brand, the Company will launch a family of electric two-wheeled motorcycles.
"With the motorcycle industry shifting to electric, we saw an opportunity to reclaim our motorcycle heritage and to re-enter the market. This new product category is extremely important to us, and we are thrilled that Can-Am motorcycles are the first EV models in BRP's electric lineup to be confirmed to consumers. Many of us have very fond memories of riding the early dirt bike models, and now we look forward to building on the rich history of the Can-Am brand to inspire and impress a new generation of motorcyclists and electric vehicle enthusiasts", said José Boisjoli, President and CEO of BRP.
The first Can-Am motorcycle was introduced in 1973 and immediately reigned over motocross and endurance racing. The instant success elevated the brand to an iconic status right from the start. Half a century later, the new products have been developed with many different riders in mind, more specifically for those who crave adventure, seek the thrill of the open road, long for a quiet ride in the country or want to liven up the city streets. Riders can expect these new state-of-the-art electric Can-Am motorcycles to be perfect for everyday commuting and, to stay true to the track & trail heritage of the brand, recreational on and off-road riding.
Such a product category has been highly anticipated and expected from BRP's customers and dealer network. The Company is therefore looking forward to bringing this new electric product lineup to its dealers' showroom floors, further solidifying their financial strength and reach in key markets. The first models of the complete lineup are expected to be available in mid-2024.
BRP's existing dealers who are interested in carrying this new product line should contact their District Sales Managers. Those who are interested in becoming a BRP dealer for electric motorcycles are invited to submit a request on the company website.
About BRP
We are a global leader in the world of powersports vehicles, propulsion systems and boats built on 80 years of ingenuity and intensive consumer focus. Our portfolio of industry-leading and distinctive products includes Ski-Doo and Lynx snowmobiles, Sea-Doo watercraft, Can-Am on and off-road vehicles, Alumacraft, Manitou, Quintrex boats and Rotax marine propulsion systems as well as Rotax engines for karts and recreational aircraft. We complete our lines of products with a dedicated parts, accessories and apparel business to fully enhance the riding experience. With annual sales of CA$7.6 billion from over 120 countries, our global workforce is made up of close to 20,000 driven, resourceful people.