Anaheim, CA
Anaheim 1 (A1)
Monster Energy AMA Supercross Championship
Monster Energy/Star Yamaha Racing's Christian Craig won the opening round of the 2022 250SX West Region Championship on Saturday night in Anaheim, California. It was a repeat of his feat from last year where he won the opening round of the 250SX East Championship in Houston back in in January of 2021. But this win felt different in the way Craig carried himself all day long. He topped every practice and qualifying session, won his heat race rather convincingly, and followed it up with a dominant main event win as well. With so much chaos around him with riders getting injured at the first round, Craig was nearly flawless and carries the red plate with him into the second round yet again. After the race, Craig spoke with the media via Zoom about the victory.
Christian, we talked yesterday about how important this race was just to kick things off and start strong, but for more important reasons. Just being a three-year-old kid and being here all those years and never winning the opening round. So, now that it's settled in and the emotions, we're past that stage, what does it feel like now that you've been with the family and been able to process everything?
Christian Craig: It's been awesome. Last time we were here I was laying on the ground with Dylan [Ferrandis, at the 2020 Anaheim 2 Supercross]. So, to back it up, come back and get a win with the fans back, it's been awesome. It was a perfect day for me. Every practice, heat race, and the main. The only thing I didn't execute was my start, but we'll work on that. I think my riding is good. I'm strong. I'm fit. So, I'm ready to contend for this title and bring it down to the end.
It's been a long journey for you. The championship is a process, obviously. What did you learn about yourself and the process last year that is going to help you get a little bit closer this year and close it out?
I think just riding smarter. I had that red plate last year, but I've never had it before. So, I think I was riding over my head quite a bit and made some mistakes. Then obviously I got hurt with two rounds left. So, just be smarter, be more controlled, and work on my weaknesses. I think that's the biggest thing. I feel like I'm plenty fast. It's going to be a battle to the end. I don't think it's going to be an easy championship at all, but I expect to be up front and battle every weekend.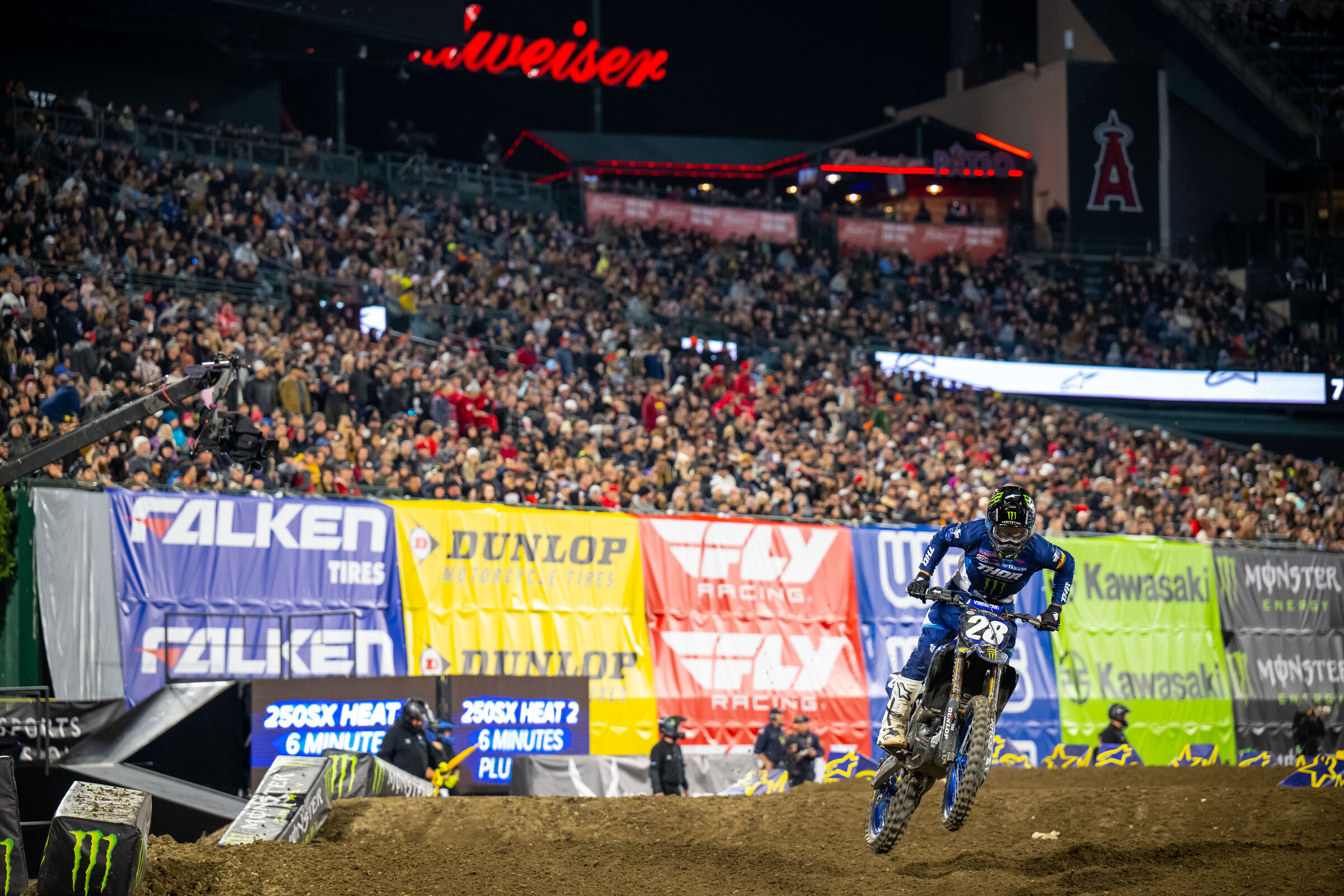 What about your personal adversities? What did you learn about yourself during that process?
I would say last year when I won the opener, that was a lot more emotional. That was just so much weight lifted off. This one, as special as it was for the opener and the fans back, I wasn't as emotional as last year. I still got to soak it in. It's a bucket list for me. Growing up here and coming to this race every year, it's cool to check this one off the list. It's a dream come true, for sure. We'll try to keep it going.
Tell us about those early laps and working yourself into the lead and having to pass Vince. It looked like you used your experience on when to make a move and that sort of thing. Tell us about that.
Like Hunter [Lawrence] said, the gate flinched. I had Jo [Shimoda] next to me and he hit the gate and I almost hit it. So, I just missed that. So, I didn't have the best of starts. I made my way through the pack pretty quick. My first couple laps I hit a couple hay bales in the whoops. There was a three, I went too far and hit a hay bale. After that I really had to step back and focus on myself. So, after that, I battled with Seth [Hammaker] a little bit. Made the pass and just tried to ride my race. You could only push so hard on that track. It was biting a lot of people. Unfortunately, my teammate had a big crash in his heat race. it sucks to see that. Especially when I was on the line, I had to watch that. It's tough. Just the track was tricky. Whoops were tricky, but I think that was my strong point. I was blitzing them all night. We came out with the win.
In the last year you've moved to the East Coast, so the dirt is a little bit different there, and training at the Star farm. Coming back to the West Coast tonight, the track seemed to deteriorate a little bit more. It seemed to be a little bit softer. Is that something that helped you a lot more, moving back from the East Coast?
Yeah. I'd say moving to Florida helped me a lot with a track like this tonight. Breaking down, getting rutted and G'd out. It's similar to our Florida tracks where it has a little bit of a hard base but also gets rutted. A few years ago, I just rode Corona test tracks. I'd probably be lost out there. So, to have that in my back pocket and feel comfortable in those conditions, I think that's key.
Supercross
| | Rider | Time | Interval | Best Lap | Hometown | Bike |
| --- | --- | --- | --- | --- | --- | --- |
| 1 | Christian Craig | | 16 Laps | 0:59.465 | Temecula, CA | Yamaha YZ250F |
| 2 | Seth Hammaker | | +05.625 | 0:59.566 | Bainbridge, PA | Kawasaki KX250 |
| 3 | Hunter Lawrence | | +06.054 | 0:59.908 | Landsborough, Australia | Honda CRF250R |
| 4 | Garrett Marchbanks | | +08.160 | 0:59.944 | Coalville, UT | Yamaha YZ250F |
| 5 | Vince Friese | | +26.635 | 1:00.110 | Cape Girardeau, MO | Honda CRF250R |
Full Results
Obviously as you put it, you basically had a perfect day. Did you almost surprise yourself a little bit with how fluid and smooth everything went throughout the day? It didn't seem like you really even put a foot wrong all day long.
It's just such an unknown with round one. You think you're ready, but until that qualifying session, you don't know where you stand. Someone could always come up and surprise you. To have those fast laps and put those lap times down, I think that gave me confidence for the rest of the night. The 250 class is wild. Anything can happen. To have one of those days, it's special. They don't come very often. So, I try to soak it all in.
You've been in this class many years now. You've been to many A1's. I heard you mention on the podium just looking up at the stands how long you've been thinking about this, how long you've been dreaming about this. Really just to simply put it, is this the start of a season you've always dreamed of? What do you think it's going to take to take that momentum from here and carry it here through the rest of the season?
I mentioned earlier, it's a bucket list. It's something I dreamed of for a long time growing up around here. I've said it a couple times now, but it's special. It's something I wanted to check off for a while. I've had some decent rides at Anaheim, but I've had some very bad ones, too. To finally stand on that top step is special to me. I won the opener last year and held it for a few rounds, but this is different. I know what it's going to take. I watched my teammate do it last year, so I know what I need to work on and be consistent. I said this before, but it's going to be a fight to the end.
Watch the full post-race 250SX press conference below: