Mechanicsville, MD
Budds Creek
Lucas Oil AMA Pro Motocross Championship
Since returning from the two-weekend break in Lucas Oil Pro Motocross, Honda HRC's Ken Roczen has generated 1-1-1-2 scores in the last four motos. That stretch is not a shock for someone of Roczen's caliber, but it does jump off the page when you factor in his previous four rounds prior to the break where he only collected one moto victory from eight motos. The break seems to have reset Roczen in the right direction down the home stretch, and Budds Creek was just about 15 minutes shy of another 1-1 performance. Unfortunately, his championship counterpart Dylan Ferrandis has nearly matched him and his 2-1 at Budds Creek gave him the overall. Still, Roczen had plenty to be happy about with his day at Budds Creek, and he spoke with the media afterwards via Zoom about it all.
Ken, a great start to the day and then a really great second moto. I think everybody can agree that was quite the battle that kind of unfolded between all four of you guys in that moto, and then you and Dylan [Ferrandis] kept it tight there at the end. Go through the day for us and describe how you're feeling about your performance today at Budds Creek.
Ken Roczen: I felt pretty good all day. Obviously, the conditions in the morning were a little bit tricky. I guess we got a lot of rain on Thursday and Friday, so it made it tough in the morning, but Jason [Baker] did really good with the track. I think he widened out some parts of it. My races also went really well. The first one I could hold everybody off for first place. The lappers were definitely a struggle this weekend. I think the track being at least a little bit shorter, I think we were all cramped up in a tiny spot. So, I struggled with that in the first moto big time. My lead got cut down pretty good, but I held onto it. In the second one, I got the holeshot and just tried to stay up front as long as I can. I struggled a little bit with my bike setup today. It wasn't ideal for the conditions. It was pretty unstable. I just rode to what I was comfortable, and it was enough for a second place and second overall. So, I'm actually pretty satisfied. Obviously didn't make up any points, but at the same time, we rode well, and we gave it everything we had. That's really all I could do.
The mutual respect and the camaraderie almost between you and Dylan battling, it's really fun to watch. Talk about racing with a guy like that, that you have mutual respect for. You guys ride clean. I would assume it makes the racing a lot more enjoyable.
Yeah, absolutely. All year I feel like we've done a really good job on getting the crowd what they want. He's obviously going really well right now. He's a tough competitor and really difficult. Even when I'm on my good days I don't really make up that many points, if any at all. Today was a pretty good day for me, besides maybe with the bike setup. In general, I didn't make up any points and we have less and less races to go. At the same time, it's enough time for something to happen and to make it interesting, but it is what it is. All I can do is focus on myself and what's going on in my camp over here. Obviously, we have a lot of respect for each other. He's riding so well right now, it's tough.
In that second moto when Dylan makes that pass, is there not another line that is available or an option? Is the bike maxed out at that point? What limits you from overtaking Dylan in that second moto?
I knew he was going to come up the inside. I noticed it right away at the top. So, I just tried to actually slow down a little bit and hit my mark really good and see if I could make the run for it somehow coming back up to the step-up. Especially in that scenario also going down the hill and with how rough it was, my bike just wasn't simply stable enough for me to send it down there a little bit more. I was losing everywhere going down the hill. So, that was probably my bad side today. I still tried everything to not get into those situations, but it is what it is. We gave it our all and he made the pass stick. I made a run again actually with two laps to go or so. I actually got super close again, but I just got messed up by a lapper again and it put just enough of a gap in-between us where I just couldn't do anything anymore.
With it being a hot race, do you try to go out there to make a statement or impress anybody? You're going out there and doing it for yourself, but do you feel like people can kind of lay off of you with the comments that you won't be able to perform when it's hot? What are your thoughts on when people say stuff like that?
I haven't really heard any of that. I train in the heat as well. You need to be robust enough to make it through, but the pace is just super high too. When somebody is gelling with the bike… I'm there with Chase [teammate]. When you're not really feeling that comfortable, it wears you out a lot more. I felt like in both motos I really had to muscle the bike around to be able to go at the speed that we went. Of course, that makes it tougher towards the end of the moto. So, we're definitely just trying to make the bike better and make it easier on ourselves as well, so we don't have to force things so much. I struggled, especially today, with just being precise for that reason, just because my bike was bouncing all over the place. I had to leave a few tenths on the track in certain spots. So, I wasn't too happy about that. We have to try to do as good as possible. When you're already in such a good position, it comes down to some grit. I also know coming to Budds Creek it's not even like the temperature, the actual number that is ever really that hot, but once the sun comes out and wherever you are at the start gate, there's just no breeze. We all have fans and umbrellas and gloves and helmets, so there's a lot of stuff we're carrying around. That place, when you see it's in the mid-80s, you can prepare yourself for a pretty miserable day.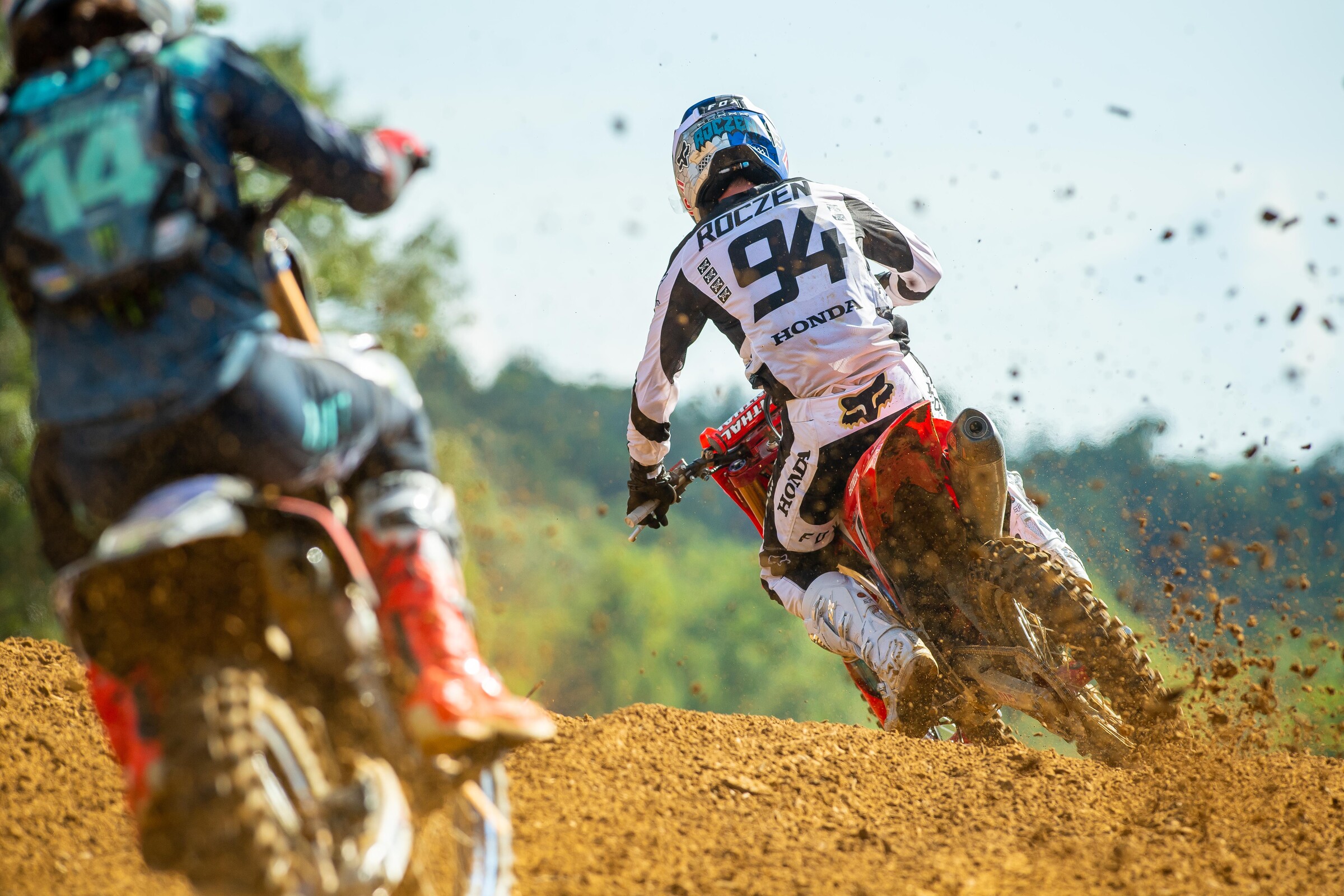 Both you and Chase kind of talked about the comfortability with the bike. Are you guys talking and feeling similar things you need to work on, or is it you're feeling something different from him? Are you guys bouncing ideas off one another?
I definitely think we're complaining about the same thing. It's been a bit of a struggle in general this year just because the suspension ships out and it just sometimes doesn't show up in time when we need it to. I have not really been testing at all. I've been on the same setup for quite a while. I made some bigger stabs at it clicker-wise. Basically, in the first moto, I rode the exact same bike as I did in Unadilla, but I didn't nearly like it as much as I did in Unadilla. It wasn't ideal there either, but I definitely struggled with it more today. Obviously, the track, certain areas are deeper, and you have rutty sections. That really pulls the bike down. Having the bumps in the ruts, too. I definitely felt like I had not enough stability there. It's a difficult situation to be in, because if we were to be in California, we could test and that kind of stuff. But being in Florida, I've kind of just been sticking with what I have and try to muscle my way through, at this point.
We know that guys have different strengths at the beginning and the end of the motos. How much does strategy come into play during moto one and moto two?
Really the only strategy there is, is trying to go as fast as you can but kind of conserve yourself and find a decent flow and keep up your momentum. If you're trying really hard, like you're doing in qualifying practice, it can definitely wear you down pretty quick. At the same time, the top guys are strong enough where you can't slow it down too much. It's pretty much wide open all the way until the end. So, you've just got to kind of go and make it as long as you can.
Monday night you were on Pulp, and you were talking about having some bad races here and there. That's really been what has hurt you this year, obviously. We know you had a great supercross season and a great outdoor season so far, second overall in supercross, second outdoors. But, when you say, "it is what it is," does the team or anybody at the team – I know you don't mean it as you don't care, but does anybody [on the team] say, "It isn't what it is – we need more"? How do they react to that?
No, I definitely don't say "it is what it is" in a way that I'm just leaving it. For me to try a shock and a set of forks, it takes two weeks because after certain comments, they try and get some stuff out and then usually you can ride on a Tuesday or a Wednesday but then you're going to the race. When you test, you can't always expect to hit it on the mark. So, if that ain't it, you go into the race and then it's not like they can also just ship shock after shock after shock. There's only so much equipment there. So, sometimes if you have a bunch at your place, you have to send some back and you have to build something and send it out again. It just all takes time. The weekends just kind of pass and if you're not hitting it on the mark – because you also have to prove it in the race and be comfortable in race conditions. Realistically a day of testing in California, for example, or if the team is here, is obviously a lot more valuable than them just sending a shock. Obviously, we try to hit precise marks what to change, but still, what in theory makes sense doesn't always end up being the same on the track. Before you know it, four races have gone by and you've tried two shocks, a couple of forks. If that isn't it, you've just got to keep going. So, we're just a little bit limited. I think it's difficult for anybody, really. If you're not in California the whole entire year to be able to test, then it makes things difficult sometimes. Obviously, it's good enough for me to win on it. It works better at certain races than others, but for right now at least what I know. It's also valuable when you have a set of suspension that might not be ideal, but at least you know it and you've won on it, and you've raced well with it. So, it's not always a bad idea to for now stick with what you have. If it's not a definite, "Yes, this is way better," and you've fixed all these areas. There's always a fine line. It's difficult to hit the marks, for sure.
---
Watch the full 450 class post-race press conference from Budds Creek: