Hurricane Mills, TN
AMA Amateur National Motocross Championship (Loretta Lynn's)
Amateur National Motocross Championship
The first day of racing for the 40th annual Monster Energy AMA Amateur National Motocross Championship at Loretta Lynn's Ranch is in the books. Here are some key takeaways from Tuesday.
From out of the top ten to the top: You never know when it's going to click. In 85 (10 -12) Limited, relative unknown Kannon Hargrove grabbed the holeshot, but Seth Dennis got him, but then Hargrove passed him back. Dennis, riding with a bit of an arm injury, made a few mistakes, allowing the likes of Klark Robbins, Deacon Denno, and Caden Dudney to battle for second, third and fourth. Dudney finally locked down the second-place position and went after Hargrove. Dudney applied the pressure, but Hargrove went on to win the moto. On the podium, Hargrove explained that he's not only never made the podium at Loretta's before but had never even "been under the tent" (top 10) in a moto before. Now he's won!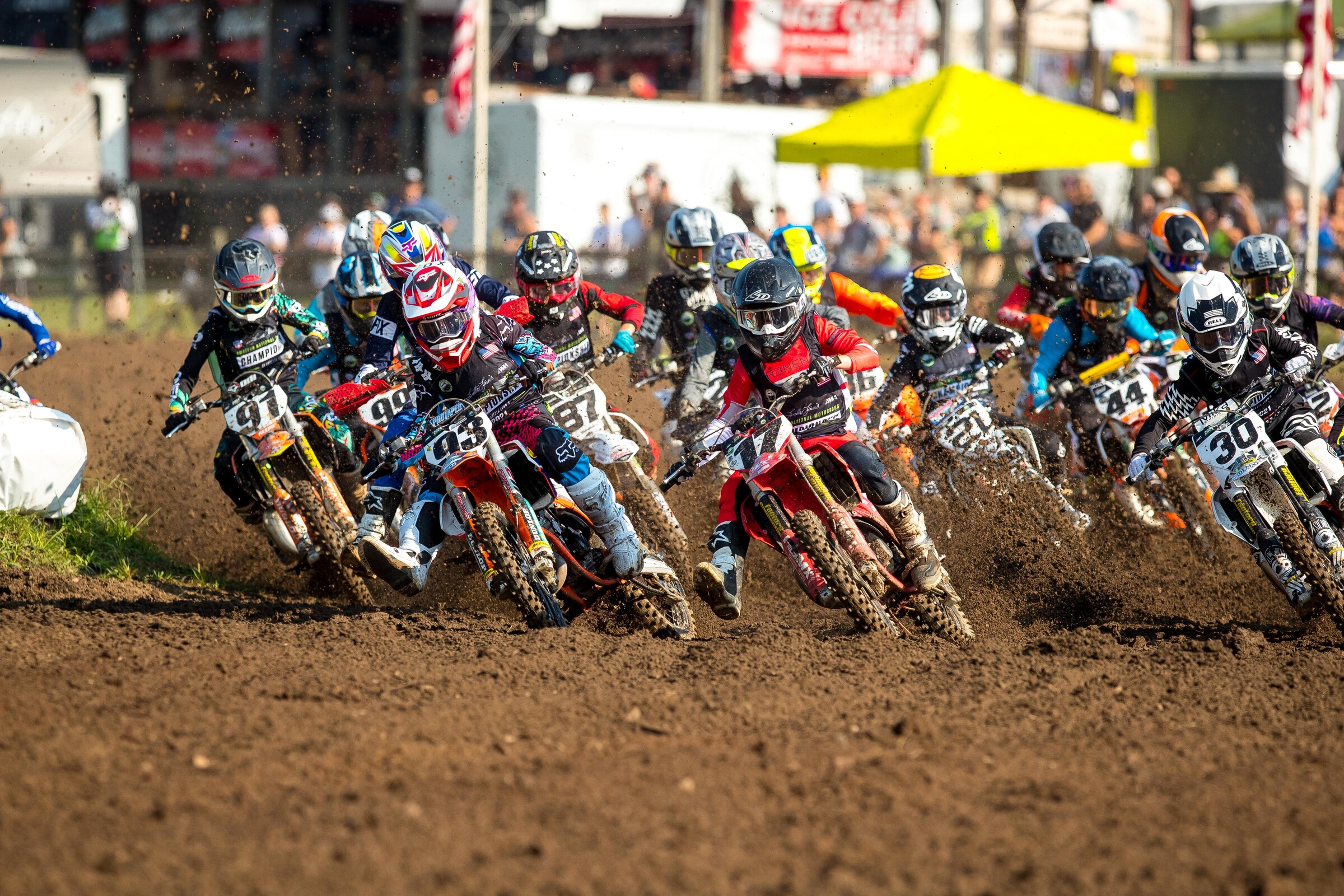 50 + 150: This year's 50 plus class will be fun to watch with familiar names like Jeff Emig, Keith Johnson, Kevin Walker, Kurt Nicoll, Barry Carsten, and more in this one (and then watch for 45+ later in the week when Mike Brown and Ryan Hughes are added to the mix). Billy Fasnacht grabbed the holeshot in the first 50 plus moto and was under pressure from Johnson and Emig. Emig snuck by Johnson and then Fasnacht crashed, putting Emig in the lead. Johnson kept it close right to the end, keeping the heat on Emig, but 'Fro won the moto in his first visit to Loretta's since 2006. Also, Emig is racing a Husqvarna 150 two-stroke. It was a popular win for many reasons.
Near Heartbreaker for Ferry: Evan Ferry is here armed with some potent Rockstar Energy Husqvarna 125s and is looking to go next-level for his Loretta's career. He almost did it. Collin Allen grabbed the 125 (12-17) B/C holeshot but Ferry was quickly around him to take the lead and take off. Mark Fineis, also looking for a breakout week, got to second and the lap time battle with Ferry began. They traded fast laps until Ferry started making mistakes, then hit neutral, and lost the lead. Then, remarkably, Ferry instantly wicked it back up, repassed Fineis within a few corners, and pulled away. In fact, Ferry had a bigger lead at the end of the lap where he hit neutral than he did on the previous lap. It all seemed right for Ferry until the final lap, when he went down, handing the win to Fineis. Ferry, meanwhile, was fighting back tears on the podium, because while he held on for second, his hand appeared injured. Turns out that it hurts but it isn't broken. Going to be an interesting week to watch the 125s.
Kitchen Serves Notice: Don't pay too much attention to the 250 Pro Sport results. Levin Kitchen dominated the moto handily (winning by 15 seconds), living up to the hype that has surrounded him since he dominated his B class motos here last year. But, after holeshotting, pulling away and winning big, he was later penalized two spots for jumping past a red cross flag. So that's actually a third-place finish for Kitchen. The moto win goes to Bar X Suzuki's Preston Kilroy, who put in an impressive ride. Austin Black gets second, Kitchen is officially third, and then Jett Reynolds was fourth after a bad start. Shout-out to Chance Hymas, who was 38th after the first lap, but kept charging every lap through the checkered flag. The Team Green Kawasaki rider eventually made it inside the top ten before finishing seventh. If Hymas is closer to the front at the start of moto two, watch for him to contest for race wins.
The New B class: Kitchen went next level after winning in B last year. Nate Thrasher also raced B a year ago and now has two supercross wins to his credit as a full-time pro. Hymas raced B last year and also won Schoolboy 2, and now he has the attention of a lot of teams. These classes get a lot of attention. Who will take advantage this year? KTM's Caden Braswell was going fast coming into the race, he got the early lead and looked good until he fell. Daxton Bennick had a good start but dropped back, and Nick Romano jumped to the lead. Romano was in the fight at the front of this class last year and is a favorite to win, but Gage Linville wasn't settling, and he caught Romano and turned this race into a battle for the win. Linville passed Romano momentarily, but Romano got him back to snag the moto win. Expect more battles in this class as the week goes on.
Supermini Showdown: Of course, you all know there's hype around Haiden Deegan. He pulled a huge holeshot in his first Supermini moto but went so wide in turn one he lost the lead for a moment, then got it back and immediately pulled a huge gap by the end of the first lap. So who is the Deegan challenger? Look no further than Casey Cochran, who got to second (despite a bad gate pick) by the start of lap two, and he matched Deegan's speed stride for stride to the end. Look for some fireworks if these two get off the gate together as the week goes on.