Southwick, MA
Southwick
Lucas Oil AMA Pro Motocross Championship
Since Anaheim 1 of 2011, Eli Tomac and Ken Roczen have been lining up on the starting line in the same races. They've won a ton of races since then, and at Southwick on Saturday they ended the day taking the top two spots in the second moto.
It wasn't enough to win the overall, though, because Dylan Ferrandis continues to roll. Ferrandis' 1-3 scores carried the day, Roczen went 4-2 on his Honda HRC machine to take second, and Tomac went 8-1 for fourth overall. Roczen and Tomac sit second and third in points.
What do they need to do to catch Ferrandis? They're both trying to figure that out. They spoke with the media after the race.
Ken Roczen | 4-2 for second overall
What are your thoughts on the championship and the points?
Ken Roczen: I honestly don't even know what the championship gap is right now. I need to just simply find myself in front of Dylan a lot more often. But, we still have half the season, I think just a race over half left and that's plenty of points for grabs. Of course, we have to stay mistake-free but he does as well. There's other riders in the mix as well. I'm just going to continue doing what I'm doing and go from there. I can't really complain about it right now. I feel like supercross and motocross combined, I've been one of the more consistent riders out there, but right now I need to stick it out there and kind of start winning a little bit. I'm not putting any pressure on myself. I honestly just have been enjoying the battles that everybody has had. So, we'll just continue doing what we're doing.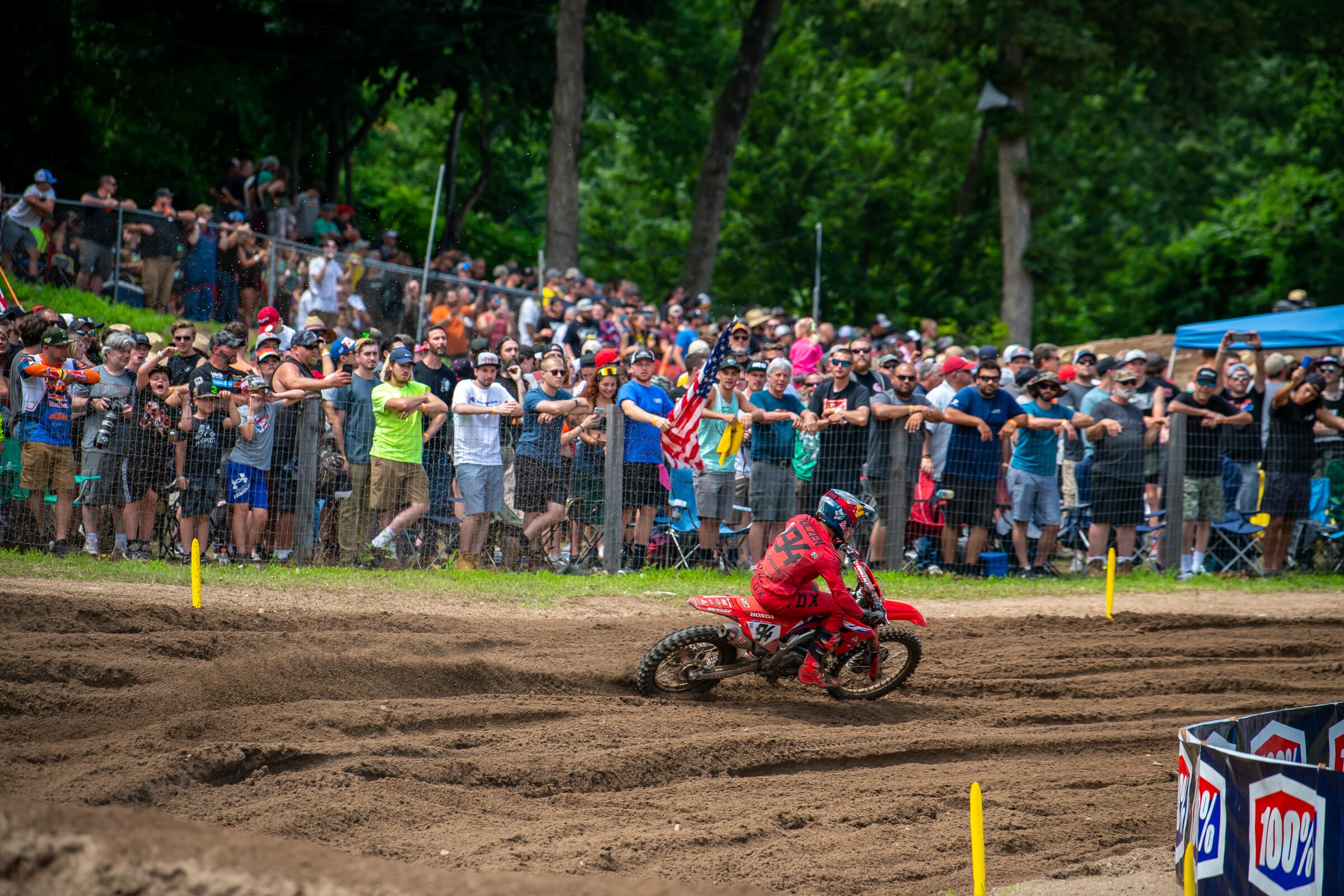 That second moto you were out in front and then Eli sort of ran you down there. Was that just simply the track was just getting brutal as that moto got on, or was Eli just sort of on another level?
Obviously Eli was on another level compared to us. I was struggling with my bike all day today. I didn't gel with the bike, nor with the track. You know what you're going to get coming to Southwick. I always expect it to be kind of slick, but then you go on the track and I feel like it's ten times worse. So, I made some changes for the second moto. Just definitely wasn't loving it. In general, I've been limited with testing just being down in Florida. I haven't really done anything. We simply need to improve a little bit. Some tracks I can manage it and muscle my way through a little bit better, but I actually struggled today. Even though free practice and qualifying practice may have looked good, I was always coming in like, "Dude, I need to figure something out." Having said that, coming away with a second place, I was fine with it for today.
Kenny, last week at RedBud there was the penalty [Roczen was penalized two championship points for jumping a jump while through a red cross flag]. We got to see what Ferrandis thought of it. What was your thoughts taking us through what happened there?
I was talking to the AMA and I said that basically just the flags have to be positioned a lot better. What also threw I think all of us off a little bit that all the flag guys had full yellow t-shirt on, not even neon or anything like that to stand out. So, I know there were yellow flags and the red cross flag and everything. It was just kind of a bad deal. What am I going to tell them? I didn't really have it straight into my eyesight and whatnot, and then there was a red cross flag actually on top of the jump, but on the back side of the jump. So, with a big take-off like that you can't see them until you're on the top of it as well [note: there was also a red cross flag in the corner before the jump]. It was what it was. I didn't worry about it too much.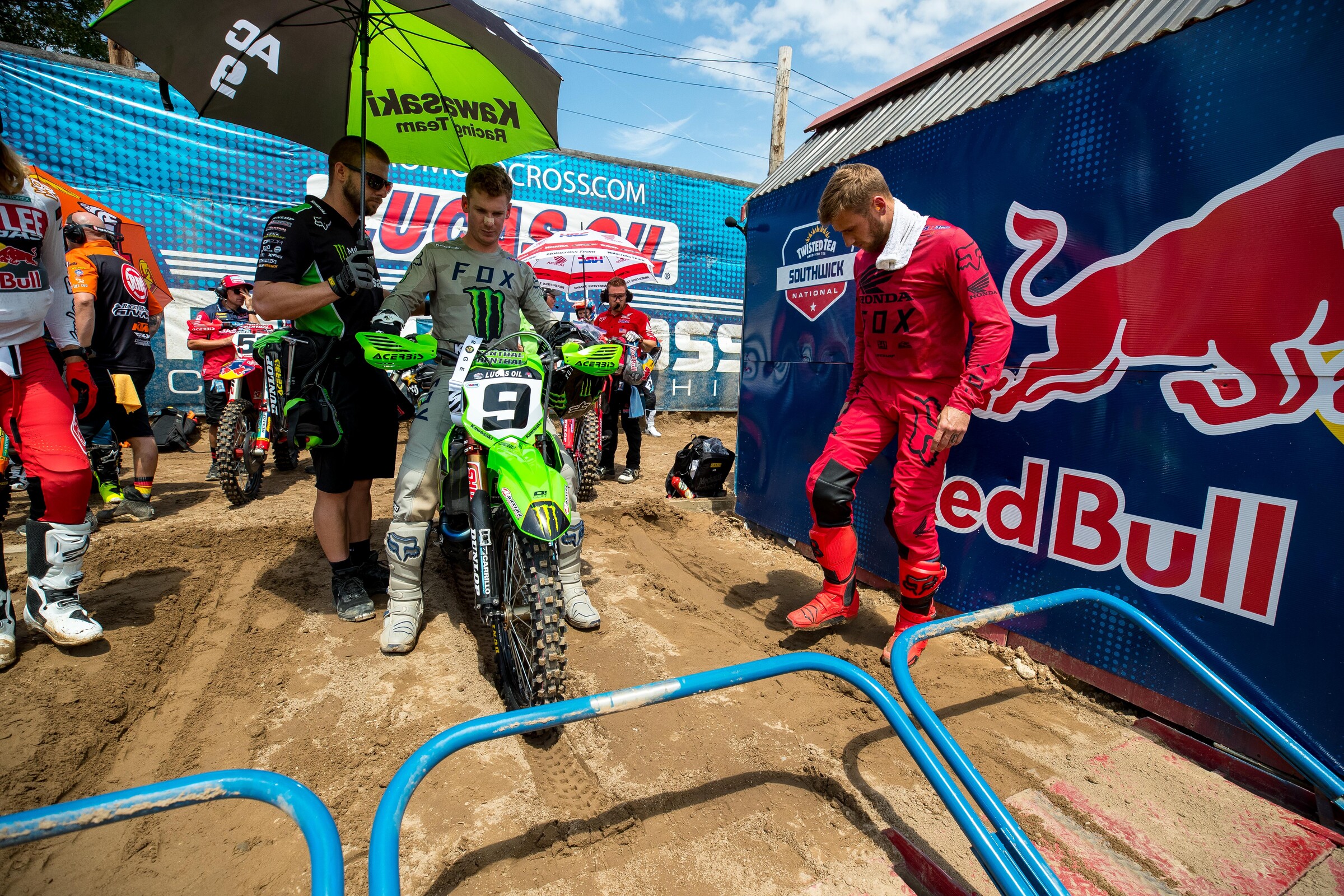 Is there anything specific this week you're going to work on to get yourself where you want to be?
I just think I want to get my bike better a little bit. Having said that, you can't really just take today as what it is. It's just kind of a little bit of a one-off track when it comes to the soil. So, I'm not stressing about it. Even the stuff that I raced with, it's actually the same stuff as High Point and Red Bud, so I'm just going to try and figure something out. I actually had an option to try that never even showed up due to the weather, so I've just been limited. But at the same time, I'm not afraid of sticking with what I have. I can make it work.
Eli Tomac | 8-1 for fourth overall
Eli, good job today on your second moto. That was really impressive. Just tell me how you've been feeling.
Eli Tomac: The second moto has been great. I look back at the last three weeks and I'm just like, "What's going on in moto one?" I haven't totally figured it out yet, other than maybe it's a little bit of start position for the past two weeks. But this week there was no excuse. I started almost in the same spot in moto two and was able to come through people. So, I don't know. I made a little bike change between one and two today, but I don't know if it really did all that. Got to figure something out. At least I'm getting one of those wins in there. The way I've been riding the second moto, I'm like, dang, I want that overall but moto one is not cutting it. Got to figure it out.
There's been a lot of discussion of you over the last season. You are changing teams, started a family, have another child coming. We all theorize. Do any of these things have anything to do with what's going on? So, I'm asking you, does the change in team affect you? Do the kids affect you? Does any of that affect your day-to-day and maybe your results this season?
If it does, I haven't nailed it down yet. My routine at home is the same. Nothing has changed riding-wise, training-wise. I've always done the same thing. But maybe that is something there. Like I said, nothing has changed. I can still get all the work in. Family time is great. If anything, it makes me more motivated as a racer. I'm just trying to figure out moto one. It seems like I'm always a little bit farther back on the start and then I just get stuck behind guys a little bit longer than moto two. That's the only thing I can nail it down to right now.
Eli, is it difficult to prevent yourself from trying to reinvent the wheel too much after those first motos? I'm sure you're searching and you're trying to figure out why, but obviously it's not that far off. So, do you not want to experiment too much to try to fix that problem? You're not that far off based on what we see in the second motos.
Yeah. We weren't far off. It was literally clickers between one and two. That was it. Like I was thinking about earlier, moto one, to me it was a little more one-lined. Maybe it wasn't, but in my opinion it was hard to get through guys and the roost was sticking to my goggles worse and that sort of thing. That was what happened today. That's just how it goes.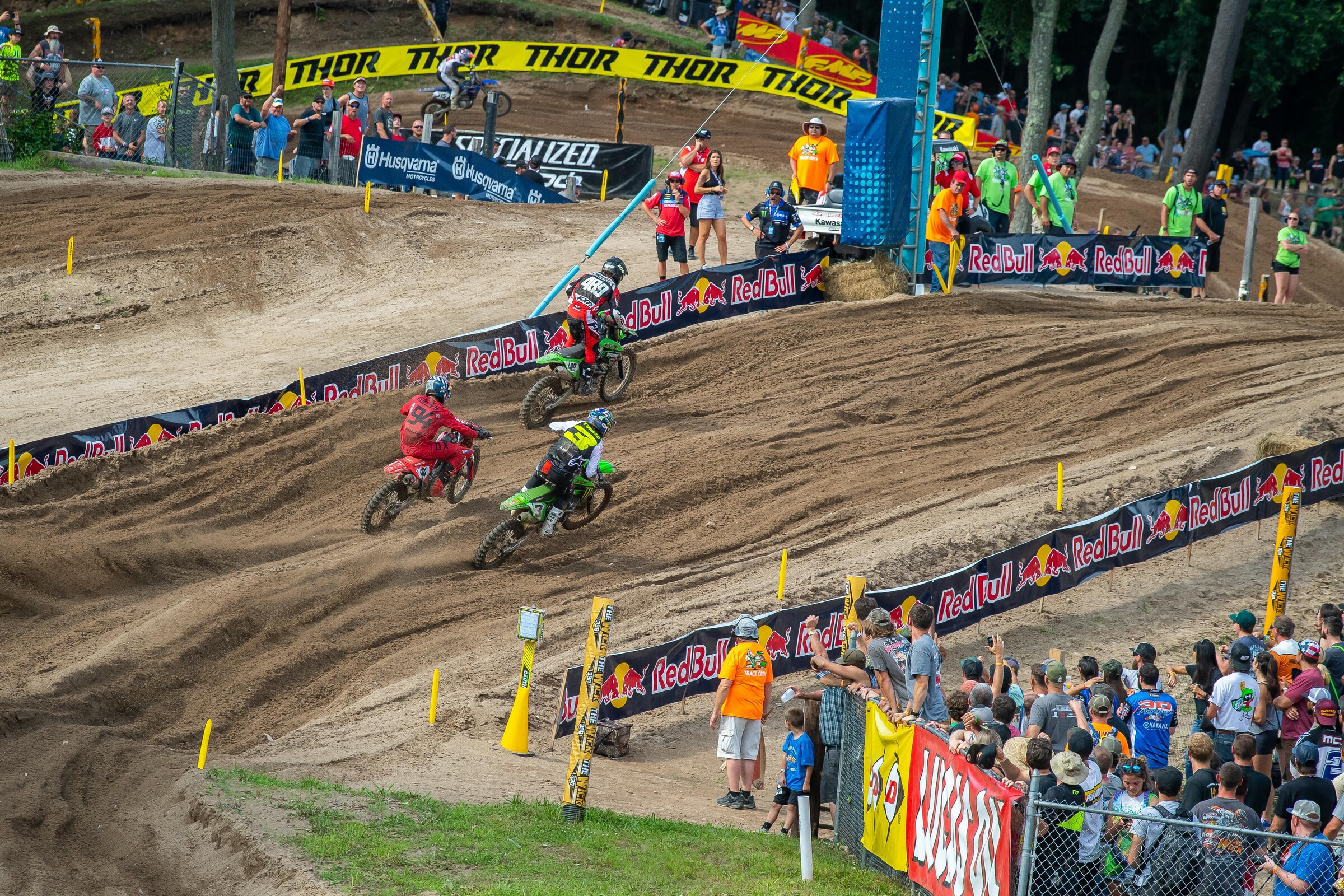 You are 57 points down in the championship. Do you feel like you're in with a shot with this points gap?
I'll feel like I'm in it if I'm within a moto's worth of points, or even if it was down to 30. 50 is a ways out. Basically at that point you're just going for broke, going for everything. That's not anywhere in the mindset. It's like figure out moto one and try to get an overall first.
Eli, next week going to arguably one of the best tracks on the circuit. Your thoughts on Millville and if it's a bonus to go there for you?
I think so. I like that one. It's a good track. All these like Southwick, Red Bud, Millville… It's all tracks I've been looking forward to, even Washougal. We only got half of those last year. I'm excited to go back. It's just one of those tracks, it's just different. You've got the sand on one half and then the normal clay on the other side. For the most part, I like it.
When you leave these races when you have that difficult result and then the second moto win, do you leave with a sense of satisfaction or frustration? What side does it more tip over to?
Today it was such a flip-flop. It's like both. I'm like, how did I flip-flop that bad to where I was able to come through that easily in the second moto? Then the first moto I just was stuck in eighth. So, it's both. It's really frustrating when you don't get on the podium.