Buchanan, MI
RedBud
Lucas Oil AMA Pro Motocross Championship
Main image courtesy of Mitch Kendra.
If you happened to be at RedBud last weekend, you may have spotted #999 in the 450 class rocking a completely white setup from head to toe including his bike. That was Michigan's Nick Tomasunas, a 22-year-old who qualified 26th overall at RedBud. His setup certainly stands out among the crowd at the races, but what's more interesting about him is the way he supports himself to get to the races. MX Locker, and online marketplace that is somewhat like a Craigslist for moto, is Tomasunas' place of work and the company helps get Tomasunas to the races on the weekend. While he still seems young and at the beginning of his motocross career, Tomasunas actually has his eye on the future already as to what his plans might look like after racing. After his 31-36 results on the weekend, we called him up to ask about his program, racing at the highest level, and of course I had to sneak in a few gaming related questions as well.
Racer X: If I'm reading this right, this is the third national you've ever qualified for. Is that correct?
Nick Tomasunas: I qualified for four, but it was my third one racing. I actually qualified at RedBud in 2019. I qualified 23rd, but I got a concussion in the second timed qualifying and they wouldn't let me line up. I did Ironman in 2020 and I only made it about four laps, and I herniated three discs in my back. So, that kind of ended my season early. Saturday was my third pro national I've ever lined up.
So, how does it feel? I'm sure that now you've been pro for a little while, so the first one out of the way many years ago probably felt different but is it still kind of exciting or jarring or whatever to line up on the gate with all these guys that are on TV, and you almost look up to them, maybe?
Honestly, Saturday felt like my first ever pro national. The other two I did were my rookie year in 2018, and that was three years ago. So, it was definitely kind of crazy, especially with how stacked the class is. I lined up right next to [Marvin] Musquin and [Max] Anstie the first moto. I'm sitting there like, "Dang. I'm actually here. I'm not just watching this on TV. This is actually kind of crazy." Sometimes it kind of gets in my head and you get nerves and whatever, but when you sit there and soak it in, it's pretty surreal.
You qualified 26th. Is this kind of the best you've maybe ever felt in terms of actually qualifying into a pro national and how you felt on the bike going into the day?
If I'm being straight up honest with you, I didn't even feel that good. I honestly felt like I left a couple seconds out there in qualifying. I probably could have been right around 18th, 20th. But as far as being prepared and putting in the work, it has definitely been, at least since I've been at these facilities, probably the best I've been prepared for ever. I've been feeling really good, but when I get to the race, I kind of get in my own head and let things get to me a little bit too much, which I've got to work on, but I still feel like a rookie. So, it's definitely pretty tough.
We talked a little bit about MX Locker which obviously is a program you're a part of and they're kind of helping you get to the races. Just kind of talk me through the whole business, where it came from, when it started, and maybe how you got involved and what the company outlook is like currently.
I got involved with MX Locker—I hit them up to be a team rider back when he first started, I think in 2017, 2018. We kind of hit it off, me and the owner, Ryan [Amoils]. We just kind of hit it off. He ended up paying for a couple of my entry fees and helping me out with some funds that way. Then at the end of the season I'd sell him some stuff. I was like, "If you need anybody else to work for you, I'm kind of looking for work right now. Let me know." He was like, "Yeah, I could use somebody that helps me with inventory and a little bit of marketing." Fortunately enough, I do a little bit of graphic design work here and there. I do some video editing, and he kind of needed somebody that would do stuff like that. So, we just kind of got together like that and then fast forward a couple years and I'm a partner in the company and working full-time for him. I'm actually sitting in my office right now working. The company is pretty awesome, to be able to see us help not only me as a privateer, but other privateers, help fund their racing if they have extra parts or gear or even bikes to get rid of. We provide an outlet for that.
What is your weekly routine that it would lead up into you trying to qualify for a pro national? Do you even get much mid-week riding in, or is it a lot of kind of just working in the office like you're doing right now?
It's a lot of both, if I'm being honest. Thankfully, Ryan allows me to get my training in when I need to get my training in. If I tell him, "Hey, I got to go do 30's, or I got to do some 30's and sprints and then hit the gym," he's like, "No problem." I try to still be loyal to the company. Even after my riding, even after the gym, I'll come back into the office at 5:00, 6:00 at night and work until midnight if I have to, just to make sure I'm keeping everything on track for the company and myself at the same time.
You talked to me a little bit about how you were thinking maybe this is even going to be your last year of really trying to go to pro nationals and really try to put it into the motos and stuff like that. Is that something that you think you would come back to eventually, or you are already kind of focused on your business acumen and growing your portfolio from that side so you're kind of done with pro moto after this year?
It would really depend on results and my will to continue to do this, because I've been through some pretty heavy injuries. Back in 2015, I almost lost my entire left leg from the hip down. I broke my femur really bad at a regional. I had to get Life Flighted out. I had five, six surgeries, a couple blood transfusions. I had an infection that even when the bone healed, I lived with an infection for three years. That definitely put a damper on my career, unfortunately. The past couple years I've been pushing pretty hard just to even get out on the track and do it at this type of level. So, it really depends on results, but my main goal is I just want to finish out a season healthy. I want to put in as much effort as I can, and I'll reevaluate later in the year. But as of right now, I just want to get through this season healthy and focus on other life stuff after it's done.
Moving forward, how many more races are you going to try to hit up and qualify for? Is it kind of like a plan where you're doing it as you go along, or do you already have it planned out for the next two or three months?
I believe right now I plan on Millville, Budds Creek, and maybe Ironman. I had the opportunity to do Washougal, and I just don't think it's going to work out. Then obviously Southwick is this weekend, but that's just not in the budget right now. I'll probably do at least two more, and then maybe Ironman at the end.
Now that you've qualified fairly well, you put two motos under your belt, do your goals kind of change now where you expect to make it into the motos every time and now there's almost like an added effort when you do make the motos again to try to push into the points or push into the top 25, perhaps?
Definitely. It would be great to put myself in the top 20. I believe I have the potential to be up there, and I have the fitness. I have everything else, but I just need to figure out the mental side and kind of line up like a normal race and not a pro race with Eli Tomac and all these big names in it. But I do believe now that I've finally got another race under my belt that my goals definitely move higher up.
Tell me about the idea behind going with the all-white bike, all-white gear, all-white helmet. You stick out quite a bit, and to a degree I feel like that probably helps a little bit with marketing MX Locker and getting people to know who you are. Why do you choose to run that setup?
That actually came about as I was laying in the hospital bed back in 2015. After I got hurt I kind of lost what little sponsors I had. My mom and I sat there, and we were like, we're just going to go all white. No sponsors. No logos. No nothing, until somebody is footing the bill for me to change it otherwise. It's just kind of stuck since then. I'm lucky enough to have a great sponsor like Aektiv Co. that helps. They allowed me to do a custom all-white set, a custom all-white MX Locker set, all-white everything, basically. I don't really have any graphics sponsors. I don't have plastic sponsors. I don't have really any other sponsors besides Aektiv and MX Locker. So, I'm just running with the all-white. It definitely helps with marketing. It has gotten me in Racer X before in the magazine. It's gotten me all over Vital MX, all over social. It's a pretty good marketing route. I also think it looks pretty good.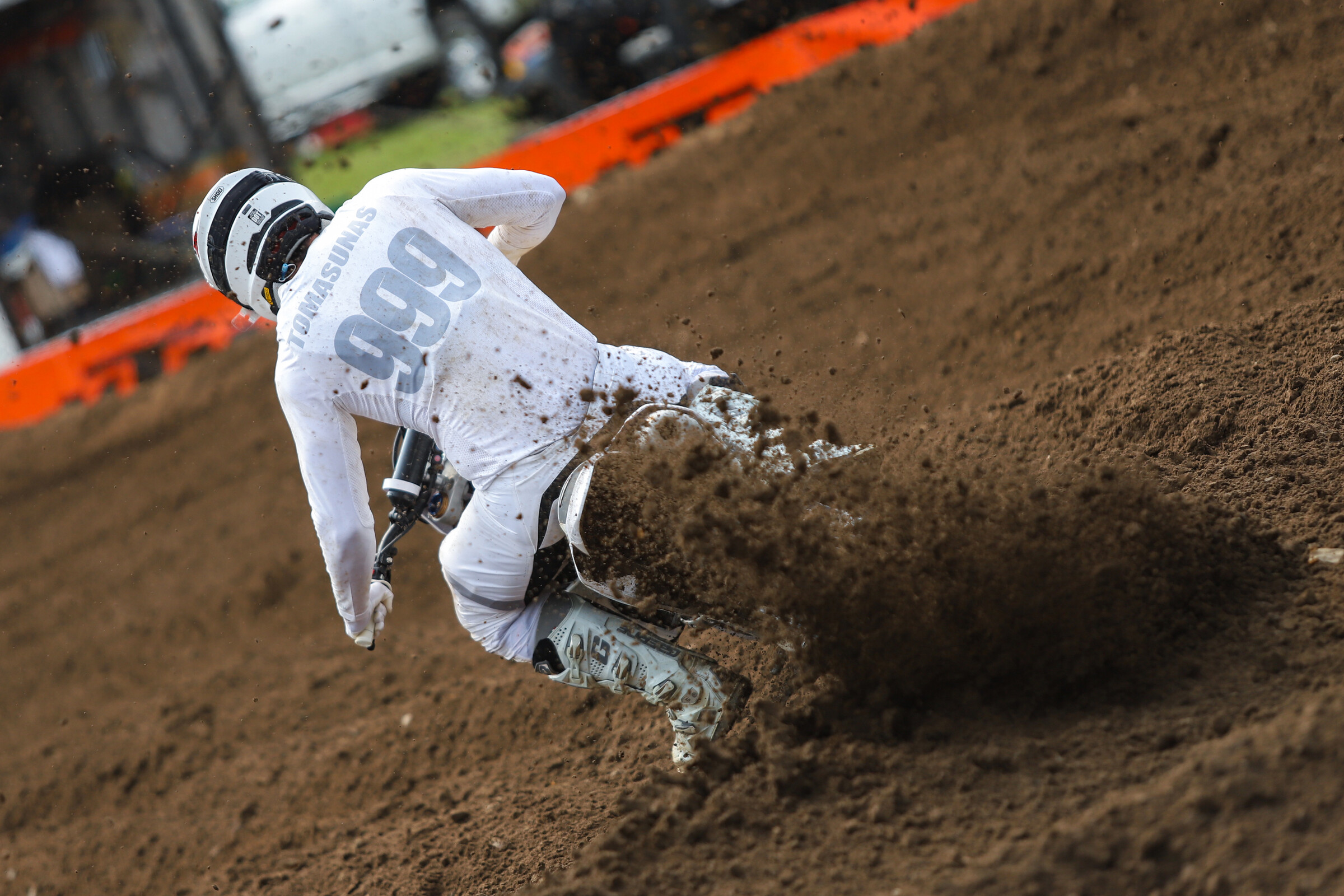 Do you actually think it looks pretty cool, or do you kind of wish you could run multi-color gear? A lot of people do like the simplistic look, and you're as simplistic as it can get out there.
If I could run colors, I can, but I probably would still run all white and all black, to be honest. I just really like the way it looks.
Talk to me a little bit about playing MX Simulator. When did you start playing? What do you think it kind of relates to your skill set on a real dirt bike? Is there any comparison, or is it really just a fun game for you?
Honestly, I started playing it when I was, like, 13. When I first got to MTF [Millsaps Training Facility], all of us, we'd all be playing. I'm sure you know Jarrett Frye and some of these factory kids. We'd all sit together in our little campers and play. I just never really let go of it. Now especially since I'm not really doing supercross, it's a way for me to kind of experience supercross, I guess, because I also play in first person. It's a way for me to experience that without being able to be out there. Especially for some of these nationals, since they build the replica tracks, it kind of helps you in a way. You get to kind of see the track before you actually get to see the track sometimes. It's obviously a pretty fun game, too.
Being an actual pro rider, you probably understand how a motorcycle feels underneath you more than anybody who would play that game. Are there any things when you're playing Sim, or if you've ever picked up [MX] Bikes or something like that, that you wish they would be better at or do differently that they don't capture well enough?
Honestly, no. I feel like MX Simulator is pretty spot-on with how everything feels. It's weird, because I tell my friends, they call me a psycho for playing it first person, but I tell them I can almost feel how the bike is acting under me. It sounds really corny and really stupid, but I can kind of feel it and I really like how it is right now, honestly. Especially because if you race online, they have the erode. It helps you almost in a mental way for real-life racing. You have to switch up your lines and you have to think ahead. It's kind of like a mental edge, too.
Who would you like to thank for getting you to the races and everything that has happened for you, really in your whole career but obviously this year as well?
Definitely my parents. My parents have supported me forever. They are still supporting me to this day, so I can't thank them enough. MX Locker and Aektiv Co., the Denzler family for helping me out this season, and myself, I guess.