Buchanan, MI
RedBud
Lucas Oil AMA Pro Motocross Championship
Rockstar Energy Husqvarna's RJ Hampshire coulda' shoulda' won the last Lucas Oil AMA Pro Motocross Championship round at High Point Raceway, as he led the first moto by a good distance before his chain broke. With a bad gate pick in moto two, he ended up caught in a first turn crash before climbing back to finish eighth.
He was obviously motivated to get revenge for RedBud, but he came down with an illness before the race. So, he just dug even deeper. Then he crashed twice in the first moto. So, he just dug even deeper. He crashed while leading moto two. Kept digging!
Despite all the crashes, he ended up with 2-2 scores, which was enough to win the overall at the Twisted Tea RedBud National. Here's what he said to the media.
RJ, was revenge on the mind? You seemed so determined today. You usually ride that way, but was there a little bit of extra because you have ridden so well this year and the results haven't been there? It looked like you were really going for it today.
RJ Hampshire: Yeah, that's kind of been the whole story. I don't think I've really lacked the effort or even the speed. Ever since we left High Point, it sucked we had a weekend off, so I had two weeks to sit there and think about that. Just each day out I was like, I've got to be the fastest guy right now. It's a tough spot to be in whenever you have the speed and you're doing the work and the results really weren't there. Today was definitely special. I had a chip on my shoulder, to say the least. Being sick during the week, I do crash a lot no matter what, but it was a little bit extra today. I was so weak on the bike. That was three crashes that I had. Whenever the front wheel got out of the rut, I just couldn't even almost save it. I had to kind of fall with it. Awesome day. Pretty stoked for the whole team.
Talking about being sick during the week, how much did that kind of hamper your preparation coming into this weekend? Did you still feel like you had this in you today when you woke up this morning?
Man, honestly, I wasn't sure at all. I had two good days, Monday and Tuesday on the bike, and then as soon as I left the track Tuesday is where it really kind of hit me. Then Wednesday I pretty much did a full day, but it wasn't great. It kicked me hard Wednesday afternoon and Thursday. Even on the flight here Friday I was just like, man, this is going to be a tough one. But I woke up this morning and didn't feel great either, but to be honest, Dr. G. [Dr. H. Rey Gubernick] saved me big time. He made me feel, no joke, probably 70 percent better than what I felt in the morning. So, G gets all the credit for today.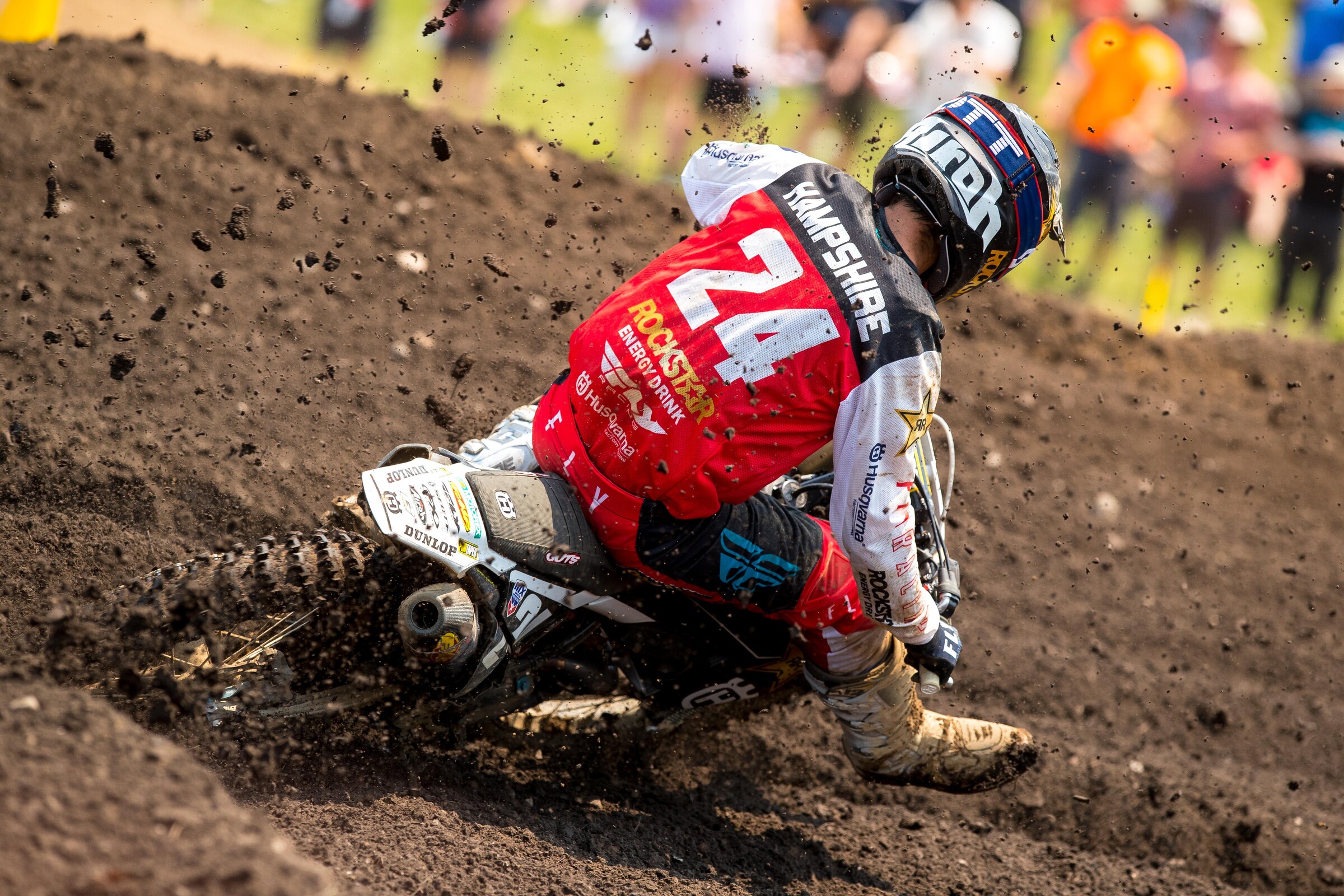 You've had some serious speed. Lady Luck hasn't quite been on your side this season. Now that you've got an overall, what's your outlook going forward for the rest of the season? How are you feeling?
It's the same every weekend we show up. You guys can tell, I want to win so bad that sometimes it bites me. I just show up and if we're in this thing at the end, great, but really just try to minimize the little mistakes and give it our all, from here on out. I know these next couple are tracks that I like and enjoy, which of course everybody knows RedBud is one of my favorites, also. I feel like we can get something going here. Just give it my best every weekend.
Can you talk a little bit about your journey from supercross to where you are now at the top of the box and the trouble and all the challenges you've had and the victory you had today?
I think that's what makes it a little bit more special. Round three of supercross, knocked out for the whole year. I had a pretty serious surgery. I don't think a lot of people knew how bad my wrist actually was. I didn't even know. So, we just rehabbed that as best we could. I had maybe a couple weeks on the bike leading into round one in a contract year, so it was a lot of pressure on myself to go out and to perform and have the speed, which I felt like we had for right away, and to not have the results, it sucked. I was pretty down. Then showed up at High Point, same thing. Tried to get back in this thing. Then to just have that happen… I don't think I've ever snapped a chain since I've been riding. Just to have that happen while I'm leading an outdoor national was a bummer. It was a tough thing for myself and the whole team. Then just showed up this weekend. Tuesday, like I said, I was not feeling the greatest. Then it kind of got worse from there. I knew it was going to be a tough day today, which it all leads up and kind of shows why today was pretty special.
How is your wrist now?
It's here and there. To be honest, I had a crash in that first practice where it was like I was on a roll lap, and caught a soft spot and went over the bars. When I did that, my bad wrist, my thumb kind of ripped back. So it kind of irritated it today. But other than that, it's been pretty solid. We did a lot of work with it. It's in a good spot.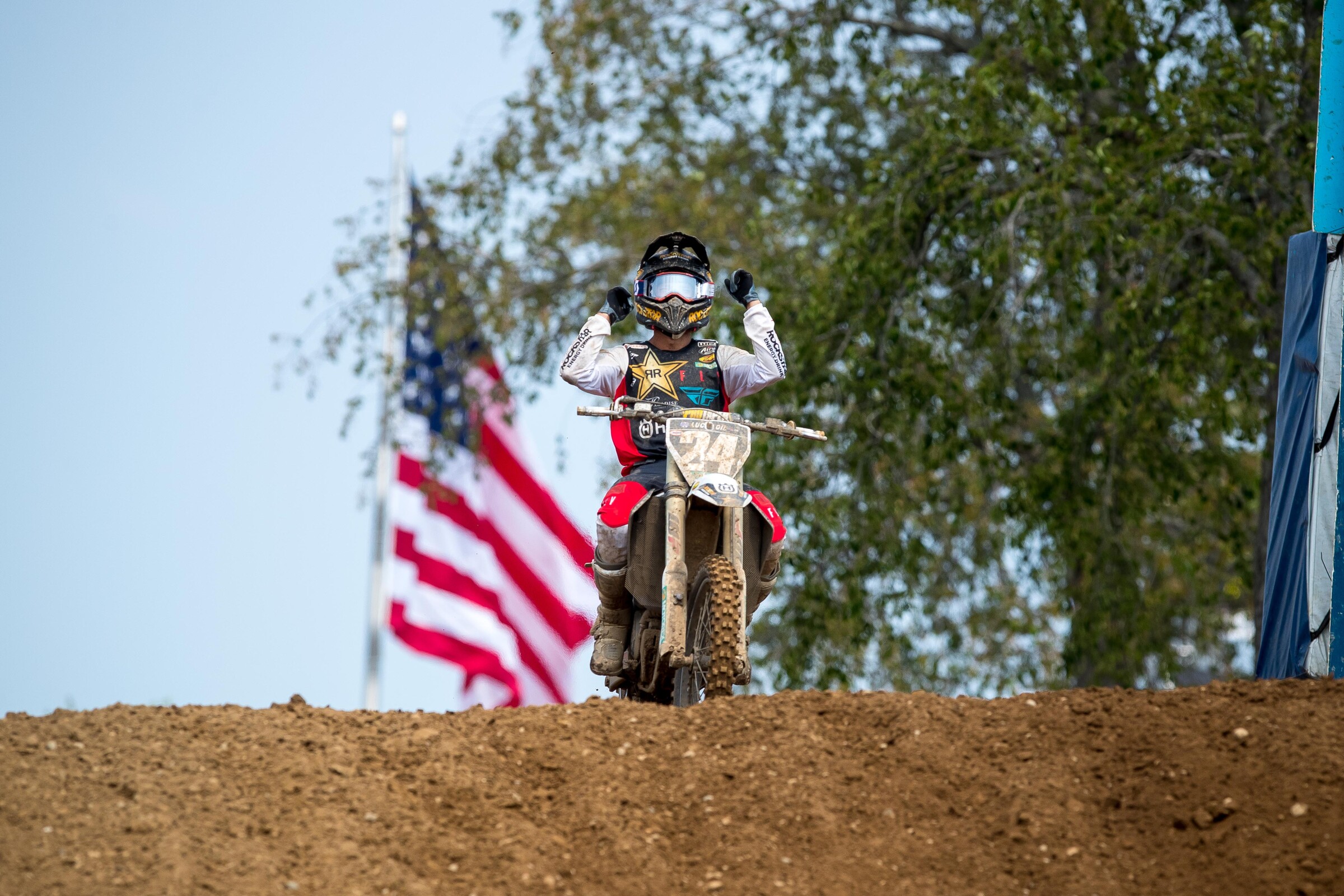 Like you said, you picked yourself up a few times off the ground today. I think one of the major factors of obviously finishing where you did was you were able to get back into your rhythm so quickly. Is that just because you're happy with the bike and you're feeling comfortable with it? Why were you able to so just get back to race pace so quickly?
Yeah, my bike is awesome. I've said that for the last three weekends now. We had a little issue there with the second moto at Thunder Valley, but we seemed to fix that. It's just a comfort thing right now. I'm very comfortable on my bike and I'm able to do some things that I want to do and can trust it and have confidence in it. Like I said, for me being weak today and being able to have that speed and do what we did is a huge step and shows how much improvement our bike has had. The setting we are on, I feel like we did a lot of work when we could to come up with this setting. I'm pretty happy with it.
I saw Zach Osborne was at the race today. Did he help you out? Was he working with you throughout the weekend?
Yeah. Zach has been a huge help. Bummer for him to go out like that, but I figured out he was going to miss outdoors and I reached out to him. Just asked if he would be willing to help me out in any way, come to the practice track and then come on the weekends. Sure enough, this is the first weekend he's showed up to and we got an overall. So I don't know if he's up for it yet, but hopefully he can make it to a few more. It was nice to have someone there that's kind of been through the same trenches as me and able to succeed and have all the success he's had.