Honda Announces 2021 Off-Road Racing Teams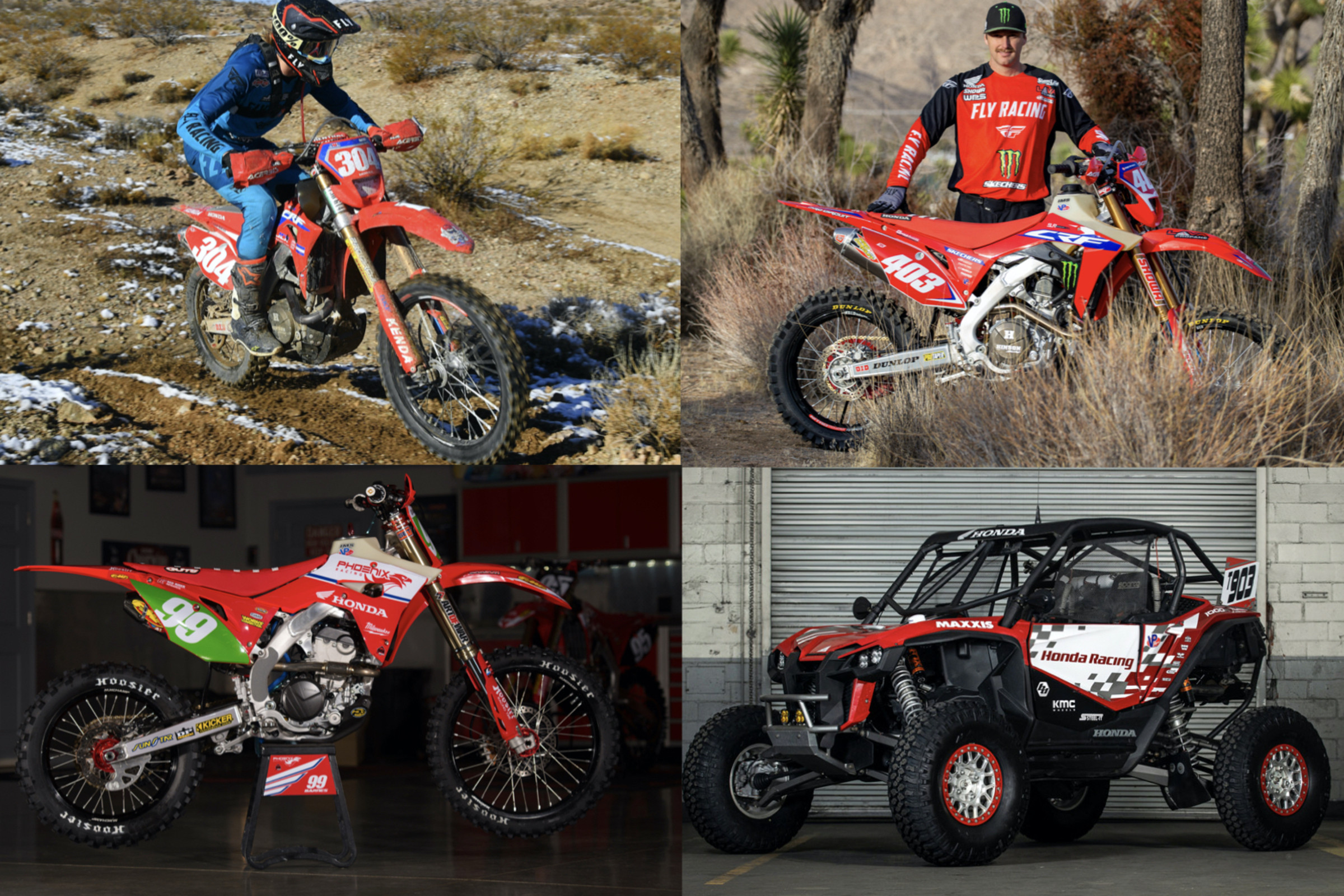 TORRANCE, Calif.—American Honda today announced its lineup of off-road racing teams, some of which have already begun competing in various 2021 racing series. As before, off-road legend Johnny Campbell is serving as Off-Road Coordinator, providing guidance to the Honda off-road teams, sharing his knowledge and collaborating with testing.
Campbell's own JCR Honda team will also continue to race. Preston Campbell is campaigning both the NGPC and NHHA series, aboard the CRF450RX and CRF450X, respectively. Preston already took part in the opening rounds of both series, finishing ninth and fourth in the Pro class. In addition, 2020 Dakar Rally winner and Monster Energy Honda rider Ricky Brabec will take part in selected U.S. races between his international rally competitions, riding for JCR in events like the AMA District 37 Sprint Enduro series. Also taking part in selected events are Tarah Gieger, Kendall Norman and Johnny Campbell himself.
The Mark Samuels-owned SLR Honda team is expanding its project for 2021, with several new riders competing in new classes and championships. The team is best known for its domination of the SCORE International Off-Road Racing series, in which it has gone undefeated over the last three years aboard the CRF450X, including victories in the prestigious Baja 1000. That program will continue this season, as will efforts in the NGPC and WORCS series, with Cole Martinez in the Pro class aboard a CRF450RX and Tallon Lafountaine defending his NGPC 250 Pro title aboard a CRF250RX. The team has also added up-and-coming riders Evan Stice and Allen Mendelssohn, competing in NGPC's 250 A class and WORCS's Pro Am class, both of which Stice topped at those championships' respective series openers. In addition, the team is entering the NHHA series in 2021, with CRF450X-mounted Justin Morgan—a desert-racing veteran with a number of Baja victories.
David Eller's Phoenix Racing Honda team has already been active this year in AMA Arenacross (where reigning champ Kyle Peters is undefeated through the first three tour stops) and AMA Supercross. The team will also continue in GNCC racing, with Cody Barnes and Triston Landrum campaigning the XC2 and 250 A categories, respectively, aboard CRF250RX race machines. The GNCC series is scheduled to begin February 20 in Union, South Carolina.
Honda's off-road program isn't limited to two-wheel racing, as Jeff Proctor's Honda Off-Road Factory Racing team is continuing its Talon 1000R side-by-side program for a second season in 2021, featuring a new, rotating lineup of specialist drivers. Once again, the team is taking part in selected premier events across a variety of series, beginning with the February 4 UTV King of the Hammers, a unique event in the technical terrain of Johnson Valley, California, where Ultra 4 veterans Bailey Cole and Jordan Pellegrino will drive. The team will then kick off its desert-racing season in early April, when desert specialist Zach Sizelove will take the wheel. A second desert driver (a seasoned Baja specialist) will be announced in late February. Other scheduled events for the team include the SCORE International Baja 500 and 1000, plus Best in the Desert's Vegas to Reno and the UTV World Championships.
"Honda has a proud heritage in off-road racing, in part because these events' brutal conditions are the perfect test of our products' durability and performance," said Brandon Wilson, Manager of Advertising and Motorcycle Sports at American Honda. "Between JCR Honda, SLR Honda, Phoenix Racing Honda and Honda Off-Road Factory Racing, we expect to see Honda CRF and Talon products on podiums across the U.S. and south of the border."
"Honda has a solid lineup of off-road teams and riders for 2021," Johnny Campbell added, "and I'm excited to be able to contribute by drawing upon my experience as a racer and team owner. With my history and these teams' competitiveness, we can continue developing Honda's products to keep Red Riders at the front of the pack."
Each of these teams will offer trackside support for Honda-mounted amateur racers at the events in which they compete.