Pala, CA
Fox Raceway
Lucas Oil AMA Pro Motocross Championship
At the final race of the 2020 Lucas Oil AMA Pro Motocross Championship, FXR/Chaparral Honda Racing's Coty Schock showed up on the all-new 2021 Honda CRF450R to debut the bike before anyone else in the U.S. It went very well. Not only did Schock turn in his best results of the season, but he also earned his first career top-10 finish in a moto and overall at the Fox Raceway National.
We called up Coty to see how that whole thing came about, his thoughts on how his entire year went, and what's next for he and the team.
Racer X: Let's start off with that 10th place at Fox Raceway, your career best result. Obviously, a big day for you. Just talk me through everything, and how that day went for you.
Coty Schock: The whole day honestly was as good as I could ask for. Practice was going well. Going into Fox [Raceway], I was already stoked on the bike just because the '21 for me is a better platform in general. So, I was already pretty confident coming into the weekend. So yeah, practice went well, I was pretty decent in times, but I knew I could go faster. Coming into the first moto, I was kind of skeptical on how good of a start I was going to get because it's a lot different with the hydraulic clutch. First moto, I didn't get the greatest start, but I knew the bike, the suspension, and I would all work well together because I was really gelling with the bike and I just kind of fought through the pack. I think I came around the first turn 36th and then I came back up to 12th. So, I was pretty stoked on that just because races prior I would start well and I would just, I wouldn't say fade, but it was hard for me to keep going. This new bike and I work well together. You know how it is. When you have a lot of self-confidence, it's like, you can do whatever you want. So, going into the second moto I was like, "You know, if I got a bad start and I got 12th, I wonder what a good start would do?" So, I just simply focused on squeezing that tank as much as possible off the line so the front wheel would not come up and yeah, I came out with a sixth-place start. I think I ran eighth like a majority of the moto and eventually [Max] Anstie and [Broc] Tickle got by me so that put me in 10th. But like, I didn't realize I was in 10th until the two-lap card came out and I looked over at my dad's pit board and he's like "P10" and I'm like "Holy crap!" So, I started getting a little antsy at the end of the moto. I was like, "This is the longest two laps ever." But it was cool just to finally deliver it because a lot of people talk about me getting a top 10, and this whole year I've kind of been like, "I know I can, but I don't know if it's realistic this year." I finally did it and it definitely feels good.
"I definitely accomplished a lot [this year]. I made my first supercross race. ...My speed is definitely there, it's definitely not a lack of skill, I just need to get stronger. That's the whole point of the off-season coming up, so we'll be good." -Coty Schock

Align Media
You obviously talked about in the beginning kind of making headlines there with riding the '21 Honda for the first time, how did that whole plan come about where you and Michael [Lindsay] decided to go to the races with that bike?
So, kind of all outdoor season, I just had weird things happen with the bike on the '20. I ended up having four DNF's leading into WW Ranch. I was keeping myself in Delaware, I wasn't in Southern California. So, if I needed parts, it was kind of a lot of work to make it all happen because it would take like a day or two to get parts. So, I was kind of tired of hassling around and [Michael] was like, "Hey, just come back to California, we'll skip the next two rounds, we'll just reset, and go out with a bang." And I was like, "I like that idea." Because I was mentally getting beat up, like I was just not in a good spot. Went to California and he was like, "Hey, try this '21 out, let me know what you think of it." As soon as I hopped on it, like the first lap, I was like, "Oh yeah, this is it." Then the second day on the bike, I ended up doing that quad at Cahuilla that went viral on Instagram and I was like, "Yeah, I'm feeling pretty good, so I might as well just race it." So, Michael sent out suspension to Enzo, Chad from XPR did the ECU, and Yoshimura came up with the exhaust, and yeah, we went racing.
How much different was the feel in certain areas like the chassis, turning, power delivery, and everything from of the bike from the '20 to the '21?
It's pretty huge, in my opinion. The '20 was decent any time the track was smooth, but any time the track got choppy, I kind of got scared on it honestly. It would just do freak things. But the '21, it's pretty balanced, it doesn't teeter totter in any way. Coming out of turns, the Hondas have had a tendency to have a wallow-y feel, where this one plants. Same thing with the front end. The Honda just wants to cut down really tight now which is awesome for supercross. Outdoors it's a little different, so my riding style had to change a little bit on that. The way that I trust the front end for turning, it works really well. The power on that thing is unbelievable how torquey it is but how linear power it is. A lot of people would explain it as being very broad. Being a little guy, I don't like a lot of power, and I don't really want to shift a whole lot. So, the '21 really gelled with me.
Are you already testing supercross? Like, are you getting any time off or is it straight into grinding mode already?
No, I got some time off. [Laughs] I'm just simply waiting for my bike to be built and then that's when I'll head back out to California. I believe first week of November is when we'll start supercross training. So, I'm just really excited to be on that because I've been kind of waiting. Ever since Salt Lake ended, I've been kind of waiting to get back on supercross.
Overall, your 2020 as whole was pretty solid. Doing well in supercross, and then a solid outdoor season, do you feel reflecting on it that you hit all the goals you wanted to accomplish or was there more you wanted to get done?
No, there was definitely more I wanted to get done. I mean, my goal is to lower my two-digit number every year and I did that this year, but it was only by like a few. So, I knew I could finish better than 20th overall in points for outdoors, but obviously like I said with four DNF's and skipping two rounds, it's kind of hard to make up for that. But no, I definitely accomplished a lot. I made my first supercross race. I pulled a third-place start, like I've always wanted to get a holeshot, but I pulled a third place start at Salt Lake in supercross. Outdoors, I had numerous fifth or sixth place starts. I'm getting better at qualifying. My speed is definitely there, it's definitely not a lack of skill, I just need to get stronger. That's the whole point of the off-season coming up, so we'll be good.
I wanted to talk a little about the team too, FXR/Chaparral Honda. You obviously stayed on the team for the entire year and probably got a good look at everything Michael went through. How much to you think the team has learned or grown just in the one year they've had so far?
Well I asked Michael this question. I said, "Hey, would you do this again?" He was like, "The same way? No." He wished he came in a little more prepared and with a little more knowledge because it's one of those things where you don't know how much there is to handle until you're in it. So, we definitely learned a lot. I learned a lot. Michael learned a lot. For next year, it's going to be pretty solid in my opinion.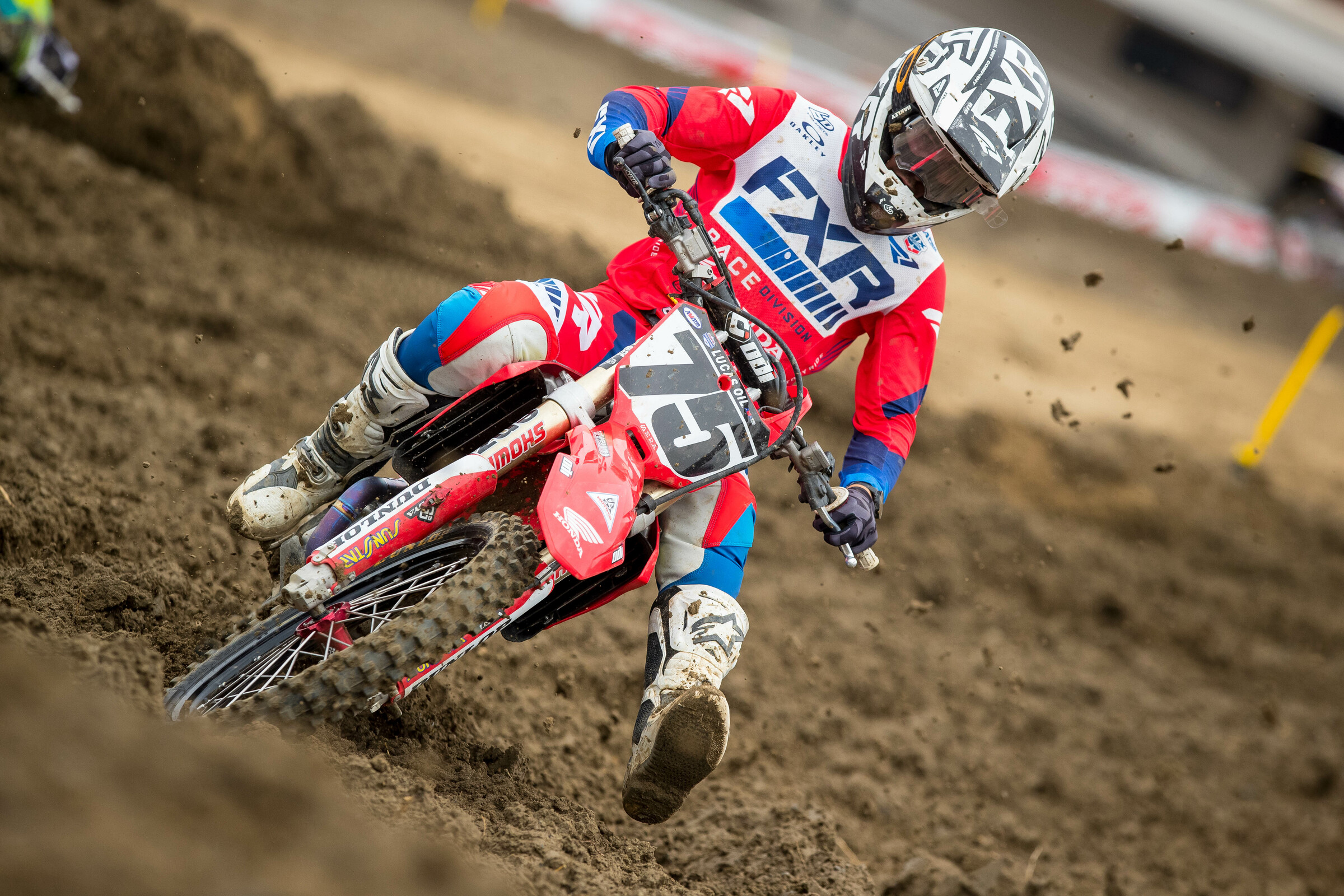 What is the plan for next year? Are you staying in the 450 class full-time now or are you going to drop back down and do the 250 coasts again? How is your plan looking for 2021?
The plan is to do 250 West Coast for supercross, and then outdoors, I'll be on a 450.
This is maybe a question you don't know the answer to, but there's obviously been a little bit of talk about the GEICO Honda team and some of their riders needing rides and there's maybe been links to guys ending up on the FXR/Chaparral Honda team. Does that give you a vote of confidence that the team is obviously doing well enough to attract interest to that level and what are your thoughts on a Carson Mumford or Jo Shimoda being your teammate?
It definitely gives me confidence because to be needing a job right now in these times is definitely hard to come by. So, it's nice to know that I'm secured for next year. But also, it adds more of a, "Hey, you need to get going, because we've got things to do." So, yes it gives me confidence, but it also gives me a, you can't slack around, you just got to go [attitude]. This is the time to prove it. If there ever was a time, that time is now. So, that will be good. I do know who we are getting, but it's not confirmed, so I'm not going to say that.
Last question I have for you, who would you like to thank and give shoutouts to for everything that happened in 2020?
I'd like to give a huge shoutout just to the people that got me out to California. Boyesen doing the whole video series definitely helped just to promote myself and say, "Hey, I can do it." Dave from the East Coast that supplied me with his van so I could get around and establish myself. Same thing with Schaeffers Motorsports, they helped me out with bikes when I was doing it on my own. Kenny Day, for giving me a place to stay when I was first out there. Michael Lindsay and his family for opening their doors. Now Michael and I have a very close relationship, get along well, have a lot of fun days at the track or at home for game nights and stuff. Tony Archer for working on my bike whenever I need it. Tony keeps it real. He's like, "Hey, don't suck. Don't think about it, just do it." This list goes on and on. But huge thank you to Michael for believing in me this year and continuing the support for next year. I'm truly stoked to get going and it should be good.