Lakewood, CO
Thunder Valley
Lucas Oil AMA Pro Motocross Championship
There hasn't been a whole lot of hype surrounding Dilan Schwartz in 2020. After all, it was never announced that he'd be turning pro (and he still may not be!), and he's only raced two races so far, Loretta Lynn's 1 and Thunder Valley. But after Thunder Valley, where the young BarX/Chaparral/Fly/Suzuki Factory Racing rider went 10-15 for 12th overall, it's likely there will be a few more eyes on him this weekend at the Fox Raceway National, one of Schwartz' local tracks. We caught up with Schwartz this week to talk about what it's like being part of racing's upper echelon.
Racer X: You've got two nationals under your belt now, Loretta Lynn's 1 and Thunder Valley. What do you think of the pro ranks so far?
Dialn Schwarz: It's tough man, it's tough! Coming in I didn't really know how it was going to be. The first national I did wasn't that great, I kind of rode over my head and ended up crashing a lot. This past weekend in Colorado I tried to get a good start and not crash. That was my goal and that's what I did. I didn't tip over one time, which I was pumped with, and I ended up with a top ten in the first moto. I think that's a pretty good plan for me right now, and I'm looking forward to trying again this weekend.
A top ten in a moto is no joke. Have you put much time in at Thunder Valley before?
No, that was actually my first time ever being there.
Wow! Did you notice a big difference with the elevation?
The bike is obviously a little bit slower, we're 6,000-something feet, so that was a factor. I get a little altitude sickness too and that started to kick in the second moto, which kind of sucked. I fought through it and made it to the end though.
Well 15th is definitely not bad, especially when you factor in that it's your second race and the altitude sickness!
I didn't really get that good of a start in the second moto either, which was a bummer. I got into 15th and I was like, "Okay, 15th is pretty good," especially with a lot of factory guys out there. A 10-15 in my second race isn't bad.
What's been the biggest eye opener for you so far in the pro ranks?
Just how demanding it is, and how hard it is on your body. The recovery time, and being prepared, it's a lot more work than any amateur races.
Another common answer I get when I ask that question is, a lot of guys are surprised by the pace of race day. It's a single day instead of a whole week.
Not only how the day goes, but at Thunder Valley I kind of toned it back a little bit just so I could go a full 30 at the same speed lap after lap. I wanted to be consistent and not ride over my head. Those guys go to a whole new level on race day.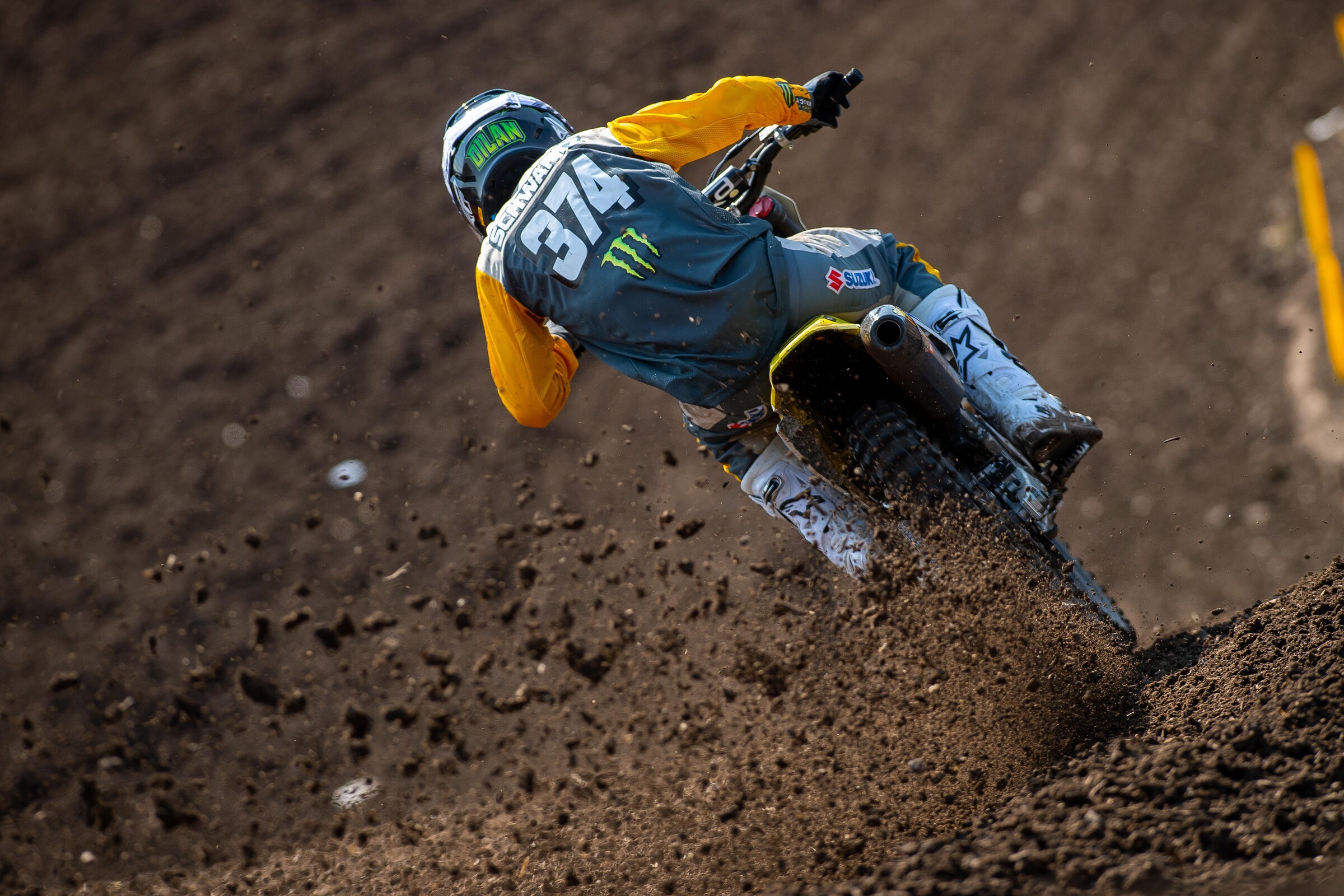 Talk about the team you're on. It's Suzuki's official amateur effort but it's not as well-known as say, Team Green Kawasaki. How'd you end up there?
Nick Barbieri and Myron Short own it, and they got together with Suzuki and formed that team. Larry Brooks is the team manager. I was on Team Green when that team was made. I've known Myron forever, and my contract was up with Kawasaki and we started talking to them. We liked the idea of working with Larry. It's not the biggest team or best-funded team or anything like that, but it's a small circle and I think everything works well. I like working with Larry, he's a smart man. We're getting some good guys and I think it's just going to keep on improving.
What's it like having Larry Brooks as a team manager? He's been around this sport for years.
When I first came on the team, I'm only a kid, I'd never really known who Larry Brooks was. He started coming to the track with me and helping out a little bit. I listen to him talk about the bike, and he helps me out with understanding the way the bike works. Like if you do this, what you'll get out of it. Also, coming to races he helps with how to look at things, and how to go about it. He's been a great mentor to me and I love working with him.
So you don't call him Scary Larry?
[Laughs] No we call him LB. LB Mods whenever he makes something or fixes something.
So you're doing these three pro races this season, but you're still going to have the option to maintain amateur status. What are you leaning toward doing right now?
I would like to go pro, but nothing's come about yet. I don't have any plans. Hopefully I'll do good this weekend. I'd like to try to get a top ten overall, that's my goal for the weekend, and see where it goes from there.
How do you feel coming into the finale? You're a local there, right?
Yeah, I'm down in San Diego.
You probably have more hours at Fox Raceway than you can remember. What are your thoughts about racing pro at what's a home race for you?
I feel good. I know what the dirt is like there and I'm hoping it's a good layout and they do a good prep job. I'm just going to try to get a good start and try to run up there with those top guys and see what I can do. I know I can go fast at that track, it's just about getting the start.
Who's helping you?
BarX Motorsports, Suzuki, Fly Racing, Monster Energy, Twisted Development, FMF Exhaust, Pirelli, Alpinestars, 100% Goggles, and RG3 Suspension.