Hurricane Mills, TN
Loretta Lynn's (National)
AMA Pro Motocross Championship
At the first round of the 2020 Lucas Oil AMA Pro Motocross Championship, Monster Energy/Star Racing Yamaha's Dylan Ferrandis rode to a dominant 1-1 overall win. Behind him, Rockstar Energy Husqvarna's RJ Hampshire, GEICO Honda's Jeremy Martin, and Monster Energy/Star Racing Yamaha's Shane McElrath battled for the remaining positions inside the top four. When the checkered flag flew on the second moto, Hampshire's 3-2 earned him second overall, besting Martin's 2-3 and McElrath's 4-4.
Following the racing, Hampshire, Martin, and McElrath joined the media for the first press conference of the championship, which was hosted by MX Sports Pro Racing's Brandon Short via a Zoom conference call. Ferrandis had a Saturday night flight back to California and was not available to join the press conference—although he will participate in a media session later today that we will cover tomorrow.
RJ Hampshire: Just felt good. I didn't do too good in the practice but never really do too well during that. Got two really good starts. Just felt good. …But I can't really be too bummed because I went 3-2 for second, and [that] ties my second-best result. So, happy to leave round one.
Racer X: Jeremy, why don't you give us the same rundown for you. How was your day? Tell us about your return to racing. It's your first national since you got hurt in 2018. So give us a rundown of your day as well.
Jeremy Martin: The day was not bad. It felt really good just to be back at the races and to have that goal and to line up with the boys and just try to have that competitive drive to try to beat everybody. I qualified second fastest. I struggled with my starts today. I knew that start was slippery, but I didn't expect it to be like Washougal slippery. So I didn't get out of the gate the best in both motos but just tried to be tough and suffer through that heat and get up to the front. I was getting on RJ in moto one, and then he unfortunately hit a lapper. RJ had nowhere to go and I got a blessing from him. Then in moto two, Alex and I had a pretty gnarly battle, and then Shane and I were battling. Then RJ was so far gone at that point. I just tried to be smart and end it with a third and get a podium the first round.
Shane, just a recap of your day. It's your first race in a long time. You're coming off a great supercross season. Your first race with this team at the nationals. You're going back to Loretta Lynn's, where a lot of you spent a lot of time. So just go over your day to start the season.
Shane McElrath: It was a decent start to the outdoor season. We've really put in a lot of work in the off-season, and we've had an extended off-season. Well, a second off-season! It was nice to get behind the gate again. First time lining up on the Yamaha outdoors and really getting to put it through its outdoor paces and really trying to find where I am. We've been practicing for a while, and I wanted to start outdoors out good. The track was really tough, and I was pretty nervous this first outdoor round. Happy to get out with two fourths. It's not setting the world on fire, but with everything kind of going on today, I was happy with that. The same guys passed me each moto. …Really just racing against all these guys. It's going to be a fun season for however long it is. I'm ready to line back up next weekend.
RJ, that was impressive. The fact that you've come back from an ACL in like three months—what did you do recovery-wise? Did you do hyperbaric chambers, light therapy? That's a borderline miracle. You had to do something unique, right?
Hampshire: Honestly, nothing out of the ordinary. I pretty much hired a guy full-time back home. PJ took care of all my therapy. I truly believe that once you just set your mind to something and you tell yourself it's going to happen, your body is going to believe it and you're going to end up making it happen. So that's where I was. Whenever I found out I was going to miss supercross, I was pretty bummed. I was bummed for myself and bummed for the team, being a new team, a new rider to them. They expected a lot out of me, and I kind of felt like I let them down pretty bad for supercross. So I was set on making this outdoor season, and not just making it but being competitive. Pretty sure I just proved that I'm here to battle and be competitive and not have any lack of strength in my knee. I'm not going to lie, it's a little sore right now, but it's kind of expected after an outdoor like that.
Shane, you're in a weird position where you're moving up to the 450 next year. Typically you'd be heading into the off-season and kind of looking for a ride. How do you keep from getting distracted? Do you have any plans for next year yet?
McElrath: I don't have any plans for next year yet. We have been talking to some people. I really have a job to do. Doing my job good right now is going to help secure something in the future. We started working with an agent this year, really right before Utah, because we were going to just do it ourselves, but we decided to start working with an agent. So that took a lot off of our plate, and it's been really good so far. He is aware of the situation, and he's doing everything that he can to lighten my wife and I's load. I've got to do good in outdoors. Matt will kind of help whatever the future looks like. So that's kind of where we are right now. We're working to continue to get better. I got fourth overall today, but that's by far the best I've ever started outdoors. We got some more work to do, but we got some good work to do and some room to improve. So I'm excited to race at the same track again next weekend. It's a fun track. It's pretty tight. Today I think it was so technical, just mainly because of all the rain, but I think if we don't get too much rain it can be a really good racetrack and we can have some good racing next weekend.
Jeremy, hanging out at the pits yesterday, it's funny, you were on one end and you're the old, wily vet of the team now, and the rest of the guys look like they're young and having fun and all that. Talk about that a little bit. Also, on that start, was it the pad itself or the start straight? Walking across it there were definitely soft spots and harder spots. Talk about that a little bit.
Martin: So for your question on the start, the actual pad itself—and I would say the riders would probably agree—just a little bit out in front of the gate was pretty slick. It was really slippery. Without a grate in supercross, like maybe Vegas slippery. That was interesting. But like you said, there was definitely some spots further out where there were some sinkholes and stuff due to all the rain. Then as far as for the team, definitely. We've got a packed house over there. It's pretty funny. I've always been a little bit more serious, and I'm kind of a little bit of a loner on race day, and that's just kind of my deal. That's who I am. Then you've got Jett and Hunter and Carson and Shimoda, they're in there listening to rap music and all that stuff. So it's kind of funny. I'm obviously more serious, and they do what makes them race better. They're more lighthearted and stuff. I enjoy it. I just sit back and watch.
Did you meet your expectations for the weekend? To me it looked like some vintage Jeremy. So what do you think?
I definitely wanted to get out of there with a podium. I wish I would have gotten a little bit better starts, and I wish I could have gave RJ a little bit more fits in that second moto. I felt good. It's been pretty much two years since I've raced an outdoor national. I'm adjusting to some things, as far as when it gets really hot out. The hardware in my back, I get pretty hot. So that's different for me. I used to welcome the heat pretty gnarly and stuff. So I do notice a little bit of a difference there with the instrumentation in my back. I've noticed that. So just looking forward to this series. I love the great outdoors. I love the grind. I love the motos. It's not so much of a show like supercross. We're doing a lot of racing in a short amount of time, and I think that's pretty sweet too.
RJ, I guess I'd ask the same question of you. What were the expectations coming in? Was there rust to knock off? How did you feel?
Hampshire: It's kind of hard to set expectations. I know what we've done the last four months since my ACL. Like I said, I wasn't coming here to not be competitive. Realistically, I haven't really been a podium guy every weekend, so that was my goal coming in. We're going to be in this every weekend, fighting for the top if we can. If not, settle in. I think that's kind of what I did today. That second moto, I matched Dylan a little bit, but he had some good lines. Happy with the day.
RJ, after that first moto, you kind of showed a little emotion on the podium. Was there something behind that other than just how hard you've worked to get back and how fast you got back and ended up on the podium?
To be honest with you, there's quite a bit. These last four months have definitely been a suffer. Also, I left my agency. So I don't have an agent anymore, so that kind of played a lot of it. Same with my daughter. She was there for her first outdoors, same with my wife. So there's so many things going into that.
You had a killer year, and you ended up leaving to have your knee surgery in the middle of a great year, and then they say they're going to race in June. I want to know what went through your mind when you found out they were racing in June. You got your knee done thinking you were coming back in October, and then they started in June.
Yeah, I was pretty bummed on that whole deal. It's selfish to say, but I am happy that the series did get to continue and finish off, but at the same time, what we were told at the beginning, I got my knee fixed to be ready to finish out the season. So you can look at it a bunch of different ways. When it first came out that we were going racing, I was not the happiest person around but just kind of stuck to my word that there's a bigger plan. Clearly you can tell there was a lot more to it than just the supercross. Hopefully it can pay off this whole outdoor season.
Jeremy, in that first moto you never saw Dylan, but you looked like you might have had the pace to stay with him. I'm thinking you might have thought that too. On the second moto, though, he started right in front of you, and kind of in the middle there you lost him. Was that a little frustrating?
Martin: Yeah, for sure. In moto one, I felt like I could have matched his pace, but you don't really know what's maybe going on in his mind at that point. At that point we were probably 20, 25 minutes into the moto. I could see he knew where I was. He was watching me. I could see him, too. You don't know if maybe he's doing just enough to maintain the gap, but we did a little yo-yo, and then I'm like, He's too crafty. He's too solid. I knew I wasn't going to get him. I just kind of got ready for moto two. For sure in moto two, I saw all the boys—RJ, Shane, everybody. Dylan was there right in front of me. I'm like, You can't sit behind these guys. They're fast and they're good. So I definitely lost some ground on the boys that ended up beating me today in the overall due to a lack of kind of making moves happen in the beginning of the race.
Jeremy, you just said he was crafty. I know you said that on the podium as well. Dylan was open about saying that he was saving his bike because of the heat. I know you also lost your goggles in that second moto. Also, you had your brother that seemed to hold you up as far as lap times. Right around lap nine you had your fastest lap time, then he kind of slowed off there. Did you have words with your brother? How are you going to beat Dylan moving forward?
So Dylan is tough. He just won the second supercross championship basically back-to-back. You can't beat a guy like that in just one weekend or two weekends. It takes time. Obviously he went 1-1 today, so I have to find some ground and I have to get better, obviously. That's always the goal. Alex and I, we had dinner tonight and we were harping on each other pretty good already. He was talking shit to me and I was talking shit to him. We talked about the race already for sure. [Laughs]
I do have to say, you're a strong man to come back from an injury that you had. All you guys, to risk your bodies week in and week out, I know a lot of us fans really appreciate it because it gives us something to do, especially with this whole pandemic thing going on. We're happy you guys are racing and doing it not just for you guys but the fans as well. With that being said, I know the series is only nine races. Do you think that might make an asterisk to the series just because it's condensed? Or do you actually think it might make it a harder series because there's not as many laps, not as many motos, so you don't have the time to make a mistake? Would you guys prefer maybe having a condensed series moving forward because it would give you more time to recover and maybe spend some time off with family and then get into supercross?
I had a buddy back home ask me, "What do you think of the shorter series?" I said, "We're lucky to have a series, whether it's 12 outdoor nationals." We still got nine rounds, and whether it's condensed or not, it's still all the same guys on the line. To me, that's a series. It is shorter, but there's enough motos there and there's enough stuff to where there's the potential of mistakes. I feel like definitely not, there would be no asterisk there. If something happened to Dylan and something happened to a bunch of guys in the top five, top ten, I'd be like, yeah, that's an asterisk for sure. But everybody's there right now. Everybody seems to be, as far as what I can see from the outside in, everybody's healthy. So I don't think so.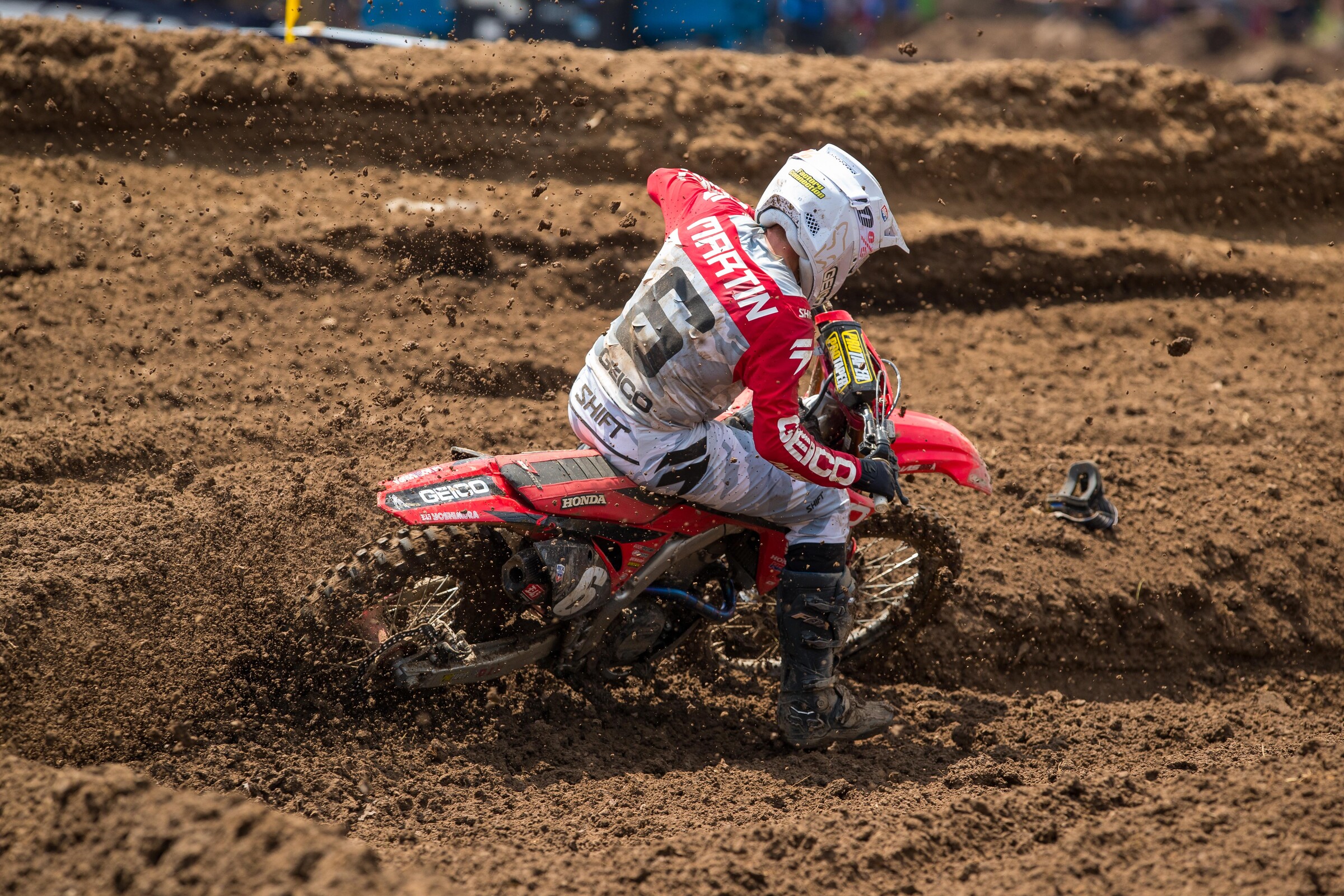 Shane, thank God MX Sports has been able to get Loretta Lynn's on the map so that we can actually have more than eight rounds for you guys, but I know the facility is not really designed for the pros, and it's a little bit tighter and there's not really long straightaways for you guys. But I personally, at least on the television, it demonstrated you guys' skill level. I wouldn't mind seeing you guys go back there if it was open. I know you guys are racing there next weekend, but just your opinion, Shane, would you be open to racing this track again? Do you think it's something that should be on the series just here forward?
McElrath: Yeah, I think if it were on the schedule it would probably be the only one that has zero elevation. Dirt-wise it can have similar dirt to other tracks, but just the way that the track is laid out there, it's pretty tight. After racing today, it's been seven years since I raced here as an amateur. I've obviously watched Loretta's every year on the live feed, but that track is a tough track to ride. So I kind of gained a little more respect for the amateur guys that race it after racing it today. I feel like with it being tighter, that's kind of not the norm for an outdoor track. So it would be another one of those technical tracks that kind of puts a twist on things that you don't get the normal results like you would. It was really good today. I think with the section right off the start, I think taking that switchback out as well as the switchback after the Ten Commandments, I think that made the track a lot more suitable to hold a pro race. So I think the rain kind of messed with us a little bit, because there were only a few lines that were decent. So it was a tough racetrack today, but I think it does have some potential.
You brought up a good point: because of how tight it is, did you have to change gearing, and were you ever in first gear because of it just being tight, or no?
No. I'm on a pretty good gearing setup right now. If I were on a different setting I run kind of for more open tracks, then I probably would have had to go down to first. It wasn't necessarily that the turns are first-gear tight turns. It was the added fact that they were really deep still and they were really soft. Some ruts you would hit and you would stay right on top of the dirt, and other ruts you would hit and you would just sink to your footpegs. That was one of the biggest things. I just kind of rode my bike today. Didn't make any changes. Really for that track being so tight, I think the conditions made it even slower. So it was kind of hard to set your bike up for that, because there were sections where we were going so slow. Bike setup-wise, I don't really think much change is necessary there, just because it's not really a track like our other ones.
RJ, my question is kind of going off of that, but it's for you about the bike setup and stuff. Is there anything specific you're going to work on this next week obviously knowing that you're going to be at the same track for two weeks in a row? Is there anything you can point to: I want to change this? Or I want to focus on this? Where are your thoughts with kind of how you're set up and everything leading into the next race?
Hampshire: It was a tough call, really. The first moto I ended up going out with a paddle tire on, and I think I made the wrong call because everybody around me all had regular knobby tires on. Second moto we did end up back on the knobby, and it felt like my bike handled a lot better. With that, I was pretty happy with my bike. It kind of went away late in that second moto, but I think that was more myself taming it down quite a bit, which then made the track actually a lot harder to ride. Not much. Head home, get a couple days of riding in and excited to be coming back.
We talked about the main focus for you is to do supercross and then everything with the knee and stuff, how you had to drop out of it early for the surgery. Is there kind of a sense of relief almost, and now you're like, I can still at least race outdoors, even though you didn't get to race supercross? At least you're still able to race something throughout the rest of the year.
I mean, it's two completely different things. I'm still kind of sour on the whole supercross topic right now. We really won't know until next year, 2021, comes. Hopefully we do get to go racing with a full series. But until that comes around, this is all just Pro Motocross. Did what we could. We're going racing. Like I said, excited to be here.
Shane, I'm curious if your approach to the races this year is any different having a bike underneath you that can consistently put you out front in the starts.
McElrath: That definitely plays into it a lot, but mainly it's just kind of preparation. We came in working with the team. They've watched me the last couple years. They've seen kind of what I do. Our goal is to not do what we've done in the past. During the week, our second off-season really lately has been working on fixing those things that kind of make me start off slow. I think one of those things is kind of because I stayed in supercross mode so much. Then this year, actually getting to spend a lot of time on outdoors and be ready coming in. There was still a lot of newness for me. I've ridden this bike. I've gotten used to it, but in a race scenario, that's still up in the air. I've been riding in California, so we haven't had really tacky dirt at all. So there was kind of a lot up in the air coming here, but I'm learning to trust the team and their suggestions on bike setup and kind of what we need to do and when we need to do it. So that's been the biggest thing for me, is to get out of my comfort zone and to trust the team when they bring something up. It's a great start to the season for me compared to past years, but the way that I feel and the way that I've been riding, fourth is not so good. So the other guys, they worked hard to be on the podium today. I struggled with the track a little bit, but I also figured the track out a lot throughout the day. So I feel like we're just getting started, but we got some good things to do.
You can listen to the press conference below and you can watch the archive of the 250 Class press conference as well.