2020 Loretta Lynn National Entry Lists Released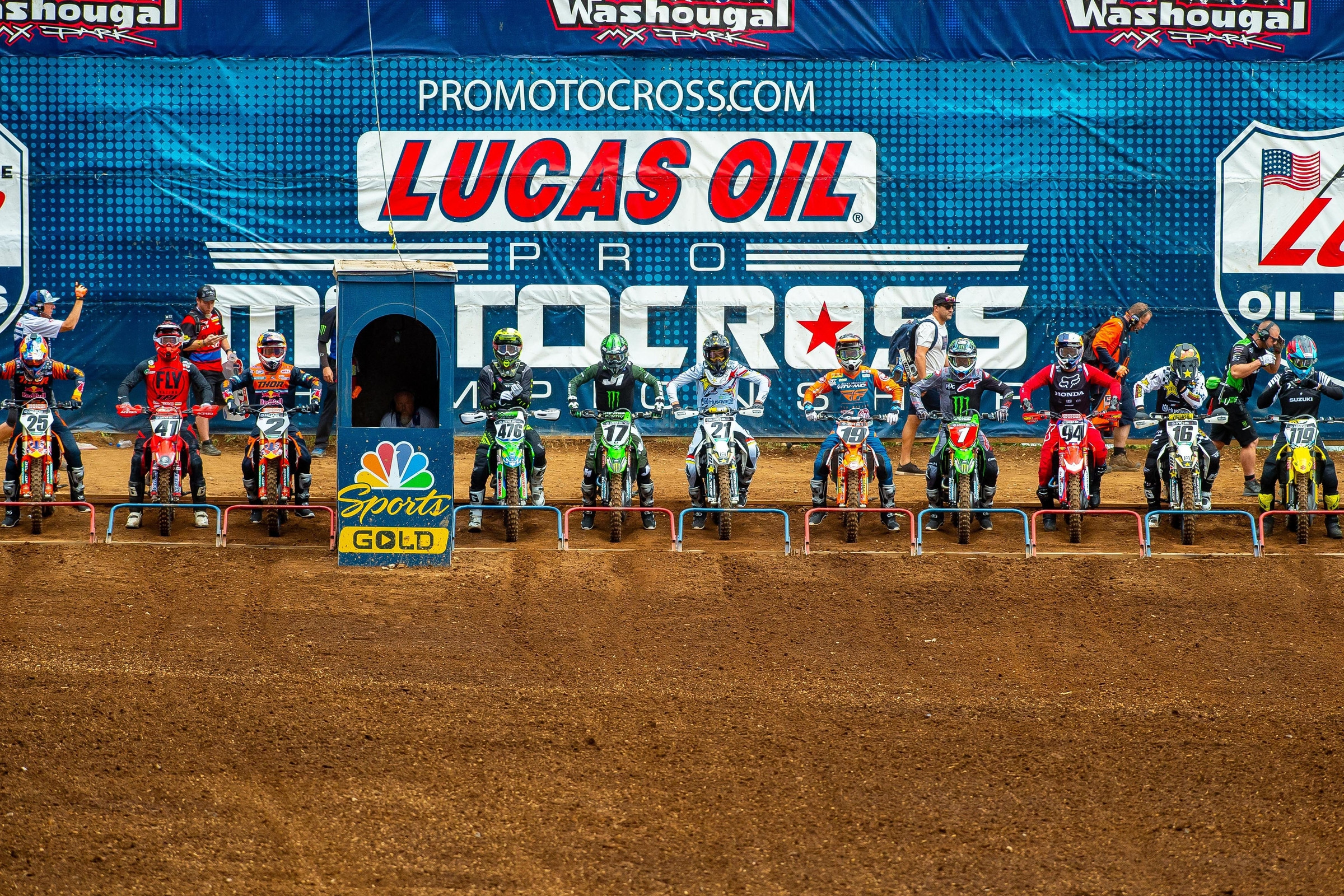 Hurricane Mills, TN
Loretta Lynn's (National)
Lucas Oil AMA Pro Motocross Championship
The American Motorcyclist Association (AMA) has released the entry lists for the 2020 Lucas Oil AMA Pro Motocross Championship opener at the Loretta Lynn Ranch in Hurricane Mills, Tennessee, on August 15.
You can view the entry list for the 450 and 250 classes below.
Below are the entry lists provided by the AMA as of Thursday, August 13, at 11:30 a.m. ET.
450 Class
| | | | | | |
| --- | --- | --- | --- | --- | --- |
| Racing Nbr | First Name | Last Name | Birth Place | Brand | Team Name |
| 1 | Eli | Tomac | Cortez, CO | Kawasaki | MONSTER ENERGY KAWASAKI |
| 2 | Cooper | Webb | Newport, NC | KTM | RED BULL KTM |
| 4 | Blake | Baggett | Grand Terrace, CA | KTM | TEAM ROCKY MOUNTAIN, WPS,KTM |
| 9 | Adam | Cianciarulo | Clermont FL | Kawasaki | MONSTER ENERGY KAWASAKI |
| 15 | Dean | Wilson | United Kingdom | Husqvarna | Rockstar Energy Husqvarna Factory Racing |
| 16 | Zachary | Osborne | Abingdon, VA | Husqvarna | Rockstar Energy Husqvarna Factory Racing |
| 17 | Joseph | Savatgy | Tallahassee, FL | Suzuki | JGR/Yoshimura/Suzuki |
| 19 | Justin | Bogle | Cushing, OK | KTM | TEAM ROCKY MOUNTAIN, WPS,KTM |
| 20 | Broc | Tickle | Holly, MI | Yamaha | Monster Energy Yamaha Factory Racing |
| 21 | Jason | Anderson | Rio Rancho, NM | Husqvarna | Rockstar Energy Husqvarna Factory Racing |
| 23 | Chase | Sexton | La Moille, IL | Honda | Team Honda HRC |
| 25 | Marvin | Musquin | France | KTM | RED BULL KTM |
| 31 | Fredrik | Noren | Sweden | Suzuki | JGR/Yoshimura/Suzuki |
| 34 | Tyler | Bowers | Danville, KY | Kawasaki | Triggr | Tyler Bowers Racing |
| 42 | Ben | LaMay | Anchorage, AK | KTM | LBeardsleyCPA | XBrand | UFO |
| 48 | Henry | Miller | Rochester, MN | KTM | FXR | Miller Racing |
| 50 | Benny | Bloss | Oak Grove, MO | Husqvarna | KT Tape Truck Central Donnells Husqvarna |
| 51 | Justin | Barcia | Greenville, FL | Yamaha | Monster Energy / Yamaha Factory Racing |
| 61 | Alex | Ray | Atwood, TN | Kawasaki | SGB Racing/Maxxis/Babbitt's Kawasaki |
| 62 | Christian | Craig | Corona, CA | Honda | GEICO Honda Factory Connection |
| 75 | Coty | Schock | Dover, DE | Honda | FXR Chaparral Honda |
| 78 | Jake | Masterpool | Paradise, TX | Husqvarna | Invictus Speed Crew |
| 103 | Max | Anstie | Great Britain | Suzuki | HEP Motorsports Suzuki |
| 116 | Tj | Albright | Mt Marion, NY | Husqvarna | |
| 168 | Cale | Kuchnicki | Alanson, MI | KTM | Highland Trails Racing |
| 186 | Tyler | Monks | Colorado Springs, CO | Honda | M.C. Racing |
| 217 | Cory | Gilliam | Thurmont, MD | Yamaha | Gilliam Racing |
| 219 | Renato | Paz | Brazil | KTM | YLD Racing Team |
| 222 | Brandon | Hugney | Mount Joy, PA | Kawasaki | Triple Deuce MX |
| 235 | Tucker | Cantrell | Franklin, TN | Honda | Tucker Cantrell Racing |
| 265 | Nick | Fratz-Orr | Oakland, MD | KTM | Fratz-Orr Racing |
| 269 | Dalton | Dyer | Benton, AR | Kawasaki | Legacy Graphics | Pro Circuit | Greg Dyer Plumbing |
| 273 | Noah | Vislosky | Leechburg, PA | Yamaha | Ebensburgh Yamaha |
| 281 | Cory | Carsten | Bayville, NJ | Suzuki | Carsten Racing |
| 287 | John | Snow | Raleigh, NC | Honda | Thomas Motorsports | General Electric Aviation | PanicREV |
| 297 | Vincent | Harrison | Buckhannon, WV | Yamaha | Harrison Racing |
| 309 | Jeremy | Smith | Marmora, NJ | Kawasaki | Smith Racing |
| 324 | James | Cooper | Indianapolis, IN | Yamaha | Cooper Racing |
| 401 | Sam | Redman | Clarksville, TN | Kawasaki | 1StopMotorsports | Gateway Kawasaki |
| 402 | Samuel | Greenawalt | Jacksonville, FL | Yamaha | GMXR Worldwide |
| 404 | Carlos | Short | Charlotte, NC | Yamaha | Flyin Taco Racing |
| 423 | Matthew | Fisk | Seekonk, MA | Husqvarna | Fisk Tree Service |
| 441 | Scott | Meshey | Zephyrhills, FL | Husqvarna | Xtreme Powersports Husqvarna |
| 443 | Luke | Renzland | Hewitt, NJ | Husqvarna | Traders Racing | Yamaha |
| 451 | Klay | Prager | Myrtle Beach, SC | KTM | Podium Works |
| 456 | Ryan | Grantom | Austin, TX | KTM | Doug's Plumbing |
| 499 | Dawson | Chesnut | Sorento, IL | Kawasaki | Chesnut Racing |
| 513 | Aerian | Weaver | Morgantown, WV | Honda | Weaver Racing |
| 519 | Jorge | Rubalcava | Paradise, TX | Husqvarna | JR Racing |
| 553 | Brent | Rouse | Torrance, CA | Honda | Patch Master Racing | Mid Cities Honda |
| 560 | Kyle | Murdoch | Winchendon, MA | Husqvarna | Motorbikes Plus | Factory Connection | Shift |
| 577 | Felix | Lopez | Mexico | KTM | KTM of Mexico |
| 595 | Michael | Kitzmiller | Vicksburg, MI | Yamaha | Zeigler Motorsports |
| 596 | Carson | Tickle | Cary, NC | Honda | Team Tickle |
| 607 | Kyle | Endriss | Lew Beach, NY | Yamaha | Endriss Racing |
| 639 | Rene | Garcia | Perris, CA | KTM | |
| 647 | Matthew | Hubert | Riverside, CA | Kawasaki | TPJ Racing |
| 657 | Justin | Wolf | Franklin, WI | Kawasaki | Sportland 2 Powersports |
| 661 | Noah | Chambers | Oxford, PA | Kawasaki | SCCMX |
| 672 | Brandon | Pederson | Los Fresnos, TX | Husqvarna | |
| 688 | Gabe | Woodrow | Colora, MD | Kawasaki | SGB Racing/Maxxis/Babbitt's Kawasaki |
| 711 | Tristan | Lane | Deland, FL | KTM | Team Lane Racing |
| 722 | Adam | Enticknap | Lompoc, CA | Suzuki | HEP Motorsports Suzuki |
| 724 | Jason | McConnell | McDonald, PA | Kawasaki | Pro+Motorsports | Pro-action |
| 735 | Tristan | Lewis | Locust Grove, GA | Yamaha | |
| 755 | Kyle | Ianuale | Gainesville, FL | KTM | |
| 757 | Tyler | Gosnell | Bloomsdale, MO | Yamaha | Big St Charles | Novik Route 15 | JH2 Approved Home Improvements |
| 794 | Bryce | Backaus | Neillsville, WI | Yamaha | All Motor Performance | Feine Tune |
| 795 | Aaron | Leininger | Wesley Chapel, FL | Honda | Leininger Brothers Racing |
| 841 | Jeff | Walker | Sylvania, OH | KTM | Walker Motorsports |
| 862 | Ozzy | Barbaree | White Hall, AR | Suzuki | Shock Sox | Berm Lords |
| 915 | Ryan | Quinn | Landing, NJ | Husqvarna | Ride On Moto | JDP | Blud Lubricants |
| 938 | Bryce | Davis | York Springs, PA | Yamaha | Davis Racing |
| 965 | Cody | Griffin | Mount Holly, NC | Yamaha | |
| 987 | Ethan | Chesnut | Sorento, IL | Kawasaki | |
| 995 | Christopher | Prebula | Petersburg, MI | KTM | Team Imperial |
250 Class
| | | | | | |
| --- | --- | --- | --- | --- | --- |
| Racing Nbr | First Name | Last Name | Birth Place | Brand | Team Name |
| 6 | Jeremy | Martin | Millville, MN | Honda | GEICO Honda Factory Connection |
| 12 | Shane | McElrath | Canton, NC | Yamaha | Monster Energy/Star Racing/Yamaha |
| 14 | Dylan | Ferrandis | France | Yamaha | Monster Energy/Star Racing/Yamaha |
| 24 | RJ | Hampshire | Hudson, FL | Husqvarna | Rockstar Energy Husqvarna Factory Racing |
| 26 | Alex | Martin | Millville, MN | Suzuki | JGR/Yoshimura/Suzuki |
| 29 | Cameron | McAdoo | Sioux City, IA | Kawasaki | Monster/Pro Circuit/Kawasaki |
| 30 | Brandon | Hartranft | Brick, NJ | KTM | Troy Lee Designs Red Bull KTM |
| 32 | Justin | Cooper | Cold Spring Harbor, NY | Yamaha | Monster Energy/Star Racing/Yamaha |
| 35 | Hunter | Lawrence | Australia | Honda | GEICO Honda Factory Connection |
| 39 | Jordan | Bailey | Orlando, FL | Husqvarna | Rockstar Energy Husqvarna Factory Racing |
| 55 | Martin | Castelo | Ecuador | Husqvarna | JMC Motorsports, LLC |
| 57 | Derek | Drake | San Luis Obispo, CA | KTM | Troy Lee Designs Red Bull KTM |
| 67 | Jerry | Robin | Hamel, MN | Husqvarna | FCC Motosports | Signation | Canvas MX |
| 68 | Nick | Gaines | Ringgold, GA | Yamaha | 3D Racing Yamaha |
| 74 | Mitchell | Harrison | Brighton, MI | Kawasaki | Monster Energy Pro Circuit Kawasaki |
| 77 | Kevin | Moranz | Topeka, KS | KTM | TPJ Racing |
| 83 | Jett | Lawrence | Australia | Honda | GEICO Honda Factory Connection |
| 84 | Jo | Shimoda | Japan | Honda | GEICO Honda Factory Connection |
| 95 | Carson | Brown | Ravensdale, WA | Husqvarna | JMC Motorsports, LLC |
| 117 | Stilez | Robertson | Bakersfield, CA | Husqvarna | Rockstar Energy Factory Husqvarna Racing |
| 124 | Lane | Shaw | Alvin, TX | KTM | Ronnie Prado Company |
| 129 | Chase | Lorenz | Arvada, CO | Honda | Sun Powersports | Fox | FMF |
| 130 | Austin | Root | Chester, SC | Husqvarna | Root Racing |
| 135 | Robert | Fitch, Jr. | Watkins, CO | Yamaha | Fitch Racing |
| 149 | Brice | Klippel | Bradford, TN | Honda | TPJ Racing |
| 151 | Carter | Gordon | Louisville, IL | Honda | Travco Motorsports | Fusion Graphics | FXR |
| 157 | Darian | Sanayei | Monroe, WA | Kawasaki | Monster Energy Pro Circuit Kawasaki |
| 162 | Maxwell | Sanford | Pasadena, MD | Yamaha | Concrete Plants Inc |
| 163 | Pierce | Brown | Sandy, UT | KTM | Troy Lee Designs Red Bull KTM |
| 183 | Brandon | Yates | Ottawa, KS | Husqvarna | Yates' Racing |
| 188 | Gage | Schehr | San Clemente, CA | Husqvarna | Grindstone Compound | 5th street Lending |
| 203 | Andrew | Boccarossa | Redding, CT | Yamaha | Boccarossa Insurance Racing |
| 204 | Kyle | Greeson | Knightsen, CA | KTM | |
| 220 | Carson | Mumford | Simi Valley, CA | Honda | GEICO Honda Factory Connection |
| 221 | Mathias | Jørgensen | Denmark | Kawasaki | |
| 227 | Derek | Kelley | Riverside, CA | Husqvarna | JMC Motorsports, LLC |
| 233 | Michael | Lacore | Washington, DC | KTM | Oneal | Bell Helmets | Limited Decal |
| 239 | Mason | Gonzales | Fortwalton Beach, FL | Yamaha | |
| 247 | Brock | Papi | Groveland, FL | KTM | Brock Papi Racing |
| 251 | Ezra | Hastings | Aurora, IN | Husqvarna | Ezra Hastings Racing |
| 266 | Brett | Greenley | New Memphis, IL | Yamaha | Route 15 Cycles |
| 301 | Jordan | Jarvis | Clayton, NC | Kawasaki | SGB Racing/Maxxis/Babbitt's Kawasaki |
| 307 | Ryan | Diezic | Streetsboro, OH | Husqvarna | FXR | MX Graphics |
| 337 | Vincent | Luhovey | Greensburg, PA | KTM | Hillview Cycles | TrueMX | Department of Power |
| 345 | Joshua | Prior | Hebron, CT | Husqvarna | Custom MX Supply | American Ladders and Scaffolds | 6D |
| 352 | Jalek | Swoll | Beleview, FL | Husqvarna | Rockstar Energy Husqvarna Factory Racing |
| 364 | Chad | Saultz | Batavia, IL | Yamaha | ROCK RIVER RACING |
| 372 | Hayden | Hefner | Taylorsville, NC | KTM | KTM |
| 373 | Hardy | Munoz | Chile | Husqvarna | Monster Energy | Fox | Nitro Lubricants |
| 374 | Dilan | Schwartz | Alpine, CA | Suzuki | Barx Chaparral Factory Suzuki |
| 387 | Joshua | Varize | Perris, CA | KTM | KTM Orangebrigade |
| 425 | Joshua | Leininger | Mooresville, NC | Honda | Fly | Xtreme Powersports | JGR |
| 428 | Chad | Stonier | St. Augustine, FL | Yamaha | |
| 455 | Justin | Ashburn | Sparta, TN | KTM | Motowhips |
| 483 | Bryton | Carroll | Vineland, NJ | Yamaha | |
| 491 | Gabe | Gutierres | Concord, MA | KTM | Answer MX | Ride 100% | Hammer Nutrition |
| 504 | Gerhard | Matamoros | Honduras | Yamaha | Invictus Speed Crew |
| 509 | Alexander | Nagy | Richmond, IL | KTM | Like You Live | SKVI Racing Team |
| 514 | Anthony | Roth | Cedar Run, NJ | Yamaha | Pepsi | JETTY | Traction MX |
| 554 | Wade | Brommel | Indianola, IA | Kawasaki | Real Ink Graphics | Cox Concrete | Team Carey |
| 566 | Jacob | Rose | Summersville, WV | Kawasaki | Rose Racing |
| 573 | Hunter | Calle | Plainfield, CT | Kawasaki | Federal Hill Home Theaters Inc | Arai Helmets | SIDI Boots |
| 574 | Ryan | Lechien | Johnsonburg, PA | KTM | Rocket Valley Motorsports |
| 670 | Tyler | Ducray | Galt, CA | KTM | Nor-Cal Crew |
| 701 | Jake | Pinhancos | Rochester, MA | KTM | Shift MX | Oakley | Twin Air |
| 737 | Zachary | Butkiewicz | Sussex, NJ | KTM | Inclusive Excursions |
| 746 | Trevor | Schmidt | Rochester, NY | KTM | |
| 811 | Christopher | Williams | Ortonville, MI | Suzuki | Williams Racing |
| 815 | Colton | Eigenmann | Titusville, FL | Suzuki | |
| 874 | Zack | Williams | Elko, MN | KTM | Fusion Motorsports |
| 924 | Gage | Hulsey | Park Hills, MO | Yamaha | Hulsey Racing |
| 935 | Sebastian | Lave | Post Falls, ID | Husqvarna | |
| 962 | Joseph | Tait | Wilton, CT | Yamaha | Smokin Joe's Racing |
| 964 | Mitchell | Goheen | Canada | Yamaha | Glasstech | Zind Customs |
| 981 | Curren | Thurman | Alvin, TX | KTM | Team Allsouth | Ronnie Prado Company | Fly Racing |
| 996 | Preston | Taylor | Hastings, NE | Kawasaki | Yankton Motorsports | Tamer Holeshot Hookup | Racetech |