Hurricane Mills, TN
AMA Amateur National Motocross Championship (Loretta Lynn's)
Amateur National Motocross Championship
Welcome to Racerhead, coming to you from the busiest spot in the motocross world: the Rocky Mountain ATV/MC shipping center at Loretta Lynn Ranch in Hurricane Mills, Tennessee. We are just across the road from the finish line and announcer's tower where all next week the 2020 Monster Energy AMA Amateur National Motocross Championship will go off, moto after moto, day after day, for the 39th straight year on the ranch home of the famous country singer Loretta Lynn. Gathered around the massive campground that is her ranch are hundreds of racers and their families—something that didn't really seem possible at the beginning of summer. This has been a year unlike any other: crueler, stranger, hotter, even sadder. But somehow we've made it here, through the work of a lot of good people around the country and with the cooperation of both the motocross community and the local community. Social distancing is being practiced and masks are on pretty much everyone, from the folks at the country store to the aisles of the nearby Walmart. No one has complained yet, but then again, it hasn't really gotten hot yet, nor is the place full. By the end of this weekend, that could all change—it will certainly get hot and full, anyway.
Since 1982, we've been coming here to Hurricane Mills to crown our amateur, vet, and youth champions. That's almost four decades and right near the start of a third generation. Over the years, the race has gone off under all sorts of conditions, and not just rain or shine—I'm talking heat waves and the occasional hurricane. We've been through economic booms and busts, terrorist attacks and ensuing wars overseas, presidents Reagan, Bush, Clinton, Bush II, Obama, and now Trump. The Cold War ended, the Iron Curtain came down, the heartbreak of 9/11 happened, and we've now had as many Gulf Wars as we did World Wars.
On some lighter notes, we've gone from VHS tapes to DVDs to streaming and posting everything on YouTube and Facebook and Instagram (with Blu-Ray in there somewhere, and I swear I never even looked at MySpace and avoid Twitter altogether). We went from landline telephones to Miami Vice-style bag phones to flip phones to wireless to smartphones (though service here at the ranch can still be spotty). From film to digital, cable to satellite, FM to XM, 7-Eleven to Starbucks, from party lines to fax machines to Zoom meetings.… We could do this all day.
Here are some sights from the Loretta Lynn Ranch in Hurricane Mills, Tennessee.
We started with classes like a single 51cc division, 100cc Amateur and Youth, 125cc Stock and Mod, and a single Vet class. Now it's mostly two-strokes to four-strokes (and starting this year, electric minicycles for the 4-6 e class or whatever it's called among the nearly half-dozen pee-wee divisions, though we don't call them pee-wees). The track has evolved, but the three-moto format remains the same. And while it's hard to find a lot of footage from those early years, every lap of every moto will be filmed this time, and most of the motos will stream live all week long on www.racertv.com.
In looking through past event programs and results in the run-up to this race, we were reminded of friends who either raced or worked on that track across the street who are sadly no longer around: forever-fast people like Brian Swink, Davey Yezek, Paul Denis, Jesse Masterpool, and Steve Lewis, just to name a few. And of course all of the old friends and ranch regulars who were as much a part of the fabric of this event as the racing itself, including Mooney Lynn, Loretta's husband, who let my dad build a motocross track here in the first place. We lost Big Dave along the way, too, but his original idea for a weeklong motocross vacation on a neutral track in the middle of the country remains the same, even while evolving all the while.
But I don't know that he or anyone else might have guessed what 2020 would bring in the way of just plain surreal challenges, issues, and uncertainty. The coronavirus wrecked this year for pretty much everyone and everything, and it's still not finished with us. Somehow we're still able to come here and enjoy a week of friendship, motocross racing, and our extended motocross families. It's definitely different than any other challenge we've had, and only through the support of so many racing families, fellow amateur promoters, and a hopeful industry have we made it this far. Families are here enjoying themselves, even while keeping their distance and wearing masks and face coverings when they can't. The swimming pool is drained, but the creek water is flowing and cool. People are cruising around on golf carts and pit bikes, and the track they will start practice on come Monday looks superb (though right now a little dry).
In a bizarre year unlike any we've ever been through, it's nice to know that for one week in August it will seem normal, even if it's not anywhere else other than this lovely lady's ranch.
Okay, UPS truck just pulled up, time to get back to my other summer job.
Racing, Racing, Racing (Jason Weigandt)
We've all said that we don't want to see the crazy things from 2020 ever happen again, and I'm here to come up with yet another thing I'd like to not see repeat in '21. Kicking off the Monster Energy AMA Amateur National Motocross Championship and the Lucas Oil AMA Pro Motocross Championship within one week of each other is not ideal. As the world was expecting a few months ago, it seems like all racing and sports are practically all starting at the same time, and if you're trying to track, plan, follow or cover it, it's almost impossible to stay ahead. And that's just me saying this, as the guy that runs this website. I can't even imagine what Davey and the MX Sports office people have been dealing with for the last few weeks!
(This is why I always stay as far as I can from MX Sports' business. I'm not volunteering for that kind of stress.) This is my 19th year at Loretta's, and it's always the longest, toughest (and most fun) week of the year. You're completely disconnected to the outside world when you're there, but it's fun because it's all motocross 24/7. However this year that's tough, because it's difficult to plan coverage for the Lucas Oil AMA Pro Motocross Championship, both here, and with my TV job with NBC. Preseason conference calls for motocross must now take place while I'm at Loretta's. Questions must be answered while I'm at Loretta's. This week, we shot our Lucas Oil AMA Pro Motocross Championship preview shows while I was also trying to figure out the MX SportsCenter videos at Loretta's. Oh, and in between, NBC has asked me to host the studio pre-race show for MotoGP and World Superbike road racing next weekend. So, I'll be studying both road racing and pro motocross while announcing Loretta's motos all week. When Loretta's is over, I'll fly to New York and go to the NBC Sports studios in Connecticut and host the road racing show. Then I'll head back to Loretta's for the pro opener! The regular road racing studio host, Leigh Diffey, is doing Indycar so I have to fill in for road racing. Yes, all racing is back!
You know what, though? This is awesome! If you're a motorcycle racing fan, you will have motocross, flat track, and road racing all back at once, and F1, Indycar, and IMSA are back if you're a car guy (NASCAR returned already awhile back) and of course stick and ball sports like the NBA and MLB are here, too. We went from nothing to everything in a short time (providing football actually happens). If you're into sports, this is amazing, and while I'm now following a ton of different series for a ton of different shows all at the same time, it's so much better than late March, when there was no chance of anything at all.
For the latest on the Pro Motocross Championship, check out the first episode of our preview show, which launched today, starring me, Matthes and JT. We'll roll out the second 450 show and our 250 show over the next few days, so you will have about two weeks to watch 'em before the gate drops on August 15. As for Loretta's, I've got my eye on one group: last year's A classes graduated so many riders (Jett Lawrence, Jalek Swoll, Jo Shimoda, for example) that the A group is in a bit of a rebuild year this year. The class to watch is 250 B and Schoolboy 2, which features Jett Reynolds, Nate Thrasher, Matt LeBlanc, Nick Romano, Chance Hymas and probably three other fast kids whose moms are reading this and are now writing terse emails all mad that their kid wasn't mentioned here. Seriously, that's a stacked group, and kudos to teams for wanting to make the fastest kids to race each other more these days. Did you know there used to be four A classes at Loretta's and now there are just two? That forces the best to race the best. If you're a B-level rider on a 250F, you have only three classes that make sense: 250 B, or 250 B Limited, and Schoolboy 2. Again, best against the best. That's the point, and it's cool that teams wanted this. We saw mega-stacked A classes last year and we'll see it again in B this year. Sweet. Racing is back, hard core, all over. This is what we all wanted, so let's settle in and enjoy it. Read out 2020 Loretta Lynn's preview for names to know and which classes to watch to see some of the best action at the ranch.
Check out the first part of our 2020 Pro Motocross preview videos:
Canned (Mitch Kendra)
As expected, Feld Entertainment announced that the 2020 Monster Energy Cup has been canceled. The non-points-paying race was set for October 10 at Dignity Health Sports Park in Carson, California, but the ever-changing COVID-19 situation has now impacted the event. Specifically, Feld Entertainment says they have run into problems securing a facility with other sports leagues starting back up.
The Lucas Oil AMA Pro Motocross Championship is currently scheduled to run through October 10, but that didn't impact the Monster Energy Cup date. Internally it already seemed likely that the Monster Energy Cup would not take place on the originally scheduled October 10 date anyway.
Read the official announcement: "Unfortunately, the Monster Energy Cup that had been scheduled for October 10 at Dignity Health Sports Park in Carson, CA will not be feasible this year, due to other leagues starting their seasons and the difficulty of securing an appropriate location to host the event in the fall. In conjunction with the Monster Energy Cup, the 2020 Supercross Futures AMA National Championship will also be cancelled."
Unfortunately, the Monster Energy Cup wasn't the only Monster Energy-sponsored event canceled this week, as the 2020 Monster Energy FIM Motocross of Nations was canceled as well. About 24 hours after the announcement from Feld Entertainment, Infront Moto Racing (formerly Youthstream) announced the following:
MONACO (Principality of Monaco)—Infront Moto Racing regrets to inform that the 2020 Monster Energy FIM Motocross of Nations scheduled to take place on the 25th – 26th and 27th of September in Matterley Basin, Great Britain, has been cancelled.
Despite all the efforts from the local organizer (Steve Dixon) and Infront Moto Racing, there is no other viable options but to cancel the 2020 edition of MXoN due to the COVID-19 pandemic.
Additionally, Infront Moto Racing have received information from nearly all of the non-European teams normally attending the event that due to COVID-19 complications of travel and quarantine protocols, they will not be able to take part in this year's event.
Therefore, taking all these factors into consideration and with the goal to coordinate the greatest off-road event of the year at a very high level, Infront Moto Racing and the FIM have arrived to the conclusion to cancel the event and look forward to a phenomenal Monster Energy FIM MXoN in 2021!
With the MXGP of Winchester planned to be held together with the MXoN, this GP event will now take place on the 30th of September in Mantova as the MXGP of Città di Mantova featuring a back-to-back MXGP race in Mantova, which will place on September the 30th and October the 4th.
Andras Hegyi will have more on the cancelation of the 2020 MXoN later in this post.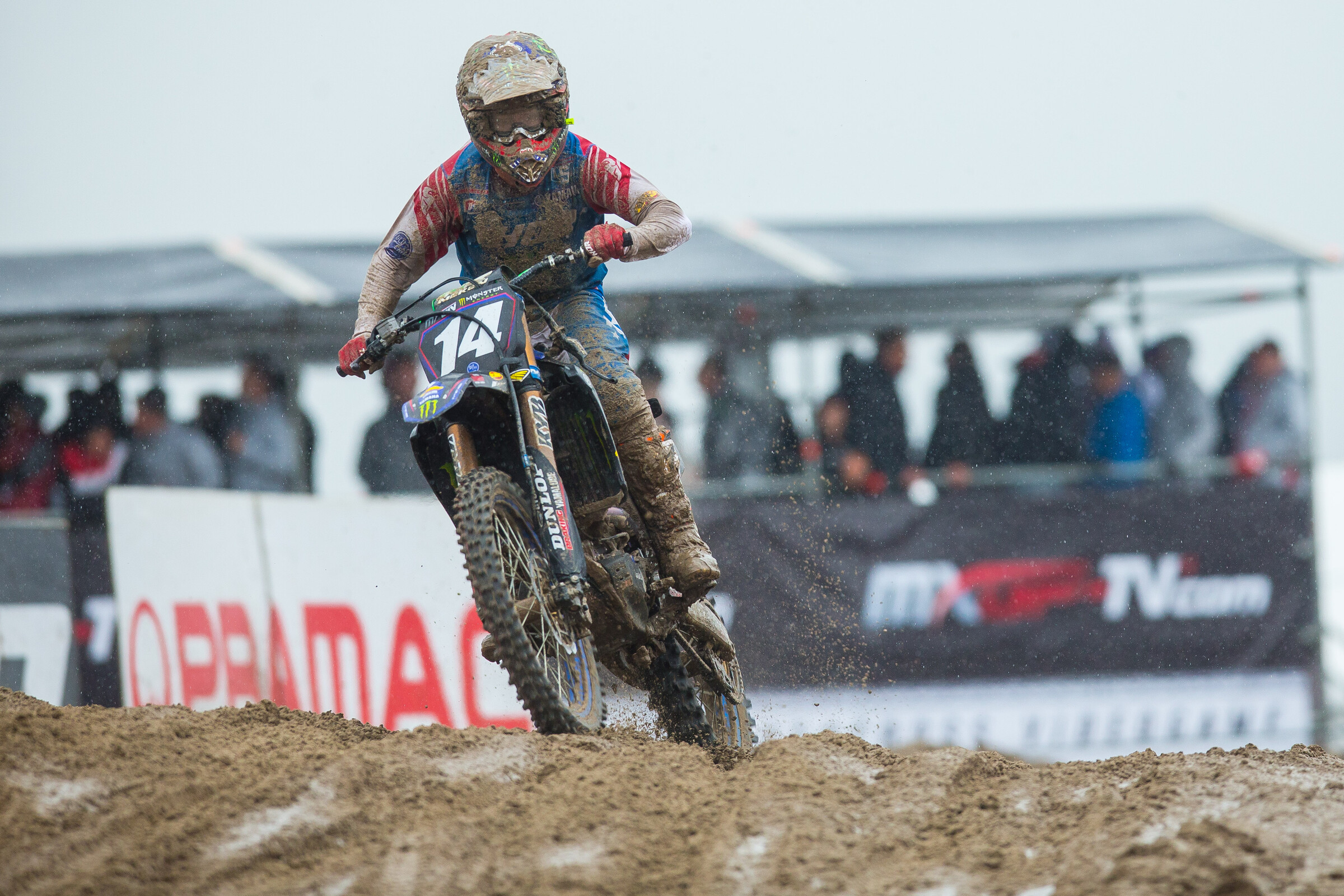 And Davey spoke with well-traveled event promoter Eric Peronnard the other day for an update on what this fall's international schedule looks like. Unfortunately, it's not looking great for a majority of them.
"Unfortunately, this has been a very sad season," Peronnard said. "We're not as lucky globally as we have been in the U.S. with a full supercross season and soon the motocross season. Races keep canceling and being postponed. But at this stage of the year, it's more canceling than postponed, to be really honest."
According to Peronnard, the Geneva Supercross in Switzerland was canceled three weeks ago and the Australian Supercross Championship (including the AUS-X Open, amongst other events) isn't looking great.
"My last conversation with them was pretty sobering as well, since Australia seems to be not taking much chances," Peronnard told Davey. "It's a big country with not too many people, and I think they're erring on the side of safety—maybe overkill, but who knows? Anyway, our friends in Australia were not too optimistic. I think Justin Brayton and I, we're going to spend a lot of time with our families the last quarter."
As of now, the Paris Supercross—scheduled for the weekend of November 10—is still on. Peronnard said in September we should know if the event will take place or not.
First Cancellation (Andras Hegyi)
The most famous single motocross race, the oldest motocross event in existence, has been cancelled for the first time ever. What was originally called the FIM Motocross des Nations, held every year since 1947, the Motocross of Nations has been cancelled for 2020 due to COVID-19. The MXoN survived the Cold War. It even went over what was known as the Iron Curtain, as the MXoN visited two former communist countries, the Soviet Union in 1968 and Czechoslovakia in 1975. In addition, the MXoN survived world economic and financial crises, like the 1970s energy crisis and the big global 2008 financial meltdown. And it survived even a host canceling—in 2002 the race was to be held in the United States, but the original venue in Southern California canceled at the last minute, so the FIM moved the race to Spain a few weeks later. But this is 2020, and the worldwide coronavirus pandemic has made it nearly impossible to travel abroad. So after many attempts to save it, including moving it from France to Great Britain, the 74th Motocross of Nations was canceled this week once and for all.
In the last 73 years, the most successful national team is Team USA, with 22 wins since their first in 1981, though the past half-dozen years haven't been the best. Among the most successful riders are the American Jeff Ward and the British rider Jeffrey Smith; as both of them had seven wins each as a member of winning teams. Considering the most podium results, the most successful team is Team Belgium, as the Red Knights have 59 podiums in all. Among the riders, another record belongs to a Belgian motocrosser: Stefan Everts, the ten-time individual world champion, made 14 podium results at the Motocross des Nations.
There is another record that pertains to Belgium. The venue that hosted the MXoN the most times is the legendary Citadel of Namur, which hosted it five times. Also, an Estonian motocrosser named Tanel Leok is the record holder regarding the number of times to race in the MXoN, as he has been on his national team every year since 2001. Hopefully Leok as well as the race itself will be back in 2021.
The September 2020 ISSUE OFRACER X MAGAZINE IS NOW AVAILABLE
The September 2020 Issue of Racer X Illustrated
The Cradle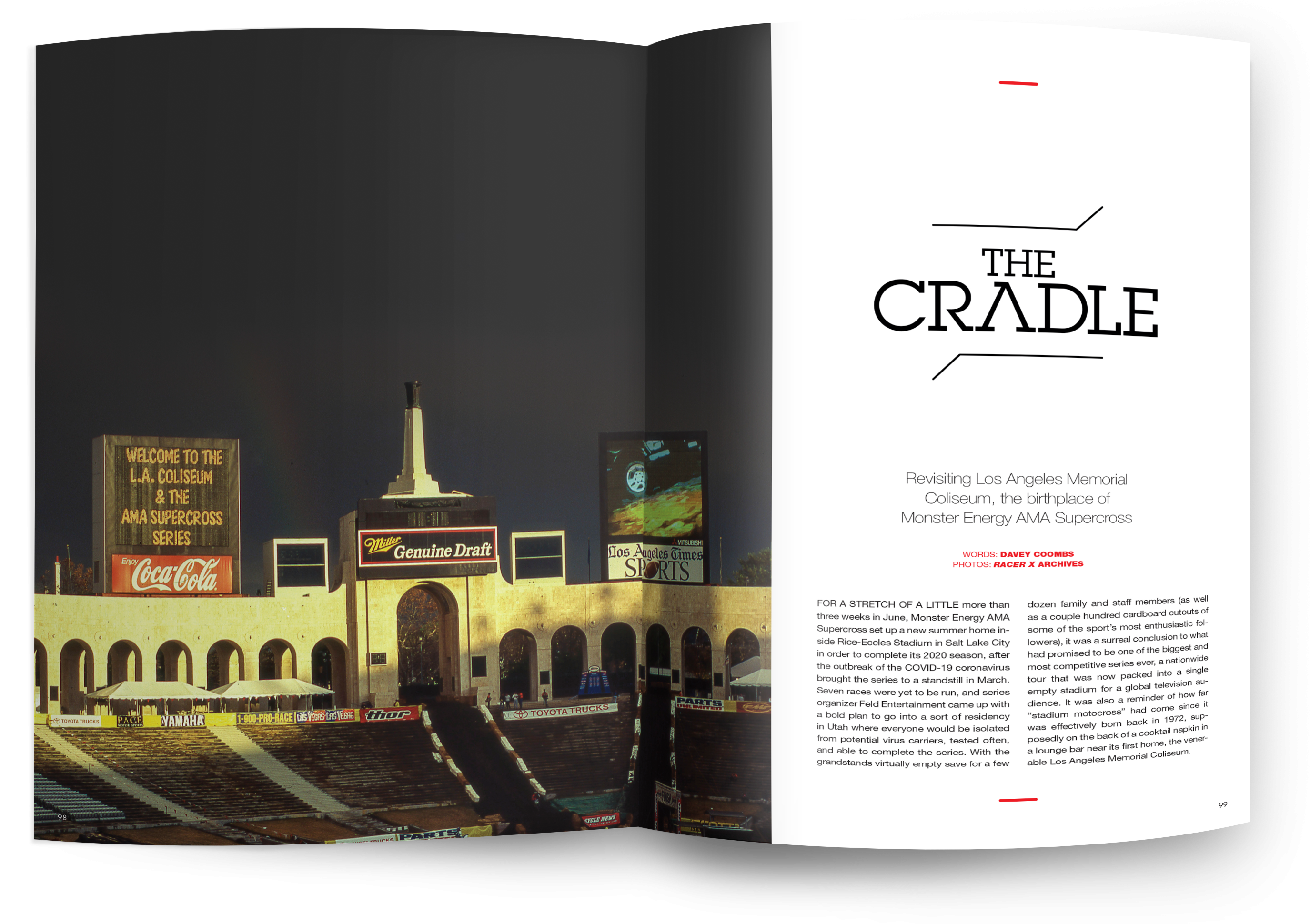 Revisiting Los Angeles Memorial Coliseum, the birthplace of Monster Energy AMA Supercross. (Read or listen)
Read Now
Preview Now
Hey, Watch It!
Fly Racing announced its 2021 motocross gear lineup:
2020 SX Champs Decided in Salt Lake City | Moto Spy Supercross S4E7
Listen To This
In 2005, there was no chance this would work. No cell-phone signal will ever reach Loretta Lynn Ranch, high-speed internet and YouTube essentially didn't exist—and yet there was an idea to create a daily video highlight show from the AMA Amateur Nationals. A 19-year-old video kid named Wes Williams lied and said he could pull it off, which led to all-nighters for him and hosts Jason Weigandt and Kevin Kelly. Now, 15 years later, they hook up to talk about that first year, how MX SportsCenter led to Vurb Moto and the creation of the motocross video world we know today, and reviving the shows for 2020.
While we were in SLC for the final seven rounds of Monster Energy AMA Supercross, I caught up with former pro rider Russ Wageman to talk about raising two professional motocrossers as sons, his own pro career, Jim Holley, racing all over the world, testing for the magazines, what he's doing now, and more.
And if you haven't already, check out the first few Racer X Read Alouds, where our staff read their Racer X Magazine feature out loud.
Head-Scratching Headline/s of the Week
"NBA Player Excused from Bubble to Attend Funeral -- Goes to Strip Club..."—Drudge Report
"Johnny Manziel Says the Strip Club Wings That Landed Lou Williams Back in Quarantine Are the Best He's Ever Had"—Barstool Sports
"A Florida man received millions in coronavirus aid. He used it to buy a Lamborghini, prosecutors say."—The Washington Post
"Brad Pitt scores Emmy nomination for playing Dr. Fauci on 'SNL'"—CNN.com
"Belarus president who claimed vodka would cure coronavirus diagnosed with Covid-19"—Daily Mirror
"The city of Toronto has fewer new cases than the Marlins"—AP Sports
"The infectious disease expert on why he socially distanced the ball from the glove." Tweet from Huffington Post on "Dr. Anthony Fauci Explains Disastrous First Pitch Fail: 'My Bad'"
Random Notes
The annual 125 Dear Race has become a northwestern tradition, and it's happening again this year, despite the whole COVID-19 deal, but it will have a few different rules and regulations when it goes off on September 19-20 at Washougal. Check it out right here: www.125dreamrace.com.
For the latest from Canada, check out DMX Frid'EH Update #31.
Thanks for reading Racerhead. See you at the races!