He's always one of the friendliest and funniest riders to talk to, but does Malcolm Stewart have a competitive edge inside that we don't see? The 2016 250SX East Region Supercross Champion has clawed his way into contention in the 450 ranks, notching seventh in the 2020 standings and stepping up with career-best top five rides at the end of the season. How much higher can he climb? Before we put supercross to bed for the year, we rang up Malcolm for his take on the year, and also his thoughts on 2021, and the Lucas Oil AMA Pro Motocross Championship, which he has not raced since 2014.
Racer X: Malcolm! Wanted to talk to you before we put supercross too far in the rearview mirror. What have you been up to?
Malcolm Stewart: I've just been fishing a lot, nonstop. After supercross, my trainer, Gareth Swanepoel gave me two weeks off, and I was fishing morning and night. I'm up at 4:45 in the morning, try to be on the lake by 6, fish until about 10 because it's so hot in Florida. Take a nap! Go back and catch the evening route! I got to the point where I needed to physically remember to eat.
You don't pack a lunch?
I brought waters and that's about it! I get thirsty.
Well, we always heard how much you loved fishing. I'm glad you've found ways to still do both—racing and fishing.
I'm glad to get back at it. Honestly, that month of racing in Utah felt like the longest month of my entire life! I enjoyed myself, don't get me wrong, but it was a really long month.
I get that, but I thought by the end of it we'd see dudes being super over it, or not even showing up or pulling out of the races. I feel like most riders coped really well.
The struggle for me was racing Sunday to Wednesday. That was a day less than Wednesday to Sunday. For Wednesday, I'd be a little off by the morning, but by the end of the day it would kick on. Then the first three or four races we did, the weather was changing so much, we weren't even getting in the full practices. Then one we didn't have practice until like 3 in the afternoon. I think it was good because it was new for us. No fans, no track walk. I got to the point where I looked at the track one time, and then I just went down on my motorcycle and rode out. It was cool. You are right, you expected to see riders fade out, but we were all talking on the line like, "Man, I'm ready to go home." That talk was there! I can tell you that! The talk was there!
You can listen to the full interview with Stewart in the episode of the Exhaust Podcast below:
Okay! I feel like you stepped up at these races. So even if you wanted to get out of there, something was working for you with the results.
It was more just the excitement of going racing again. For a long time, we didn't know. Every 15 days we'd get more info, but at one point I didn't know what I was even training for anymore. I think it hit the reset button for me, having some time away. You start getting in that zone where it's just race after race, you're not getting the results you truly want, but I think the break mixed things up. At one point, I didn't even ride, because our team didn't know what was going to happen, and teams cut the budget back. Our team took our bikes away at one point because we were hearing we might not race until September. Then next thing you know, we're racing, so I flew out to California and two weeks later we're on the gate in Salt Lake! It was quick!
This really shows the mental side versus the physical. Maybe you weren't as physically prepared but mentally you were into it.
Don't get me wrong, first practice in Utah, oh buddy, I was rusty! I was boner-airing some triples and doing stuff I wasn't supposed to be doing. It was more a chance to refresh the batteries.
You said a million times this year your goal was to finish all 17 races. Your results were good, but how does it feel to at least accomplish that first part?
Yeah, I am happy, I hit a lot of personal goals this year. When you start achieving them, it feels like the work is worth it. I wanted to finish all 17 rounds, I got that, now I need to make higher goals for the next year. I'm happy. There's nothing where I can say, "I wish I had done this; I wish I had done that." Trust me, when I drove out of that gate and left Utah, I had a smile on my face!
Well, what if you had scored one more point? You tied for sixth and got seventh, Osborne got you on the tie breaker. Does that hurt at all?
[Laughs] Well of course. One point did hurt in the season standings a little bit, but we all know, that one DNF in Utah hurt me for sure. But Zach was riding good in Utah, and that really showed. I was riding good as well. When I had that DNF, it hurt me in points, but at the end of the day, take that DNF away and I had put myself in a good position. I'm not going to sweat sixth over a point, but if it was a championship and one point, I would have been more upset!
Well, either sixth or seventh, we could say you're the top guy on a non-full-factory team. But I have a tough time classifying your team. I don't feel like you're at a big disadvantage. How do you classify it?
I mean it really just matters how the team carries itself. I've been on factory teams, I've been not [on factory teams]. The grass isn't always greener, we all know that. The biggest thing that helped me is that I love the Honda. I won a championship in 2016 for GEICO Honda, so I had that edge for Honda. Actually, believe it or not, when I fell in love with Honda was when they came out with the dual exhausts. That was the sickest! That was the coolest thing in the world!
Well, I got some bad news for you…
I know! Trust me I know! I'm just saying that's where my heart went red!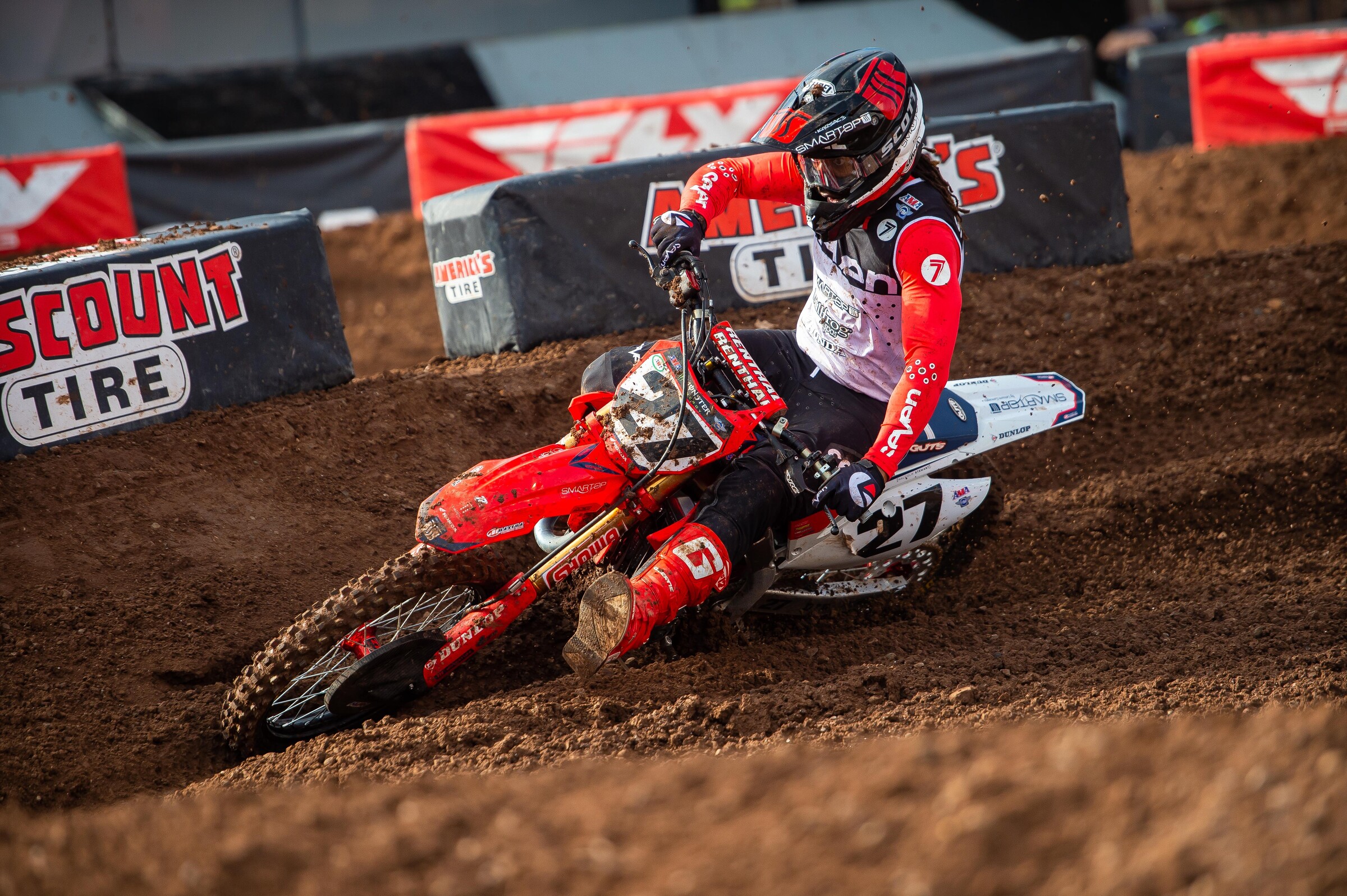 Your team is good. We all know the stories. Tony Alessi, I guess we now say he used to be crazy but now that he's not the father of the racers on the team, he says he's way less crazy. You're going good, at mid-season Hill was doing good, Friese is the best he's been, the team is good man.
Yeah, the team is doing great. [Justin] Brayton really put that team on the map, paved the way. I've always been really cool with JB, and he really filled me in. It's a small team and hard-working guys. That's all I can say. Everyone helps with everyone's job and that's what makes the team. Crew wise, there's not very many of us, but everyone is looking out for each other.
Look, you couldn't even get a ride the first few years in the 450s. So, then you have a ride with them to start the season last year. How much did that mean to you, just having a team that wanted you and believed in you?
It was a lot. I didn't want to bring it all the way back to the Ride365 days [Note: Malcolm Stewart rode for his own team with Ride365.com backing in 2017]. Not to knock those guys, but that was a tough year. Mentally, I just wasn't in the right place. The last two years have done a lot for me, as well as getting back on the Honda. I'm still cool with the guys on the Honda side, from when I was on GEICO. Same group of guys at the test track. I'm happy with the progress I've made, and from here it's keep moving forward, keep my head down and see what happens next.
You seem to bet in better shape than you used to be in. Was there ever a point where with all this training that you didn't want to do it anymore? Did you think this work sucked, or was it okay, actually?
I mean, anytime you get pounded into the ground, it's never fun! There's nothing worse than pounding yourself into the ground and you're not getting results. But to me, working with Gareth Swanepoel, we're working hard but we're still having fun. We also have our nutritionist Tyler Kalisiak and BC Fit Meals on board, too. Between those two, and the guys I train with, like AP [Aaron Plessinger], he's awesome, such a fun guy. We're getting pounded into the ground, but we're having fun, too!
Now that the results keep getting better, do you find yourself wanting to do more and more?
Yeah of course. It's not like you can train even harder, because we're doing a lot now, and we're all on the edge. It's all mental when it gets to a certain point. When I got my top five, when I got my heat race win, it's like, yeah, I've been waiting for this for a long time, but it's not any different than I thought at Anaheim 1. Just had to be in the right position and the right time. You've got to be there. I was struggling on little things like starts so I could be in position to make that happen. I hate coming through the pack! I gotta ride out of control to make things happen. People are like, "Oh man, you're so good through the whoops." You know, half of that is coming into them without a plan, and somehow my motorcycle just floats across them! I'm not trying to do that! The funny thing is, if people could look at look at my face when we're doing track walk and there's a big set of whoops, my eyeballs are like fifty-cent pieces. I'm like, "These things are so big, so dangerous, why would they build these things?!"
That's not what we would think! We would think you love big whoops!
No, I hate whoops! The whoops, the triples, and a finish line with the over-under, it's so steep! Those three things…. oh, and dragon's backs.
Bro there's not going to be many obstacles left if you keep clicking them off like this!
Yeah let's just say rhythm sections! Jump ons, jump offs, man let's just make 'em all rollers!
[Laughs] Turns okay?
Yeah turns are okay, well, left hand turns. Gotta use the brake.
So, when we see you pass two guys in one whoop section, that's not the plan.
[Laughs] That is sheer luck! That is not skill. People will say I know how to hit a set of whoops, but I can tell you I've crashed in more sets of whoops at the test track than anything. Then at the second race in St. Louis, I split two riders in the whoops.
I think it was three riders! That was gold!
Yeah, that right there was not planned! It just happened! When I went and did it, I was like, "Malcolm what are you thinking! That was dumb."
We haven't seen those crashes during the week, so we assume you can do that over and over.
If they just put the camera on me during practice, I probably go into the whoops and skip four or five whoops going in there, it doesn't look pretty. One time it got so bad I just jumped out of them and rode around the whoops. I was like, "I need to go sit there in the mechanics' area for a bit and check my pants!"
So, you're not over there checking clickers?
No! One practice, there were like three minutes left, and I was just done. I had a sketchy moment, and I almost just died out there. I come into mechanics' area and he's like, "What's wrong?" and I'm like, "Where do I start? Do I start with where my life flashed before my eyes? There's a piece of me out there laying in those whoops!" You know what, that's what racing is all about. You're having fun. Don't get me wrong, we're all going through it all, having good times and bad times, but we love what we do and having fun. It's getting better, actually, riders speaking to each other and having fun. I will say, with this whole COVID thing, we had to help each other out. The first couple races, especially, we're holding each other's bikes so we can clear rocks out and stuff like that. It took me back to what an amateur day used to be like. Or when you're in Europe, and it's like we're all together. It was cool, really cool, and just a natural reaction. I'd pull to the line and I'd grab Roczen's bike or Cooper's bike just to help them out, or they would grab my motorcycle.
This leads me into the next question. You're such a fun-loving guy, you seem to get along with everyone. Your results are getting better and better. Do you have it in your personality to come to the line and think things like, "I'm here to smoke all these guys today. I'm here to podium, I'm here to win." Is there a competitive edge to you we don't see?
Oh of course! I had that edge when I won a 250 championship. I have that, when I got to the line, I'm telling myself none of these guys are better than me. It's just a matter of putting myself in that position and dealing with it. I've proven it, heat race, practice, whatever the case. It's not a lack of confidence. It's putting yourself in position, and I figured that out in Utah. I got that fourth, that fifth, we're right on the edge of that podium. Who knows, I might just skip that podium and go right to the top! I don't feel that I'm far off from doing that! Me leaving Utah, I'm already looking forward to next year.
Did you need this year to build? We wanted to see you passing dudes in whoops, we wanted to see Mookie Fever moments. But you kept stressing the 17 rounds.
Yeah, I needed to put some results down. Nothing replicates actually racing Monster Energy Supercross. So, I did take a step back a bit, because of what happened in the previous year. I feel really confidence of where I'm at now.
Do you get any phone calls from other teams with these results?
Of course, yeah, teams reach out. I can't say who because we don't know where things will go.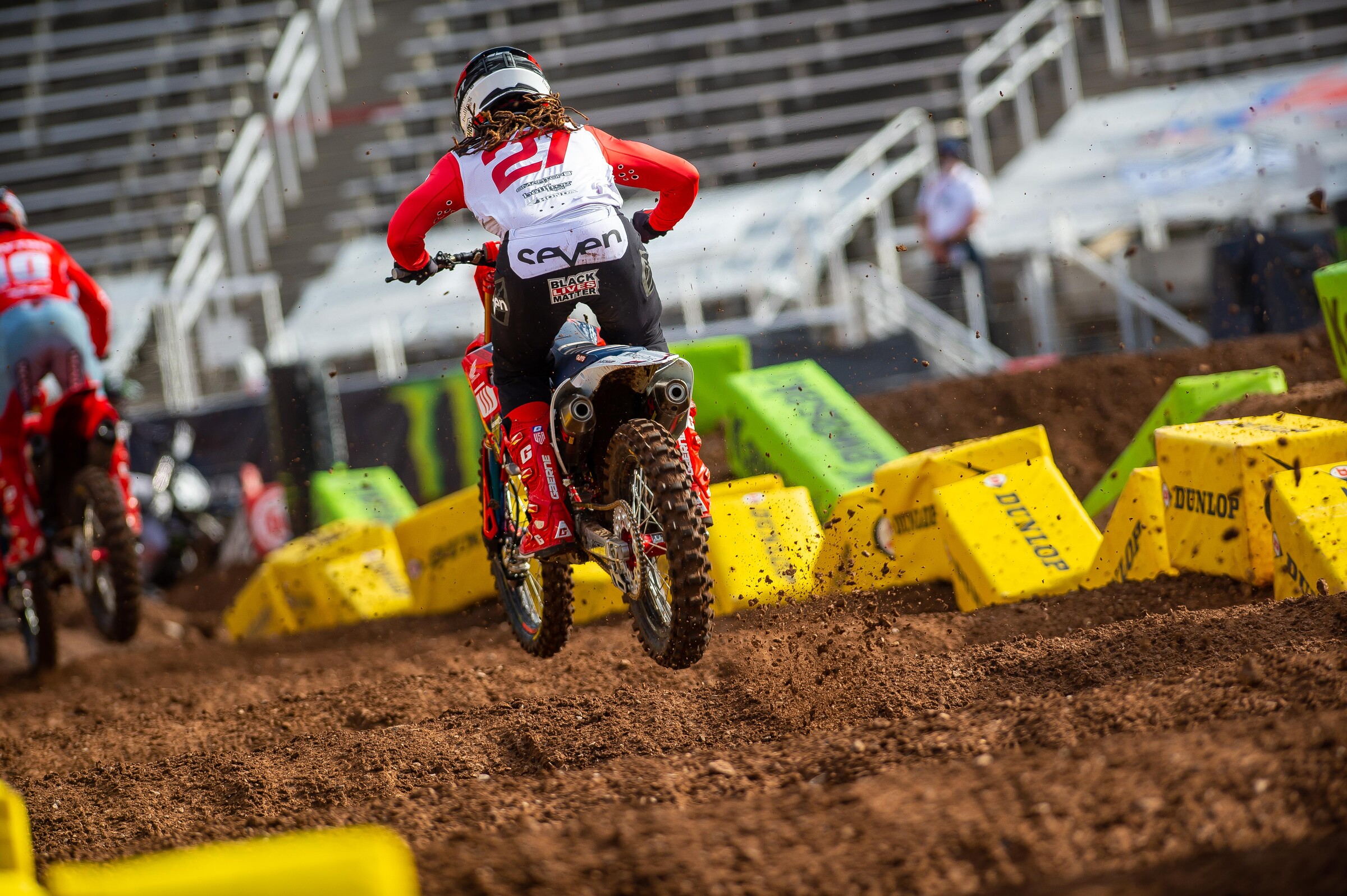 But there's interest.
Yeah, there's interest. I will be lining up on the gate next year, I can tell you that!
Can you just explain the outdoors deal again? I know you had a kidney problem with dehydration back in the day, and MotoConcepts doesn't race outdoors. Just explain where you are with all that.
I would like to race outdoors again; it's been a while. I did have that kidney issue and stuff like that, I was in a bad spot, personal health wise. I felt like I started to overcome those things. I've always enjoyed outdoors, no matter what, it's a whole different ballgame. But last two years I've been with MotoConcepts, and they don't do outdoors, and to do it on my own is kind of tough. I just gotta sit here and wait.
So, you're not saying with outdoors, "Hell no I won't go."
No! Not at all. For sure, I would race outdoors. But I haven't raced since 2014. I'm sure the ruts are still there! [Laughs] It's been quite a while for me, and I still miss it. I'm still young in my career so I have time. The route I'm on right now is what guys do toward the end of their career. So, if I do get out there, that's more gate drops. Each and every race you do, you learn, so it is kind of weird for me to race these guys and then maybe not see them on the gate again until Anaheim 1. But I love racing. Nothing worse than watching all your competition racing, and you're just sitting on the couch watching. Or fishing…. [Laughs] Well wait if I'm fishing, I'm alright! [Laughs] No, I'm just kidding. It's all about momentum. It's tough to see your competition getting better while you're not out there.