Dilliner, PA
High Voltage
GNCC Racing
Rockstar Energy Husqvarna's Zach Osborne is the most recent winner of a Monster Energy AMA Supercross race. He won the finale in Utah. For his next trick, he's racing the Grand National Cross Country (GNCC) Series this weekend with the High Voltage GNCC, which takes place on the West Virginia/Pennsylvania state line, not far from High Point Raceway.
Zach might be a supercross winner now, but everyone knows he loves to race anything and everything, and that includes off-road. We called him on Wednesday to hear about his weekend plans.
Racer X: What are you up to, Zacho?
Zach Osborne: Right now I'm just sitting in my garage. I did go for a bike ride this morning…
…Bro that's not gonna cut it!
[Laughs] What? Hey, I'm going riding later today. At Croom. It's a little bit difficult these days understanding the state parks situation, but we may need to find somewhere else to go. For now the plan is Croom. I've got the bits for the bike to make it feel as similar as we can to the bike we're racing this weekend. So it should be good.
Look, I know you've wanted to do this forever. What kind of hoops did you have to jump through to get the green light?
Well, obviously the times are unique. No one knows exactly what's going to happen with outdoors, we're planning to go racing in August, but we don't know, so I just offered my services to whatever else they might need. Maybe it's GNCC, maybe it's Canada. I'm not just going to sit here in Florida and just grind week after week. I'm happy to go race and have some fun and bring some recognition to the brand.
Was that a hard sell?
No, everyone is pretty keen on it. Obviously with Husqvarna there's a lot of opportunity because they make a bike for every kind of discipline. The higher ups were all about it.
I know there's a little piece of woods off to the side of Baker's Factory, and I know you look at it longingly. I know Kailub Russell comes down there and does the same. But have you actually ridden it?
No. Someone asked me the other day, "When's the last time you were in the woods?" and I was like, "Um, actually I don't know." I know the last time I raced off-road was a Day in the Dirt 2015, the Coup de Grace, which is a two hour race. It's at Glen Helen but it's mostly moto, I would say, there's some pavement and some off-roadish sections, but nothing like hammering in the woods. I'd say the closest I've been to the woods was, I did a Mid-East Harescamble in 2014, in South Carolina, randomly. I think that was the last time I did any proper trail riding. The last GNCC I did was Georgia that same year, but it rained insanely, and I don't even think I finished. It was just a disaster.
So in 2014, who were you riding for at that time?
GEICO.
Okay. So you were on a factory Honda team and you were racing a local hare scramble!
[Laughs] Yeah I don't even know how or why I was there. I was training at ClubMX and I saw it on the list and decided I would just ride whatever. I think I got second behind Josh Strang. We had a good battle that day. That was a good race. It was actually one of the most fun tracks I've ever raced.
Oh yeah Mid-East. That's my local series here in the Carolinas, my buddy Buren Hamrick runs it. Everyone loves Buren.
Yeah!
So Croom is your first time back in woods? Nothing else this week?
Nope. I just did my normal program Monday and Tuesday. Yesterday we actually rode at Baggett's track. It's been raining a lot so we've been trying to get the motos in early. Yesterday though, our second moto was at maybe 12:30 and we actually got hammered with rain about halfway through. I think Croom is a good option because it's sandy, it's not private. I just want to get used to the bike with a little extra weight, and the big tank and all that. I'm not that worried about it. The only thing I hope for this weekend is that it's not just a quagmire. I hope it's a decent track and we get to hammer it.
"I just offered my services to whatever else they might need. Maybe it's GNCC, maybe it's Canada. I'm not just going to sit here in Florida and just grind week after week. I'm happy to go race and have some fun and bring some recognition to the brand." -Zach Osborne
Well look, you've ridden at High Point your whole life. This is like a mile away from there. We all know rain can be a factor there, but looking at the forecast, it seems like it's going to be hot! Maybe this will play to your advantage.
Yeah, I think it does play in my favor a little bit. I haven't raced a GNCC in a long time, and I know these guys are bad dudes. I've trained with Kailub for the last three summers, we've been friends for a long time. I'm not underestimating anyone. I just hope to put myself in a good position, maybe run up front and have some fun. Should be a good, fun day.
Well, plenty of motocross guys have come in and raced these, and sometimes they have a little edge to them or a chip on their shoulder. But as your quote said in the press release, whatever you finish is what you finish, it doesn't matter to you. That's so Zacho right there. I don't think you're trying to show people or prove anything.
No not at all. Would I love to win? Yes. Would I love to put it on the podium? Of course. But I'm not going to put any pressure on myself. It's just a fun thing. If the opportunity presents itself and it's not a massive risk, I'll go for it.
There's only one time, as far as I know, where a random guy showed up for one GNCC and actually won it, and it's the guy who specializes in doing the impossible. That was Doug Henry. Are you familiar with what he did that day? In 2005?
Well, I've experienced about the same level of dehydration the year I did the Florida race. I did know he won that, but I didn't know the full story. Then yesterday on my Instagram, Gothic Jay, he's kind of an off-road legend and he used to work for Honda, he commented that on that day, Doug's legs were so cramped he just let them dangle beside him and he still pinned it! [Laughs] I didn't know that!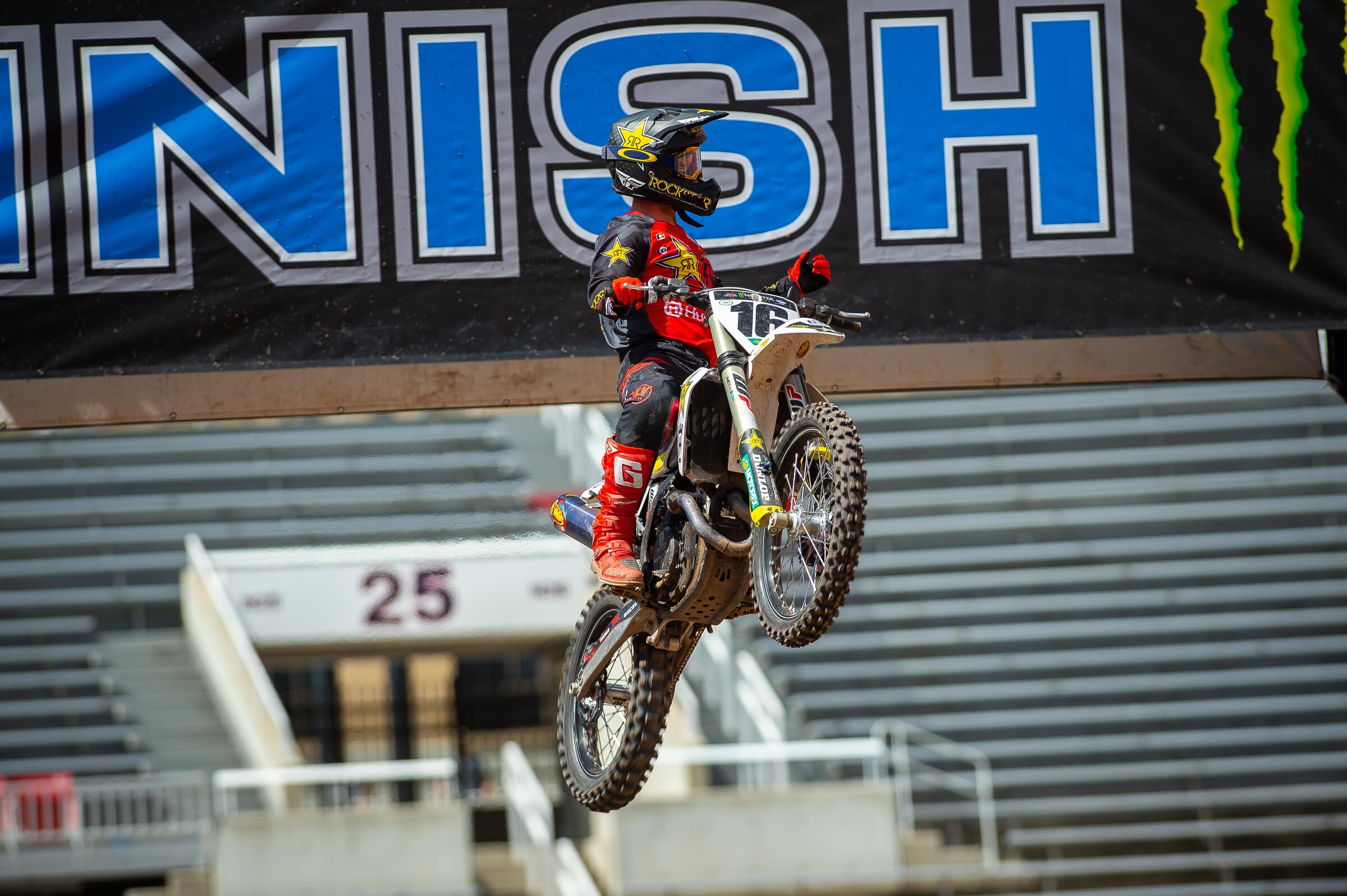 Yeah and then Doug commented, too! He said he was going through sand whoops with his cramped legs dangling, and just bouncing off the seat! And he still won! So, I was there that day doing the TV show, and I had to go interview Doug when that race was over. But he just laid down and completely collapsed!
Well I basically had that same thing happen when I raced in Florida. I ran out of water on the last lap. I think I got third in XC2, I was maybe seventh or eighth overall. So as soon as the race was over I downed four or five bottles of water, and a few minutes later they were just projective vomit five feet out of my mouth! Then I got to the podium, and I was standing there, and I was like "I don't know if I can keep standing!" So they just said it was okay if I laid down. There's a photo of me somewhere just laying on the podium, just chillin'! [Laughs]
Oh man! So I remember when you did those GNCCs back then, and our good buddy Steve Matthes, or should I say, some guy we know named Steve Matthes, I'm not sure he's our friend, but he said he didn't think you should be doing those races. A lot of people said that. The training, the heart rate, the intensity, it's different than motocross or supercross. But you've always maintained that it actually is good training.
Yeah, I think any time you spend three hours on your motorcycle you learn something. Okay yeah, it's not three hours on a prepped track like a motocross track, but I just feel like it's a good experience. I'm at the point where I just enjoy going racing. I enjoyed this Salt Lake City swing a lot. That suits me down to the ground. We were racing so much. We ride during the week a lot. There's a lot that goes into being on that edge, having that razor-sharp focus. Yes, this is a bit of a different race, but it's just going to be fun, and it's good for my brand and good for Husky as well.
Are you worried if you do this, and let's say you do race in Canada or something, that you will burn yourself out when the nationals start?
Well, I mean, I'm going to get some rest time. This is no different than racing a race on a Saturday or doing a GNCC on a Sunday. You have to look at the whole picture. You've got mental stress, and physical stress on your body. At this race, my mental stress will be low because I have nothing to prove or show. That takes a load off. The physical stress, I believe my heart rate is going to be a little lower, so the race is longer, but I think it will feel pretty similar to a weekend racing motocross. As for the other stuff, I don't think it's going to happen. With the restrictions and where we're at with this whole deal, I don't think there will be enough other races to do to do too much. I have doubts I am going to find that much to do over these next six weeks or so. The Northern boarder is kind of closed and stuff, so I don't think that's going to happen for me.