Monster Energy/Star Racing Yamaha's Shane McElrath and GEICO Honda's Chase Sexton battled back and forth for the 2020 Monster Energy AMA Supercross 250SX Eastern Region Championship, but as Sexton edged ahead heading into the finale, McElrath decided to deploy some new strategies to swing luck in his direction. Sexton has already spoken about being protested after the race for fuel (and the AMA ultimately ruled that Sexton's fuel was legal) and about McElrath taking his starting gate after the riders had already made their gate selections. Also, at mid race, it appeared the two riders slowed down while battling each other.
We called McElrath last week to get his take on the Utah finale.
Racer X: I don't know if you want to, but let's reflect on supercross here. You wanted this title bad. You put your best foot forward. You won a lot of races, but it didn't come together [for the title]. When you left Utah, were you crushed emotionally, physically? What were the emotions when it was over?
Shane McElrath: It was tough. Honestly, as a motocross racer, you win some and you lose some. For me, honestly Joy [wife] probably took it harder than I did just because in terms of the championship, it's pretty much just one long race. I ended up second in one long race. It's like, we could have done things a little better here and there, but for the most part it was tough because we took a step of faith to come to this team from last year. There was no looking back, we did everything we could. Unfortunately, we came up a little short. But at the same time, that was the closest I had ever been. We learned and grew so much over the season that it's hard to let that second place take away from everything else that happened that was good. But it was hard.
Let's get your side of the story here. So much stuff went down. Red flags, starting gate deal, a fuel protest. You need a chance to explain your side because Chase has told his. Champions get to do that. First, let's just talk about the red flag deal. It happened twice. How do you feel about that?
Honestly that's probably the most disappointing part. Everybody knows in this sport regardless of what class, what championship, what manufacturer, you need a little bit of luck also to win a championship. That was the bummer part about not only one red flag but two. For me, we were in the perfect position before those red flags. It was like they fully favored Chase. That was the hard part. It's like, dude, we were in a good position, but then it was like Chase got a redo, pretty much. So that was the hardest part knowing this is the same thing that happened just two weeks ago. For me, it was frustrating but both times I pretty much replicated what I did, first start to second start. I felt like I did everything really good. It just really worked in Chase's favor. Honestly that was probably the biggest "what if" moment, or two moments of the whole series because everything was in a perfect position and then it was like, "Nope, we're going to restart it." It was a bummer but at the same time, things happen. People crash. Unfortunately with Brian Moreau, with him getting hurt up at Tampa, that was handled not the way it should have been. Now they've been kind of extra careful on their red flags or their caution flags or whatever. So it's definitely changed a little bit this year, but it's not something that I blame anybody else for. It's like, we've got to line up and we've got to do it again. It was just almost laughable when it happened the second time because it's like, you've got to be kidding me. Same exact thing.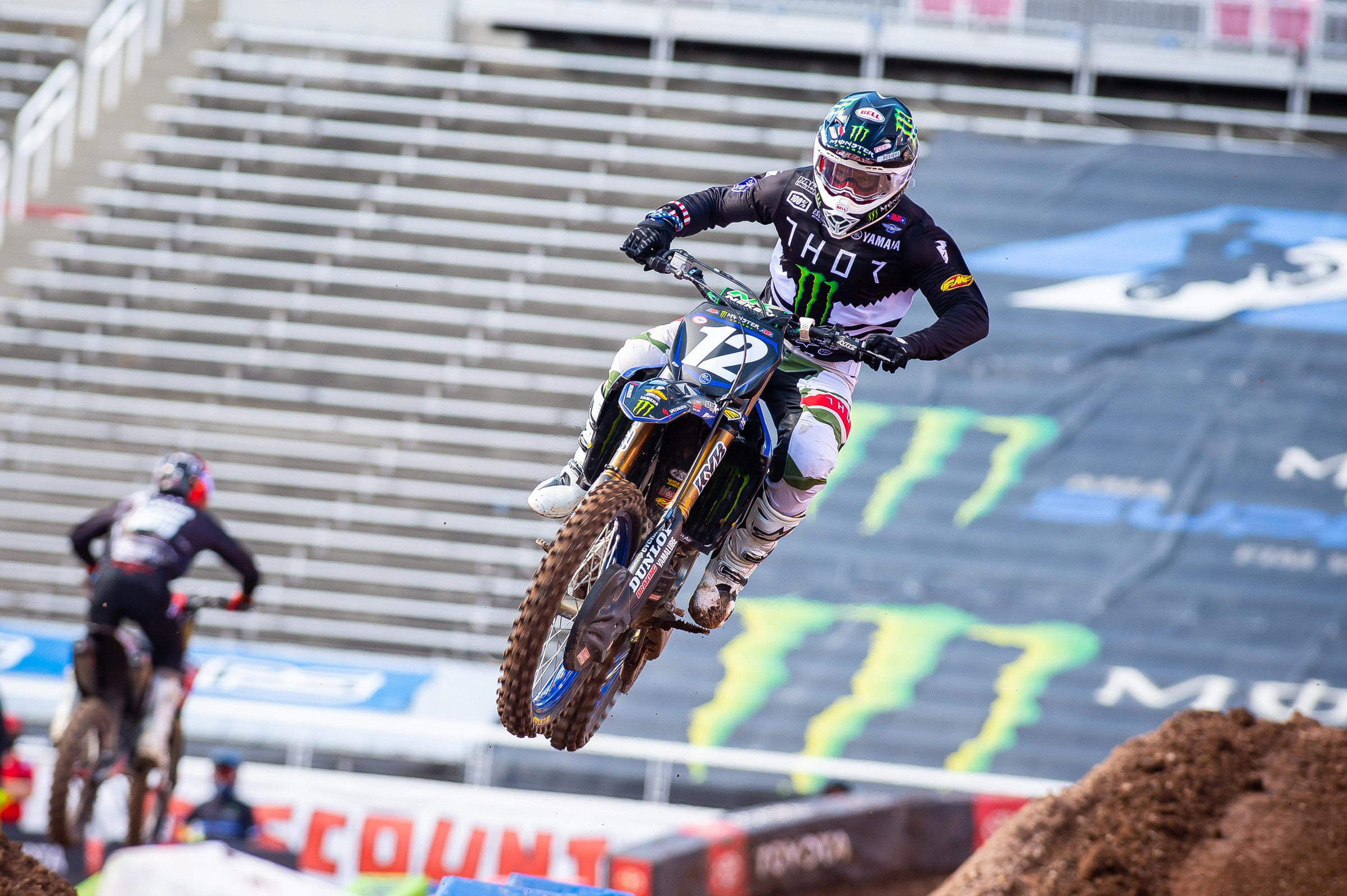 That had to be a bummer. At least it didn't completely wreck you. You did go out and get a good start again. But speaking of starts, can you explain this starting gate thing? There was an empty starting gate. Colt Nichols didn't end up racing because he got hurt in the heat. Sexton said that you rolled into the gate he picked, not you. How did that all work?
Honestly it's pretty funny. It has really brought out like the true colors of people. People have been hating on me. It's also laughable because there's $500,000 on the line, and you think I'm just going to give it to somebody? That's the part that a lot of people don't understand. The starting gate thing, our first three races in Utah, we just got to go one by one and pick our gate. Then when the West Coast raced, they started using these little flags. You go up and you would pretty much reserve your gate. I had a better gate pick than Chase, so when it was my turn to pick the gate, I knew what gate Chase wanted and it was the one right inside of me. I'm like, I have a better gate pick and I can take his. There's nothing wrong with that. There wasn't anything bad that I did. It wasn't illegal. I have a better gate pick, so I went to the one that he had reserved. It was just a spur of the moment thing. That's the first time all year that Chase has actually started right on the inside of me. Even when I was picking my gate I'm like, that one's not bad, but the original one I picked might have been a little better. But I was like, I'm just not going to give Chase that edge to maybe try something. So I'll just take the gate, and he had to go somewhere else. That's really all there was to it. I had a better gate pick. Unfortunately for him, he let me know what gate that he wanted. Normally without the flags, even before we started using the flags, I wouldn't have known that. So it was just one of those things where I'm not just going to give it to him, so I'll just take his gate. Now it's [become], "Why are you stealing his gate?" But dude, I had first gate pick. Honestly it's not that big of a deal.
I heard Sexton's mechanic asked the AMA and there was not anything that could be done that quickly, at least.
Yeah. [Justin] Starling's dad came up to me. He's like, "They said you kicked another rider's flag out of the way." I didn't touch his flag. He just said, "Okay." That was it. Really on race day, on Sunday I felt like that was the first race day all year where I really did do everything that I could. I didn't just give it to Chase that day. That day he had to work for it. I'm happy with everything I did on Sunday. Nothing I did was wrong. Nothing I did was dangerous or put him in danger. People can say what they want. If we're racing for the championship, I'm not just going to let you go right by me. I'm not going to let you have everything that you want to have. That's not how it's going to go. At the end of the day, I got beat. It was a bummer that we got beat, but I got beat. Second place is not first. Chase straight up beat me a few times throughout the year, and it's not anything against him. There were days where he was better, and that's how it goes sometimes.
So midway through the race it looked like you slowed up, and then he slowed up, then you were both going super slow. [Eli] Tomac tried this a few years ago. If you won and he finished second, he still wins the title. So was that strategy there to try to get guys in the pack in there?
Honestly, I didn't really know what to do when he let me back by.
"I'm not really holding my breath for it [the GEICO Honda fuel] to be illegal. Chase beat me. Chase rode great all year. I got second. If it comes back that they were running illegal fuel and they cheated, then we get the championship and we get a better bonus. But I'm not really holding my breath on that." -Shane McElrath
Did you let him by or did he just pass you?
I didn't mean to do that. In-between the restarts, they watered the track. Jett Lawrence and myself, on the first lap we almost lost our front ends going into one of the 90s because they had watered the track. Where Chase passed me before the long rhythm, I was going inside right there. Inside, on, on, off, and then triple and finish out the rhythm. I tried to do that on the first lap after the restart and I missed the whole rhythm because it was too slippery. I wasn't even able to get onto the tabletop. Then Chase let me by, I'm like, shoot. I thought he just didn't want to be ahead of me. I'm not going to do anything… Like I said, there's a lot of money on the line but I'm not going to try and hurt somebody just to win. I may race you hard, but I thought in the moment Chase didn't want me behind him. So then I was like, "Okay, I'll take it easy a little bit to see if he'll just pass me back." Well, when I went into that rhythm, I went to the inside. I thought that it was going to be dry enough to stay to the inside because I knew Chase had just let me by and I didn't know what he was going to do. I kind of needed to guard my inside a little bit too. I got wheel spin there and I still wasn't able to jump onto the first table. He just greased the rhythm and pretty much left me. So it wasn't on purpose. I honestly didn't really know what to do once he let me be because I'm like, "Why is he just giving it to me?" I'm there to race. When we weren't going to race, I'm like, so what are we doing? That kind of threw me off a little bit.
So neither time where he passed you, you were not letting him pass you?
No.
Then finally there was a fuel protest. This could be a team thing. Do you know anything about that?
Actually, I'm the one that had to pay for it. I didn't know it at the time, but there were people saying, "We heard about his fuel last week." Our team had heard something about getting a shipment of fuel in, not long after we got to Utah. So I didn't know that. But they [Monster Energy/Star Racing Yamaha team] came to me after the race and they were like, "There's not a very good chance, but there is a little chance that they could be running illegal fuel." It's $1,800 bucks, so they were like, "We have the money. We can do it right now and you can just pay us back." So it's like, you know what? We've done everything else we could today, so let's just do it. If it's not illegal, that's fine. I'm not really holding my breath for it to be illegal. Chase beat me. Chase rode great all year. I got second. If it comes back that they were running illegal fuel and they cheated, then we get the championship and we get a better bonus. But I'm not really holding my breath on that. So with doing that, it was one of those things you don't want to live and not know. So if we got beat straight up, we got beat straight up. If not, then that's kind of on them.
[Note: The AMA fuel test upheld the results, and Sexton's fuel has been ruled legal].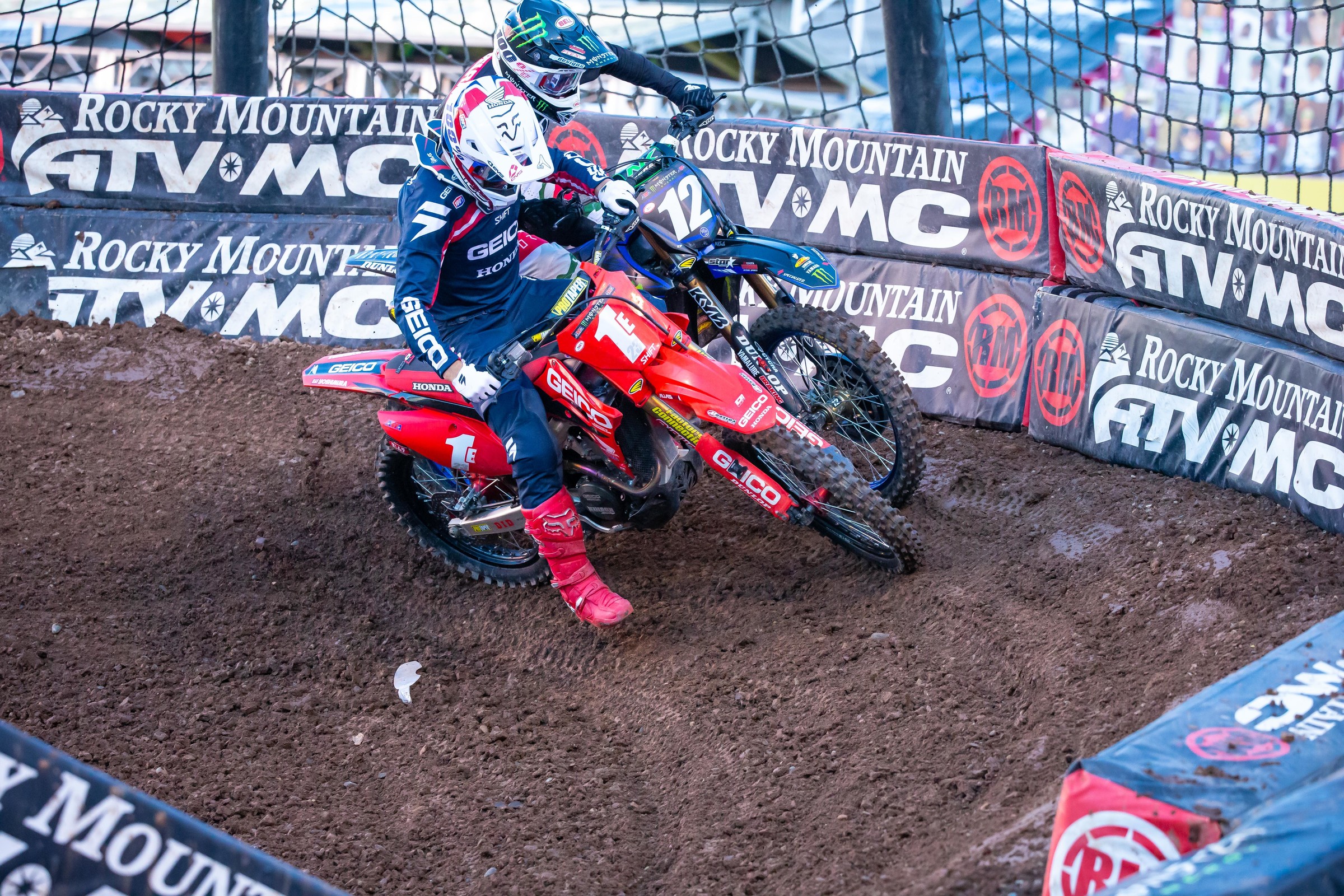 So you did get beat up for sure, over all these things, because Chase got to tell his side. Do you look back now like, "Man, I'm getting some heat from people. I wish I hadn't done any of these things?" Or is it like, "Hey, man, I was racing for a title. Whatever people think is what they're going to think." Do you have any regrets about the way any of it went?
Absolutely not. It was honesty my best year yet. People are saying, "You failed, you suck, you should just retire." Dude. I got second place. I made good money. I learned, and we get to race again. So where exactly am I in the wrong in all those things? Honestly I've learned, even before this year, not to really worry about what people think. To see how butt-hurt people are that I was trying to race and I was trying to do everything I could to win, that just shows more about their character than it does mine. So I'm not really worried too much about it. I'm happy with my effort. We had a great year of growth, not only mentally and physically but also spiritually. We came here on a hope and a prayer. We're comfortable. We're going to get uncomfortable and whatever that brings, that brings. It brought a lot of haters, that's for sure.
I will give you this. You didn't try to hurt anybody, and it is competition. It's supposed to be competitive. You were trying to find a way to compete.
Yup. I've been racing for seven years. There's still some young kids that ride like idiots. They don't really hold back in situations. They're not afraid to kind of hurt themselves or others. But I think it's more of a maturity thing. For me, yeah, I believe I can win. I put it on myself that I should win. But there's a lot of other good guys out there. I'm not going to hurt somebody just to finish one position better or something. That's the thing with the last round, especially after the restart. It didn't matter if I got first or second. When Chase was up there, there was nothing I could do whether I won or got second. Maybe if I would have been ready for him to let me by and try to do the thing Tomac did where you hold people up. That was kind of what people asked me. "Why didn't you try and hold him up?" I didn't really think of slowing down during the race to hold people up. It's a bummer, but at the same time there were so many things and situations that we were in for the first time that I'd never been in. I really did what I could in the moment and I don't have any regrets.
I think you pointed out of the class. Are you just going to let the dice roll here and see what happens? We got outdoors of course first, and you'll be on a 250 with this team for sure. Do you have any idea what comes next?
We're still living on a hope and a prayer. We've done the best that we could this year. I think it really showed, too. I put it on myself…have to win, have to win. I was on the podium every round but one. That was because I fell twice. Results-wise, I was right there. There were just a few races where I was just a little bit off and that's kind of what cost me. Going forward to outdoors, it's like let's just keep going. We are making really good progress. Four fifty-wise there's not many options, but at the same time we're going to try to do our best and really just try to honor the Lord in who we are. We love to race, but when we have to race for free it no longer becomes a job, it becomes a hobby. Then we'll kind of have to figure something else out. There's a lot up in the air. Just like everybody else, we can't really plan on the future. Even with racing right now, nobody may be racing next year. That's kind of the reality of it, but other people have guaranteed contracts for next year and we don't. At this point, we're kind of okay with it because we did what we could. If something comes up, it comes up.
You can listen to this interview on Jason Weigandt's episode #118 of the Racer X Exhaust Podcast below: