Rice-eccles Stadium
Salt Lake City

,

UT
Salt Lake City 7 (Rd 17 - 250SX East/West Showdown)
Monster Energy AMA Supercross Championship
Obvious: Mitch Payton has had success as a team manager/owner. The #1 plates on the Monster Energy/Pro Circuit Kawasaki team rig and the high level of praise everyone in the industry has for him speaks for his hard work and dedication. His team has essentially revolutionized the sport, and even in lean years, it's still the most respected 250 outfit in the game. NBC Sports broadcast commentators Ralph Sheheen and Ricky Carmichael pointed out in the Monster Energy AMA Supercross finale in Salt Lake City, Utah, that a rider for the 250 team will never fall short due to Payton's lack of preparation and care, saying he was "burning the midnight oil."
Unfortunately for Payton, he can burn all the midnight oil he wants right now and it won't change the fact that his four-rider team is currently down to one rider.
New to the team for 2020, Jordon Smith had a rough start to the 250SX East Region championship. Crashes hindered good results and a first-lap crash at the Daytona Supercross ended his year early as he suffered a "ACL tear with multiple lateral and meniscus tears." The COVID-19 shutdown paused everything—including the Monster Energy AMA Supercross Championship—and Smith went under the knife to repair his knee. The shutdown didn't last long enough for Smith to get back on the bike and go racing, though.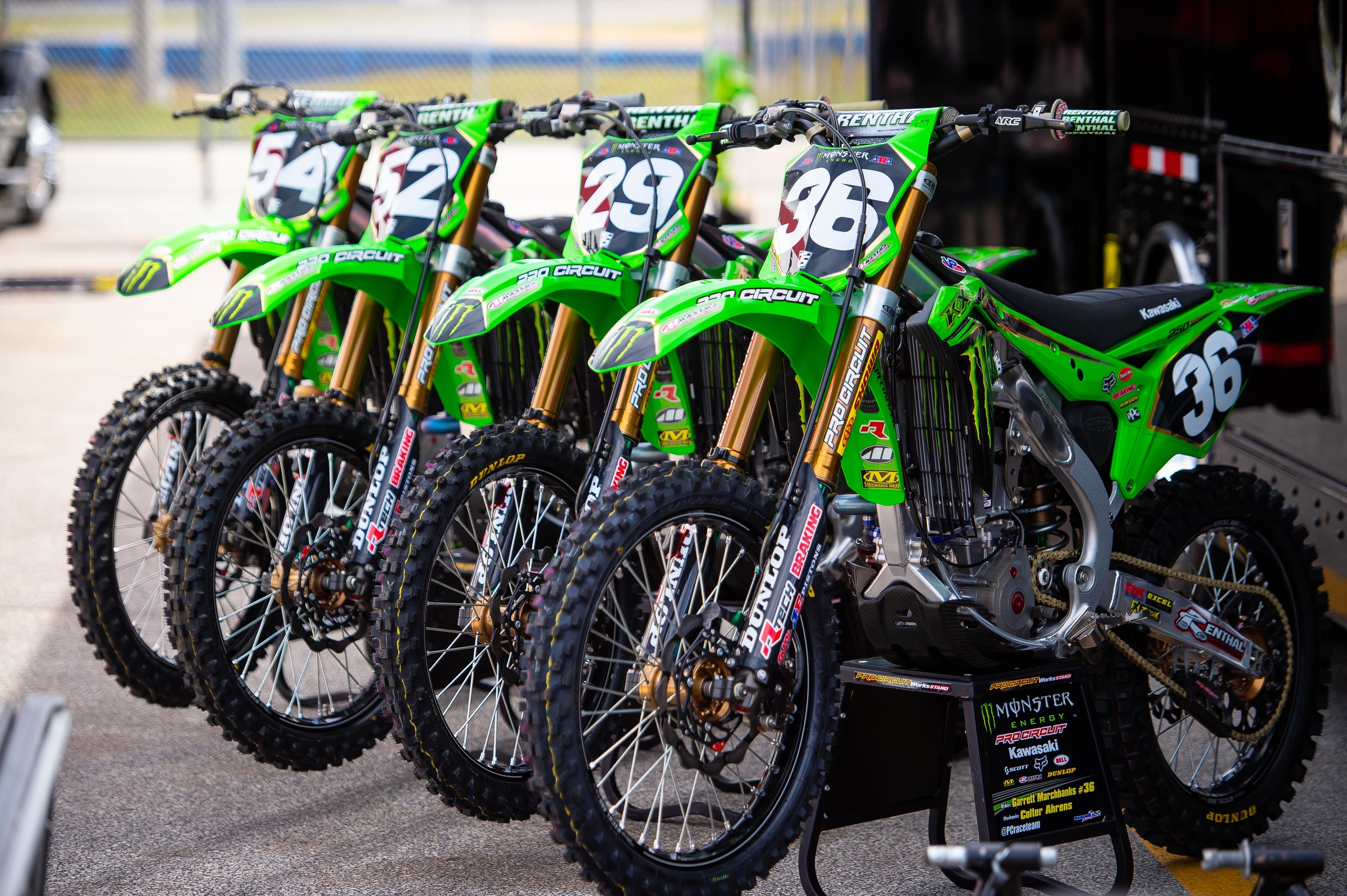 Despite Smith being out, fast forward to the championship resuming and everything seems to be going according to plan. Until Garrett Marchbanks suffered an injury of his own…then in the final round, Austin Forkner crashed out of the main event and championship. With Forkner expected to be sidelined 6-8 weeks—until August at the very earliest—the team will only have Cameron Mcadoo for the first two confirmed rounds of the championship.
A one-rider team is most likely not plan for the team. There are a few names that make sense on the radar as a replacement, such as privateer Darian Sanayei (a Monster Energy-backed Kawasaki rider) and Enzo Lopes (who had great results in supercross for ClubMX—but the team is supercross only) and any number of international riders who could pop up on the radar. There's not much racing going on anywhere else right now—not in the GPs or Australia, for example, so likely many riders are picking up the phone and begging for a spot under the Pro Circuit tent right now.
It's unfortunate for the team the way the supercross season ended. Marchbanks earned his first professional win at Daytona, which flipped his future prospects to a whole new level, and even added some of that standard "Daytona is most outdoors like of all the supercross races so he could be a contender this summer" hype. When supercross resumed, Marchbanks finished on the podium at the Salt Lake City 1 Supercross with a third-place finish. It wasn't ideal to win a race in the middle of the championship then have to wait over 80 days for the next race. But it's 2020 and things have been changing daily and that's the way it worked out.
"Honestly, I was pretty bummed that we weren't able to race in Indianapolis," he said in the Salt Lake city 1 Supercross post-race press conference. "I feel like the momentum was on my side, for sure. But taking the 85 days off, it was kind of weird. I still feel like the momentum was on my side a little bit. To come out today and take a third, I wasn't happy with it, but it's a good direction."
Then Marchbanks finished fifth at the second round. The third round in SLC was a sloppy, muddy one—which could have worked to Marchbanks' advantage as we saw him successfully podium at the 2019 San Diego Supercross quagmire of a race—but unfortunately he came up short on a jump early on in the main event and went down.
As for Forkner, following the San Diego Supercross in February, he sat third in the standings, 13 points behind leader Dylan Ferrandis. After a knee injury that derailed his 2019 250SX East Region hopes, Forkner said he entered 2020 cautiously. But the Missouri native came to Utah ready to go. Right off the bat he won the first two 250SX West Region events. You could tell Forkner had put in the work both on and off the bike during the pause in racing. His speed and confidence through the whoops had improved since February and his fitness didn't lack at all, even racing at altitude.
"It was more so just I feel like a little bit of my trust in my knee and stuff. This break has only helped it get stronger," he said in the Salt Lake City 4 Supercross post-race press conference. " It feels good. Obviously I was pumped to come out here and start the whole three-race season ender like I did today."
"I felt solid," he continued. "I think that the four-month break we've had, or three months of however long it's been, the work that I've done, I think it shows."
As the saying goes, Forkner had put the hay in the barn and came to handle business. And he did so with more confidence in both himself and his knee. When the gates dropped he executed everything as perfectly as he could have. He straight up beat Ferrandis in the first 250SX race.
Ferrandis always tells you as it is and he said he gave Forkner props because he knows how hard he himself works so in order for someone to beat him, they have to be working just as hard if not harder.
After the SLC 4 Supercross, Ferrandis said about Forkner:
"I feel that was one of the most difficult mains I did in supercross, and he won. So he deserved a congrats, I feel. I pushed really hard. I gave everything I had and he still won. So that means he probably worked really hard during the break, and that's good. That's good for the sport. He just deserves a nice congrats."
In the Salt Lake City 6 Supercross, Forkner caught and passed Ferrandis—something we had yet to see this year. Usually when Forkner had won races prior he started out front and wasn't matched. But this was something new he had to overcome.
Earlier this year, as our online content editor Kellen Brauer pointed out in the video above, it was the other way around. Twice Forkner was leading but was caught, bumped out of the way, and left in the dust by Ferrandis. However, at the SLC 6 Supercross the roles were reversed. Ferrandis lost time while leading when he mistakenly thought the no-jumping caution lights were flashing on a jump, but Forkner had the speed and endurance to capitalize, making the pass and taking off. By doing so cut his deficit behind Ferrandis to only seven points entering the finale. Unfortunately that's where things ended quickly and painfully when he crashed on the dragon's back.
Watch the crash below as Kellen breaks down the film of what went wrong at the 5:37 mark:
Two years in a row, Forkner has been so close to winning a 250SX title. And two years in a row, he's limped away banged up, without a #1 plate. This will also mark two years in a row where Forkner's supercross speed was bound to put him up front outdoors, also, only to not get a chance to show it.
Now, Marchbanks will sit out the entire 2020 Lucas Oil AMA Pro Motocross Championship and Forkner will miss at least the first two rounds—and possibly more. With Smith still recovering from his ACL surgery, at the moment the team will only have McAdoo behind the gate for the Ironman National July 18. Will they find more riders to go alongside of McAdoo? We know Cameron himself isn't afraid to tangle with the best of them after we've seen his move this year—which included his accident takeout of Ferrandis in their heat race at the Salt Lake City 4 Supercross. If he tangles with anyone and goes down before Forkner can return, they won't have anyone on the starting line. Who can they grab to fill out the roster? It's one of the most intriguing stories of the short off-season between now and July 18.