Rice-eccles Stadium
Salt Lake City

,

UT
Salt Lake City 7 (Rd 17 - 250SX East/West Showdown)
Monster Energy AMA Supercross Championship
During last night's Fly Racing Racer X Podcast, with Steve Matthes, Jason Thomas and Jason Weigandt, the boys rung up Zach Osborne to get his take on winning his first 450 supercross. Here's the transcript!
Steve Matthes: Okay, 450 class from Salt Lake, Zach Osborne takes the win. [Jason] Anderson is under fire, Osborne drops back a bit, he loses a side panel, then Anderson loses a seat, and then seat triumphs over side panel, and Zach gets around him to take the win. Do you care, JT, that Osborne gets the win but only because Anderson's seat fell off?
Jason Thomas: It was like Mad Max! Parts were just flying off everywhere. Reminds me of Ryan Villopoto's bike at RedBud in 2011, I think.
Matthes: But you do not care?
Thomas: No, of course not, and Zach's bike had problems, first. And Zacho made a good point, he was kind of biding his time, and then he had a bike issue. Honestly, when it comes to winning a 450 supercross main event, I don't care what happens. In five years you look back at the record book and you see your name it in winning a race, and no one is going to care about Anderson's seat. That was probably a $100,000 to $150,000 win. It doesn't matter. You will take it no matter what the scenario was.
Matthes: So Weege we're in the group text with Zacho. We were texting him advice during the main.
Jason Weigandt: Well it actually started at the last race, if you remember, where I actually texted Zach on the second lap of the main telling him to pull over for [Justin] Brayton.
Matthes: [Laughs] Oh yeah, yeah, that's right.
Weigandt: Yeah, so we all knew this race would be weird for Tomac. Then Roczen went down, and you look up and Webb has gone down too. So this is going to be weird and the race win is there for anyone else who wants it. And Zacho had a good start. So we started giving him tips on where he was fast, where he could maybe make a pass.
Matthes: Can you think of maybe just one text that really sticks out as good advice, and if it was from me, can you please let everybody know that was me?

Osborne: JT's race craft texts are pretty good, I must say.

Matthes: That's bullshit!
Matthes: Yeah, but then at some point I texted him, "This isn't looking good. He's getting away."
Weigandt: Well, I'll give you that, you texted, "21 is going to be tough." People would think you hate on Anderson but you always give him respect as a rider.
Matthes: How could you not? For sure, the dude is bad ass. So let's call Zacho. He owes us anyway for all the media he wasn't doing during these races. So let's get into it. [Now, with Osborne on the line] Zach, welcome to the podcast review show. First of all, congratulations on a great ride.
Zach Osborne: Thank you I appreciate that, I really do.
Matthes: Now, you saw the comments we sent to you in the group text we're in, during the race.
Osborne: Yeah, I mean, I wish I had that commentary in my helmet during the race. I need that.
Matthes: Do you feel that my tips were maybe the best, though?
Osborne: I can't choose. I feel like all the tips were pro tips.
Matthes: [Laughs] JT said grind it out, I said stop tripling, Weege is like, "Can you just get him in the on-off after the triple?"
Osborne: I had a couple places I was waiting for later in the race. In the long lane, I thought maybe I could be a little aggressive and make a pass there maybe. I was getting that three-on-off pretty good, and I was counting on that to get back to him. But with like four minutes to go I lost my side panel that covers my pipe, and it was super-hot and super slick. I was starting to burn my boot. So I was sort of a sitting duck. I was gonna get second at that point, then I came around a corner and I saw a seat laying there, and I knew it was his! I knew I had mine on, I could see Dean in the other lane next to me and I could see he had his seat! So I was like, "Holy crap! That's his [Anderson's] seat!' I didn't know how much he would slow down, but it's hard to ride our bike without a seat, because our bikes, the way the ECU sticks out, it's hard to ride without a seat, it hurts. I got a little bit lucky, but it was good.
Matthes: JT, he was doing inventory of parts during the race!
Thomas: Yeah, what I want to know was, was there a meeting after the race where they said, "Hey guys good job sweeping the podium, but can we figure out what's going on with these parts?!" Why are parts flying off our motorcycle like a swap meet!
Zach: [Laughs] No it was good just little stuff that happens occasionally. The bikes were amazing, obviously. And I'm not a hard pack specialist, by any means. This trip has been really good for me on the hard pack. The main was track was tough, kinda basic, but to go fast on it, it was super techy. Just getting the obstacles on it was crazy.
Matthes: It looked beat down.
Osborne: It was. You couldn't see it on TV probably, but the triple had a pothole in the face of it that was the size of my bike! The berms were going away…it was just gnarly.
Weege: Did you think of how this could be a weird race for everyone involved? Tomac was probably not going to run for the win today.
Osborne: Oh yeah, I knew this could be a great opportunity for me. I was excited to have that situation and I knew it would be that situation, so I knew I had to put myself in a good position. When Jason got Dean I knew I had to go quick. I had to get to Jason and then I just kind of strapped in for the stretch. Then my side panel fell off and I kind of thought that was it.
Matthes: Who cares that the seat fell off? No one is going to remember that.
Osborne: Thanks I appreciate that.
Matthes: Is it true you're splitting your win bonus with the seat?
Osborne: Uh yeah, sure! [Laughs]
Matthes: Hey, you've been really good here the whole time. Actually, the whole team. Anderson and Dean have been fast, too. Anything you did differently? All three of you really raised your game.
Osborne: No dude. For me it's been a long road back since my injury. I had some weeks where I was really struggling, and my wife and I were really considering not coming. I just could not put it together. One day I'd be okay and the next day I would be three seconds off the pace. It's one of those deals, then you get some starts and some confidence. Everyone always says we're mental as riders, and it's one of those things.
Matthes: Actually, I heard a story from Baker's Factory. I don't know when it was from, but you had a really bad day and it was not good for you.
Osborne: No, it wasn't. The three weeks leading up to this, I probably had two good motos, and the rest of the days were like, "Why am I even here?" It was a hard injury, I was in a lot of pain for a long time, and it was hard for me to come back from it. Mentally and physically, both. To have this come together the way it has, yeah, it's mind blowing. I don't even know where to start.
Matthes: JT, how much of the credit goes to Fly Racing gear?
JT: I would say not a lot, but I'm happy he had it on.
Zach: No, I will say the pants help on the start. They have the BOA system and you can really tighten them up!
JT: So I'll tell you the scariest moment of the day. Your big crash in practice. I was like, "All of this work he put in to come back, and now he's just going to have to start over." As soon as you got up, you were like "Doctor! I need a doctor right now!"
Osborne: Yeah, I was freaking out. It didn't really look that way on the replay, I wrapped my body around my grip, it twisted my skin and ab muscles, it felt deep, and I felt stick to my stomach. I was wigging out. I was like "I've got to get a doctor right now!" I got ice on my stomach, got adjusted, and my hip kind of rubbed out. My hip is really sore now. It affected me on that three on-off, when you go to activate your hips to pop off, it was like I had no power in my legs. I don't even know.
Weege: Mitch Payton has always said a guy has to almost get that first win on accident, and then he will believe he can do it again and again. Where does this elevate you to now?
Osborne: I told my wife, it's like a huge weight off my shoulders. I'm super pumped, but also, it's like that feeling of, "I finally did!" Now I know more will come.
Matthes: Yeah now you're like "Hey wait, look at me, I can run this pace, I can get starts." By the way, your starts have been ridiculous at these races. All of this is just a massive step forward for you.
Osborne: It really has been and I can't even attribute it to any one thing in particular. I'm not a hard packed specialist, like I said, so when they announced it was Utah instead of St. Louis, I was "Oh my God, it's going to be a long three weeks." Nothing really played into my hands coming into this, but then you get a few good starts, and decent results, and it heads that way.
Matthes: Do you feel like our texts really would have helped?
Osborne: Yeah, like I said, if I could have anyone in my helmet, it would be you guys.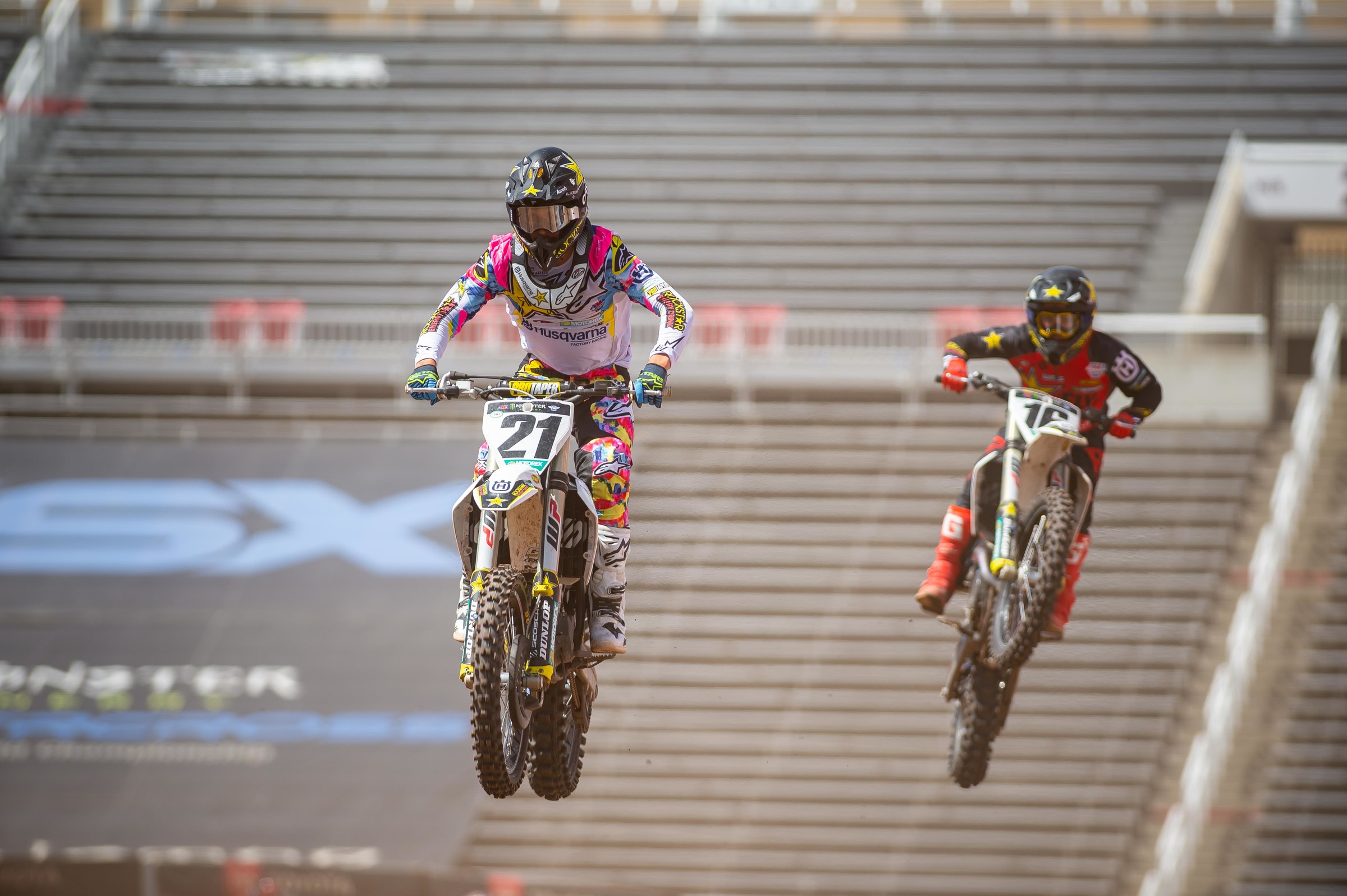 Matthes: Can you think of maybe just one text that really sticks out as good advice, and if it was from me, can you please let everybody know that was me?
Osborne: JT's race craft texts are pretty good, I must say.
Matthes: That's bullshit!
JT: Yes!
Matthes: That's bullshit!
JT: Yes! You set yourself up for that Steve.
Matthes: I did.
JT: So what's next?
Matthes: He's getting hammered tonight!
Matthes: Is it true you're splitting your win bonus with the seat?

Osborne: Uh yeah, sure! [Laughs]
JT: I know you need a minute; you've raced seven times in three weeks. But Lucas Oil Pro Motocross is coming up. Just give some insight for the fans of what kind of work will go into the next month.
Osborne: I honestly don't know. Yeah, we will need some sort of reprieve, this has been a heavy three weeks. Who knows how long or short this outdoor season is going to go for. We're gonna have to take a little step back and then go back at it. But nothing too serious.
JT: Where do you feel you're at? If you had to race Ironman in 10 days would you be pretty close?
Osborne: Yeah, it's spot on. I'm starting the series with the same setting I ended last year at the same track, so I'm ready to go.
Listen to the interview with Osborne below at the 40:05 mark: