Salt Lake City, UT
Salt Lake City 6 (Rd 16 - East)
Monster Energy AMA Supercross Championship
In the eighth round of the 2020 250SX East Region championship, Chase Sexton passed title rival Shane McElrath for the lead of the race around the halfway point and would march on to take his third win of the season. McElrath would come home second and now sits six points down of Sexton with just the East/West Showdown remaining on Sunday. Colt Nichols brought it home in third to round out the podium.
All three spoke with the media in a Zoom press conference call after the race, hosted by NBC Sports' Daniel Blair.
Daniel Blair: Chase, how important was tonight's win just going into the showdown? We talked about it in the broadcast that the difference between being tied and having a little bit of a cushion at six. Was there just extra emphasis on making sure you got the win tonight?
Chase Sexton: Yeah, definitely. Six is definitely better than zero, but at the same time six isn't that big of a gap either. Still got to go out there and do good. It was definitely important. I feel like the last mud race was good for me, and then I wanted to be able to come back and just put in a good ride. I really focused tonight on just doing consistent laps and trying to keep the pace. I feel like other races I kind of fell off later in the race. So, I think for me to try to keep that early pace going - and it's hard with the lappers out there because they're pretty chaotic. So, it was a solid night for me. I felt good all day. I really liked the track tonight. The dirt was really good. Looking forward to Sunday and putting us all together. I'm sure it's going to be pretty chaotic.
The pass you made for the lead, was that being set up a lap or two earlier? I saw you maybe the lap before kind of scrub that double two. Or was that more of just an instinctual move because you felt you were close enough?
Actually, the lap before, I scrubbed way too hard. I caught my foot peg. [Editor's Note: At this point, Sexton's phone connected to his truck and he didn't realize it so his answer was cut off.]
With Chase, we kind of missed the second half of the answer on the pass there. Can you talk about that a little bit?
I just knew I was good in that rhythm section and I knew that I could get close to him. So I got a really good drive off the backside of that first jump and then soaked up the first triple. I was like, "Alright, I got to make a pass here." It was good. I made it. It was pretty aggressive, but also I didn't want to give Shane another chance to get back on me in the next corner, so I had to make it stick. From there on I just kind of tried to sprint away and hit my marks as good as I can while going through lappers. The track was really good and I enjoyed that main event.
Shane, congratulations on the ride. Take me through the pass with Chase. Did you know he was there? Did you think he was close enough? It looked like at the last second you kind of lifted up a little bit. Maybe take me through the next lap. It looked like you lost a little bit of time.
Shane McElrath: I could hear him behind me, but I didn't know that he was that close and really able to make the pass there. It was a bummer that it happened then, especially early on. I was kind of just finding my flow. Chase was behind me. I was ready to keep going, really. I was like, "Alright, let's just put in our laps." There was a few places where he was a little better. He made a good pass on me and then he was able to pull away. So it was a little bit of a disappointment because I felt like I should have caught him back and passed him back. I'm disappointed in that, but we're going to be ready to go on Sunday. Six points is more than we wanted to have, but six points is enough for him to lose some sleep over this week. So we're going to be ready.
With it being a showdown and obviously with you two being pretty much one, two the last few races, do you look forward to the showdown knowing that there's other guys that can get in there and cause some havoc?
I do. My plan is to go and win. I believe I can win. I think everybody behind me is going to be fast also and Chase is going to have his hands full. It's going to be good. It's only six points, so we're ready.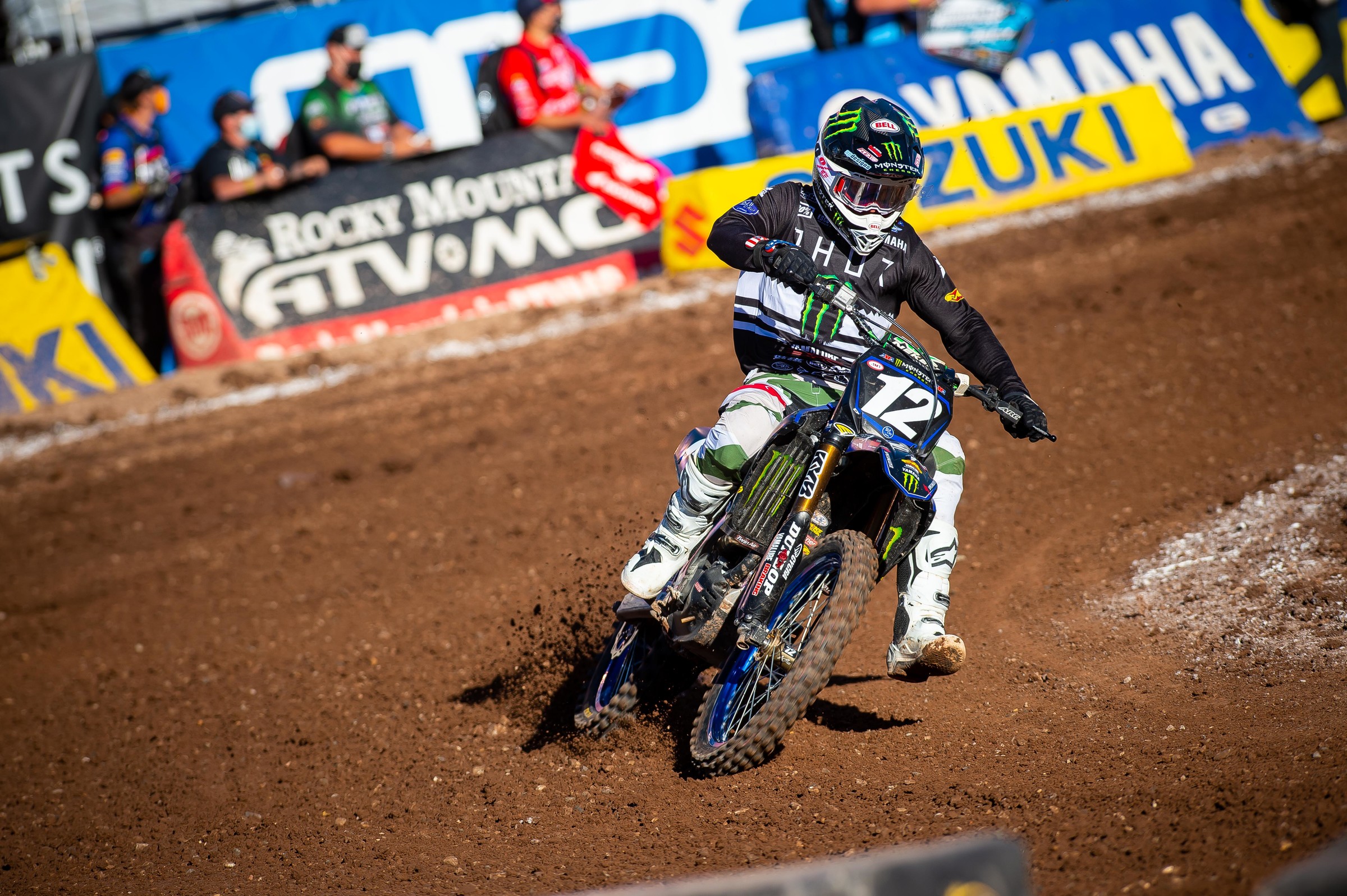 Colt, you talked about it a little bit on the podium. This run in Salt Lake City for you is a way to just get back into the racing and get things going. Are you feeling good about where you're at on the bike and where the bike is? Looking forward to 2021 knowing that you're kind of building some blocks right now for next year's season?
Colt Nichols: So-so, on happy with where I'm at. It was a little frustrating just not being anywhere close to the guys today. I was kind of just riding around in no-man's land. That part was frustrating for me. Yes, we're making building blocks and it's always great to be on the podium, but not even close to the battle. So that was a bummer. All we can do is keep trying to strive forward. I think we can work on the bike a little bit and then I just need to be better as well. Just a little bit of frustration, but it is what it is. We got one more race. I want to try to finish it off strong before we head outside.
Colt, coming into the race on Sunday with teammates vying for a championship, do you feel like you're in a position where you need to help and protect your teammates? The points are so close. Six on the east, seven on the west. Are you going to be in that position, or do you want to just go out and race what you want to do?
I would love to say I want to be in that position, but I was trying to be in that position today and I was probably 20 seconds back. It's just one of those things where I need to be a little better and focus on myself and not really worry about that situation because I don't care either way. I'm kind of in the same boat like Zach [Osborne] was saying. I just want to go try to win a race. I can't do it riding the way I've rode the past two rounds. For me to do anything I've just got to be better regardless. But if I can help, sure. But otherwise I want to be out there and do my best performance and try to win a race.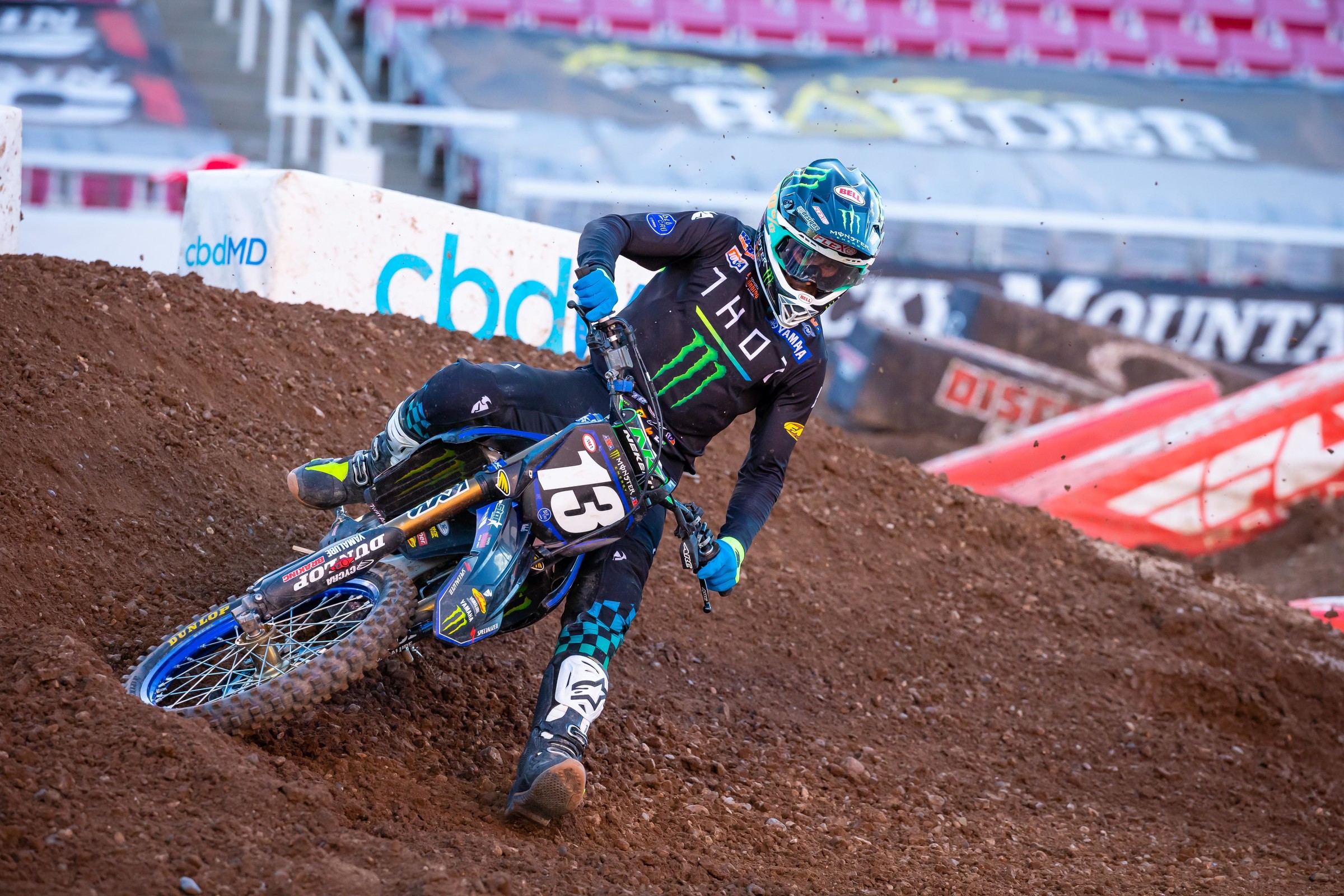 Shane, it was a big night. Did that put any additional pressure on you, any more than any other races coming in tonight?
McElrath: I would say yes and no. I'm really just wanting to do my best. Today I was happy with my main event the way I rode. I just was a little bit behind all day. We started out the track was a little soft. We made some changes. All day we were a little bit behind. We were making the necessary changes; we just were a little bit behind. It was a bummer. I was like, let's do it. Heat race I felt good. Main event I felt good and got out front. Felt like I had a good pace going. I just needed to clean some things up. Chase got around me and then pulled a little gap. I had laps in a row where I would catch him and then he would pull me back. For me, I don't have anything to lose. So really the only pressure I put on myself is like, I'm this close. I want to win this thing. But the pressure is all on him.
Colt, I don't expect you to really get too deep into it because you probably wouldn't really tell us even if there were team tactics, but have you thought about your role in Sunday's race and what you might do if you're in a potential situation to cause any kind of points swing at all?
Nichols: Yeah. I just want to go out there and put myself in that position. Up until now I haven't really been in a spot, besides maybe the second, where I felt like I was even in a position to do anything. It worked out really well. Shane was the better man on that night and he won. I can't really do much else than what I'm trying to do. Just the way I rode tonight was unacceptable and I started horrible. I just want to get out front and do what I can do. If I need to do whatever, I'm sure we'll talk about that and see whatever we can do. I know the team wants to win this championship. I want to see these guys do well, but I'm fighting for myself. At the end of the day, I don't really care. The championship is going to work itself out on both coasts. I just want to be there to even mix it up. That's kind of the idea for me.
Chase, obviously on Sunday the priority will be to win the east coast championship but how important is a good result up against the 250 SX west guys?
Sexton: I've been looking forward to this East/West shootout all year. I want to race everybody and I think we were supposed to have two this year and we only got to race one. For me, I want to go out there and have that offense mentality and put myself in a good position. Hopefully we can run up there and try and win the race. I think I want to prove some stuff on Sunday. I feel like tonight I rode well, so hopefully carry that into Sunday and just come in with that offense mentality. I want to win that race. I'm looking forward to getting out there and mixing it up with the rest of the crew.
If you prefer to watch the press conference, watch the archive below: