Another day, another supercross. Five rounds have come and gone in Salt Lake City, Utah, and the season is quickly coming to a close right before our eyes. Accordingly, we fired some questions off to former pro Jason Thomas to get his perspective on Sunday's action and the two remaining races to come.
The flat 180s were a focus of a lot of riders because they're unique. What was your take on them?
I hate them! Okay, okay, I'll admit that they're very difficult, and riders like Ken Roczen can make use of their elite-level throttle control. Other than that, though, they do nothing to help racing, and make passing almost impossible. The only passes we saw were in the flat corner before the finish as riders swung wide on the entry. Bowl berms are a staple of the series for a reason. No one wants to watch follow-the-leader racing, and that's much more likely with a plethora of flat turns.
The most obvious question ever: How can Roczen improve this much, this quickly?
The most obvious question ever doesn't have an answer. No one can possibly understand or predict which Kenny we will get. Going back to last summer, each weekend is a complete guess. He can vary from a rider who completely collapses at the eight-minute mark to an endurance stallion who laughs at a 35-minute moto. I have no answers, only more questions.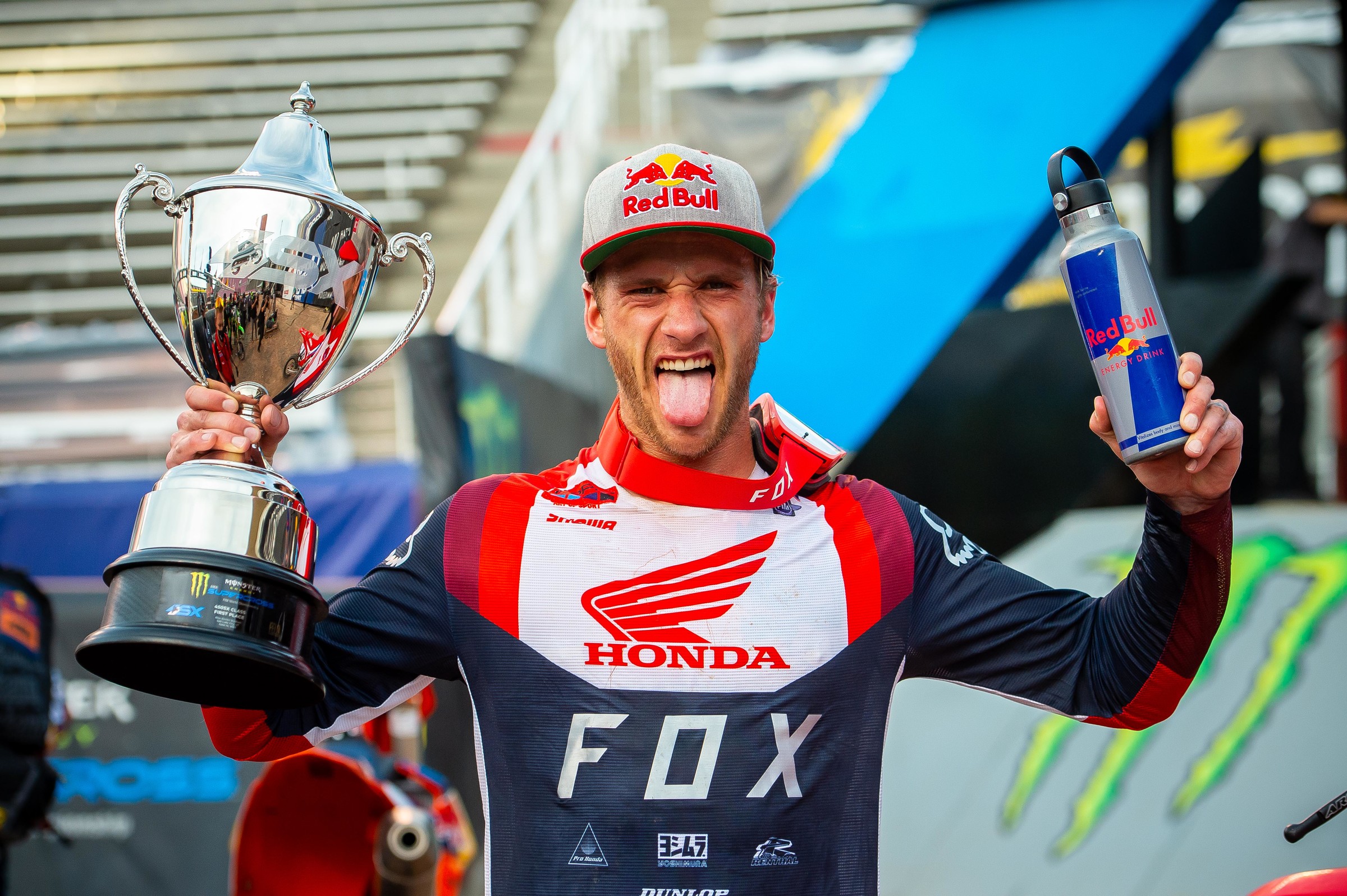 If Tomac wins on Wednesday, he wraps the title. But at this point, risks are ... risky. How does he play it?
I think he'll let the race unfold and react accordingly. He will choose an inside starting gate again for risk reduction and then see how things go. If he can get to the front and a win presents itself, he will take it. If he blows the start (or Cooper Webb assists in that again), he'll make smart decisions and move up as fast and safely as possible. He's past the need to take big chances or force action. The only thing that can derail this title is disaster. He'll try to reduce any chance of that in his decision making, starting-gate choice, and managing risk mid-race.
Do you think Webb jacked up Tomac on purpose in the first turn?
I do think he was aware of where Tomac was and made sure to put his bike in Tomac's path. Do I think he intended contact? Probably not, because the first turn is not a great place for that. Just positioning his KTM 450 SX-F in Tomac's path would be enough to force Tomac into a pause or worse and push him backward. Sometimes a very subtle move can result in a dramatic ripple effect. Tomac was lucky to stay upright, but Webb definitely started the chaos by swinging wide.
Most notably the whoops, but he seems just a bit more polished overall too. In January and February he seemed to be a bit overwhelmed by Dylan Ferrandis' pace. He was forced out of his comfort zone, forced off the track, and forced into a points deficit. Flash forward to June and he's much more comfortable with the pace, and even seems to have more in the tank. He is the aggressor now, and Ferrandis' body language spoke volumes post-race. Forkner has made big strides both mentally and physically. The big question will be, is it enough to erase the final seven points?
Any issues with Forkner's pass on Ferrandis?
Not at all. Ferrandis has been incredibly aggressive with several riders over several years. He is the perfect example of "live by the sword, die by the sword." To his credit, he didn't complain or whine—he owned it and is moving on. I have a feeling this is far from over, though.
Takeouts all over the place in 250SX West. Have you caught the fever?
I LOVE THIS CLASS. After three less-than-thrilling East rounds, the West is delivering. There is a plethora of depth, and they are all sending it. The battle at the front is grabbing the headlines, but the racing farther back with guys like Hunter Lawrence, Justin Cooper, Christian Craig, Cameron Mcadoo, Alex Martin, Michael Mosiman, etc. is simply better than the East crew. The East/West Showdown will be fairly matched at the front between the elites, but the top ten will be dominated by the West in my opinion.