Breathing Issues for Roczen at SLC 2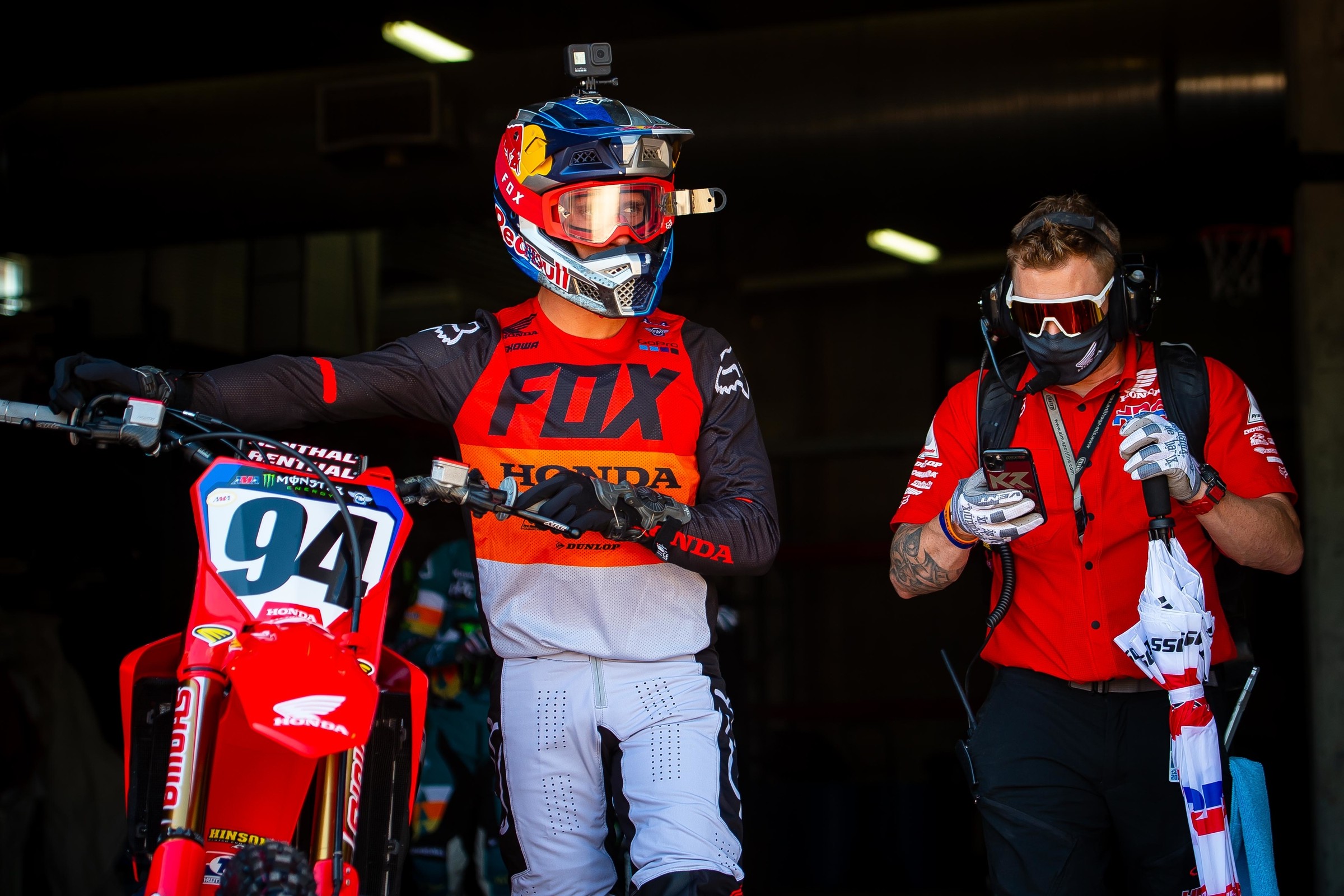 Salt Lake City, UT
Salt Lake City 2 (Rd 12 - East)
Monster Energy AMA Supercross Championship
Honda HRC's Ken Roczen was on fire in the first half of the Salt Lake City 2 Supercross on Wednesday night, until he wasn't. His gamble with the inside gate pick didn't work, so he was forced to make moves through traffic, which he did, and quickly, even pulling ahead of title rival Eli Tomac in the whoops. He lost pace and ground in the second half of the race, though, going from his best lap of the race, a 45.756 on lap seven, to the 48-second range on laps 20-17.
Said Roczen via a Honda HRC press release yesterday:
"I'm feeling good on the bike and had a good heat race, but obviously I'm having issues that prevent me from keeping it going. I'm trying to figure it out and do my best to come back stronger. This thing isn't over yet, but obviously fifth place is not where we want to be. The main goal is to try to be better, and especially get a better start; I took a chance going to the very inside on the start gate and that didn't work out. I'm going to rest and recover, and I look forward to trying our best in the next race."
What are the issues that Roczen speaks of? He clarified in an Instagram post today.
"SLC Round 2 was not a good one for me. I have been having breathing issues for a few months now. I got really sick in November/ December that attacked the respiratory side of my body really bad. It has been going on for a long time and I am not able to get rid of it. I have developed a mild asthma that I was unaware of before but I am not sure if that is the actual issue to be honest. Having said that there is medication for that but it doesn't seem to change my restrictions. It is not something I talk about because when I am out racing it doesn't matter what issue I have, because all that matters is the end result. I am always going out to do my best and push my body as hard as I can. Obviously I had to let go after just about 8 min into the main, which is obviously not normal. I know that this looks bad but unfortunately it is what it is and I am not giving up. There are still 5 rounds to go and I'm always down to try and do some magic! The last thing I want to do is let down the people that believe in me. I just thought my fans should know. To go out and win your body has to work in top notch form. Other than that I have been feeling pretty good on the bike and am plenty fast enough to win. Onto Sunday!"