Rice-eccles Stadium
Salt Lake City

,

UT
Salt Lake City 2 (Rd 12 - East)
Monster Energy AMA Supercross Championship
The thoughts were that seven races in the same stadium would result in a ground hog day experience with every race looking similar to the previous. Yet, Monster Energy AMA Supercross' Salt Lake City plan has provided two different-looking races into the same exact stadium, separated by just two days. The first-ever Wednesday night race in the 47-year history of the sport felt different, not just because it ran on a weekday, but because it put a lot of distance between the first race of supercross' return last Sunday.
What was different? The track was more technical and challenging. The dirt—by far the Achilles heel of the first race here on Sunday—was much improved, trading dry dust for a semblance of tackiness. This race took place at night, adding the familiar look of night-time racing back to the program. Most importantly, the racing was better, with Red Bull KTM's Cooper Webb outdueling a game Zach Osborne to take the lead in the 450SX class, and then holding strong under a late-race charge from Eli Tomac. With it, Webb had his second win of the season, and moves back to 29 points behind Tomac. His slim title hopes are at least still alive.
"Zach was really riding well there at the beginning," said Webb. "I was just trying to put in some good laps, but I could see Eli was really coming, so I knew I needed to get around him and break away. It was a great night overall, but it was a tough race – the track conditions were definitely tricky, and you had to be patient out there," said Webb. "The whoops were tough, I just committed to my lines from the beginning and it played out pretty well. It was a great night to get a win, these are not easily regained, especially with the top guys up here tonight so I want to soak it in, but we've got five more rounds to go."
Tomac, on his Monster Energy Kawasaki, came through for second.
"I was fighting all I could there," said Tomac. "Tonight, it was just like who was on the inside [off the start], and Cooper got us there, I was second in line. It was a little bit wild down the second straight away and I kind of got shuffled back. I started moving forward, but Zach and Cooper had the pace tonight. I did everything I could. I made one mistake in the rhythm section and that was it—I lost all my hope there. But good points and we'll keep trucking along."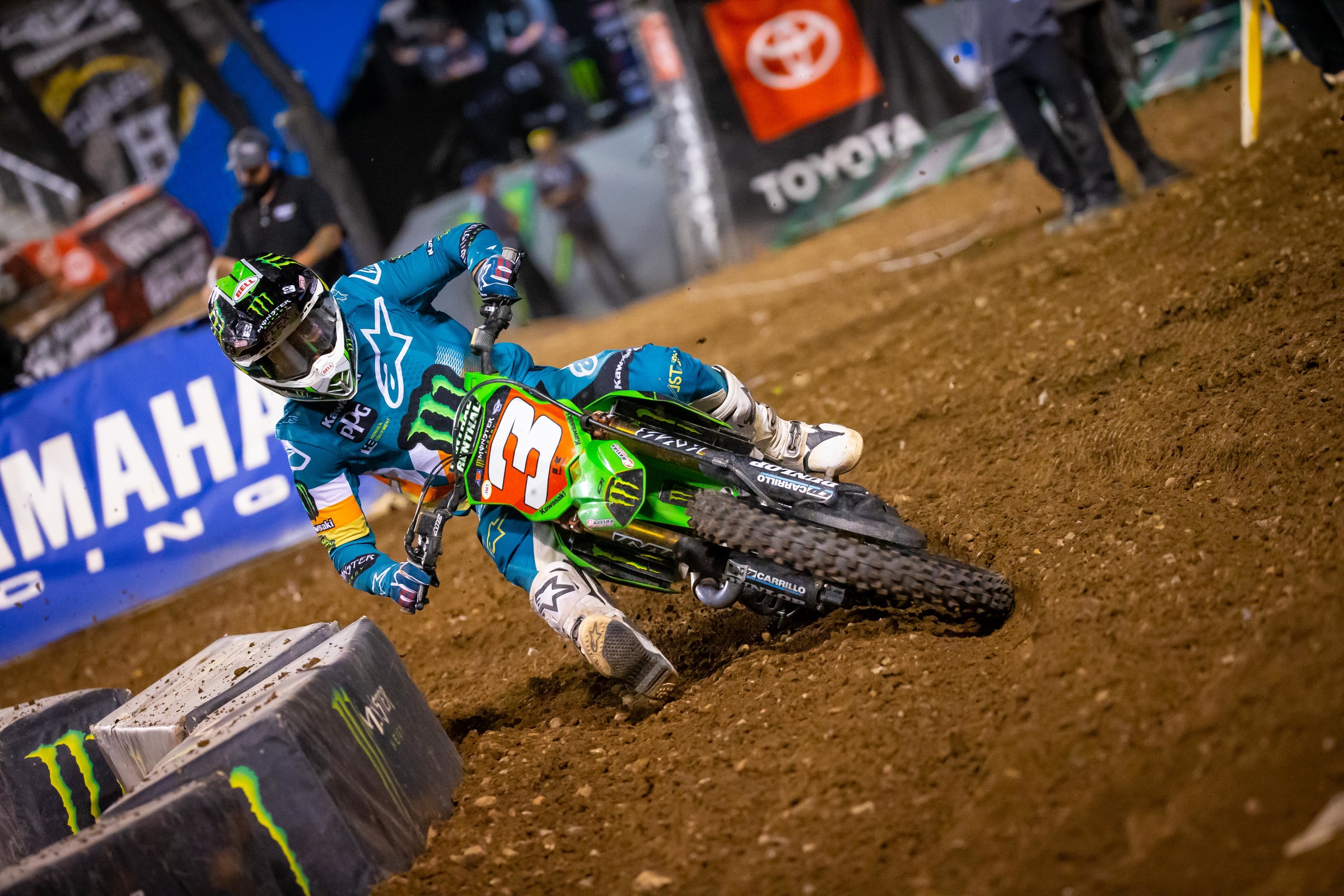 The Rockstar Energy Husqvarna team showed speed from all angles, at one-point clocking 1-2-3 in the first practice session, and then Osborne transferring that speed into the main, leading a whopping 20 laps. He had a jump line in the whoops that worked even better than Webb's jump attempts, but he wasn't jumping the triple-onto-table like Webb did. Eventually, the defending supercross champion got to him, then Osborne made a mistake and got blocked by a lapper. He ended up third.
"Yeah led a lot of laps," said Osborne. "To lead 20 laps and only end up third is not the best, but hey, it's better than 19 laps! In the heat race I almost passed Tomac going double single. I think they must have built it up for the main event. My wife was giving me the third degree over that, Cooper was killing me every lap [on the triple onto table]! I was doing it all day, it wasn't like it was hard, but in the last two laps of the heat I felt it was faster. I felt so comfortable out front, but I made one mistake and then one lapper killed my chance of retaliating. My bike, I've never been as comfortable as I am now in hard packed dirt. "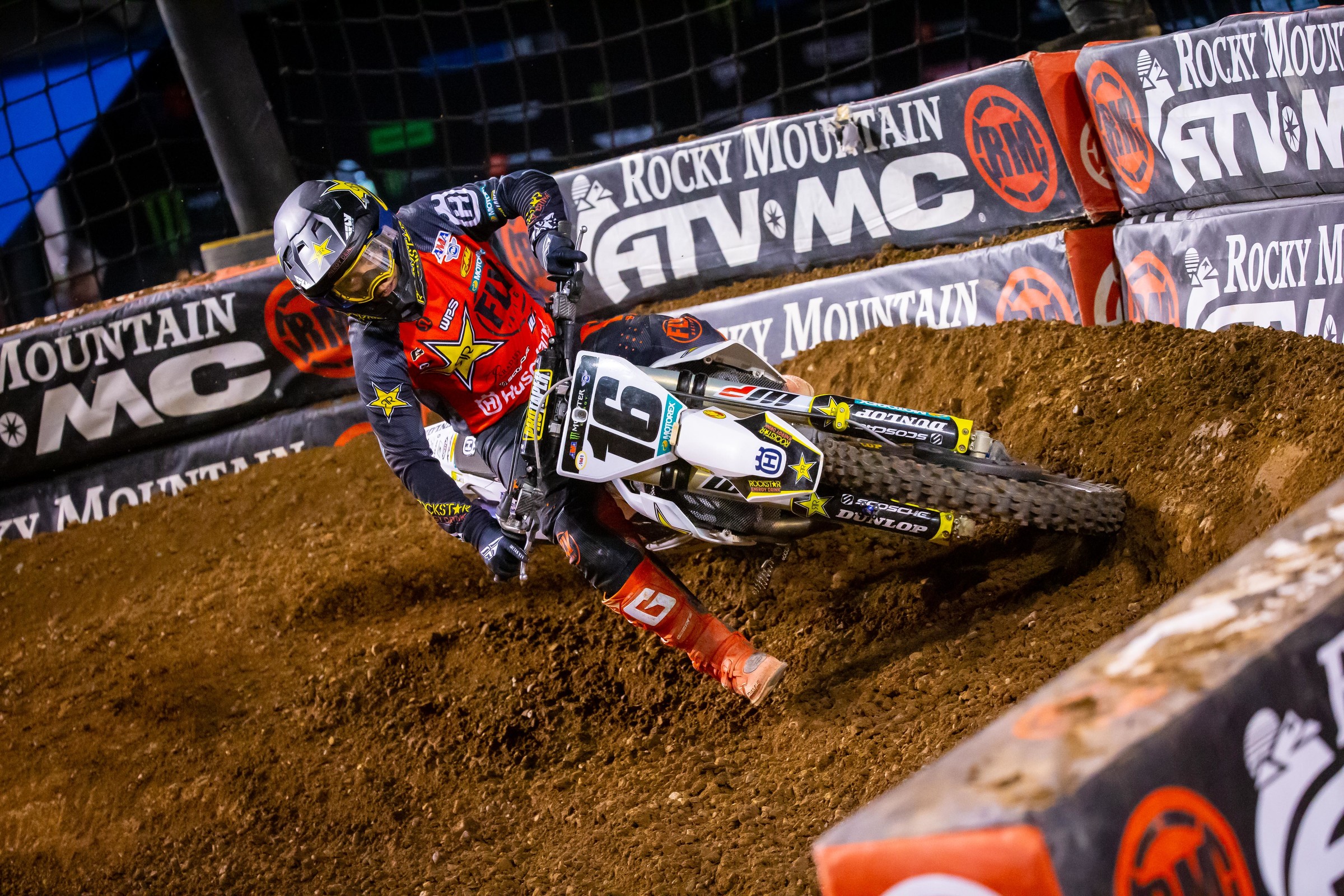 Behind Osborne came teammate Jason Anderson, now with back-to-back fourth place finishes in Salt Lake City. Third teammate Dean Wilson took sixth, making for a really strong night for the team.
The good points scenario Tomac referenced is due to his title rival Ken Roczen, who finished fifth. They battled in traffic early, with Roczen even holding the edge at one point. Then Tomac started moving forward and Roczen began to drop off the pace. He couldn't quite get to Anderson and had to take fifth.
Great night for Bullfrog Spas/SmarTop/MotoConcepts Honda's Malcolm Stewart, who won his heat race by straight-up passing Webb in the whoops to take the lead. His hopes in the main were dashed with a crash just out of the first turn, but he rallied all the way back for seventh.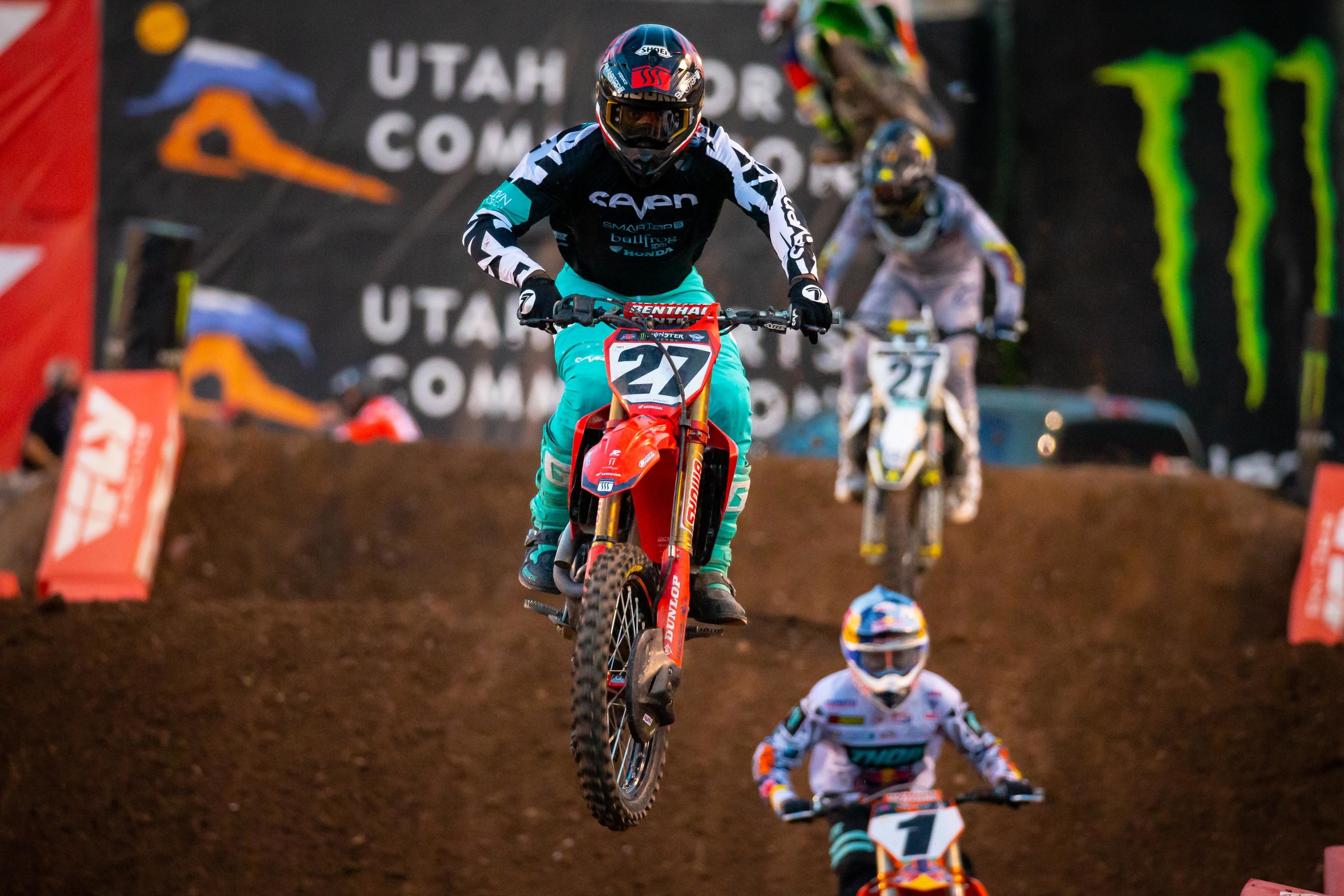 Monster Energy Yamaha's Justin Barcia showed better starts and speed than the previous race but ended up with the same exact result, eighth. On the other end, Justin Brayton didn't look as sharp as his did Sunday, but also ended up with the same exact result, ninth. It was a tough night for Justin Hill, including a trip to the LCQ, but he salvaged a tenth. Martin Davalos was 11th ahead of Aaron Plessinger and Benny Bloss. Adam Cianciarulo rode practice but was unable to compete in the night show due to injuries suffered in his crash on Sunday.
In the 250 class, it wasn't quite as different, because Monster Energy/Star Racing Yamaha's Shane McElrath won again. There's growing evidence that the powerful Yamahas could have an edge in horsepower-robbing elevation, with McElrath this time being followed home by his teammate Colt Nichols. GEICO Honda's Jeremy Martin had a solid race to net third, but the big story was series leader Chase Sexton crashing early and having to rally back to fourth. Monster Energy/Pro Circuit Kawasaki's Garrett Marchbanks was fifth.
"It's good," said McElrath. "I just have to say, glory to God today. We had a tough day all the way around because this track is tough. It was nice to come out like that. Man, my prayer and my wife's prayer was I want to give it my all tonight, and whatever happens, happens. But this is good."
"I just washed the front, and yeah that's about it," said Sexton. "Came from pretty much dead last, and that was all I can do. I've just got to get better for Sunday."
The win for McElrath—who has won four-straight races in this stadium—leaves him tied with Sexton for the points lead. Plus, now he has a teammate running up front via Nichols.
"It was really important for me to come back and just try to show my true potential," said Nichols, who made his 2020 SX debut on Sunday. "We've been riding a lot back home. My heart goes out to all the people that lost loved ones with COVID-19, it's truly unfortunate, but I hate to say it, it did play to my benefit, I get to race five supercross races when I was only going to race, I actually didn't think I'd be able to do any. Kudos to the team, I didn't feel that great in qualifying, I was only fifth and didn't really feel that great, but we made changes to the bike and it was huge in that main event. I had such a good time."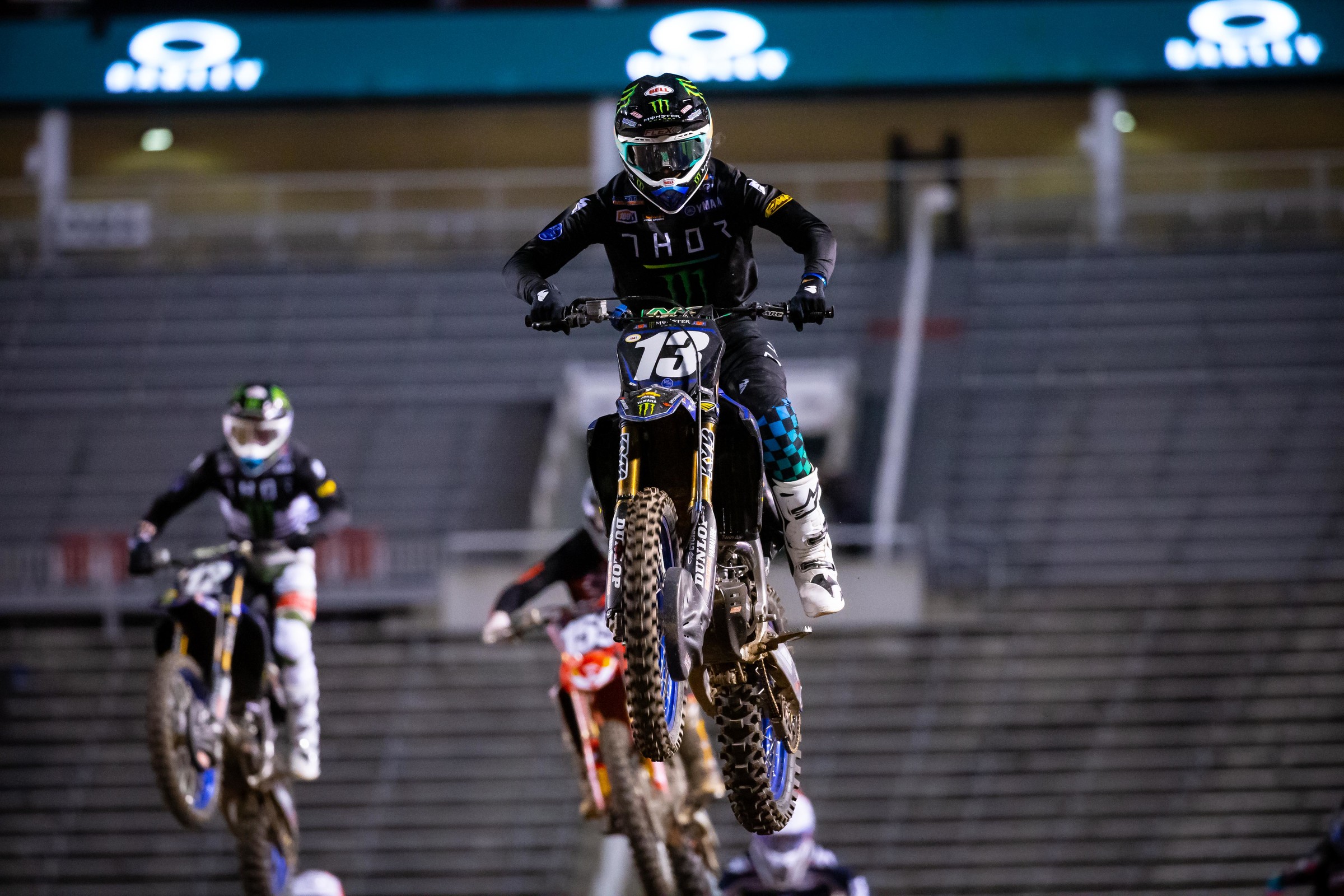 "Last Sunday was absolutely pitiful for me," said Martin, who took third. "I got a good start and my arms locked up after lap three. Yesterday we found a practice track that was extremely hard packed, and we found more comfort, we could use a different front tire angle and get some grip. "
The field gets an extra day off before resuming competition with another Salt Lake City race on Sunday.