Salt Lake City, UT
Salt Lake City 1
Monster Energy AMA Supercross Championship
Racing is back, and so are questions for former pro Jason Thomas, one of the lucky 900 allowed to be in attendance in at the Salt Lake City Supercross. Here are our questions and here are his answers.
So much talk about elevation. Is it overrated as a factor?
I don't think it's overrated but I did hear that it was mentioned A LOT. For the riders, it's two-fold between their bodies dealing with less oxygen and also the motorcycle having less horsepower due to said less oxygen. We saw many riders pulling off early due to bike issues and I would bet some of them were exhausted, too. Coming off an 85-day break and smack into a hot, dusty, 30 lap main event had to be a serious wake up call for some. The good guys were still the good guys, though, regardless of the elevation.
Riders mentioned it was hard to get fired up without opening ceremonies, fans, and a night show. Explain the difference between racing supercross and just practicing.
There is an unreplaceable level of hype created by a combination of nightfall, fireworks, t-shirt cannons and crowd noise. It was always a double-edged sword for me as that excitement was accompanied by unbearable nervousness. The other side of that coin is being "flat" with the lack of any build up. Riders would describe this "flat" feeling as riding without urgency. With no fans in the stands, they need to manufacture the adrenaline and energy to perform at their best. Most importantly, that urgency in their riding has to be present right away. Starting slow and building up their intensity might sound like a sensible plan but it's a recipe for getting relegated quickly in the early laps. The first few laps are fast and furious, an all-out sprint that can see riders shuffled back in a hurry if they are even a second or two slower. Riders need to make sure they are focused on the job at hand, even if things seem calmer than normal. The same points are on the line and everyone is watching, albeit from their living rooms.
Can we talk about this dirt, please?
The dirt is not the best of the series but I feel it's more the conditions than the dirt itself. 90 degree temps combined with 20+ mph winds are going to make any dirt nearly impossible to manage. The problem is, we are forecasting the exact same conditions this Wednesday. It is a night race, but until the weather cooperates a bit, don't expect it to improve much.
The track build was pretty mellow, but, with the lack of traction, was it still challenging?
In the main event, yes. During practice and when the track was groomed, it wasn't very difficult. Most of the riders jumped everything within two laps. If this track had been super technical, the main event would have been an unmitigated disaster. I really believed that the track difficulty levels would gradually ramp up as we moved forward but seeing the deterioration in the main event has me second guessing that. If the track is built to a level where it's challenging in perfect conditions (first practices and Heat races), the 30 lap main events are going to be chaos defined.
Altitude might have been a factor in one way: you mentioned in our Racer X podcast that McElrath's bike looked good at altitude. Expand on that.
Elevation really emphasizes strengths and weaknesses. If your fitness is lacking, the elevation will expose you in a very unkind fashion. We saw some riders suffering at the end of main events due to exactly that. Similarly, if your motorcycle has a power advantage, that will be even more drastically shown. Watching McElrath's Yamaha accelerate down the start straight was eye opening as well as his ability to triple into sections that others simply didn't have the torque to execute. The Monster Star Yamaha's have been considered the fastest bikes on track all year, the elevation just put a spotlight on that.
TV can't always show how close some of the battles are — talk about Webb pushing Tomac, and Roczen pushing Webb.
It was difficult with less camera angles, no spider-cam, etc, to really show the depth of battles. The race was much closer than it seemed on TV. The top three really had a yo-yo effect going throughout the main event but on TV it didn't feel that way. As all three of the riders mentioned, the track didn't reward aggression, so they had to exact precise methods of lowering their lap times. If they got too excited and let their emotions get the best of them, they would make mistakes, spin the rear tire, and generally just go slower. It reminded me of car racing where precision was rewarded, not unbridled aggression.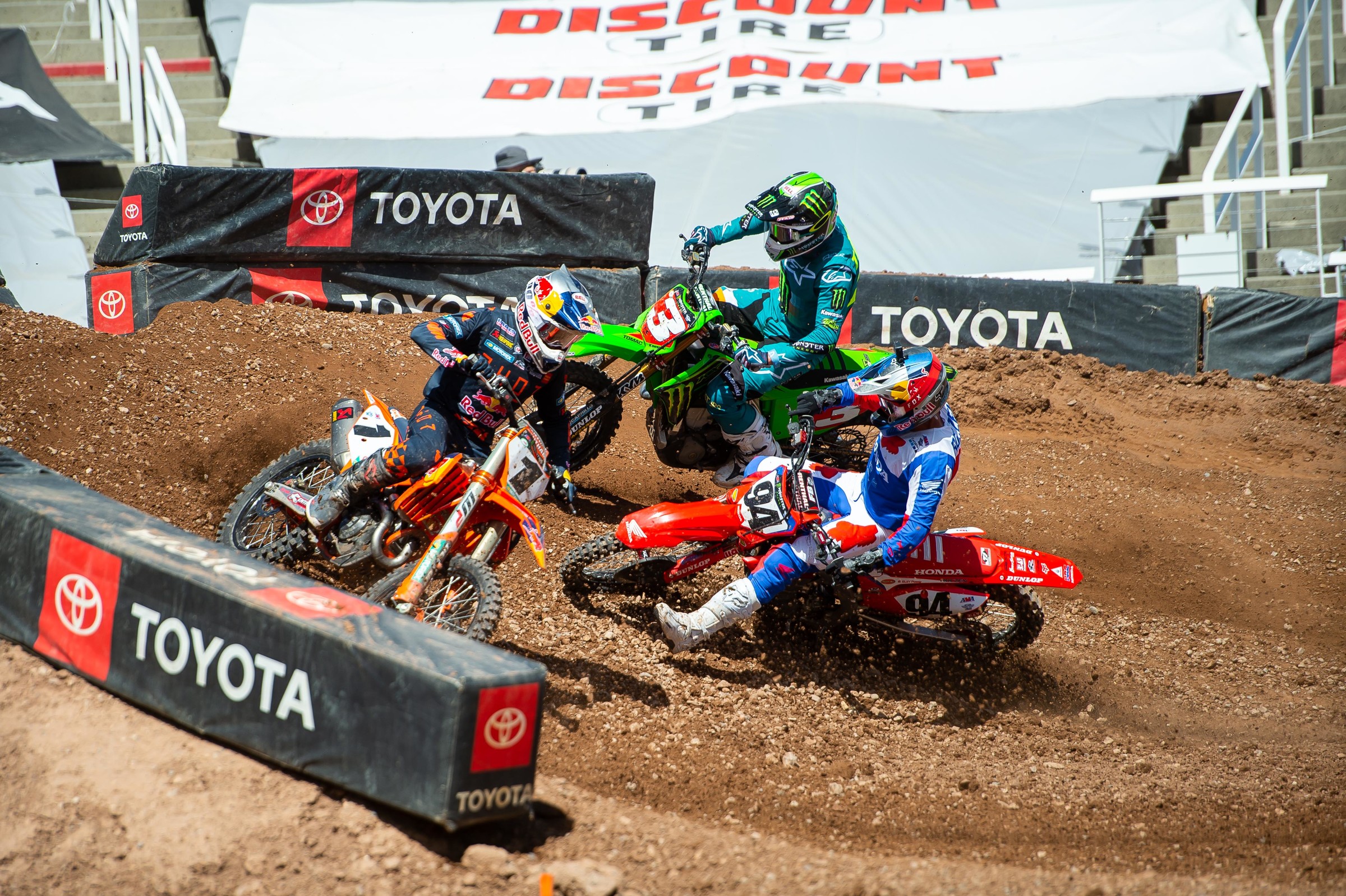 Are these wins any sort of "statement" for Tomac and McElrath, or just another race?
I don't know if I would go that far but it certainly got the proverbial ball rolling in the right direction. Momentum is going to be a very real thing with so much racing in such a short span. Confidence and morale will be critical in such a hectic schedule. The long break gave these guys an eternity to dwell on the return. Leaving the first round with a win will surely reassure both Tomac and McElrath that they did exactly what was needed during the downtime.
Fantasy Killers? Fantasy Winners?
My team was awesome! Let's just start there. Finishing fifth overall was an all time high for me in PulpMX Fantasy, and I owe a huge debt of gratitude to my crew of heroes. This answer is dedicated to them and only them. They are the real MVP's. In no particular order: Pierce Brown, Josh Osby, John Short, Shane McElrath, Eli Tomac, Blake Baggett, Kyle Cunningham and Zach Osborne.