Salt Lake City, UT
Salt Lake City 1 (Rd 11 - East)
Monster Energy AMA Supercross Championship
Injury-induced breaks are pretty common in this sport, and Colt Nichols is about to end a big one when the gate drops in Salt Lake City this weekend. The Monster Energy/Star Racing Yamaha rider hasn't raced since Budds Creek due to a dislocated shoulder sustained while practicing and hasn't raced supercross since Las Vegas in 2019. We talked to him to see how the shoulder has healed up, how supercross prep has been going, and to get his thoughts on getting back to racing.
Racer X: What's up Colt?
Colt Nichols: Not too much, just packing some stuff to get ready to go to Utah. I didn't think I was going to get to race any supercross races this year because of this whole pandemic so I'm pretty excited. It kind of worked out in my favor a little bit. I hate to say that, but at least I can go race five supercrosses now, whereas before I wasn't going to get to race any.
Obviously you're not happy about the pandemic, but there's nothing wrong with appreciating the fact that you get to race.
Yeah, it's a really unfortunate circumstance, but at least we still get to go race and everyone's going to be on a level playing field. We'll just be stuck in Salt Lake for a few weeks. No biggie.
How's the shoulder doing?
It's doing really well. The therapy has been really good. I did it about three or four weeks longer than what the original doctor's script was for. I really liked my therapist, he made me feel really confident, so I went for a few weeks longer. I've tried to do everything I can. Shoulders are just tough, it's a really hard injury to rehab. I'm really excited where I am though with riding and how it feels. Off the bike there are a few things that need to be better, but that's just typical no matter what. Overall I feel great and the shoulder feels really good.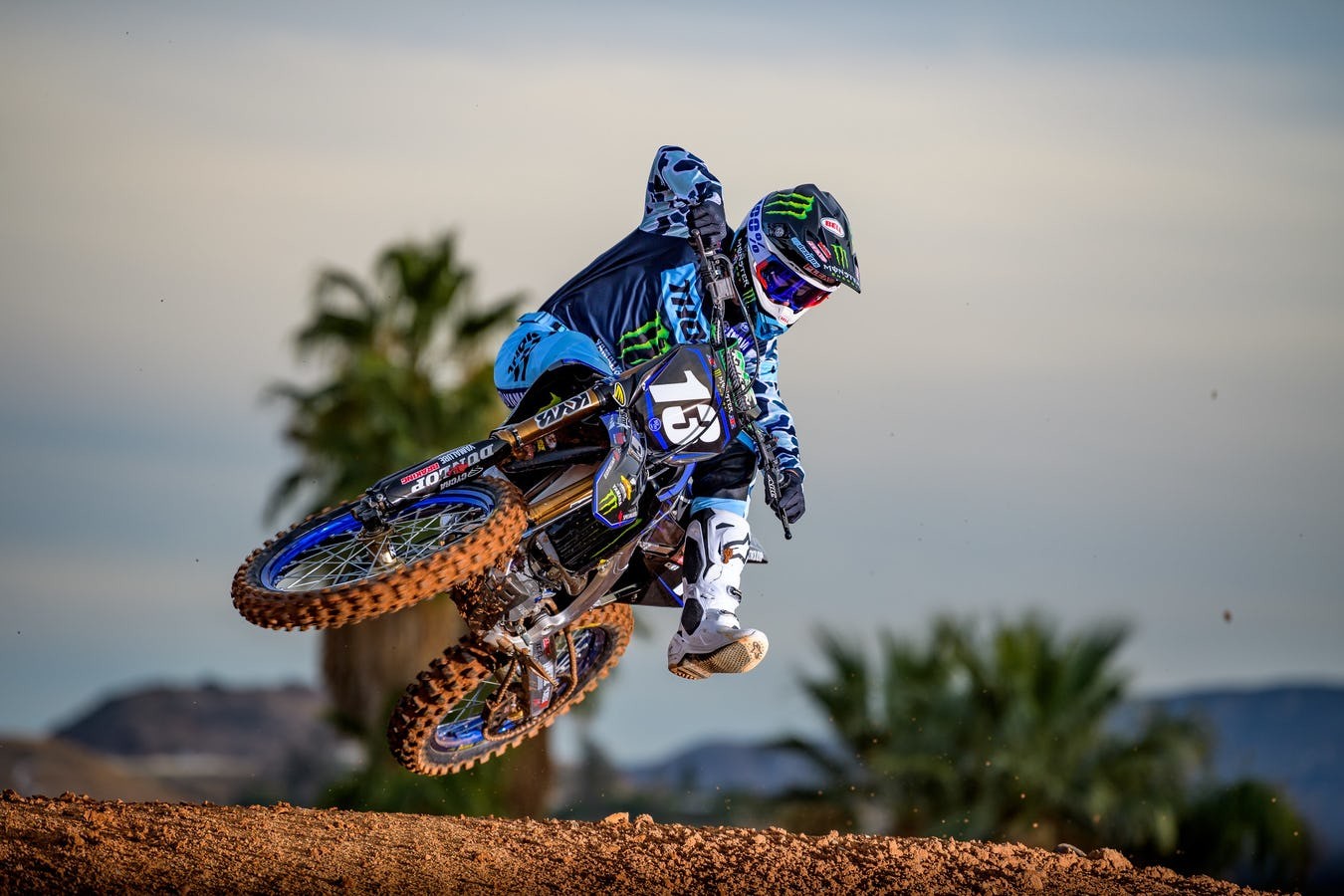 You've recovered from a few things in the past crazy fast, but this one has taken a bit longer. Were there complications, or did you just decide not to rush on this one?
We just didn't want to rush it. There have been a few injuries where I came back extremely fast but it wasn't three or four weeks after that and I was out again for something else. In 2017 we had the issue with my femur and I came back and tweaked my knee. I can't say it was directly related to that, who knows, it could have happened regardless. But it maybe didn't help trying to push, and being not quite ready to go that speed but trying to anyway. We'd go racing and I'd do a little better than even I anticipated, which would light a fire under me and I'd try to do maybe a little too much too quick. It was the same thing in 2018 with my arm. I broke my humerus before the season. We rushed back as quickly as we could and I probably shouldn't have been there—I wasn't strong enough to handle that kind of load on my arm yet. I ended up breaking that same arm again a little later on. So, after that it was like, "I'm done rushing." I really want to make these championships and be in the points chase for sure, but at the end of the day it's not worth it to go out there and do something stupid that puts you behind again. With this one, the team was just really awesome. They were like, 'Dude, just take your time. We don't want you to rush back. When you feel ready, we'll go.' I have to give a lot of credit to them; they were really helpful with that. I did all the rehab I could, the therapist felt fine with it, and so did the doctor who operated on it. Once I got to that point I got to ease into riding. There wasn't any racing I was going to immediately start doing, we'd ruled out supercross at that point, so I was riding outdoors and getting everything going. Then this craziness hit and changed our plans for supercross. Now I've got about four or five weeks on it and we get to go race. I'm pretty excited how it's worked out, to get to go race.
You haven't raced since Budds Creek?
Yeah, not since Budds, and I haven't raced supercross since Vegas last year. It's almost been a year since I've raced a supercross race. It's been a minute.
Is that the longest break you've ever had?
That I can recall. It's definitely been a long break. I'm pretty excited to get behind the gate, it seems like it's been forever. I'm really antsy to get behind the gate and go race.
How's the riding feeling? Are you back where you were or are you just waiting to see how it shakes out in Utah?
A little of both. I feel like I've done things right with this. It's kind of tough to get the intensity up on supercross. The first two or three weeks we were just trying to find our stride and trying to put the track together. Then, slowly, the intensity starts to build and you start getting a little faster. At first I was just getting a big slice of humble pie every time I rode. Riding with Shane [McElrath] and Justin Cooper, they were going extremely fast! I was like a fish out of water almost. But just like with anything, it starts to come back. We were doing some really good motos with those guys and they were really helping me get up to speed. Without them I probably would have been a little lost with trying to figure some things out. I'm really happy with the progress we've made, especially in the past two or three weeks. It's been pretty substantial. I'm happy and I just kind of want to go out there and send it, to be honest. I have nothing to lose, I'm not in the championship hunt. Hopefully I can help Shane out if I can run the pace. These guys have been in race mode and will be tough to beat, but I'm going to go give it my all and try to win some races.
So you're not treating this like a warm-up for the Nationals or anything. You're going there to compete for real.
Yeah. But, it's always different when you get there too. Practicing is one thing, a lot of people can go fast at a practice track, but when you go race, things can happen really quickly. There's a lot going on. I know it'll be a bit of a learning curve getting my feet wet and being behind the gate again, but I definitely feel like, with my speed and fitness and everything, I'll be able to go and at least battle. I'm in shape and the bike is working really good for me right now, and the intensity has really started coming back in the last few weeks. I'm really happy about that. I definitely want to try to go win some races. Like I said, I'm not in the championship so I have no real reason to try to be cautious about anything. I just want to swing for the fences and see what happens.
This has to be the strangest recovery you've ever had. COVID-19 has changed what you can and can't do, where you can and can't go, now you're coming back for supercross in basically June, two races a week, and no fans. Do you think about any of that?
It is what it is, everyone's in the same boat and we all have to deal with it. But at the same time it is going to be weird. Usually we're already racing outdoors. It's definitely going to be a little different. It's going to be hot and we're at altitude a little bit. I think our very first race is a day race on Sunday and it's going to be like 95 degrees. It's going to be hot, and that's not something that's normal for supercross. It's going to be different. I think one of the reasons I like supercross so much is the night program. You have the fireworks, the opening ceremonies are going off, and the fans are going crazy. There's electricity, it's such a cool feeling when you're at a normal supercross. I'm definitely going to miss that side of it, and having the fans present giving you an extra edge. But we're all in the same boat, and either way I'm blessed I even get to go race. The circumstance sucks, I wish it wasn't the way it is, but all things considered it worked out for me to get to go race five races instead of zero. I want to take the opportunity and run with it, get things moving, then step into outdoors and take off from there.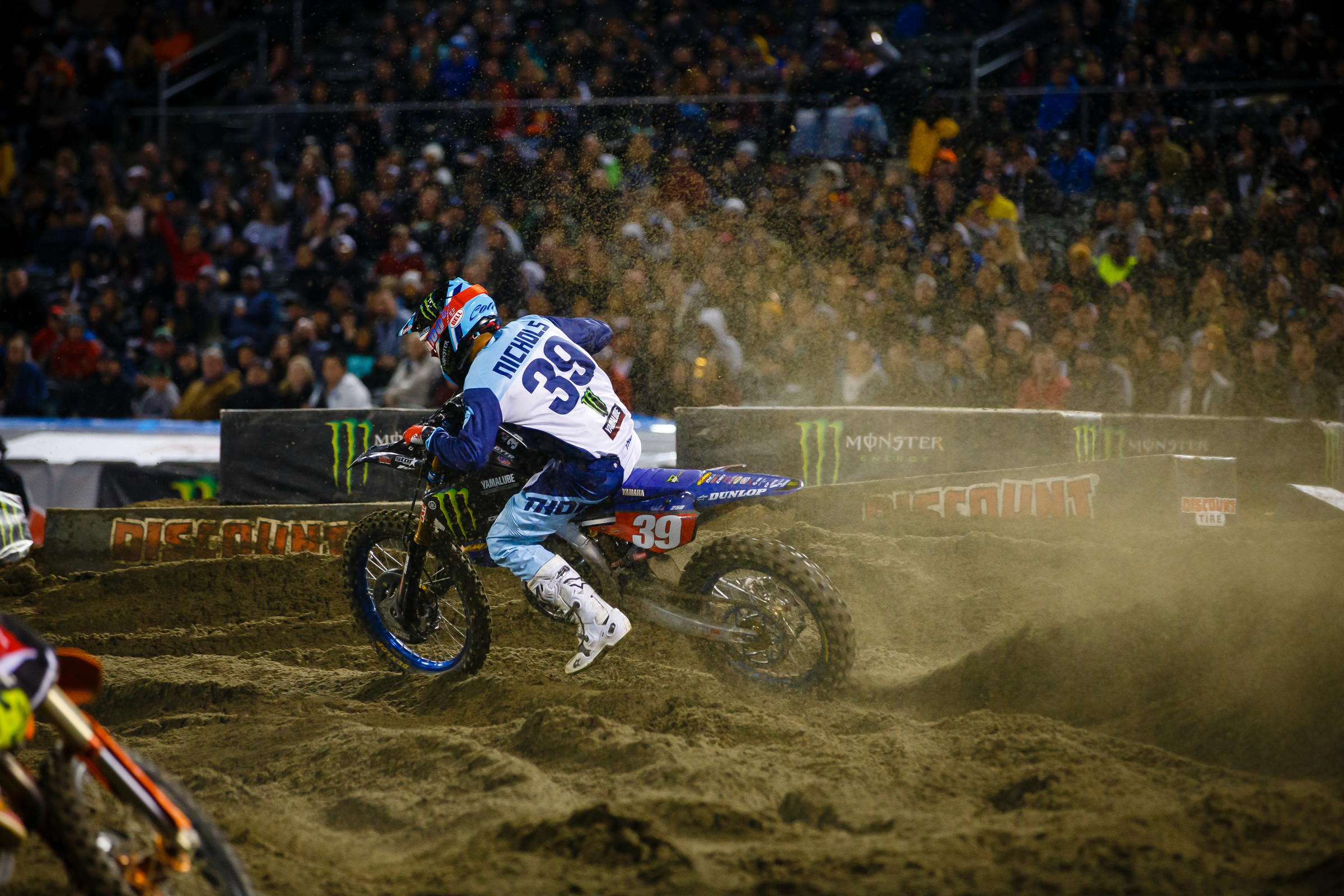 What are you going to do if you go there and test positive?
Ohhhpphhfff. That's kind of a weird topic of discussion for us. You have to sit in quarantine for fourteen days if you do test positive, and you can't leave or go anywhere. I'd just be in the same boat I thought I was going to be in anyway, not racing, and I'd be bummed. I've put in a lot of really good time with supercross and I've been doing a lot of things right. I'd be very disheartened about it. I guess we'll just have to see how it goes. I really, really, really hope it doesn't happen though. I'm going to be pissed if it does [laughs].
You know someone is going to, right?
Yeah, that's the thing. Just the odds, I feel like someone's got to. There are a lot of people showing up to get tested. I've been doing a lot of research on false positives and stuff just to see kind of what we're working with here and I think it'll be okay. But who knows? You never can really tell with this stuff. Hopefully we all get through unscathed and everyone is fine.
---
Main image: courtesy of Rich Shepherd.