Ken Roczen didn't win the Daytona Supercross, but he left round ten of the Monster Energy AMA Supercross Championship down just three points to long-time racing rival Eli Tomac. Compared to the last few supercross seasons, where injuries and illness left him well short of the title, simply being right in the hunt at the halfway point is a big improvement.
But now the waiting game begins, as Roczen and the rest of the supercross world can only wonder when the indoor title fight will resume. Kenny's trying not to stress on it. When we called him last week, he was enjoying living a bit of a normal life while waiting for more info.
Racer X: I almost feel like you were ahead of the curve. You said you were a little worried about my immune system, and you decided to not do autographs. That seemed like a big deal before Daytona, it seems like the most minor of deals now. It's amazing how much has changed from then to now.
Ken Roczen: Even JB [Justin Brayton] was like, "Whatever. It will be fine." He was making fun of me and I gave him shit about it. In Daytona I decided not to do autograph signings and I was the crazy person. And I always do everything for my fans, but that was just one of those things. My immune system is just still not there, and they say for people with immune problems… So for me, I was like, I'm in this thing right now in the championship, and I would like to keep racing. I want to keep everybody safe. I feel like sometimes I have to also do what's best for me.
Skipping the autographs, that was a big thing at the time. Who knew that we would end up not even having any races after that!
It was from one day to the other. Everything was normal, like the race was happening. Then before you know it, I feel like one afternoon, I was talking to JB. We were on the phone and he's like, "Have you heard that the race might be canceled?" I'm like, "What?" We were literally about to leave to go to the airport 20 minutes later. So we actually postponed our flight from 5 o'clock or whatever to 9:30 at night to see if there was any more news or anything going out. Then obviously by that time it was already said that the race is not happening. We were like, holy cow. I know that Chase [Sexton], those guys, they were already in the plane to go there. I luckily didn't go. I haven't flown since Atlanta, which is kind of nice. From then on, it was like within the next 24 hours it was worse, and then the next 24 hours it was even worse. I kind of knew that that was going to happen. When things like this go out, it's going to get worse before it gets better.
What do you do right now? What is your schedule? Do you even know how to work around this?
Yeah. I took some days off throughout the weekend and just took it super easy. It sucks that this thing is health-related, but I'm enjoying the part where there's no racing on the weekends. I actually trained pretty hard this week. I took some days off. I'm going to go up and down a little bit because it's so open when we're going to race. We might not be able to race until God knows when. May, June… Who knows? So I'm basically a normal person. I'm going on bike rides, and actually it'll help me. I'm staying healthy and whatnot, but I'm going on bike rides. I can actually push harder now a little bit because I'm not racing or anything. I'm kind of just going with the flow here. I'm riding a little bit here and there. I'm not overdoing it, and going out on the boat a little bit. I was in the gym earlier. I'm just kind of doing what I want to, I guess. Which actually this week was quite a lot, but it's nice when you don't have to. That actually makes me want to more, and go on a bike ride without having to be like, I've got to go.
I'm sure managing your workload throughout the season is critical. So you're kind of unleashed right now, because you don't have to be ready for Saturday this weekend.
Exactly. Yesterday we were doing yard work for three hours in the heat, where normally I wouldn't do because it just hurts my recovery for the next day and all that kind of stuff, but right now I don't really have to prep for anything. So I'm actually enjoying things. My cousin is here and his wife and his kid. They were supposed to go on a cruise. They decided not to go, which was good because they'd be stranded out there. So now there was a big deal with all the flying back and everything. So they're here. So we were just all working in the yard a little bit. I'm just kind of living a normal life, I guess.
You're right where you want to be for the title. Has any part of you been like, "Dammit. No, no. I'm right where I want to be. Don't mess this up now." Or is the health thing beyond anything in racing at this point?
I honestly haven't thought of it that way. I think ideally I would love to be three points in the lead instead of being three points back. When this whole thing first started, which I don't think this would have happened, but I'm like, "What if they're just crowning Eli right now?" I've never been this far along in the season and done that well and been in the hunt. Then this thing would just be over, but there's no way that they could do that. So I'm not too worried about it right now.
So at no point were you like, "This is such a bummer. I need to keep racing because I can win this!" Is it too big a deal to think about it in championship terms right now?
No. Honestly, there were so many changes once they said it might get canceled, maybe not, maybe racing without fans, all this kind of stuff. I'm like, just freaking cancel this Indianapolis race. Let's regroup and see where this takes us. I think it was for the better. I was actually for that. It sucks for the fans and for all that kind of stuff. But, it's really hard when you're like, "What is happening?" I want to be in it mentally. I want to go to the race and know for sure we're racing, no doubt. They were saying, maybe not, or maybe yes. When that happens, something changes, mentally. I want to know we're racing and be like, "It's on" and be freaking ready to go.
I've been talking to teams, and Feld [Entertainment] has been in touch with them. Have they talked to you guys, or has the news come from the teams as far as the latest? How does that work?
Mainly the team. Right now, I don't want to be like every day like, "I got to find out." I'm just waiting for the call. The rest of it, I'm just here doing my yard work, going on the boat, training and staying healthy. Like I said, it actually maybe gives me a chance to actually make another step forward in a methodical way. I think mentally it's just good to get a break. It sucks that this thing is health-related. I don't want anybody to think that I'm glad that this is going on. By no means. Of course this is not a good thing. But it is what it is right now, so I might as well make the most of it.
Listen to the audio version of this interview:
What you're explaining here is, as a racer, you can't have one foot in the chill out mode and one foot in the race mode. You need to just pick a lane right now.
Exactly. I think that's the best way of saying it. Once you get closer to racing, maybe a couple weeks or whatever, that's when you kind of buckle down and really go, but right now it's riding outdoors and getting in some time, getting comfortable on the bike, getting comfortable with the distance of outdoors again. All that kind of thing. It's crazy. We work out and we do all these things, then you ride outdoors and you are sore in muscle groups that you haven't been sore in a long time.
So you have done some outdoor stuff here and there?
Yeah. I've just been riding. I wasn't pit boarding and motos and sprints and all this kind of stuff. I was just going out there and riding and enjoying actually riding. I feel like in Europe I used to never practice with a pit board ever. It was kind of nice because you're not always worried about the speed, or this guy's faster, or all this kind of stuff. Once I come to the race, I'm always a better racer anyway. If I get confidence or if I'm just comfortable with what I did, whether I was fast or slow or whatnot, I just want to feel my body and feel my body getting better. That's what gives me the confidence. When I go to the race and the gate drops, I'm freaking going for it anyway. I guess what I'm saying is I think a lot of people do these sprints and this high-intensity stuff because maybe they have a little bit of a lack of intensity. But I feel like that has never been the case for me. I'm actually really lucky in that. It kind of comes naturally that when the gate drops I kind of make a lot of passes and I'm like a Formula 1 car, moving forward.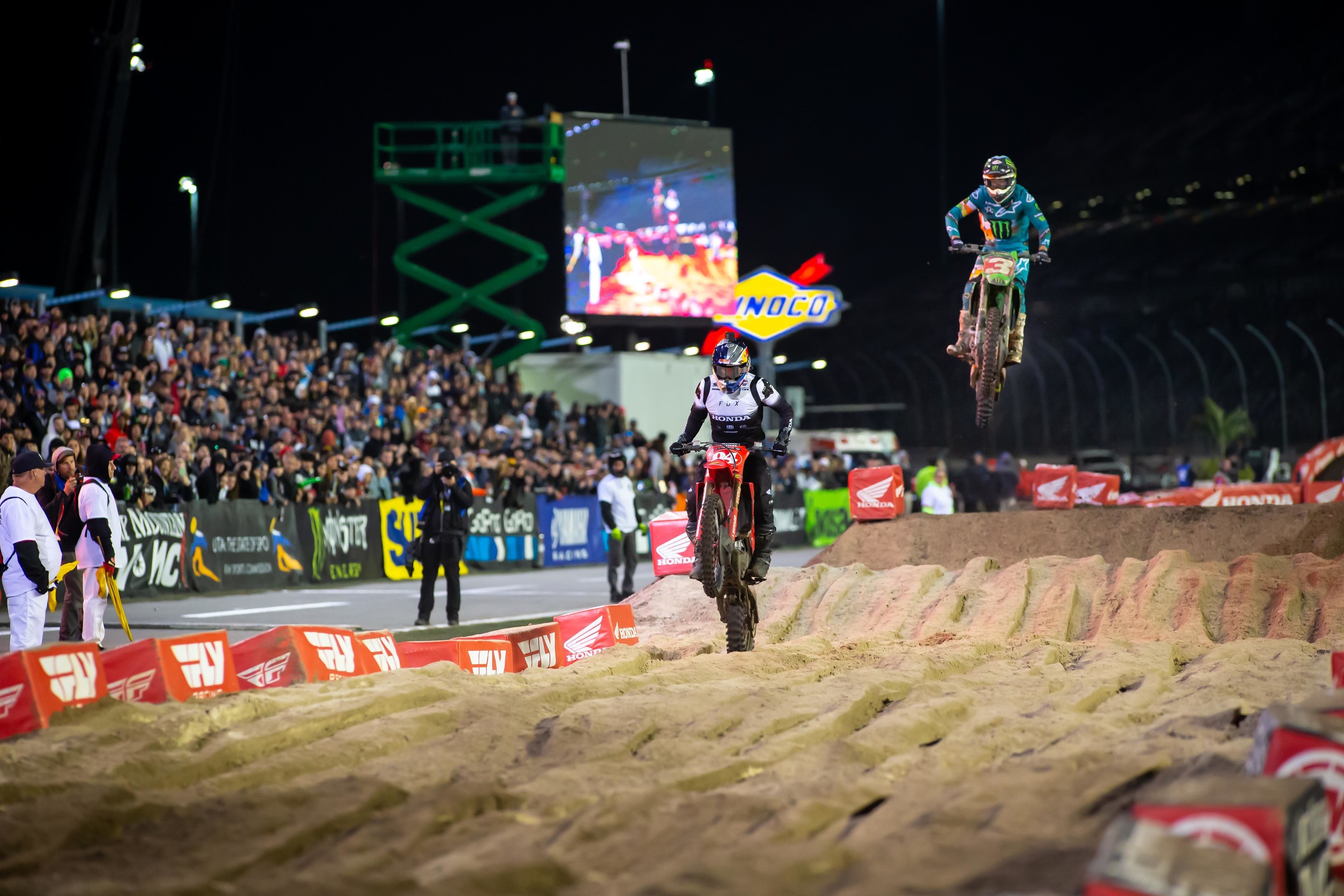 You're pretty gnarly on the first laps of these races, for sure. So some guys need all those building blocks during the week for their own confidence, but you just know, "I'll get it figured out when it counts?"
I think there's actually a thing. There's fast-twitch muscle and slow-twitch muscle. Those types of muscles have to be trained completely different. I have always been very explosive, whether it's a gym workout or whatever it is. My power output is very split-second, right there, very quick. Where other people, like [Ryan] Dungey for example, he's a straight, slow-twitch muscle. He can put in some crazy watts on the bicycle for freaking hours. I'm very explosive and short.
We actually see it. You've been battling Eli [Tomac] practically your whole life here. That's kind of the way it plays out. You start quick. He comes on late. It works out about the same. You win sometimes. He wins others, and right now you're just three points apart. It's fun to watch that. You both have completely different strengths and weaknesses, it seems like. You've raced him a long time and seen this happen over and over. Personally I don't feel like I've ever heard much issue between you guys.
No, we really don't. There's a certain amount of respect there and every time we race each other…I don't even know if we've ever made contact. That's the fun way of racing. We might get close. Sometimes if you make a pass, it is what it is. But we have been very good. I'm super cool with him, too. There's absolutely no bad blood whatsoever.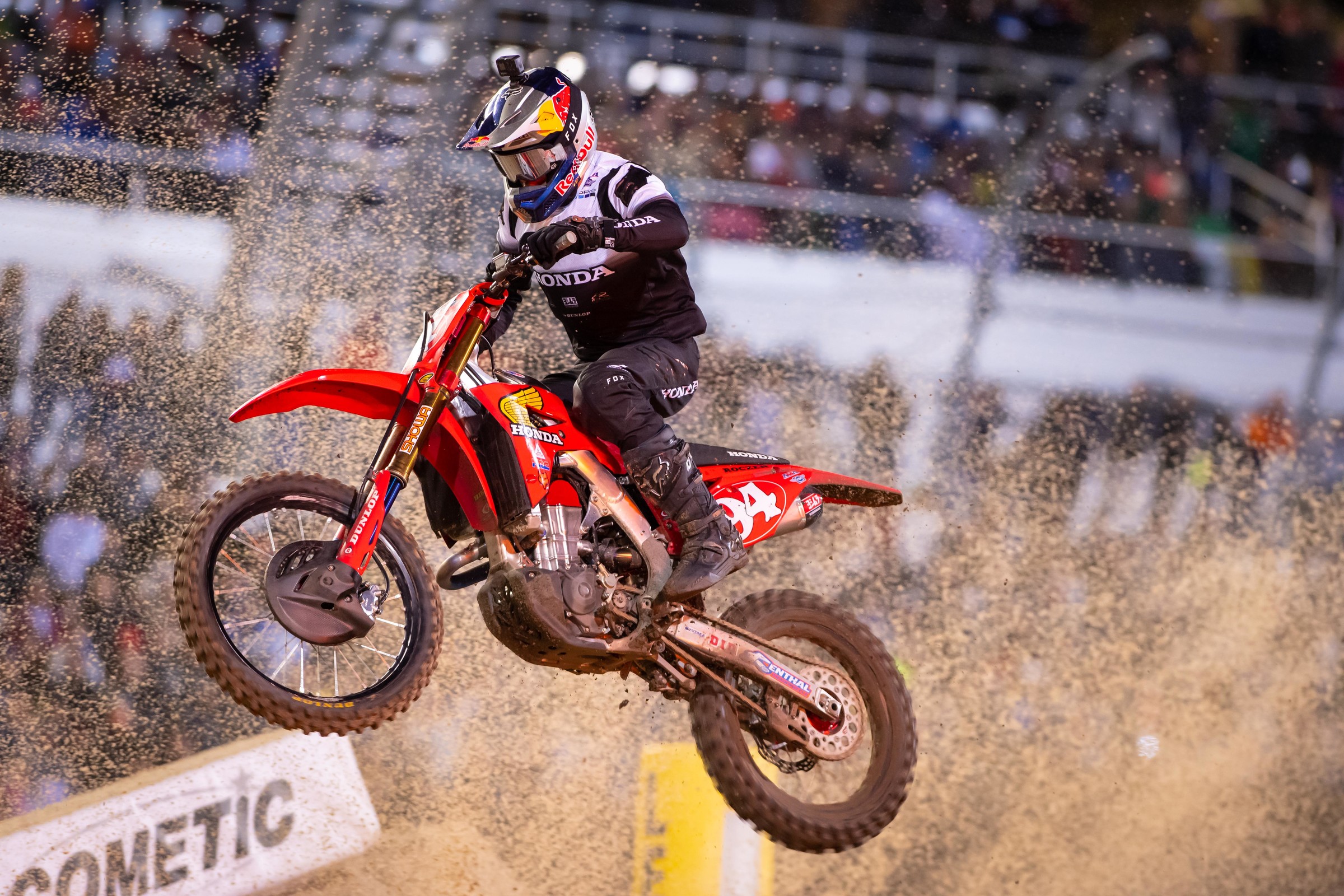 Eli's not the most outgoing guy anyway, but do you even talk to him much? In staging or after a race, press conference time?
No. It may have gotten a little bit better that way. If you just break the ice or whatever you can talk like normal and things are normal. I just think I that he's just a little bit more quiet that way. I actually texted him the other day when this thing was going down, asking about doing double headers and all this kind of stuff we were hearing. I actually texted him and we were talking for quite a bit. Other than that, no. I think he just goes his own way. We're just a little bit different personalties.
But it's not like you can't speak to each other because we're battling or anything like that?
No.
We don't know how this is going to end, but it does sound like you're pretty proud of how well you've managed it. If you win the title or if you don't win the title, are you at least proud of the way you've managed your health and stayed in it this year? You've kind of righted all the wrongs you probably wanted to fix the last couple years.
Yeah. I'm proud. Getting this championship would be at this point… because last year with how hard and how bad I struggled, for me mentally or physically, everything was so tough at one point I was just so over it. Battling this crap. That side of things gets super tough sometimes. Having said that, I have been very proud of myself, everybody that's just around me. Especially my team too, because obviously they see a lot of behind the scenes. There were races where we were struggling with one thing or another, and we always kind of made the best out of it. Obviously it sucks for me, because I always want to go out there and win. Sometimes though I really just pick my battles, if that makes sense. So that side of things, yes. We have been really good. Once we went east coast, I was getting really good results. Of course, there's a couple of races that I almost turn a blind eye to right now because they were not so nice. But I think when people have those - because it's not just me; I think there's other riders. There's always a reason behind a lot of it. It's tough to always make everything perfect. But for right now, yes. I'm very proud of what we've been doing and the off-season days. Those are tough. I'm very proud with where we're at right now. It's my dream. I don't even know what I would do if I would win the championship, because I'm so close. My eyes are sparkling more every weekend after I did good. I just want to be in this damn battle. I'm over being halfway through the season or even more and be like so many points down and all this shit. Then it just becomes you're out there racing for wins or whatever, and last year I was so far away from that, even. So, it's nice to be in the battle. Even in the years like 2016 where I was hauling ass and everything, Dungey was just still so consistent that he always had a big points gap on me. Right now, it doesn't matter how it plays out. Of course I really, really want the championship and I'm going to freaking go to battle every single weekend, but I just want the best out of myself. I want to be my best, whatever that is results-wise.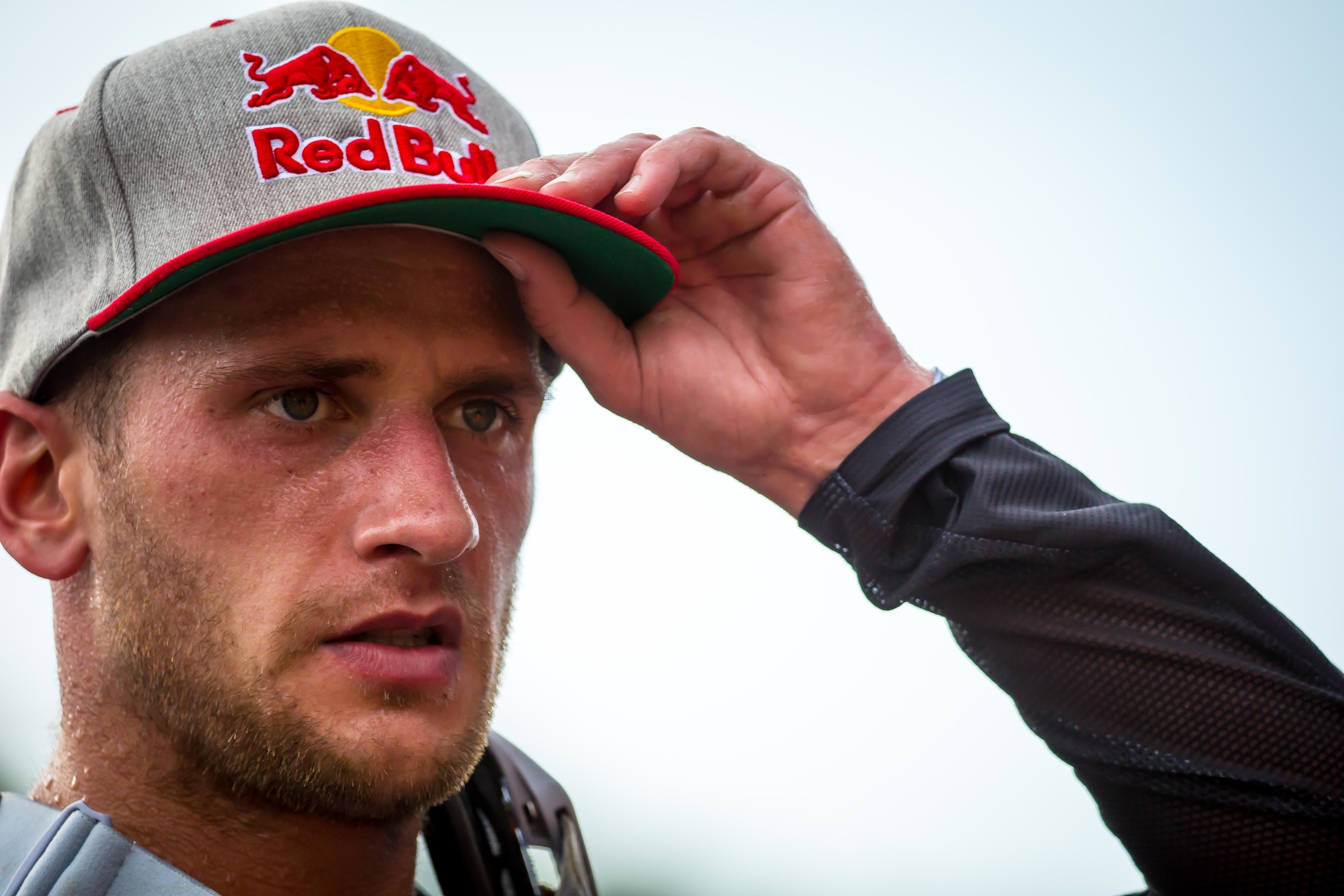 Here's what I'm learning now. You always seem about the same guy. On the track, your riding style looks the same. You seem like a happy guy most of the time. You always seem outgoing. I guess what we're hearing is, behind the scenes, it wasn't actually as happy as you were maybe making it look on weekends.
I am very happy with my home life and everything. That side of things are super awesome. So yes, mentally I've been very consistent this year and being really happy with everything. But I think it's just the struggles that come with a long season, and my immune system still not being right. There have been times when we go to battle and you feel like complete dog poop, but then you still go out there and get a second or whatever. I don't talk about it much because when I go to the race, it is what it is. It doesn't matter what kind of problem I have, I don't want to talk about it I'm still struggling with my freaking foot from Oakland. Believe that or not. I don't talk about it much, but I can barely go on a run right now because it gets so tender and so sore. But I don't really hang that on a board or anything just because it doesn't help me on the weekends. It doesn't help me to talk about it, because it is what it is and I want to make the best out of it and just rather not think about it. It's there, but the less I talk about it I think the better it is for me.
Here's what I think is cool, though. With the injuries you had and all the issues you dealt with, it's good to hear that you never gave up on the idea of winning the supercross title. You could have easily been like, "Dude, this is hard. Maybe the title is not going to happen. Maybe that's not my level anymore." But it's like you still kept that goal somewhere on the horizon.
Oh I was there. Ask Courtney [wife]. During the outdoors season last year, I about couldn't handle it anymore. All I was doing was nothing during the week, go race and be miserable every freaking weekend. I told Courtney after every weekend during outdoors, I'm like, "I can't do this anymore. I want to be done." Obviously you say those things sometimes before you actually do it. It doesn't mean I was really done, but these are the things you say when it's so tough. I'm like, "I can't do this anymore." Right now we're doing pretty dang solid. I'm in a much better position than I was last year. But I'm just saying, it was really bad at one point.
Okay, thanks for the time. You going out on your boat?
Yeah, I think I'm going to go out on the boat. I've done all my work. I was actually pretty pumped that I got everything done this early. It's freaking hot here. It's like 90 degrees. Time for some fun.