Atlanta, GA
Atlanta
Monster Energy AMA Supercross Championship
Adam Enticknap started the year in a bit of a rough patch, missing the second round at St. Louis with an injury, and missing the first six main events of the season. The HEP Suzuki rider has progressively been getting better and even put in a season best 17th last weekend at Atlanta.
Of course, with his rap songs and wide-open personality, Adam is known for much more than just his racing results. But after Atlanta, he can finally talk about getting some results again!
We spoke with him after that performance to see how things are going.
Racer X: Seven deuce deuce! Putting her in some mains. You feeling better? What's happening?
Adam Enticknap: Bro! We had that little bit of struggle in the beginning of the season and I think it got me out of the flow a little bit. Then I don't know. In San Diego we had a really good suspension setting, and then I feel like I've just been getting faster and faster every weekend, and my times have been dropping, dropping. Then this week was actually the closest I've been to the leaders ever in the history.
The gap?
Yes! The gap.
Really? In your career?
Yes! So I think it's just a big testament to the whole team and everything coming together and then myself coming together too. Just kind of executing and finishing off. That was really the big thing for me.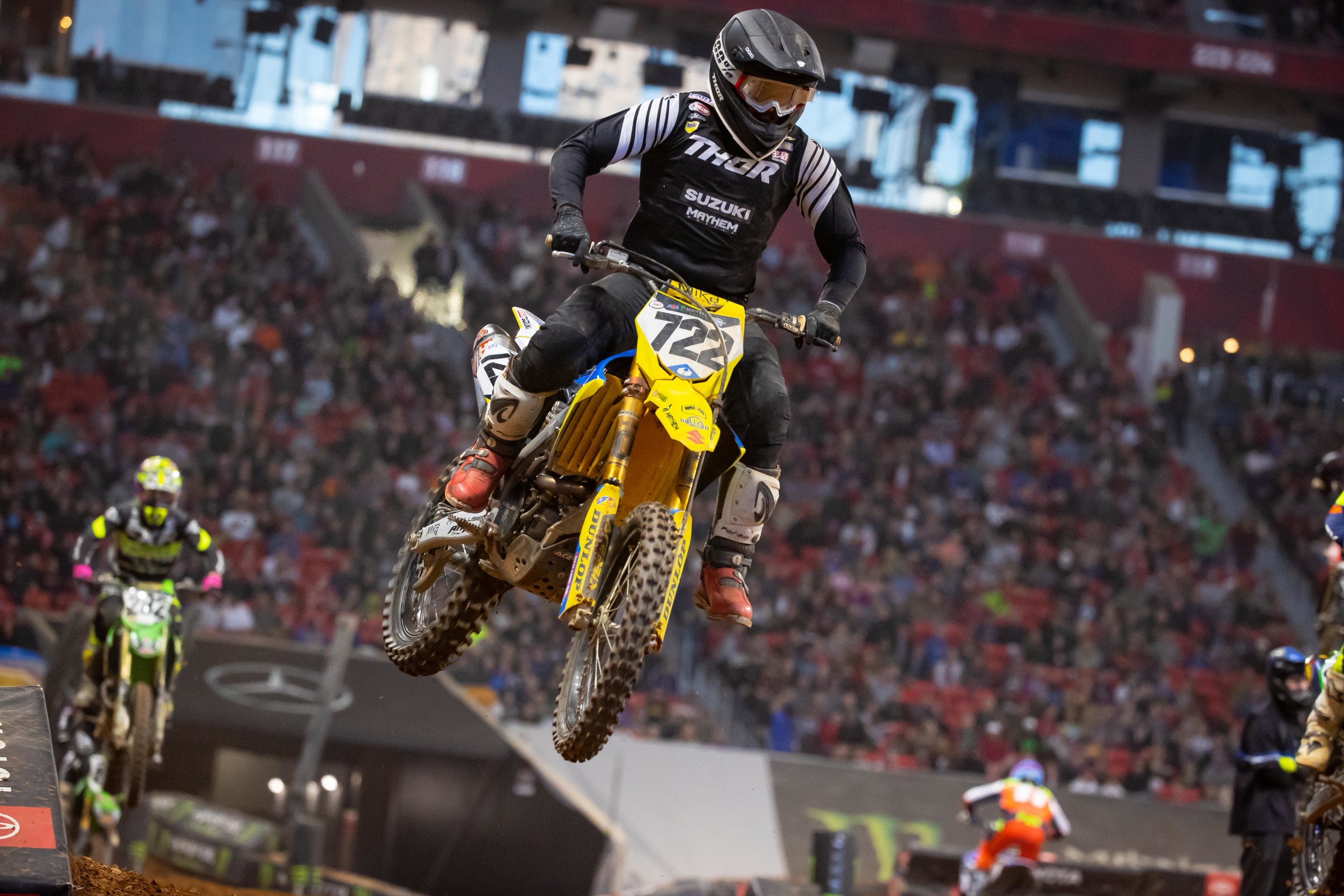 It's funny because I think you've got such an awesome persona and you have so many fans already that I think people forget, most of the time he's probably just working on racing. That's your true focus. So, talk about the work that you are putting in that people probably don't know about.
Yeah! I really do work hard during the week. We race, we're flying home, we're getting our workouts in. I work with my trainer. We ride during the week up at HEP. I live literally right at Dustin's [Pipes, team part owner] house.
Is that where the track is?
Yeah! So ten, twenty minutes from the track. Twenty minutes from the shop. Literally all I do right now is come home to the shop. I ride during the week. I train, and then we fly back out. Literally that's the whole program. A little bit of basketball. But I do my workout first and then we'll hit basketball. This week I just hit basketball one time, so…
It worked, though.
Yeah dude, it worked. It's mid-season. There's a point where you can take a little bit of a rest and just keep riding, but you don't want to let off too much.
Mid-season probably good to mix it up a bit?
For sure! What's really cool is we actually have two tracks. Blaine Silveira has a full-blown supercross track, and then HEP has one. So it's like twenty minutes either way. I really have two supercross tracks to train on, which is really nice not having to just ride one track. The other thing is I get to ride those things for free and they're all private. You can't really beat that.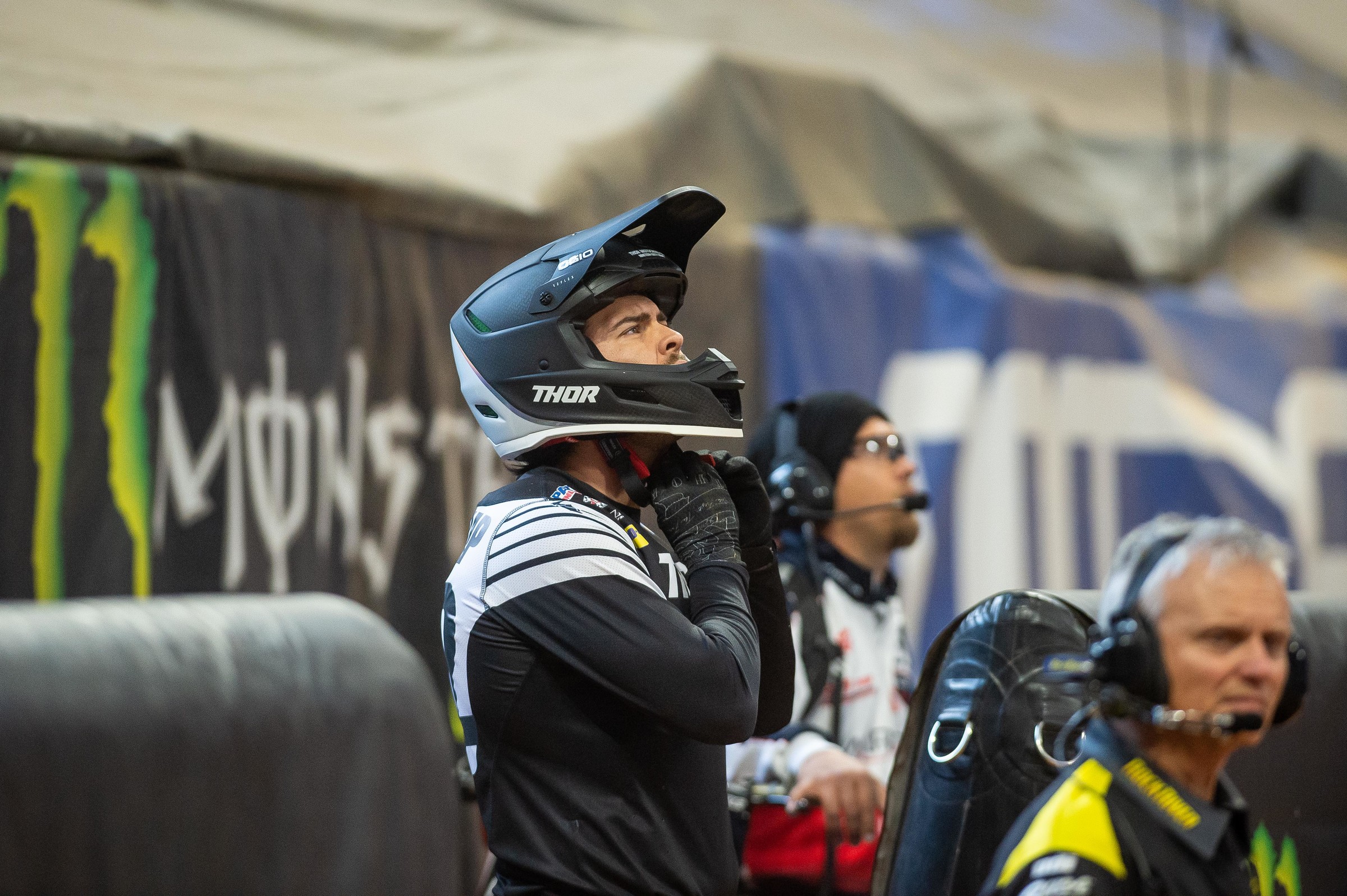 People forget privateer life for you. This is a big thing. You spend a lot of money when you don't have access to tracks.
It is dude! It's $75 for State Fair right now.
So, take me back pre-HEP years. What kind of outlay were you doing to ride?
Bro! I was riding out of Castillo's, but I was more tired from prepping the track, watering the track, doing everything than I was even riding. So, I would wake up the next morning sometimes and I'd get ten, fifteen laps in and I'm like, "I'm done, dude. I can't do this." Then I'm spending 600 bucks a week on a skid steer, and I have to water the whole thing. It's hard to do to maintain a track. So, I'd just go down to Milestone or wherever and try to get a couple days in during the week.
That was $75 bucks?
No, it was $65 back then. But at the same time, I wasn't even staying at my own place. I would just literally live at people's houses.
Just crashing?
Yeah! Like, "Yo, bro. What's up? You got a couch?" So it's definitely a little bit different. I think the program has gotten a lot better and I'm feeling a lot better. I'm just excited for the second half of the season.
When you go to the heats, you end up making it through the LCQ for example. But are you at the point where you're like, forget this LCQ, I should be a top-nine guy in a heat?
One hundred percent! The problem with the LCQ is like you've seen. It's like kind of throwing the dice. You are the better guy. I know when I go up to the line I'm like, "Yeah, I should be in this main no problem. I'm going to do it." That's the thought process. But you get so much weird shit happening because everybody's just in full take-out mode all the time. So there's some weird shuffling going on. So if you don't get the perfect start and just kind of get out quick – and too, I think it's way more aggressive in the LCQ first lap. It's just like T-bone city because everybody is trying to be top four.
You don't feel that in the heat race? The first lap of the heat feels different?
Yeah, a hundred percent! Everybody's trying to go fast. Nobody is trying to block pass. That's the big difference is everybody in the heat is like, everybody go. Then in the LCQ you get up to LCQ and it's like, everybody T-bone everybody until we funnel out. That's pretty much just how it works. It sucks.
So, your goals – this is interesting. When you're looking at those timing sheets, you're looking at the gap. Is it the position that you're in or are you looking at that gap to where you are compared to the lead guy?
I'm always looking at the position. Position first and foremost, but for instance when I started racing supercross, I was eight and a half seconds off of the leader, and this weekend I was a little under two seconds. So that's a big, big gap to make up. Then qualifying 19th. Another thing that was pretty cool actually is 13th was only .2 seconds away. So that was another huge deal.
Was that the closest you've been even to that?
Yeah, for sure! That was sweet. And then just being in the A practice, too. I got to kind of go behind Anderson on a lap and it's like, 'Damn! Why don't I just twist it there normally?' Then you go behind a fast guy and you're kind of like, you can make it. That guy just made it. You can make it. Then you just kind of do it.
Then when you do it, it's not even that bad.
Bro! Sometimes. It depends on the spot. There are spots where you're like, 'Why didn't I do that every lap?' And then there's spots where you're like, 'Damn, I barely pulled that shit off!' So it's definitely an eye-opener being in the A practice too.
Hey Dustin, does this guy ever turn the volume down? Is he ever bummed? Is he ever low energy, ever?
Dustin Pipes: This is a hundred percent Adam Enticknap 24/7. Since he started to live here, my house is at least four decibel levels higher at every point in time. I have the neighbors call the HOA on me. They think someone's having a party or yelling or something and it's just Adam trying to whisper. It is absolutely insane. We absolutely love him. This is genuine Adam. There's no mask on him.