Welcome to Racer X Next, where we interview up and coming amateur racers. We'll check in with racers on topics such as their training program to qualifying for and competing at the Monster Energy AMA Amateur National Motocross Championship at Loretta Lynn Ranch, and much more.
This week, we talk with Jack Chambers, who currently lives and trains in Florida.
Racer X: We're here at Gatorback for the Southeast area qualifier for Loretta Lynn's, how'd your day go? What classes did you race?
Jack Chambers: I raced Schoolboy 2, 250 B, and 250 B Limited. Saturday was 250 B Limited and I went 1-1 in that class. Today was Schoolboy 2 and 250 B, Nate Thrasher was here so we went back and forth all day. He got me in the first sets of motos, then I won the second moto in Schoolboy 2 and he won the second 250 B moto. I always like to race with him, he is a good rider. Today we kinda checked out from the pack and had some good racing, that last moto he started up front and I had a fifth-place start, made some early passes and got in behind him on the first lap. He was putting down some solid laps the whole 15-minute moto and I just didn't have anything for him. Which is weird because I come from a woods racing background and am used to racing longer motos, thought I would be able to make a charge at the end but he was solid all day. So 1-1-2 on the weekend.
Are you hitting any other area qualifiers? What does your road to Loretta's look like?
We are leaving from here and driving to Texas to train at Underground, they have a really rough track and it will be good for some suspension testing. We may do a South Central area before or after the spring nationals and then my Southeast regional is at Muddy Creek. After that we come back to Florida for the RCSX in Daytona and then back to Texas for Spring a Ding Ding and Freestone.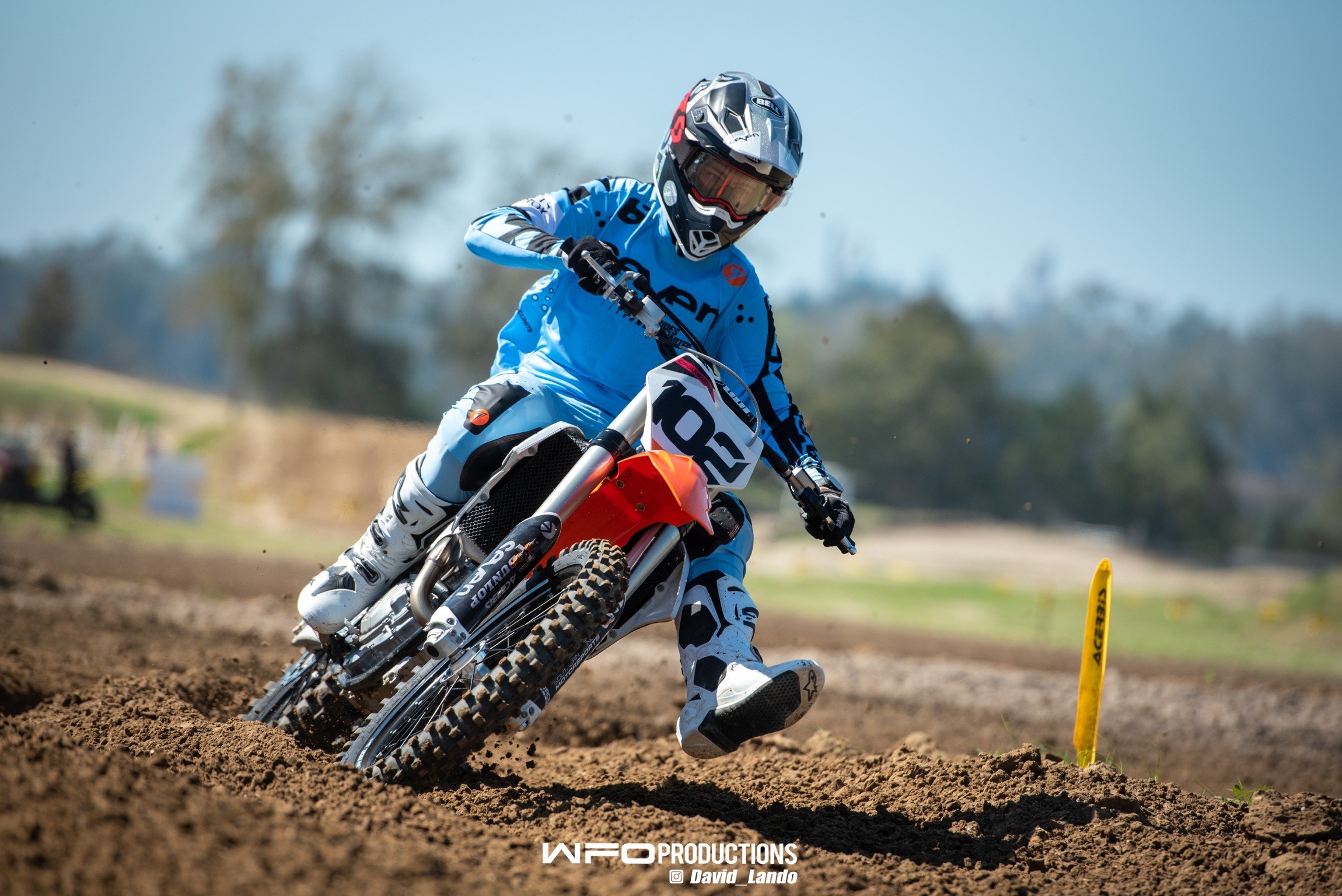 Tell me how you got into motocross racing, did you race GNCC before this?
I first got on a bike when I was two and a half or three, and started racing FTR [Florida Trail Riders] Series until I was about 11 or 12. It was really my sister, Emma, who got me into racing motocross. She was tired of beating all the boys in the woods and wanted to do something different. We had a little track in the backyard, and my dad told her "if you can jump this double, we will go to an area qualifier" and that was it. We both qualified for Loretta's that year, I think I was racing 85 (9-11) Limited and got 28th at the national. That same year I raced GNCC as well, we went to an area, then Cannonball GNCC in Georgia, and then the regional.
Do you think your woods background makes you a different kind of racer that the rest? You probably look at a track a little differently than someone who has only raced on tracks.
Yeah for sure, it definitely helps for line choice. In the woods you have a mentality that you can't win it in the first turn, but you can lose it. You have the entire race to get the job done, whereas at Loretta's and most races you only have 15-20 minutes.
Ryan Sipes and Jack Chambers racing in the 125 All Stars race at the 2019 Ironman National.

Jeff Kardas
You're a Florida guy, where do you train when you are in Florida?
Yeah, I live in Auburndale, Florida, and train with Timmy Ferry. We hit a bunch of different tracks from his house, to Spyder MX, Croom, Orlando MX, I have a track at my house, and now we have the 83 Compound [formerly Chad Reed's tracks, now owned by Ethan Lane and his family]. There's one outdoor track and two supercross tracks, a pro and an amateur one, Dean Wilson and Jalek Swoll have been training on the pro one and the rest of us train on both for Supercross Futures and RCSX. I've really enjoyed riding more supercross and it comes pretty easy to me, fits my style. I'm looking forward to racing more of it in Daytona. They had a really good layout last year, hoping for some whoops.
Wow, so you have some fast guys to be taking notes from.
Yeah! Actually last week Ryan Sipes, who I had met at the 125 All Stars race in Ironman last year, came to Spyder MX to ride with us. He was helping me out a bit with riding techniques, it was cool to have a different perspective with him actually being out on the same track as I'm riding that same day. It made Timmy want to get out and start riding more! [Laughs]
Watch Chambers in action at the 2019 Ironman National 125 All Star race.
What are your goals for this year?
I want to win everything I enter and as many titles as I can, I want to be as prepared as possible to have a good showing at Loretta's. After that I will move to the A and Pro Sport classes in 2021 and hopefully hit a few nationals after Loretta's that year and turn pro. The ultimate goal would be to land a spot on the Troy Lee Designs[/Red Bull] KTM team.
Tell me about your current support, who helps make all of this happen?
So right now I'm riding under the Rides Unlimited program on a KTM, which is great because I've been on KTMs my entire life. The bike is really good, Gizmo Mods builds our motors and they are super dependable and fast. I've been wearing Seven gear for over a year now, it's awesome.