Cooper Webb Battered But Not Broken in Texas Crash [Updating]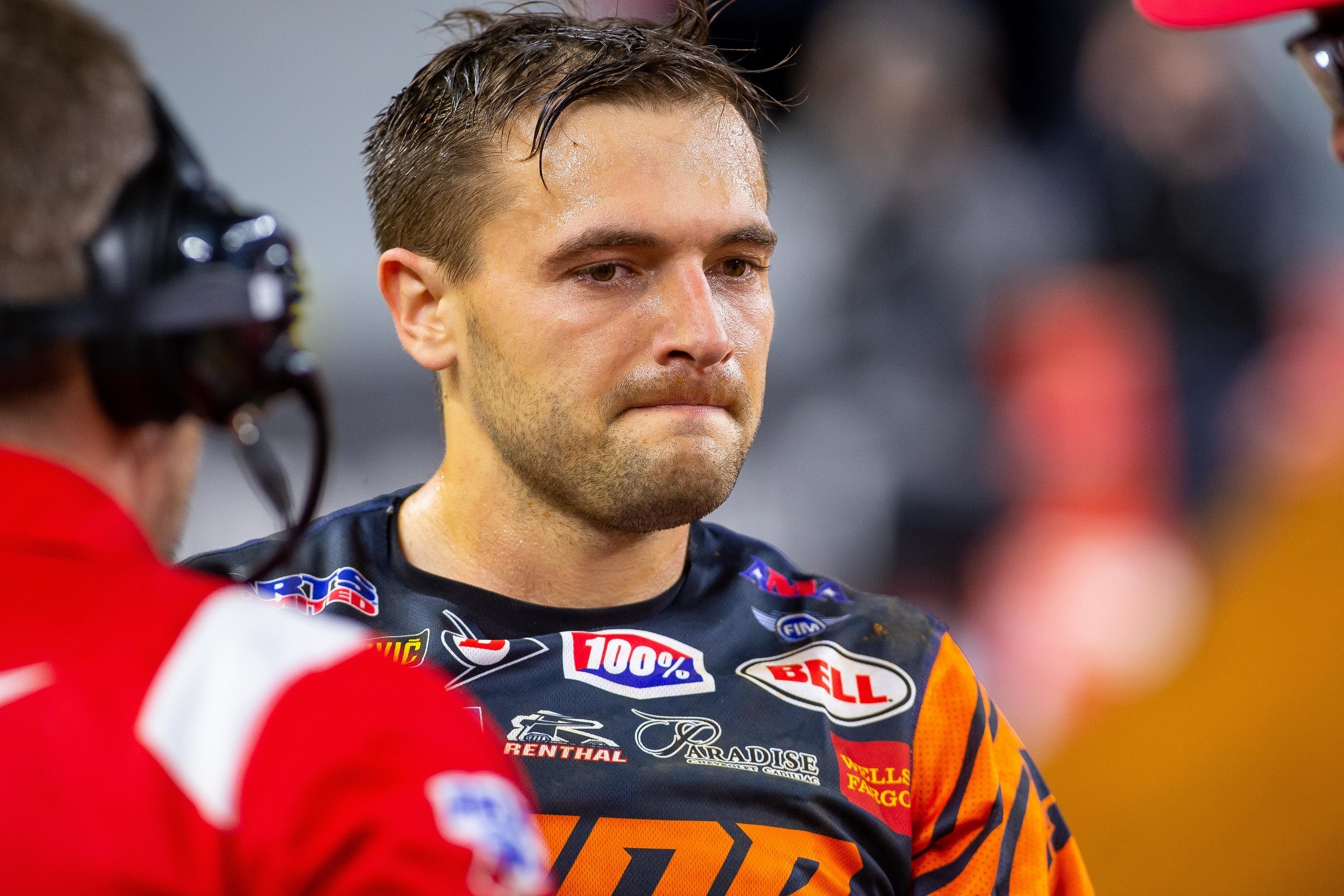 Arlington, TX
Arlington (Dallas)
Monster Energy AMA Supercross Championship
As he went sailing off the track upside down in a devastating flip, heading right toward the concrete surrounding the track, it appeared the Monster Energy Supercross title defense was over for Cooper Webb. At round eight of the championship in Arlington, Texas, Webb endoed off of a dragon's back during the second race of the Arlington Triple Crown, rode the front wheel into the face of the next triple, and was then catapulted over the bars, landing flat on his back on the concrete floor. It was a brutal hit.
The crash took Webb out of competition for the night (he had finished second in the first race of the Triple Crown) and he ended up scoring 12th overall with 2-17-20 scores. But while those scores were being calculated, he was also taking a trip to the hospital.
Amazingly, X-rays came back negative.
While it's good news that Webb didn't suffer any broken bones, no word yet on the severity of the other injuries, or if he will be able to race this weekend in Atlanta. Webb is now down exactly one race in points (26) to series' leader Eli Tomac.
[Update Monday, February 24]
KTM has released the following information on Webb.
Below is the official press release from KTM:
The Red Bull KTM Factory Racing Team has confirmed that Cooper Webb plans to line up this Saturday, February 29 for the ninth round of the AMA Supercross Championship in Atlanta following a nasty crash last Saturday in Arlington, Texas.
The reigning 450SX Champion suffered the crash during the second Main Event of the Triple Crown when he lost drive going up the 'dragon's back' section and landed on the front wheel, flipping into the cement. After being transported to a local hospital in Texas, doctors assessed Webb's injuries and reported a severe bone bruise on his left pelvis/hip and a hematoma on his sacrum/tailbone.
Team Manager, Ian Harrison: "Cooper is extremely lucky to have only sustained minor injuries from his crash on Saturday and he will be taking it easy this week to allow the swelling to subside. As we all know, Cooper is a very tough and determined rider so we know that he will do everything in his power to line up this Saturday in Atlanta."