Tampa, FL
Tampa
Monster Energy AMA Supercross Championship
Round seven of the 2020 Monster Energy AMA Supercross Championship took place in Tampa, Florida, and we're now officially in the dog days of the series…well maybe not now but real soon. Longer flights, more of the cookie-cutter domes which make you forget which city you're in, and the realization for many riders that the season is not quite going the way they hoped it would.
We had quite a run of fun race tracks the first six weeks. We saw obstacles that rewarded the brave, showed off the skill of the riders, and made for some good racing. I wasn't able to make it, but on Thursday some of Feld Entertainment's supercross staff met with key moto media folks and indeed said they have been looking at older races and taking things that worked on those tracks and putting them into the 2020 ones. Which makes perfect sense because, well, so far this year these tracks have been good! I understand that you can only do so much with a supercross track but the Feld folks have been making the right choices this year most of the way.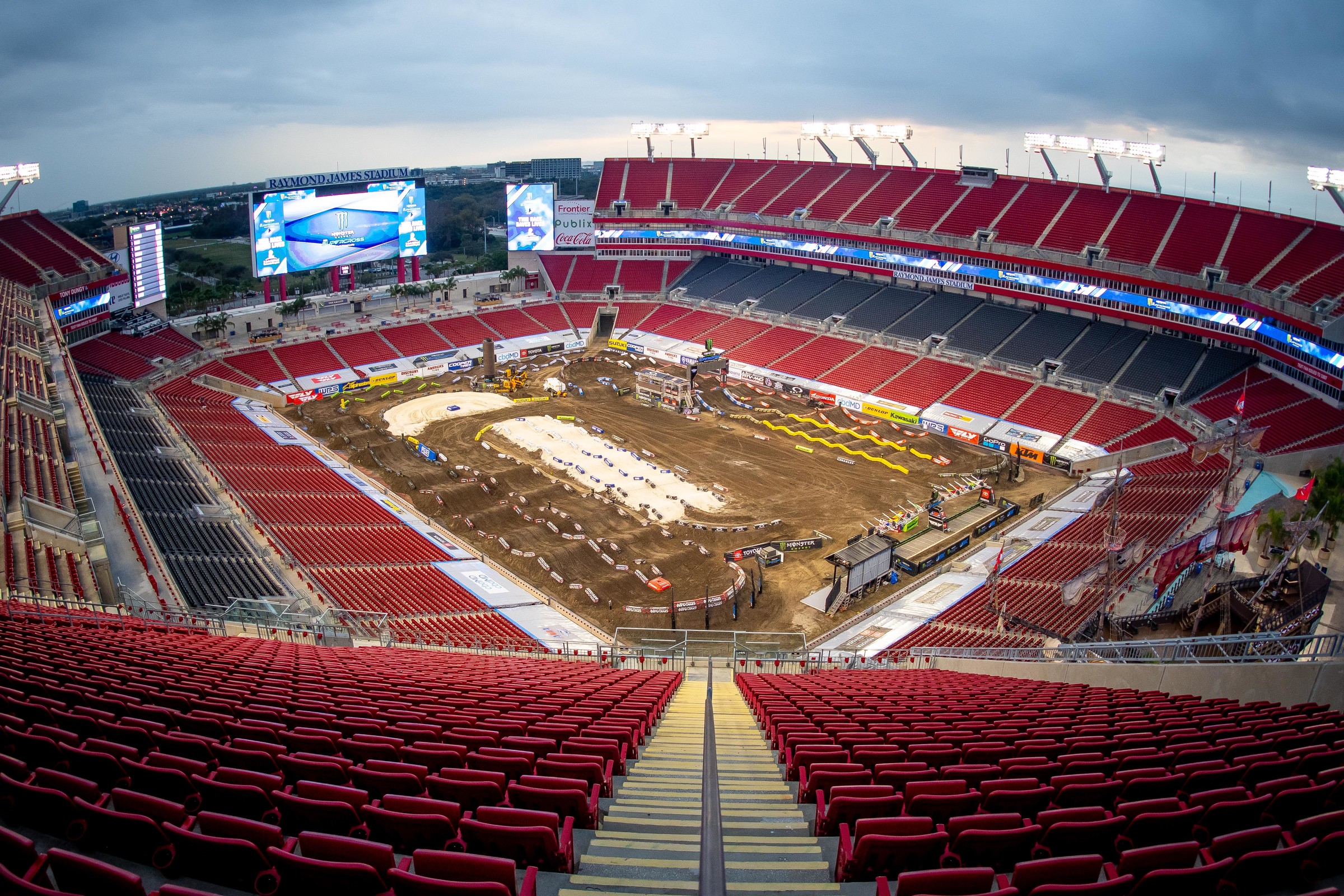 Well, except in Tampa. Hey, we all have off weeks right? This might be one of my off-week columns after all! But in Tampa there was a cool sand section (last seen in Tampa 2018) but they went and made it a split section? Like, why? Tampa 2018 sand worked SO GOOD so not sure what made them think this would be ideal to be split up. The corner at the end was changed 14 times throughout the day so clearly the track builders didn't have much of a plan for that either. The rhythm lanes, while having one 3-3-3 that caused some issues, were basically all done the same basic way.
Some people I asked thought it was a good track, I don't know—I'm prepared to hear other thoughts but to me, I wasn't a fan. Let's move on from this yeah?
Going to do something a little different this week and just touch on some riders and things that caught my eye in T-Bay.
the good: Eli Tomac rode another great race to stalk his teammate Adam Cianciarulo, and then pass him with an amazing Mach 5 in the sand pass on the outside. He then took off for a relatively easy win. Eli has lowered his average first lap position by one spot with some better starts recently (although not including last week, which was bad again) and that's got to help out the #3 right? If he can start with you up front and can see you, well then you're in trouble. He's also got the red plate for the first time all year so everything's looking good for Eli and the Kawasaki guys.
the bad: Well, for Eli, there was nothing bad from this race but are we sure that 'bad' Eli isn't going to show up this year? The Bad Eli did come out at Anaheim 1 but other than that, we've seen nothing but very good to great rides from the Kawimonster. I'm still not sure if we've seen Eli kick the Bad Eli off his shoulder just yet.
the ugly: I was talking to Ken and Courtney Roczen and Blake Savage after the race in an almost empty pit and I mentioned that maybe, besides when Eli Tomac goes HAM, no racer that can overcome a poor start and win or even get on the box. Think about the races with Stew, RC, and CR—they could start backwards and get a third (trust me, I wrenched for Ferry and Wey in a lot of those races and saw it) but now, not so much. I suggested we rename supercross to the "2020 Monster Energy StartCross series" because when the guys go around the first turn, you can pretty much figure out what's going to happen.
the Good:Adam Cianciarulo led more laps, looked good for a podium and once again impressed despite a fall in the whoops that knocked him back to ninth (and then eighth after Jason Anderson got docked). Adam has two podiums in seven races and has led a bunch of laps. Afterwards he was a bit pissed about his crash that he didn't feel was totally his fault but hey, the kid is going to figure this out and win a race here real soon.
The Bad: Well, he's crashed more than he or his fans would like but it's all part of the learning process right? At least that's what you'd like to think? With James Stewart showing up for his first race since 2016 maybe Stew-superfan AC felt some pressure to perform?
the ugly: I'm going to skip the ugly section here to again bring something up from our Tampa SX race review podcast.
On the show, I said that Adam this year reminds me of Ricky Carmichael in 1999. The Jasons (Weigandt and Thomas) thought I was crazy with this thought, even saying that after '99, people didn't know if Carmichael, who had won EVERY race in 125SX in 1998, was going to figure out 250 supercross.
So, I just spent the last hour going through Cycle News to look at RC's 1999 rookie premier class (then 250SX) season:
1999 Anaheim 1: Rode well to a fourth in the main event. Great ride for the rookie out of box. P-4
san diego: In his second ever premier class race, he won a heat race. Yup, just like Adam. Crashed and gouged his leg in the main but winning a heat is great. DNF
tampa: Comes back from injury and in his third ever 250SX race he again won his heat (first race back from injury!) and leads the main event until halfway, ends up fourth again. P-4
Atlanta: Crashes put him into the LCQ where he wins and with a crappy gate pick got up to fourth early on before crashing. He got back up to fourth before, yup, you guessed it: crashed again. Impressive speed though. P-14
dallas: Gets up to fourth again in the main event before crashing. P-19
daytona: Well, this was more his style back then as Daytona was WAY different than a regular SX but RC gets fourth…again. P-4
minneapolis: RC crashed out in practice the week after Daytona and that was a DNQ but at the next round he was up to second in the main event before, yup you got it again: he crashed.
Okay, you get my point here but when Ricky was a 250SX rookie there was no doubt he was going to figure it out, he just had to quit crashing. There's also no doubt that Adam is going to figure this out and needs to quit crashing. My point was Carmichael had a ton of raw speed, crashed more than he would've liked, wore Fox, rode a Kawasaki, and wore #9.
Yes, Adam is having a better season as a rookie than Carmichael but the fact remains there are a lot of similarities with both riders for the reasons laid out above. Winning heats, running top three in main events, showing serious speed—that's both riders to me.
I stand by it and I also stand by the fact that Adam's doing very well and he'll be winning races soon.
the Good:Justin Barcia was VERY fast in Tampa coming from 14th all the way up to 4th. It was very impressive and he was on it. His speed and fitness were showing through and I know that my guy Clinton (in his 2020 Tampa SX Advanced Analytics) has Justin as just being the 18th-best rider in the sand section in the main event, there did appear some times where he crushed it there…at least to me anyways. Just like last week in San Diego, he showed heart and fight in the 450SX main event.
the bad: Well, that start for one. He's not good enough to get up to the big dogs with a garbage start like that. Same as last week, he needs to get into the top three in order to stay there.
the ugly: Barcia's been hurt…a lot. Like, I'm not sure he's ever finished a 450SX season and so far through seven rounds, he's been strong. But the ugly is that he suffered a really scary practice crash. He was fine but you can't do that and hope to stay healthy. Ouch!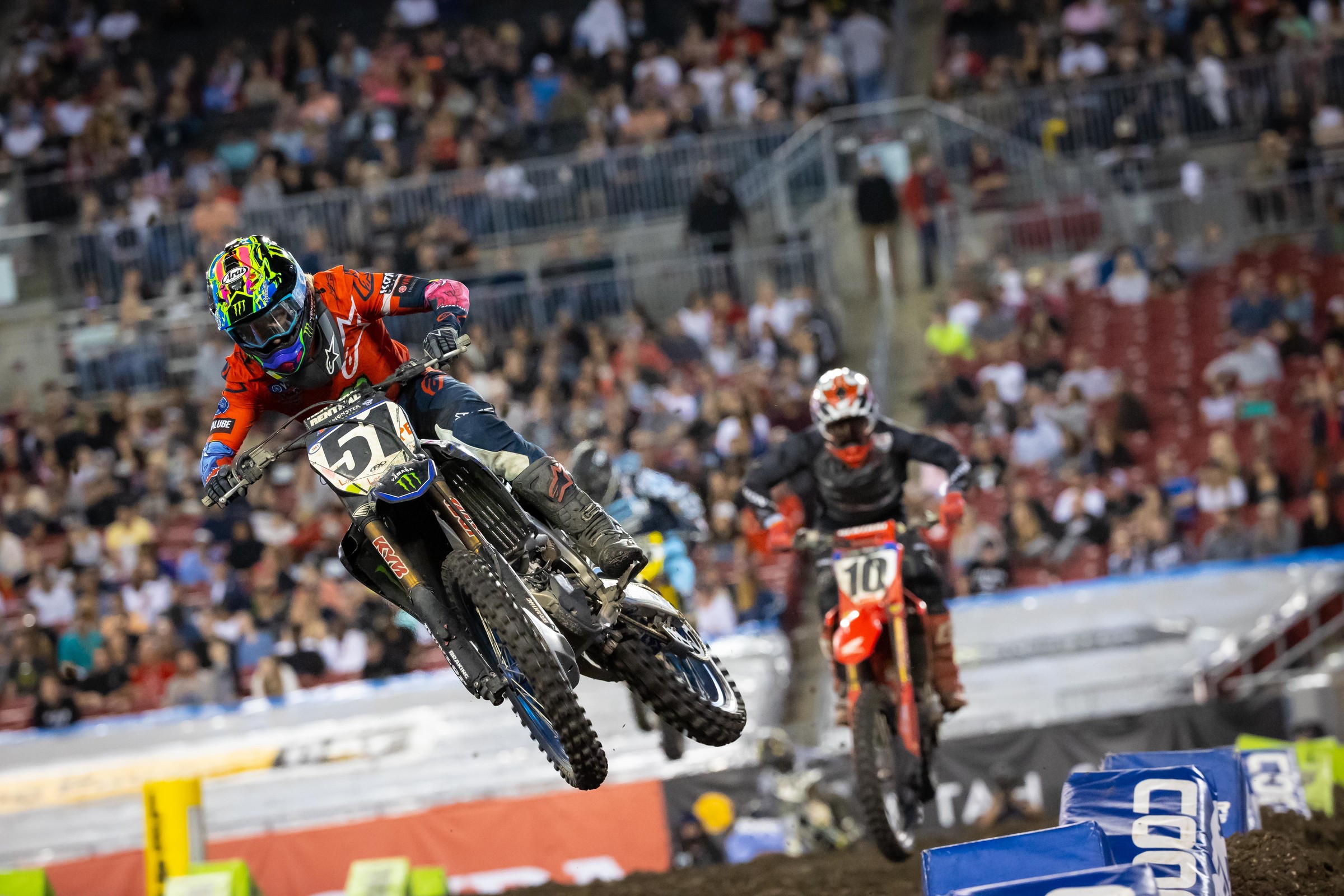 Other
The Good: The incredible battle between Malcolm Stewart, Justin Hill, Barcia, Dean Wilson, Justin Brayton, Jason Anderson and then later on, AC. It was supercross at its finest and all the riders had shots at each other, got passed, re-passed guys back and generally speaking, put on a hell of a show.
The bad: Anderson got taken out by his teammate Zach Osborne (not on purpose) and that's two weeks in a row he's had crappy results now. Not to mention he got docked two spots at the end of the race because he skipped the whoop section after getting blown off the track. The penalty was a little harsh, in my opinion.
The ugly: Well, that would be Stewart who ran third for 13 laps before tiring a bit and ending up seventh. It was still a good ride for Mookie and he wasn't that bummed afterwards. Props to him for admitting that he did get tired and not "tight" or "pumped up."
The Good: Opening round of the 250SX East Region and Shane McElrath was great in going wire-to-wire for the win. Fastest in practice, won his heat, and led every lap of the main event. Pretty good debut for Shane on the Monster Energy/Star Racing Yamaha team, right?
The bad: Well not much to say bad about the weekend other than there were more than a few people in the pits wondering if the bike helped Shane become so great. I guess people don't remember him winning races on a Troy Lee Designs/Red Bull KTM? Still, the Monster Energy/Star Racing Yamaha is the best bike in the class, so that's got to make life easier.
The ugly: The only thing ugly is that THOR Fast Boyz retro gear the guys had on. I love retro gear but I didn't like this stuff. No one said in 1992 that the original Fast Boys gear was awesome, so why would you bring that back? Bring back Scott Burnworth's 1986 Hallman stuff or maybe Emig's 1990 Thor stuff. Emig had some great Thor gear back in the day, but Fast Boys wasn't it. No thanks, this isn't a Duran Duran video.
GEICO Honda
The Good: Chase Sexton got second and is very happy with the new GEICO Honda motor man and bike overall. In case you were wondering, he was not happy last year (and he wasn't alone). Chase looked very good all day long and hey, sometimes you just gotta tip your visor when a dude like McElrath is on it.
The bad: I'm calling this "The Good" because Jeremy Martin getting on the box after a year and a half off is awesome for him and the team. Great to see him out there and at one point, he was putting a bit of heat on Sexton. Great to see the #6 having a solid start to the year.
The ugly: I didn't like that Shift gear, looked like the yellow stuff that babies poop out or maybe throw up? Shift usually crushes it so they get a mulligan here but I was not a fan of that color.
Other
The Good:Joey Crown was the breakout rider of the night (runner up: Garrett Marchbanks) with getting an eighth in his first ever 250SX main event. Joey rode for ClubMX's CTR Motorsports team last year and just spent the opening rounds of SX cartwheeling everywhere before splitting with the team. He's back on ClubMX (kind of weird, right?) but now his dad is doing his suspension which definitely helps him feel right at home. Joey's always had talent and it's nice to see him show it to everyone.
the bad: The last two qualifying sessions feature full gate drops so the riders can get used to the metal grate, test their bikes at a start RPM, and all that. It's a good idea, I'm fine with it, but when the gate drops the pack charges into the first turn like it's a race because, well, instincts kick in, right? What this has led to is more than a fair share of guys crashing in the first turn! For nothing! This isn't even a race! All I hear about when it comes to the Triple Crowns is "more starts are more dangerous" but here are two more fake starts going on and guys are crashing! Can you imagine being a team manager and you lose a million-dollar rider to a fake start? Just let everyone go when the gate drops and do your start! It's fine that you didn't win the "fake start" and led the "fake race." We saw a lot of big name riders go down in the first turn in Tampa and I just shook my head.
the ugly: FAKE STARTS ARE UGLY.
SmarTop/Bullfrog Spas/MotoConcepts Honda
the good: The SmarTop/Bullfrog Spas/MotoConcepts Honda guys had great races with Justin Hill and Stewart riding very well. At one point they were battling for fourth and could've finished fourth and fifth on the night, which would've been awesome. Hill in particular was impressive again. What's with Tampa and Justin Hill?
the bad: I've been trying to get a deal on a Bullfrog Spas since last year and thought that I had the deal done like two or three times but nothing is here yet. There's been some progress lately and things seem to be on the upswing but who knows. I can't take this suspense anymore.
the ugly: I've told manager Tony Alessi and Mike Genova more than a few times that I would've signed Martin Davalos over Hill. Genova lets me know every time I see him that it's a good thing he doesn't take my advice. This week he said, "Remember we bet 5K on it?" Uhhh, no Mike, I don't.
STEW
the good: James Stewart WAS BACK! As mentioned, Stew showed up to hang out. He seems like he's tired of playing golf and wants to get get involved with the races again, starting with the recap videos he's been doing. Welcome back Stew!
the bad: Nope, nothing bad about seeing Stew and Chad Reed talking after one of the practices. I asked Chad about it after the race, "It made my day.," he said. "That was fun. I got to talk to him under my tent. There's a million people around. I felt like it was better to go see him somewhere else. So I went to his motorhome and just kind of chatted. It was fun. It's probably been four or five years since I talked to him. Maybe not that long. It seems like five years.
"It was great to see him here. He's one badass dude that can ride a dirt bike. It's sad to see someone go away completely like that and go mute. I think it's healthy to see somebody that's been around motorcycles their whole life and to see him and his kids here and his whole family. I was really happy."
The Ugly: I still can't stop with "the good." It's GOOD TO SEE STEW BACK!!!
Thanks for reading everyone! Stew is back at the races! Email me at matthes@racerxonline.com if you want to chat about this race or anything else and remember, adopt don't shop!