Brian Moreau (Back) Injured in Tampa [Update Mar. 3]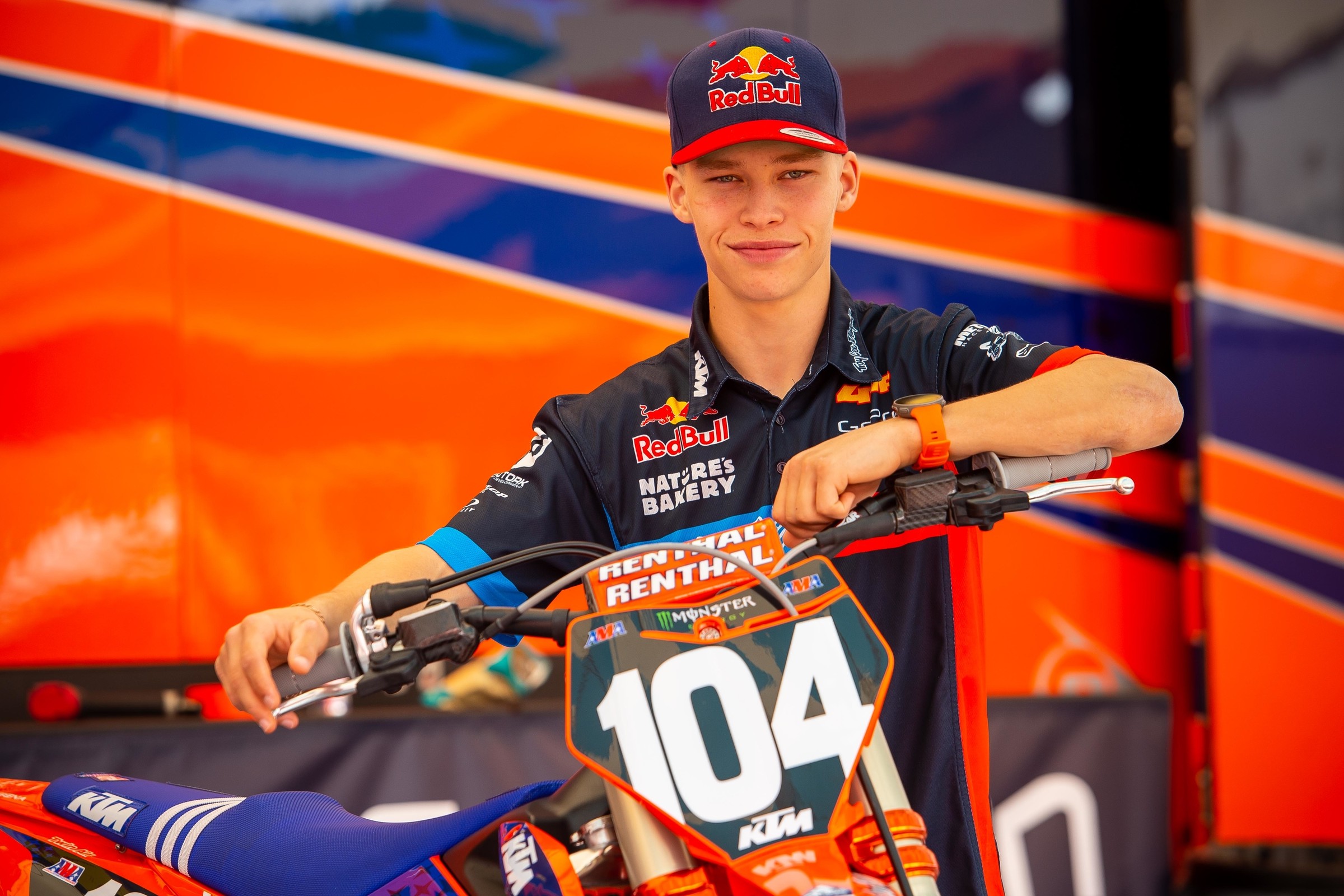 Tampa, FL
Tampa
Monster Energy AMA Supercross Championship
Troy Lee Designs/Red Bull KTM's Brian Moreau went down in a rhythm lane on the second lap of free practice Saturday afternoon at the Tampa Supercross. Moreau, who was competing in his first professional supercross in the U.S., was seen laying on the track after crashing on a jump. Track officials then placed his bike and a Tuff Block in front of him as protection. He was then taken off the track and then placed in the Alpinestars Medical Mule.
Later, word spread that Brian had suffered a back injury and was taken to a local hospital. On Sunday morning, Moreau's family made a Facebook post, written in French, and translated into English.
Hello to all.
We wanted to inform you about the's state of health.
Hit in the vertebrae, Brian had surgery last night at Tampa hospital. Surgery is good and Brian woke up. He is currently in intensive care but doctors will not be able to decide on his condition in several days...
Brian is a very brave and strong boy and is aware of everything!
We wanted to thank all the people who support us.
Of course I do not thank the people who, on the other hand, still allow themselves to criticize him in such moments!
We will keep you informed when we know more.
Moreau family...
Racer X has reached out to the track medical team but have been told information can't be disclosed due to HIPAA laws. We will await more information and update this story as it becomes available.
[Update: Monday, Feb. 17]
KTM released a statement today on the current condition on Moreau. You can read it below.
Troy Lee Designs/Red Bull KTM Factory Racing's Brian Moreau suffered a major crash during Saturday's Free Practice session at the seventh round of the AMA Supercross Championship in Tampa, Florida. The French rider was immediately rushed to a nearby hospital where he underwent surgery to repair a fractured vertebra in his neck. Moreau is in stable condition at this time as he awaits further information from doctors.
The Moreau family released an update on Sunday morning via social media stating:"Hit in the vertebrae, Brian had surgery last night at Tampa hospital. Surgery is good and Brian woke up. He is currently in intensive care but doctors will not be able to decide on his condition in several days…Brian is a very brave and strong boy and is aware of everything!"
TLD/KTM Team Owner, Troy Lee: "Brian is a very tough kid and we know he will tackle this injury and do whatever he can to make a full recovery. Everyone at Troy Lee Designs and KTM are fully supporting his recovery every step of the way. I want to also thank both Marvin and Mathilde Musquin for all the support they have given Brian from the very first day he showed up in California. Mathilde has been at the hospital with Brian since his crash and has been amazing to work with during this difficult time."
KTM North America, Inc., along with the Troy Lee Designs/Red Bull KTM Factory Racing and Red Bull KTM Factory Racing teams are sending positive thoughts to Brian and the Moreau family at this time.
[Update: Wednesday, Feb. 19]
Brian Moreau's father has written a letter. You can read the original letter in French on the LeBigUSA.com site.
Thanks to Stefan LeGrand of the LeBig site, here is the update translated into English.
"I would like to thank you all for caring for Brian. First of all I'd like to say that Mathilde Musquin has been amazing through those very tough times. She's managing the situation with great care. She is a guardian angel for Brian. Marvin is very worried about Brian as well. He went to see him and supported him too. In addition, Troy Lee Designs, KTM and RedBull have also been very supportive. Tyler Keefe, team manager, is with Brian all the time. Brian's mom arrived Monday night in Tampa with his younger sister. He is surrounded by loved ones. Regarding the hospital he is in, staff personnel have been very attentive since Saturday. Before even getting to the hospital, the doctors were waiting for him, knowing exactly the extent of his injury. It was a priority for them. They even cleared the CT scan room in order to be able to go into surgery as fast as possible. Regarding his injury, Brian still doesn't move his legs but today he gained a little bit of feeling in his back compared to yesterday. It gives us hope. We all are with him and we believe in him. Thank you again for Brian."
[Update: Friday, Feb. 21]
Road 2 Recovery has opened a fundraising campaign in an effort to help Moreau with his medical expenses. The Frenchman remains in the Intensive Care Unit (ICU) of a local Tampa hospital as we await further information to be released from the doctors. R2R has set up a page for Moreau here where you can donate to his campaign as well as leave positive messages for Brian as he continues his recovery.
French journalist Stephan LeGrand put together this video with several top supercross racers wishing the best for Brian.
[UPDATE: TUESDAY, MAR. 3]
Brian Moreau flew home to France last week after spending over two weeks in a Tampa hospital. The Frenchman released his first full update on what has happened since his Tampa crash via his Instagram earlier today:
Mathilde Musquin also left a note on social media regarding Brian.
I'm about to take off from Paris to get back to my husband.
The last 2 1/2 weeks have been intense, stressful, and overwhelming. Never slept in a real bed, very little sleep every nights, but I wouldn't have done it any other way if that made Brian feel a little better or appeased.
When we welcomed this kid into our home I didn't realize how sweet he was and how attached we would get to him. He definitely stole our hearts. It's heartbreaking what happened to him but at the same time I am so proud of the work he has done since October and everything he has learned so far. I know that he is ready to fight and I have no doubts he will work his ass off like we expect him to do. We will be with him every step of the way even from far and I will get to visit him again soon.
Brian, I love you very much. I'm very proud of you, let's get to work now