Anaheim, CA
Anaheim 2 (A2)
Monster Energy AMA Supercross Championship
Rockstar Energy Husqvarna's Zach Osborne struggled in his heat race at Anaheim 2 as he went from holeshotting to finishing ninth and barely squeaking into the main event. However, once the main event dropped, Osborne managed to push forward—even after battles with his teammate Jason Anderson and Red Bull KTM's Cooper Webb.
Monster Energy Kawasaki's Adam Cianciarulo had a perfect streak of topping each qualifying session coming into the day but none other than Team Tedder KTM's Martin Davalos ended that streak during the qualifying at A2. Cianciarulo went on to finish second in his heat race before finishing sixth in the 450SX main event. Davalos went down at the beginning of the 450SX main event but managed to recoup and rebound to finish 13th.
Our Steve Matthes caught up to all three riders following the night show.
Racer X: We had you on the Fly pit show.
Zach Osborne: Big turnaround, I know. I really don't know what was going on during the day. I struggled in the whoops.
What about the heat? You don't know what was going on?
The heat, I got dominated the first three laps by eight guys and barely made the main.
But practice just carried on into that heat where we were all worried about you.
I was nervous. I'm not going to lie. We threw the kitchen sink at the bike before the main. Obviously we've been riding in Florida all winter and the dirt is really good. This dirt is maybe medium or less than medium. I've been struggling for feel. Obviously St. Louis was way better for me. I felt a lot better.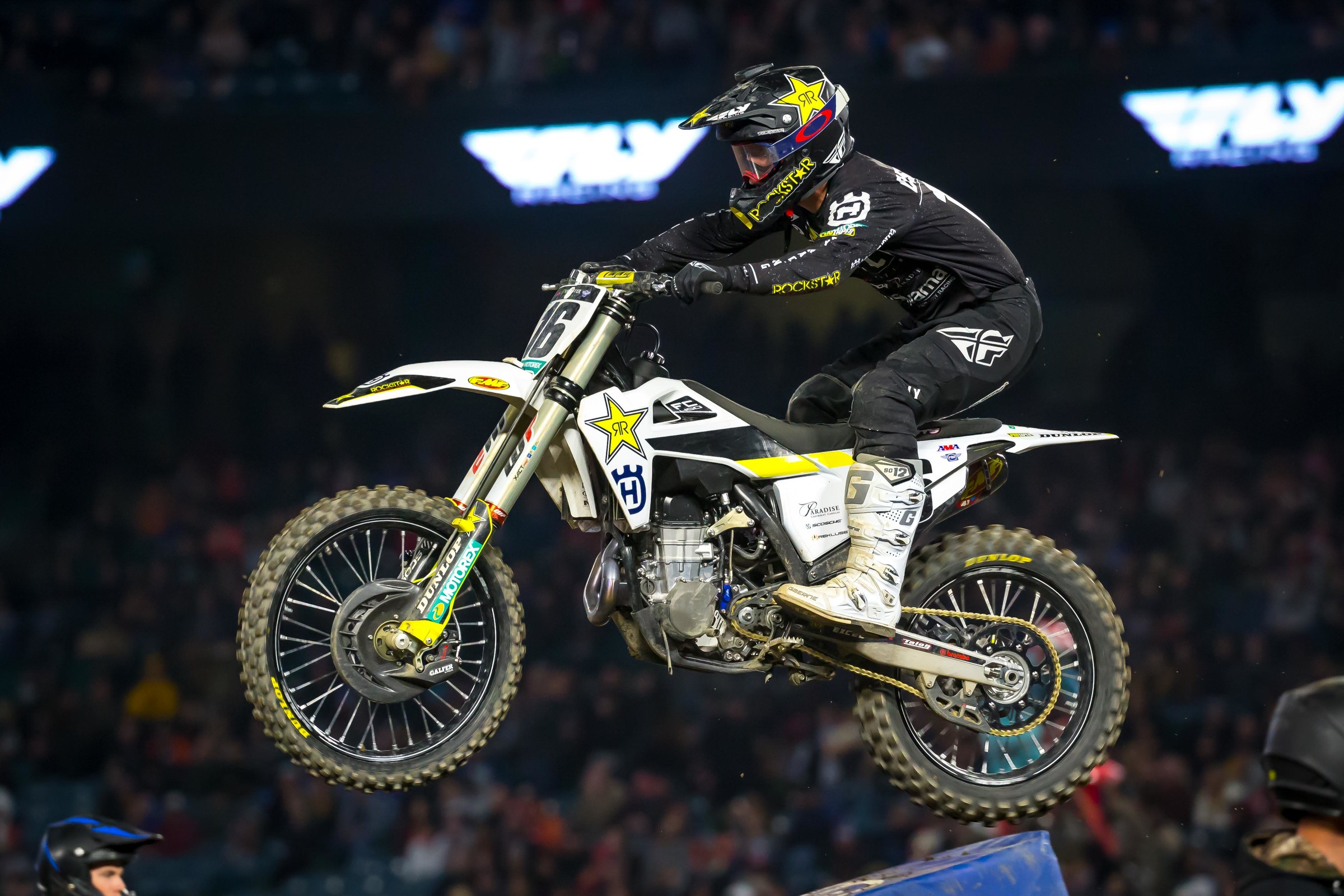 Not a coincidence?
No, it's legit. We made a little breakthrough there before the main tonight with just kind of lightening my bike up, softening it up a lot, and really giving me a little bit more feel. Then obviously got off to a good start, had some battles and whatnot.
Rode tense, man. Anderson, AC, you, all going at it.
Yeah. Coop was there. It was pretty wide open there. At about ten minutes there was four of us stacked on top of each other. It was good racing. I was definitely nervous before the main. I've never been that bad during the day in my life. There was no real explanation. On Dartfish I looked really good. I would be dead even with P1 until we got to the second set of whoops, and then I would lose two seconds from that point over the dragon['s back] to the finish. It's insane.
So the softer setup helped for that?
Much better. Obviously the whoops kind of V'd out and you could jump a little bit or skim. They just weren't so gnarly. But man, the dirt here has been extremely slick. Way slicker than I ever remember it being on the Lites bike. Obviously I don't have any sort of data from here last year. I think that maybe hurts me a little bit. But I'm glad to be out of here safe and with a good finish tonight.
Making a little mini run at Coop there, and then he picked it up the last few laps.
Yeah. I pumped up a little bit the last couple laps. I battled with Jason there pretty heavy. That kind of blew me up a little bit. I made a good run at him and then I think he was smelling blood in the water with Kenny and he went for him. So that was a really good ride by all three of those guys. I feel like as far as turnarounds, that was an epic one for my career.
You must have been ready to jump off the truck after the heat.
I was.
You went from holeshot to ninth.
Legit, holeshot to ninth. That's hard to do.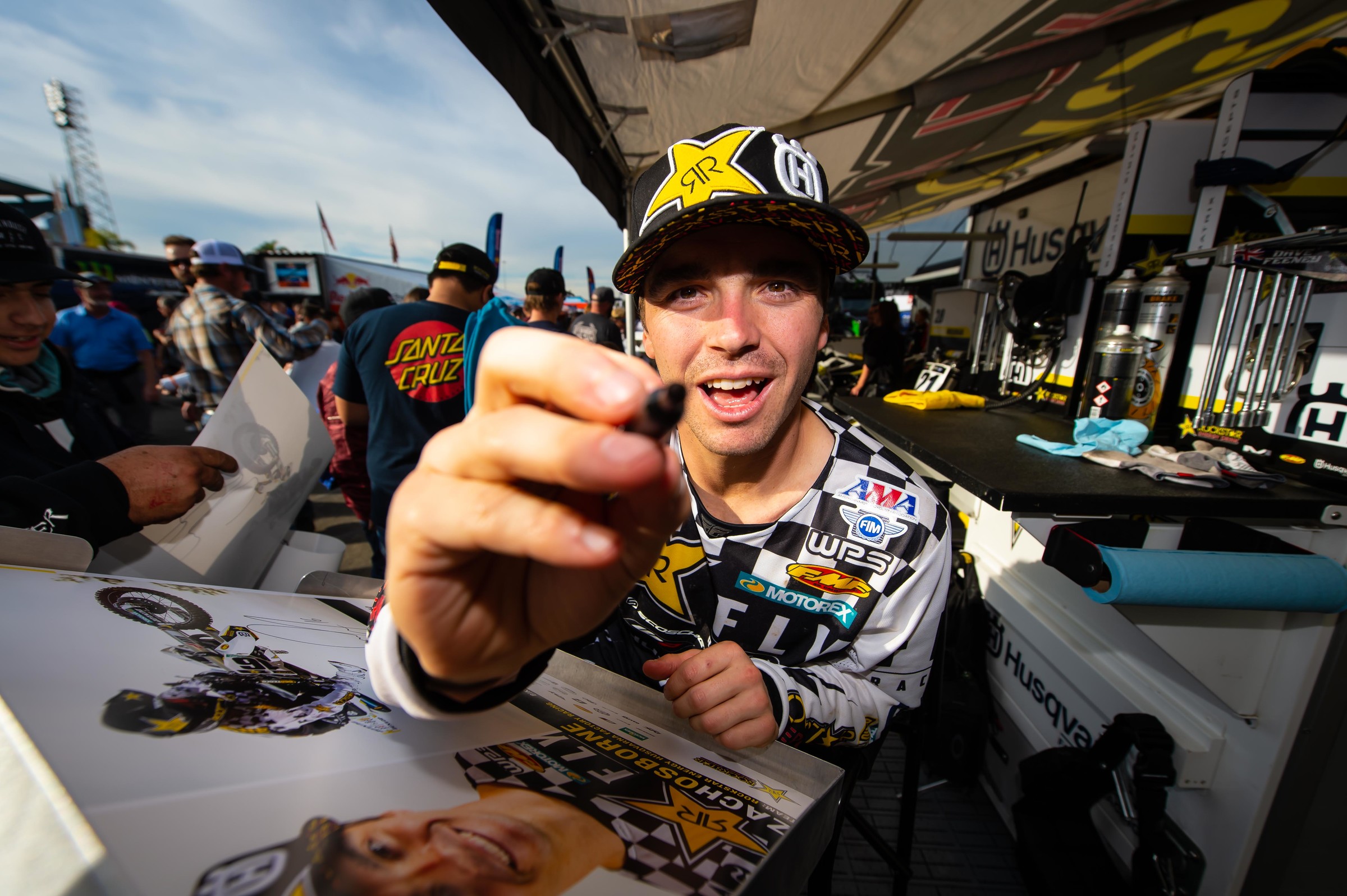 I seem to remember last year that happened to you also. Maybe not to ninth, but you got jacked early.
Extremely bad. It was really bad. I told my wife when I left the motorhome after the heat, I was like, "If I get in the top ten it's going to be like a win." I'm happy with the fourth. I wish I could have gotten on the podium, but it's good.
It was a nice comeback from what we've been seeing all day. I like the tracks the first three rounds. Maybe not so much you, but I thought they've been really good.
This one was awesome. St. Louis was awesome. The first one I was really sick, so it could have been the best track ever and I probably would have hated it. They're doing a good job. I think that the bikes have come a long way, and I think the technique has changed even sort of in the last two or three years, how we do things and how the race plays out and stuff. I think they're doing a really, really good job of trying to meet that. I think last year and the year before the tracks were getting too mellow.
Speeds were going up, too.
Yes. Speeds were going up. Just too easy. So it's a nice change.
Racer X: Third round in. Not the way you wanted, but a lot more to look forward to.
Adam Cianciarulo: Yeah, I think. Even in practice today, as much as we were poking fun, obviously Marty getting the fastest time, I did end up qualifying fast but I've qualified fast plenty of times and not felt that great. I just was fighting something today. I don't know what it was. We've made quite a few changes to the bike. Always on these 450s… Growing up to me, I always thought you get a setting and you're good. You would think that's how it works, but you always have to evolve and change. Just got to make sure you're going the right way. For whatever reason I just did not gel with some of the changes that we made and some of the things I was doing as well.
Different from an Anaheim 1 setup?
Yeah, quite a bit. I just struggled and just was fighting the bike. That made me get super tight. Then you make a decision at a certain point. It's like, do I push over the limit and put this thing in the stands or get eighth or whatever?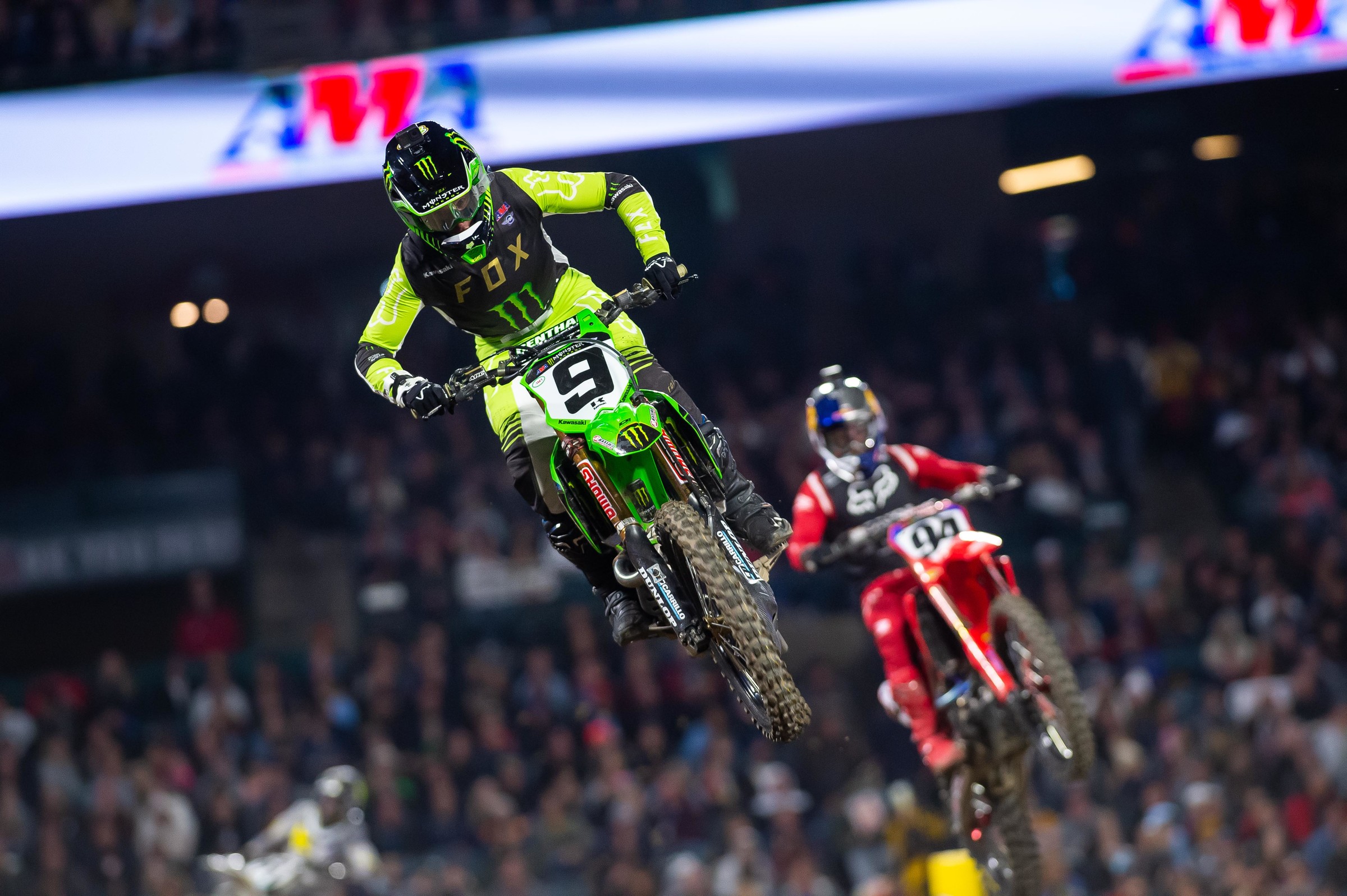 It was intense, man. It's gnarly, right?
Yeah, it is. It's cool in the 450 class. I feel this mutual respect everybody has. I know Zach and I have got into it a couple of times and that stuff, but for the most part everybody's pretty [cool with each other]… So, I enjoy it, even when you get your ass kicked like that.
Jason stuffed Zach and I just asked him and he's like, that's cool. Whatever.
Exactly. They both ran it in on me deep. It is what it is. It's cool. Stoked to be here. I can't be that good and then just that result. It would be different if I was still working into it. That's a pretty good result, right? The guys that beat me, they're all really good. For me, with where I'm at, I just don't feel like I should be there.
Let's focus on the positives. You're the fastest guy in eight out of the nine sessions, and the one session you weren't, it was Marty.
Yeah. Marty was unreal today. I know some people like to say KTM's can't go through the whoops. You see Marty? Oh my god. Wow.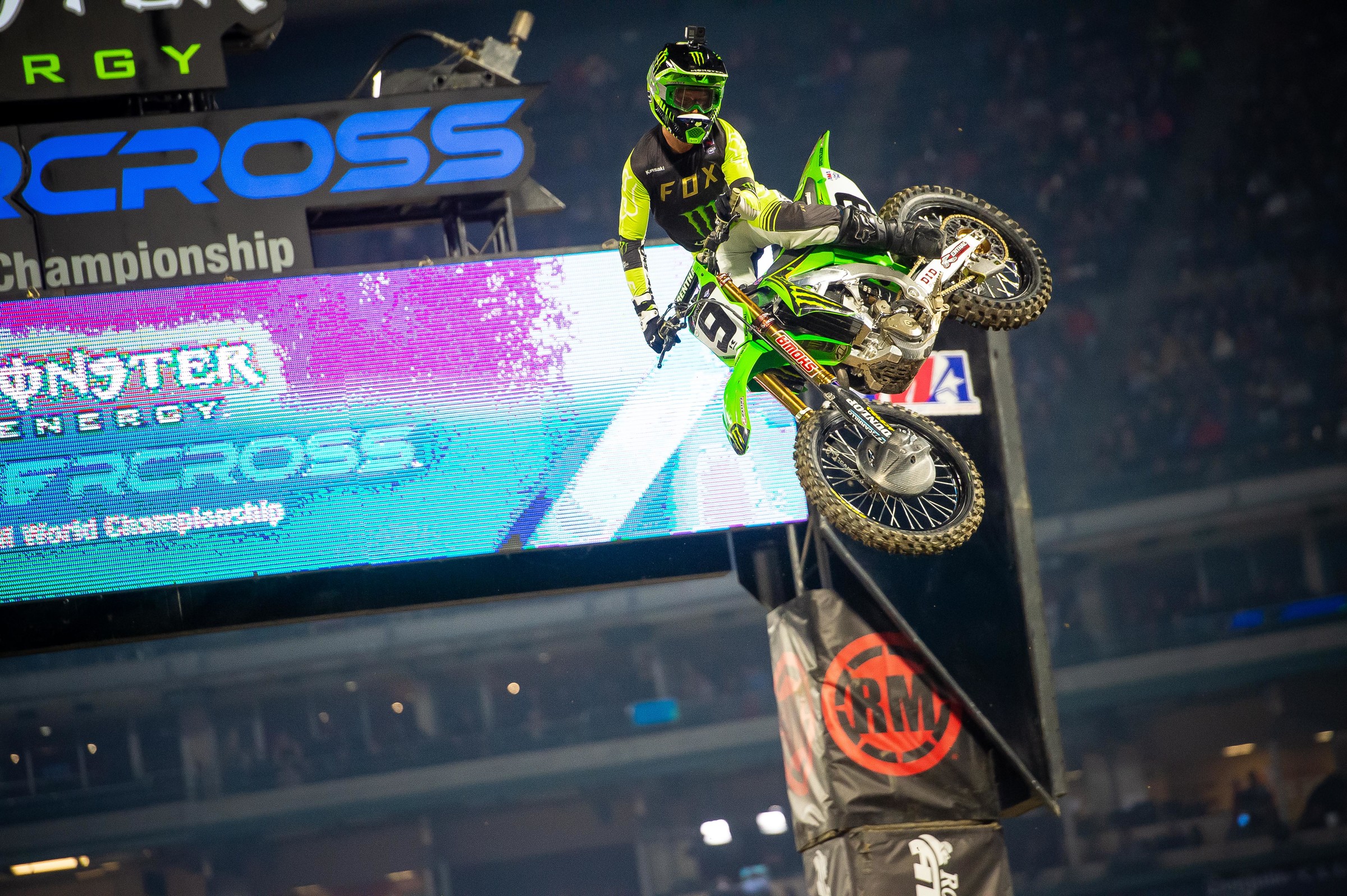 Racer X: You broke the streak. If there was one guy in qualifying that Adam said he was perfectly fine to give up his streak of fastest qualifiers, it was you. So congratulations on you. That's cool, though.
Martin Davalos: Yeah. It was really cool. I rode smooth. We figured some things out on the bike. I'd been having some clutch problems the first two rounds and just riding sketchy. I just told myself I just really need to settle down. This is a long season. I don't know how many lives I have. So I really need to settle down. I felt like I rode well today. I felt like there was a few mistakes, a few out-of-control moments, but the track was gnarly. I love when the whoops are big. I think that separates people. I think in the main event you can really make up some time and you can really lose some time [in the whoops]. I was pumped about the night. Obviously a little hiccup with Justin in the main event. My starts are terrible. The bike has got so much power. I really need to figure out what to do with the starts because in this class there's so many good guys that if I start outside top ten it's going to be hard to come inside of [the top ten]. I just need to get back. I think it was important for me to finish this main event. We were just talking about lap times. I ran my fastest lap on lap 23 with a 54 and I was good. I felt solid.
You were pretty far back.
I was so far back that at one point I thought I was going to get lapped on lap three or four. But I just put my head down and I said points and points; that's all that matters. We have so many races left. I ended up coming to 13th. So it was good. How did I do on the fantasy?
You crushed it. Did you pick yourself?
I picked myself. I told myself, "You f****** go!"
You needed to get 17th to get double points, so that was pretty easy. Qualifying first in that second session, did you surprise yourself? Is that cool?
It's awesome. Just to know that I have the speed to ride with the top guys, it's amazing. You really have to throw down when you want to go that fast. It was awesome to just feel that. I knew I was good in the whoops. I knew I put a solid lap in. It was just a confidence booster. Still we all know, I can do one lap and a lot of people can do one lap. In this class it's about 25 laps that we need to do. I got to regroup. Practice on some starts this week because we got a Triple Crown, so it's going to be all about starts that week.
You're feeling better with the bike?
Yeah. Definitely bike is coming around. We've worked on some stuff. They discovered an issue with the clutch that I had. Now we're moving the right direction. Going to go home and sprint this week. I'm a little under the weather this week. Just able to salvage some good points and able to ride good. I was happy.
First three rounds I've loved the tracks. They've been technical. Good for a guy like you. Different combos. Big stuff. Big whoops. I've been a fan of the first three rounds.
I love it. I was really worried about that split lane on press day when I did it, but it actually was very, very good for racing. Sometimes you don't want to follow a guy. You just want to change it up. There's a few places that it just doesn't open up. To be honest with you, I passed four people, taking my time and cutting down. When the track gets slick you can open up some turns. So it was awesome. I liked the track a lot. It was pretty tight, but it was good for racing.
Next step for you round four, just get a good start and get a solid sixth or seventh place with no incidents. Every weekend you've been very exciting to watch, good and bad.
Yeah. I'm sketchy sometimes. I make it interesting. Like I said, this is a long season and I want to be in one piece. It's important for me to finish every single round. I think sometimes I need to take a deep breath and just kind of control myself. There are times that I'm not going to feel the best, and that's when I need to really settle back.
It was cool to see you on top of the board. Nice comeback in the main.
Thank you.