Anaheim, CA
Anaheim 2 (A2)
Monster Energy AMA Supercross Championship
There's half of a lap to go, the flagman on the finish line jump has the checkered flag in his hand, it waves, he's done it: Ken Roczen WINS IN ST LOUIS! That's how the weekend ends, right? With feelings of jubilation if you're anyone in the Roczen camp, the weekend is done, it's on to the next city… Wait, what? It's possible to watch your hero win on Saturday night and then compete on the same soil as he did the night before?
*Enter Monster Energy Supercross' Supercross Futures program.*
Two thousand twenty marks season number three for Supecross Futures—a series that continues to grow. Being from the nearby St. Louis area, I became hooked on Monster Energy AMA Supercross at a very young age, and of course I've attended every supercross race that's taken place inside what's now called the Dome at America's Center. When Feld Entertainment released the supercross schedule for this year, it was really cool to see that one of these Futures events was set to take place in my "hometown." As a ten-year-old kid, if you had told me that I would be able to race on the same track that Jeremy McGrath had won on the night before, I would have begged, pleaded, and wanted to race that race so bad.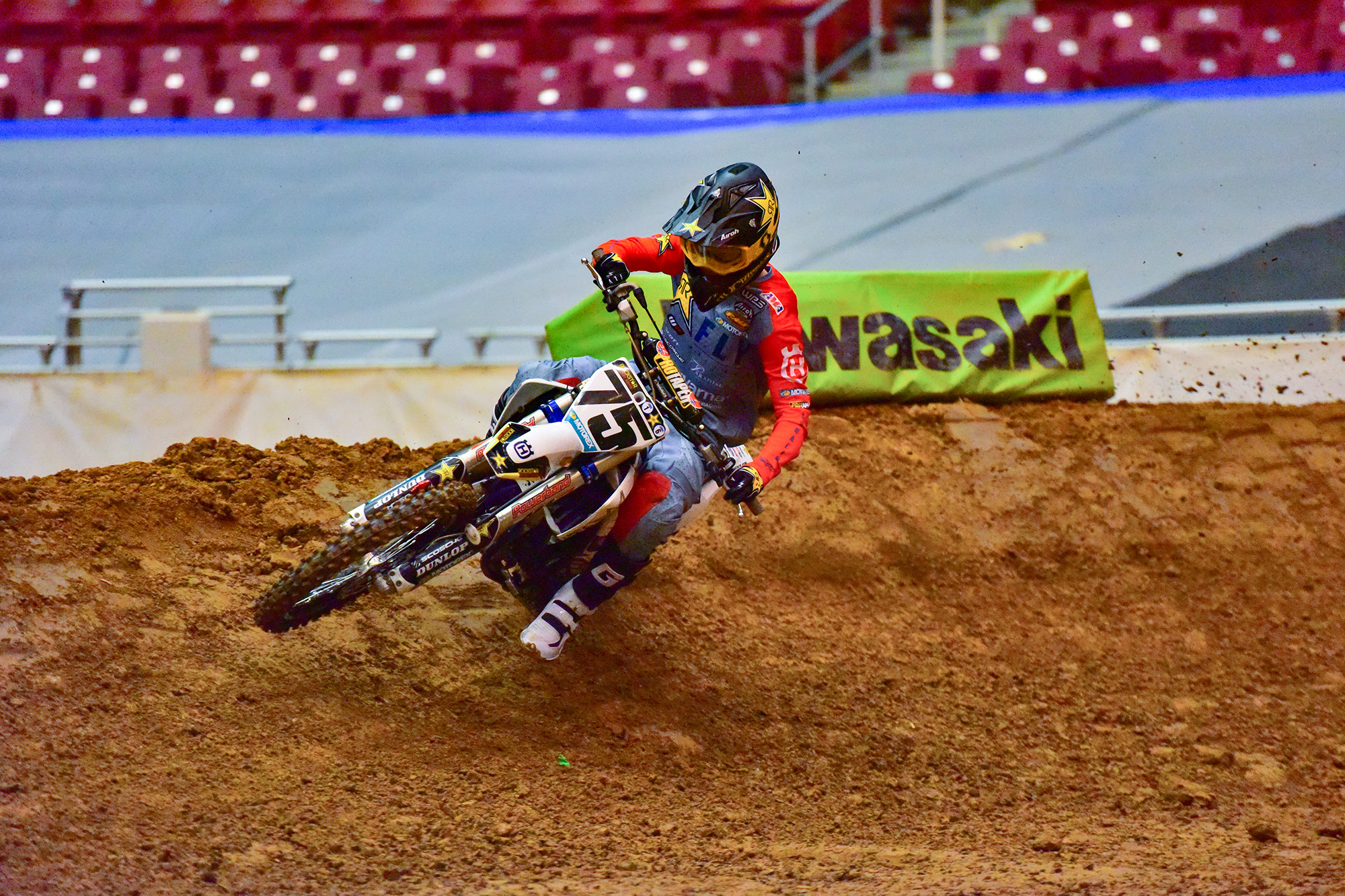 I kept the thought of being a kid in my mind throughout the entire day. Rolling through the pits, the same pits where the factory semis sat just 24 hours earlier, I saw rows and rows of riders from vets to kids, and of course a variety of machines, from 450s down to PW50s, and even some electric KTMs. After making my way through the pit area, chatting with riders and families, and scoring a free lunch (Weege would be proud) I made my way down the hallway toward the track—just as you would do if you were there on pro day. Only this time, instead of casually passing by, I felt the need to stop and watch just for a few minutes and observe the atmosphere. Most major amateur races have the same feel when you spend any amount of time in the staging area before the starting gates. These races are serious. Take a walk down by the starting line at Loretta Lynn's this August and tell me how many friendly conversations you're able to strike up. It doesn't happen. Everyone is too nervous and too focused to act normal. This event felt different, it felt like fun. That's not to say that it wasn't being taken seriously. There were some seriously fast riders in attendance, taking things just as serious as it should be, but there were also a ton of smiles.
Of course the obvious hook for Supercross Futures is that the future stars of supercross can get experience in a stadium racing environment right now. This program provides the way for amateurs to earn their supercross endorsements to race professionally. Everyone knows this. However, from the outside looking in, I saw a completely different goal, also. There might be a few future pros in the mix, but in general this is just a venue for racers and their families to have a kick-ass time.
"I didn't just watch [random] racers, I watched friends," a parent tells me with a smile on her face. "They all had the same goal. They cheered each other on, and were so excited for one another that they could barely contain it."
While a stadium is packed with fans on Saturday night, Sunday is much different. The spectators are quite less, mostly friends and families of whichever rider they came with, but the cheers are plenty and loud. The actual racing itself is quite good, with riders ranging from Evan Ferry, Casey Cochran, Jesse Flock, Joshua Varize, to weekend warriors just looking to take in the experience. The folks at Dirt Wurx give the track plenty of TLC, just as they would on Saturday night, and the house emcee gives each rider his or her proper credit as he calls the action from high above the stadium floor.
"This weekend they lined up on the starting gate and took on the same track that their idols raced on the night before. Same track, same dirt, and the exact same passion," the same parent mentions proudly after her two sons finished competing in the 50cc classes.
At the end of the day I left the event with a newfound liking for this series. Yes, Supercross Futures is how upcoming riders are required to earn their way into Saturday's professional series, yes there are legitimate AMA number-one plates up for grabs. But those big accolades will only matter to an elite few. For everyone, there is a ton of fun being had. If there's a Supercross Futures race on the schedule at a race near you, you might consider heading back to the stadium the next day to check it out. After all, there is a chance that someone competing on amateur day is a future 250SX or 450SX champion of Monster Energy AMA Supercross. Even better, you'll get to see how much fun everyone seems to be having.
Some highlights from the action on the track include Husqvarna's Hardy Munoz, who won both the Open A and 250 Futures classes; Husqvarna's Evan Ferry, who won the Supermini Futures (13-16) class; KTM's Gage Linville, who won the Schoolboy 1 (12-16), Schoolboy 2 (12-17), and 125cc B/C classes; and Kawasaki's Jordan Jarvis, who took the Women's class win.
To view the full Supercross Futures result, visit results.supercrossfutures.com.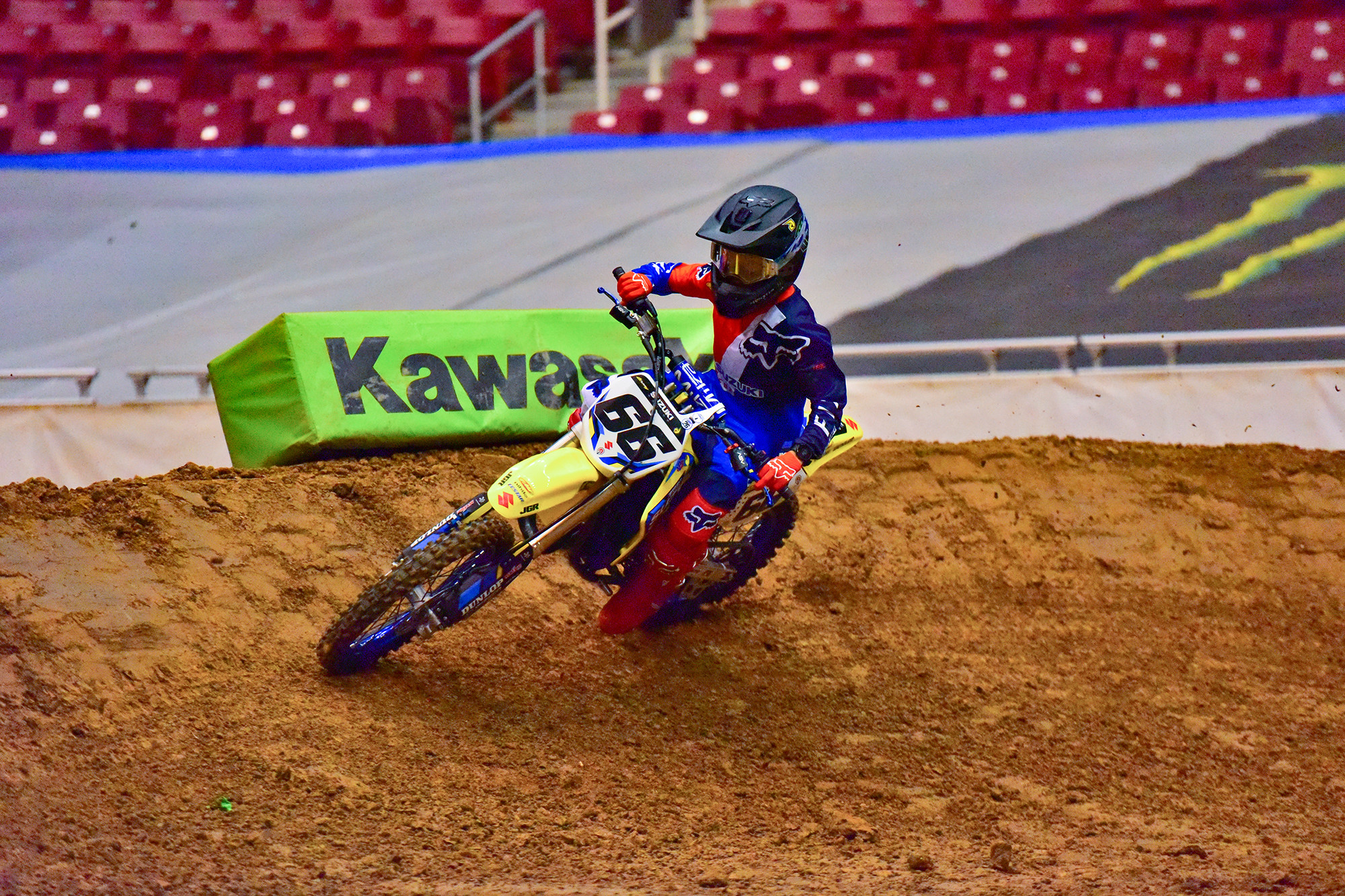 Anaheim 2 Supercross Futures Report
After Wheels took in the atmosphere at St. Louis, we got this report from Feld Entertainment with a recap on the Anaheim 2 Supercross Futures event:
Over 350 Supercross riders of all ages and abilities took to the track inside Angel Stadium of Anaheim on Sunday, January 19. 27 different classes made for an action packed day of racing that registered over 6,000 laps on the same track the Monster Energy Supercross professionals raced the night before.
The Supermini Futures and 250 Futures classes feature some of the sports most talented up and coming stars looking to get to the professional level. The Supermini Futures class saw number 29 Suzuki rider, Julien Beaumer take the win over Ryder Difrancesco in a close finish that separated the pair by only two seconds.
Supermini Futures Class Results
Jake Beaumer (#29), Suzuki
Ryder Difrancesco (#199), Kawasaki
Kayden Smith (#222), KTM
In the 250 Futures Main Event it was Dilan Schwartz taking the victory, the number 74 Suzuki rider crossed the finish line in thrilling fashion with the number 325 Husqvarna rider, Stilez Robertson in a photo finish with only two tenths of a second separating the riders.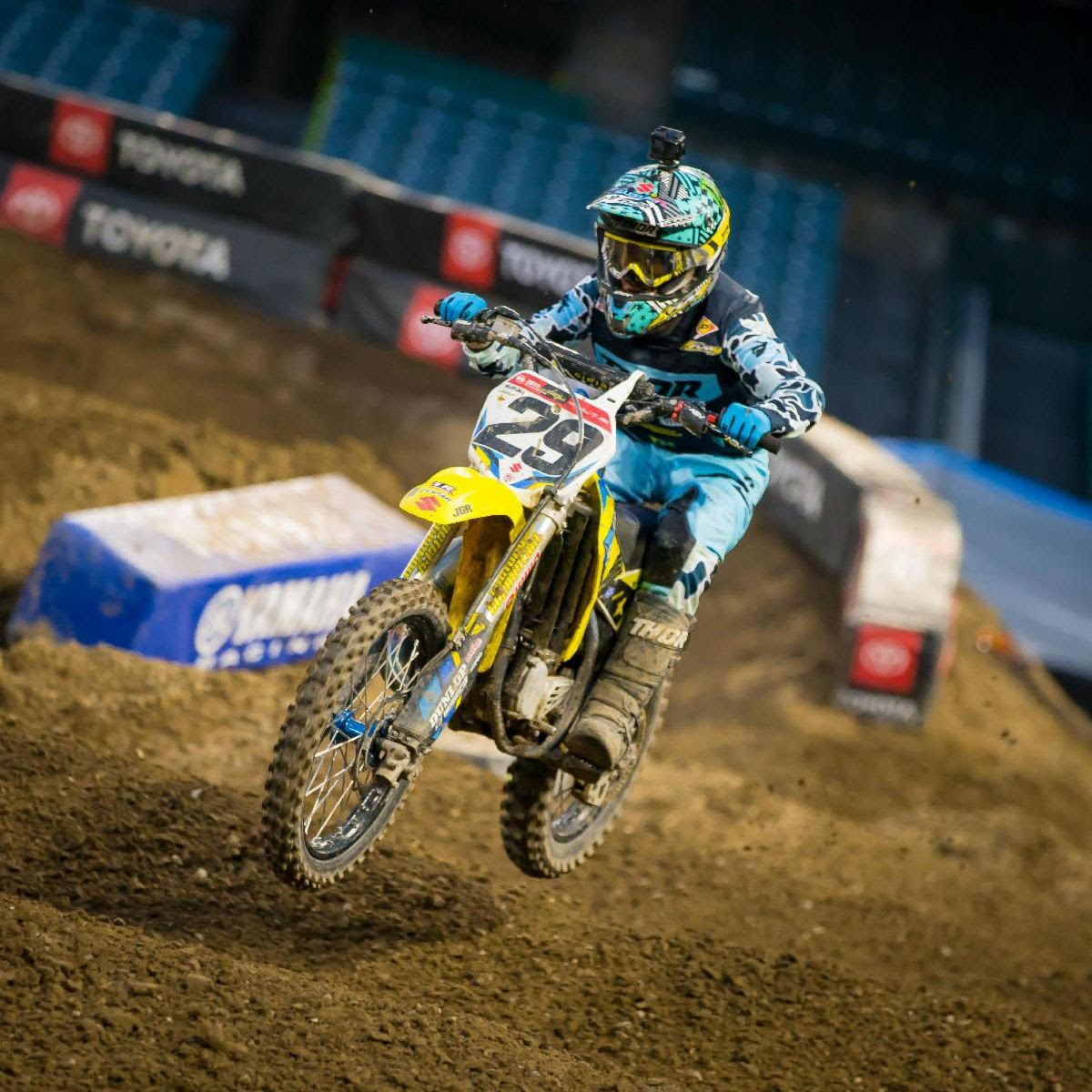 The longstanding top rider in the Women's class, Jordan Jarvis, had some company on Sunday as Suzuki rider Tayler Allred was less than a second behind across the finish line in a field of 10 female athletes.
Women's Class Results
Jordan Jarvis (#30), Kawasaki
Tayler Allred (#34), KTM
Viviana Contreras (#50), KTM
You can find results info for all of the Supercross Futures events at www.supercrossfutures.com.
The 2020 Supercross Futures 10 race series heads to State Farm Stadium in Glendale, AZ for round 3 this weekend on Sunday, January 26. For more information, visit supercrosslive.com/supercross-futures, the official website of Supercross Futures.
---
Main Image: Feld Entertainment