Tragedy is an indiscriminate force, and no matter who you are you're going to feel its presence at some point. That was the case for Team Allsouth earlier this year when the team's owner and founder, John McCullough, sadly passed away. The easy assumption would be that the team's days were done, but McCullough's daughter, Abby McCullough, had other ideas and immediately jumped into action to keep things rolling, both literally and figuratively. Now, with 2020 on the horizon, she's busy preparing herself and the team to forge ahead with the dream created by her father. We spoke with her to get some backstory, and her thoughts on running a team for the first time.
Racer X: First off, we're very sorry for the loss of your father. Things like that are never easy.
Abby McCullough: That's true. He choked at a Mexican restaurant and was without air for ten minutes and was without a heartbeat for 20. They had to take him off life support, which quite honestly, was good. My dad wanted to get DNR, do not resuscitate, tattooed on his chest. He always used to say, 'If there's ever a situation where you have to keep me alive, I swear to god I'll haunt you for the rest of your lives!' So it wouldn't have been a good situation, even if we could have kept him alive. That's probably the only silver lining in the whole experience of losing him.
You couldn't meet him without loving him. He was loud, funny, and he loved to give. When he met Vann Martin five or six years ago, he gave this kid every dream he'd ever imagined. He continued to keep him and support him throughout everything too, no matter what his results were. He grew the team to where last year he'd signed a whole bunch of amateurs as well. The last meeting he had was in Houston, a lot of our guys are Texas boys, and in Houston he had a meeting with them and I think there were 12 riders there he was going to support. I've unfortunately let some of the riders go, but I've also decided to add here and there too. My dad was huge on it just being a family, something where we could all hang out together in the pits every weekend and make memories. He cared more about the bond of the team than he did about anything else. All he wanted was for them to try their hardest and have fun. I asked Vann what my dad would tell him before every race and he said, 'He'd come up, give me a hug, tell me to ride hard and safe, and that he loved me.' That's all he cared about, he wanted them to have fun, and to enjoy getting back to the whole reason we love this sport. All the other teams are so serious.
It sounds like he was in it because he loved being in racing, not because he was trying to advertise the Allsouth [Sprinklers] company.
Right, for sure.
What did he enjoy most about it?
Supporting people, and doing for people what they wouldn't be able to do without him. I have a sister who is 15 months older than me and a brother who is four years younger. We'd be at the track every weekend, we went to Loretta Lynn's ever year, and when we grew up, that's when he found Vann. It was like he said, 'Oh, I'm not done. I'm going to find someone else to take care of.' That is what he loved and it made him feel good to help these kids.
Was it a tough decision to forge ahead with the team?
It was not. My father passed away earlier this year and they did a moment of silence for him in [East Rutherford]. The following weekend was Vegas and I flew out there for that. Two of the boys later came to Georgia and said, 'We just don't know what to do. We don't want to leave. We're here, what do you want us to do?' I told them to start booking flights and get ready because I was going to do this. I didn't know how, but I was going to figure it out! It's something my dad loved, and all I want to do is make him proud. And the bond I've built with these boys is special. Vann is like a little brother to me. The boys are truly like little brothers to me and I'd never let them down. My dad wouldn't have let them down either. I want to live and continue my father's legacy.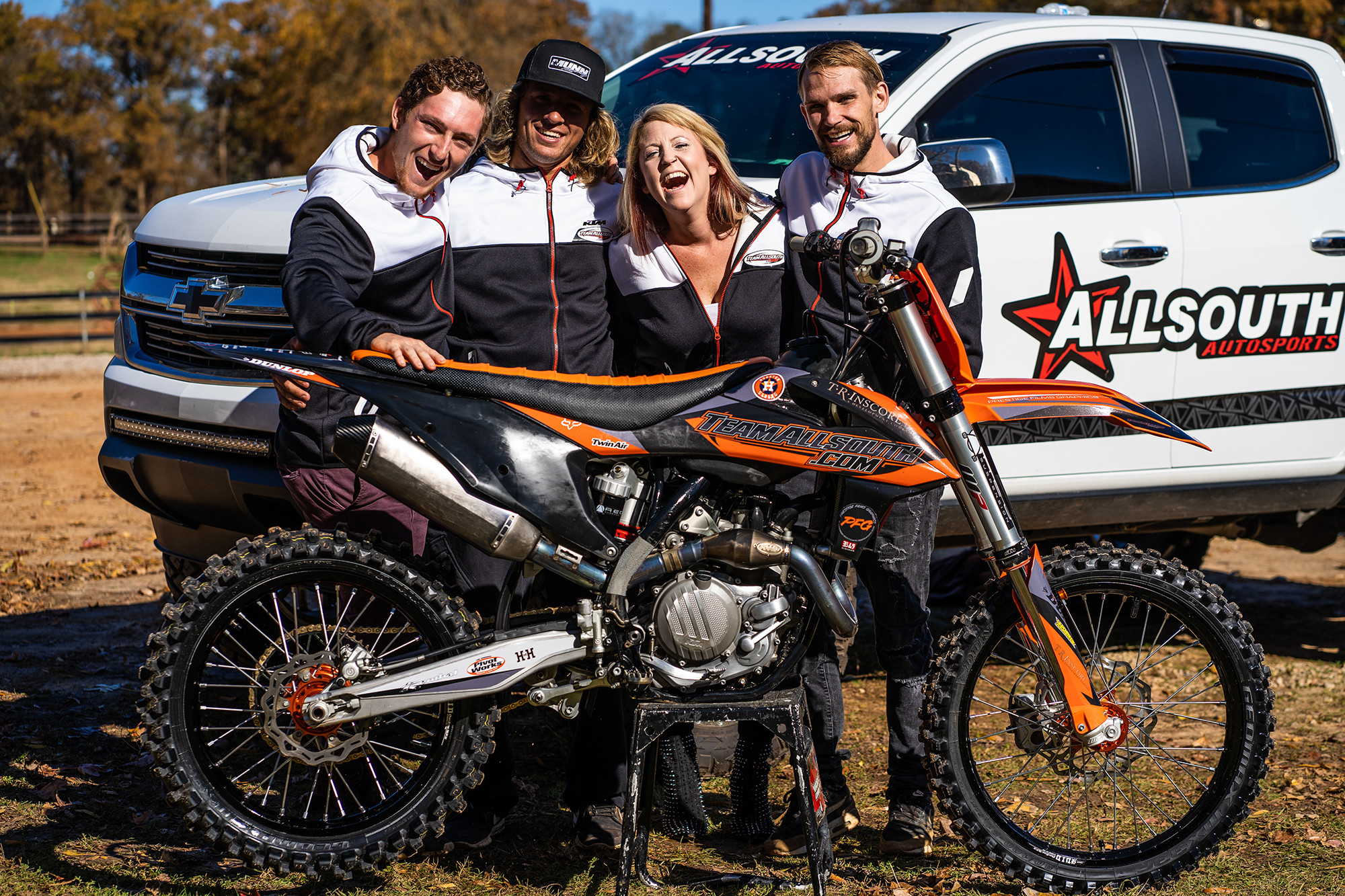 Is the idea of running a team daunting?
At first I was like, 'Oh, I got this. I'll take this over no problem. Send me your budgets, boys.' Then they did and I was like, 'What!? Are you serious!? [Laughs] Okay, well, alright, let's do it.' The hardest part is learning about the bikes. I can ride a bike no problem and have a good time, but I cannot break a bike down. I can't work on them. Figuring out about the bikes has been the hardest thing.
In terms of working on them personally? Or with hiring technicians?
Just in modding them out properly. Or like with suspension, I wish I knew what kind of settings to use for certain situations. I just don't have that knowledge yet.
Have you thought about hiring a crew chief?
I've thought about that, and there was a manager who was working for my dad last year and I was talking to him at the very beginning. He wanted to turn this into a profitable business and not let the boys keep their race money they make every weekend and put it back into the team. That's just not what my dad was about. If you train for that race, show up for that race, and win money at that race, that's your money. I could not keep him on board. He wanted to turn it into a team my dad would not have supported. I have to find a person who fits in with our family tree and has the same vision I do. We'll get there, but for right now, I'm just figuring it out.
Who's riding for the team in 2020?
Right now we've got Vann Martin, Kyle Swanson, Curren Thurman, and Zane Merrett. Vann will ride the 450 and the rest of the boys will compete in the 250SX East Region.
Are you doing the nationals as well?
Yes. We plan on going to at least half of the outdoor rounds next year.
What are the goals for 2020?
For the guys not to get injured! That's the main goal, I don't want my boys to get hurt and I want us to have fun. I want us to make some mains, but if we don't I guarantee you we'll still have a good time. I just want them to push and try their hardest. That's really it, we just want to have fun and enjoy the sport that we grew up loving.
---
Main Image: Courtesy of Team Allsouth