Auckland, New Zealand
S-X Open Auckland
Australian Supercross Championship
Off-season supercross races always feature jam-packed evenings with plenty of gate drops and action for the fans, but all those fans really want is great racing. This year's Monster Energy S-X Open in Auckland, New Zealand got the job done. The event featured three main events in each class, a superpole laptime competition, a shortcut lane, freestyle comps, NZ celebrity race and even an ANZAC (Australia and New Zealand) versus Team USA showdown. That schedule alone promised an exciting evening, but what really mattered was the racing, and that ended up being a true highlight. Every single race was close!
This New Zealand event is the next-to-last stop in the five-race Australian Supercross Championship, but this race and the final round, the Aus-X Open on November 30 in Melbourne, Australia, are a level ahead of the other three rounds in the series. Imports like Jason Anderson and Joey Savatgy come in for these two races, as does Ricky Carmichael and Chad Reed. The races air live Down Under on Sky Sports TV. The whole production just gets bigger for these two races. However, when you add a big hitter like Anderson to the mix, there's the potential for blow-out race wins. But while Anderson indeed scored the overall here, it was by no means easy, as the tricky track and short mains collided with Anderson's terrible starts, so the 2018 Monster Energy Supercross Champion had to work for it. Further, the Sky City Shortcut (AKA Joker Lane) chopped so much time off of a lap that it could suddenly place a rider from just inside the top ten into the lead. Further, through all this racing you not only had Anderson fighting for a win but Australian regulars like Justin Brayton, Luke Clout and Dan Reardon fighting for points. It led to some drama, no doubt.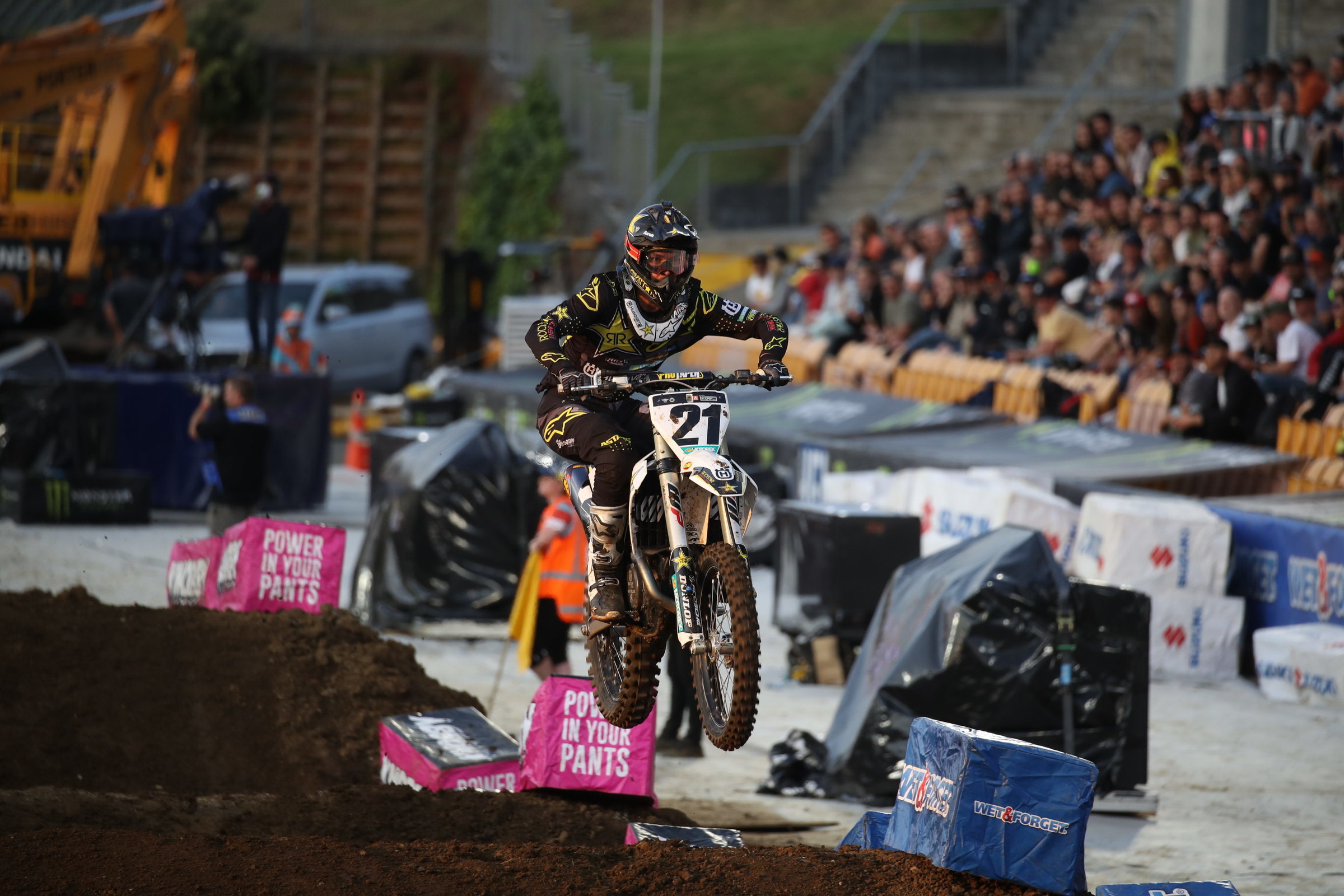 Early in the night, Anderson won the SuperPole with incredible run to top Brayton. In the races, life got tough for him due to a series of bad starts in the three eight-lap mains. Anderson said his supercross bike is setup for metal grate starts, instead of the dirt starts down here.
In the first race, American Henry Miller, a new entrant for the Australian Raceline KTM team, holeshot, but was quickly passed by Penrite Honda veteran Brett Metcalfe. The Monster Energy CDR Yamaha duo of Reardon and Clout then pushed Miller wide and took him down. Anderson was soon to third and got a two-for-one pass, block passing both Reardon and Clout at the same time! Then he tracked down Metcalfe to snag the lead and the win, with Brayton taking third and accomplishing his main mission—beating his championship rivals Clout and Reardon.
Australian SX
Rider
Hometown
Motos
Bike
1
Jason Anderson
Edgewood, NM

United States

1 - 2 - 1
Husqvarna
2
Luke Clout
Sydney

Australia

4 - 1 - 4
Yamaha
3
Brett Metcalfe

Australia

2 - 5 - 3
Honda
4
Justin Brayton
Fort Dodge, IA

United States

3 - 4 - 5
Honda
5
Daniel Reardon

Australia

5 - 7 - 2
Yamaha
Full Results
In race two, Anderson's start was even worse. American Josh Hill led early and battled with Clout. Clout fought past him, but Hill used the Sky City Shortcut lane (which a rider can only use one time, total, throughout the three main events) to retake the lead. This shortcut put Hill way ahead, so then Anderson decided to use it and passed Hill to take the number-one spot. With a lap left, Clout used the Shortcut and ended up ahead of Anderson to take the lead and the win.
"I took the shortcut one time and that was the race I didn't even win!" joked Anderson.
Anderson gated horribly again in race three. Both Brayton and Reardon had saved the Shortcut for the final race, and when they used it they emerged 1-2, with Brayton leading. It looked like all was going to plan for Brayton, the Penrite Honda man looking for his fourth-straight Australian Supercross Championship, but then, uncharacteristically, Brayton slid out entering a corner at the end of the whoops and went down. That led to a big shakeup in the Australian standings, as Brayton's closest competitor, Clout, sailed past him.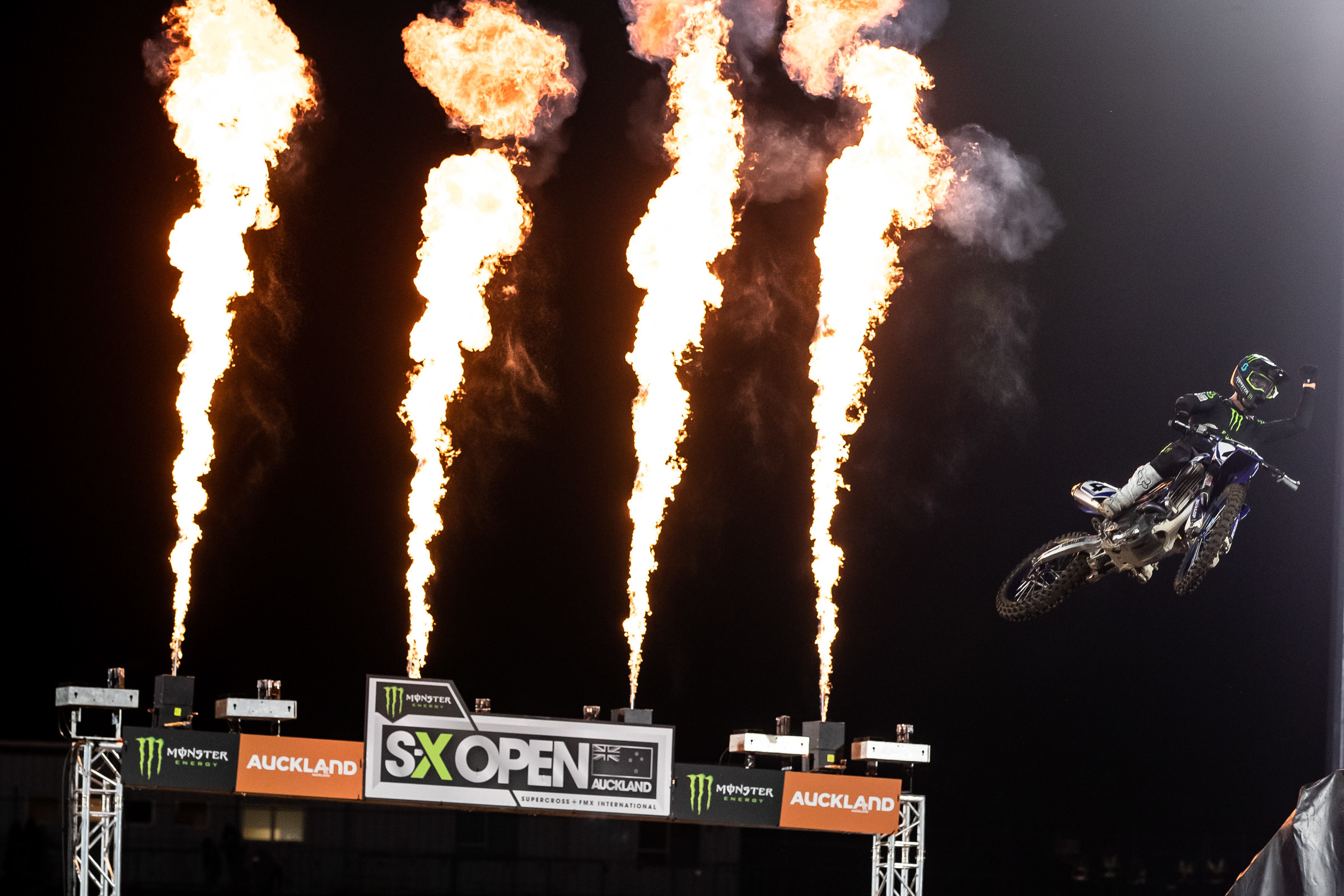 Reardon then led, but Anderson dug deep down the stretch to catch him and make a late pass for the win. With 1-2-1 scores, Anderson won the overall over Clout's 4-1-4 and Meftcalfe's 2-5-3. Brayton's crash was very costly, as what could have been a 3-4-1 ended up as a 3-4-5, and fourth overall. Combine that with Clout's second overall, and Clout moves into the series lead by a single point with one race remaining. Clout won last weekend's race, and is clearly feeling the momentum.
"I said to my brother this week; I'm back," said Clout. "There's a lot of stuff behind the scenes that people haven't seen, and for a while there I didn't really even want to ride a dirt bike. I've got that passion back, and my eyes are back on the United States."
Clout explained that back-to-back femur breaks, bad luck with teams folding and other tough situations has sapped his enthusiasm, but he had a fresh lease on racing this year, and a goal of winning a title.
"I told my family at dinner on Thursday night that the only rider I wanted to beat me here was Jason Anderson," Clout said. "He's world class."
Anderson's win came tough with the bad starts, but he also commented that the Australian riders have stepped up their game each time he comes to race them.
"I'm stoked to grab the win here in Auckland, the racing was super intense tonight. It's always a blast to come over here and race in front of these fans – I'll look to keep the ball rolling come Melbourne," commented Anderson.
"I think racing against Brayton every year has helped these guys raise their game," Anderson said. "For me, with the bad starts it helped me practice my race craft. I had to make passes and the track was technical and tight."
Metcalfe was pumped to podium. "My starts were really good tonight, I want to thank Cody [Cooper] for pointing out that starting gate to me and asking if I wanted to take it. I don't know why, but I've been struggling with my starts this season. I had a big crash after the first race and I just haven't been comfortable. Tonight it was good to lead. Jason [Anderson] is on it, when he past me I could smell his bike, the race fuel, and the smell actually reminded me of being back in America!"
Brayton's fourth cost him the points lead, but the veteran said he was okay with it, having preferred to crash while trying to sprint away with the lead than to have simply lost not trying. The final round in two weeks in Melbourne will mark the title decider between Brayton and Clout.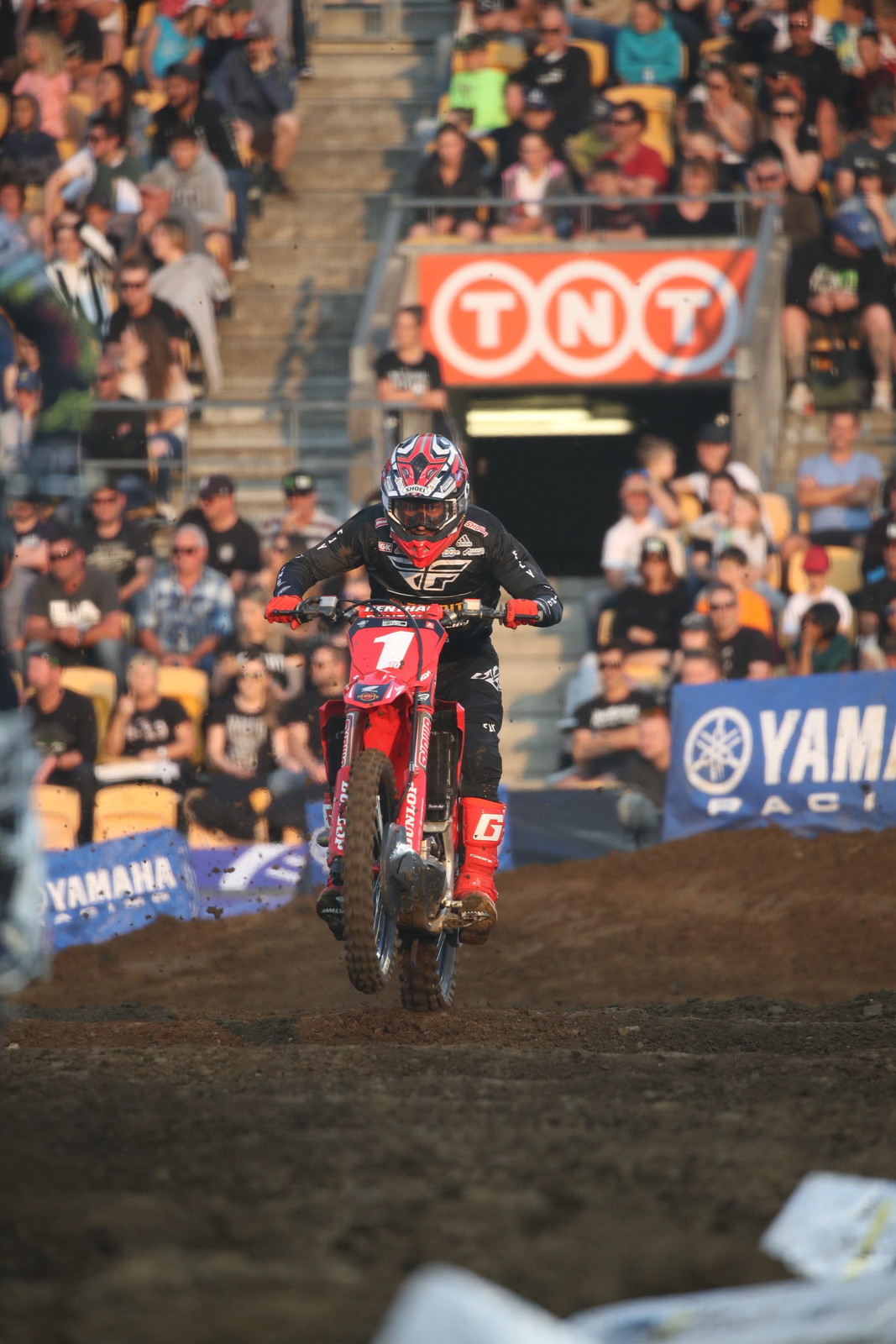 American Joey Savatgy was also racing in Auckland, but the new JGRMX/Yoshimura Suzuki rider struggled. His final scores were 11-6-DNF and he never looked fully comfortable on a very slick race track.
Chad Reed was also on hand, but sporting rib injuries from a crash last week in Paris. In pain, Reed lined up to race anyway, but then crashed on the first lap of the first main, and that was the end of his night.
The SX2 class featured crazy racing. American Josh Osby, of Raceline KTM, came into the race as the series leader and won race 1. It wasn't easy, though, as five riders battled for the lead throughout, including Chris Blose, Aaron Tanti, Jay Wilson, Darien Sanayei and Mitch Oldenburg. At one point, five riders were going over the triple jump at the same time! Osby showed good race craft under pressure to hold on for the win.
Australian SX
Rider
Hometown
Motos
Bike
1
Josh Osby
Valparaiso, IN

United States

1 - 2 - 3
KTM
2
Chris Blose
Phoenix, AZ

United States

4 - 3 - 1
Honda
3
Aaron Tanti

Australia

3 - 4 - 2
Yamaha
4
Jay Wilson
Palm Beach

Australia

5 - 1 - 4
Yamaha
5
Mitchell Oldenburg
Alvord, TX

United States

2 - 5 - 6
Honda
Full Results
In race two, Wilson, the defending SX2 Champ, scored the win. Osby crashed but used to Shortcut to still score second. Blose saved the shortcut for race three and used it to get the lead and take off with the win. But the Penrite Honda rider's 4-3-1 couldn't match the 1-2-3 for Osby, who took the overall and stretched his lead.
"It feels so good to extend my points lead. The crowd here was insane tonight; every time they went nuts, I wanted to know what was happening!" commented Osby.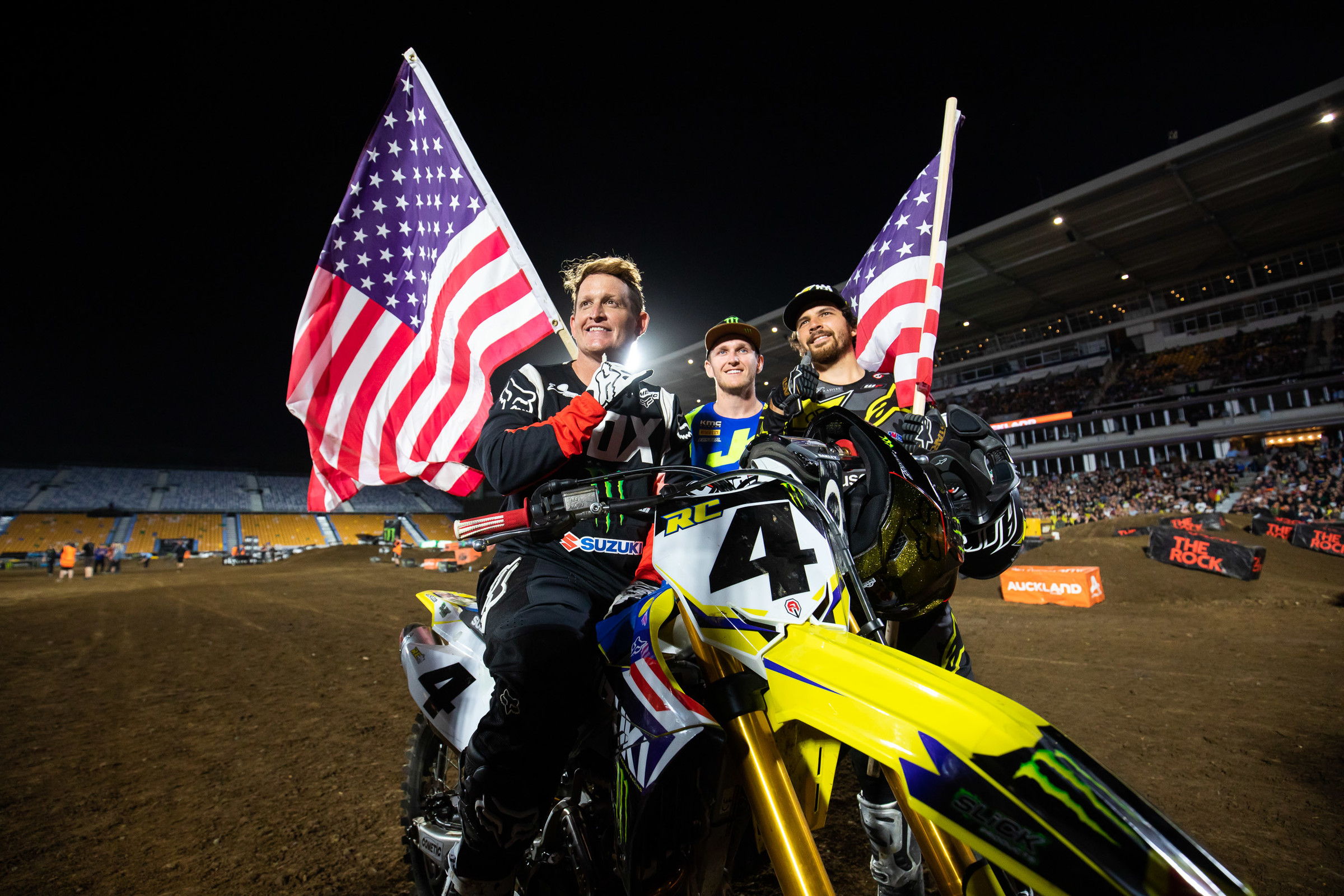 The race also featured an ANZAC versus USA showdown. It pitted the three-man Down Under team of Kiwi legends Cody Cooper and Ben Townley, and Clout, against Americans Anderson, Savatgy and Carmichael. It was a cool idea to run the event as a relay race. Cody Cooper was matched against Anderson, and he actually beat Anderson in their two-lap sprint! (You think Anderson might have been taking a dive to delight the New Zealand crowd?) Then Clout and Savatgy took off, and Clout stretched the lead for the ANZAC team. This left Carmichael to try to catch Townley to win the race. He did and they started block passing each other, and the crowd loved it, until Carmichael dove underneath, Townley hit Carmichael's rear wheel and went down. Team USA won—but let's be honest, the race was pretty much staged, and both Carmichael and Townley joked that the Townley crash was not in the script!
The Freestyle Best Trick comp was judged by crowd noise. Thus, it would be impossible to beat Levi Sherwood, of New Zealand, who had announced he would retire after this event. He got the biggest cheers, but he really earned them by pulling the double back flip. Blake "Bilko" Williams earned the silver.