Assen, Netherlands
Motocross of Nations
Motocross of Nations
Unless you've been under a rock lately, you know that the Olympics of Motocross, AKA the Monster Energy FIM Motocross of Nations, kicked off today in Assen, Holland with one forty-minute practice and then a 20 minutes plus two lap qualifier for each class.
The GP regulars told us the track was much different from the usual layout and the start was very unfair for the guys on the outside. That made things tough on Team USA, Holland and a few others that were unfortunate from the ping pong draw for gate picks last night. So the work was laid out for some very fast riders to try and make something happen from the poor gate picks.
The weather was cold and featured on and off rain all day long which made vision an issue for the guys. It also made it a little chilly for us poor media members so there's that. #Heroes
MXGP Qualifier
The first qualifier was the MXGP class and new-to-a-450 and MX2 World Champion Jorge Prado grabbed the holeshot and the early lead. American Jason Anderson and Holland's Jeffrey Herlings were buried way back in the pack. Australian Dean Ferris was up there early as was the Swiss rider Jeremy Seweer but it was Prado early on showing the speed.
Anderson had a practice that wasn't ideal and he even had that time taken away for stopping on the track, but the Rockstar Husky team went to work after practice with some new settings for the FC450. Jason looked more comfortable out there as he moved up towards the top ten early.
Prado made a mistake in the sand and tipped over which let Seewer by amongst others. The Swiss didn't miss with Seweer and he impressively won the race over 2019 MXGP champion Tim Gajser and Belgium's Jeremy Van Horebeek with Prado fourth. Anderson rode very well to get into fifth but the star of the race was probably the home country hero, Herlings. It took a while for him to get going but once free of traffic, he put in some impressive laps flying up through the pack to nip Anderson late in the race for fifth. Gauthier Paulin, of the defending champion French squad, didn't have a great race and could only muster an eighth.
MX2 QUALIFER
With Team USA's "incredible" 31st starting position I didn't see Justin Cooper being able to pull one of his patented holeshots despite qualifying the fastest in the morning practice session. In fact, I was so sure of it that before the race, watching it with Zach Osborne, that I bet the Team USA rider a burrito at Chipotle during the Paris Supercross that Cooper wouldn't pull the holeshot. Osborne's price was buying me a Starbucks coffee.
The gate dropped and what do you know, Cooper got a good jump, not great, and held it on wide open to sweep in and grab the start! It was awesome for sure and made Osborne very happy! From there the rookie USA member took command of the race and rode to a pretty easy win, sometimes with a ten second lead. It was impressive for sure and bodes well for a good race tomorrow with the MX2 scores being so important.
Behind the kid there were more kids (hey it's the MX2 class) with New Zealand's Dylan Walsh and Australia's Kyle Webster running 2-3. Both were very unexpected and it was good to see for their respective countries. GB's Adam Sterry and Denmark's Thomas Kjer Olsen were both looked at as potential podium riders but suffered from crashes. Hometown hero Calvin Vlaanderen got a start slightly better than Herlings but still not great. He got going sooner than Jeffrey and by the end had closed up some on Cooper. His second place was a good ride indeed. Walsh crashed and went off the track at one point but held on for a seventh and Webster got a third!
OPEN QUALIFIER
The final qualifier of the day went off with Belgium's Kevin Strijbos (loaned a factory Wilvo Yamaha for this race) grabbing the start and taking off. The veteran rider is always pretty good at this race and even with an off year in MXGP, proved he's still competitive with some good equipment. Strijbos led early on before making a small mistake and Latvia's Paul Jonass, a former MX2 champion, got by.
Strijbos stalked Jonass for most of the race, he got real close one time before a lapper jacked him up and at the very end he made a push but Jonass won and Strijbos finished a close second.
Osborne, predictably, got a poor start from the 31st pick and worked hard to work his way up. He passed a bunch of dudes but looked like he may have run out of tearoffs. We was up to seventh before France's Jordi Tixier got him real late for that spot, pushing Zacho to eighth. The team's planning on making a few changes to the bike to combat some arm pump that Osborne got in that race.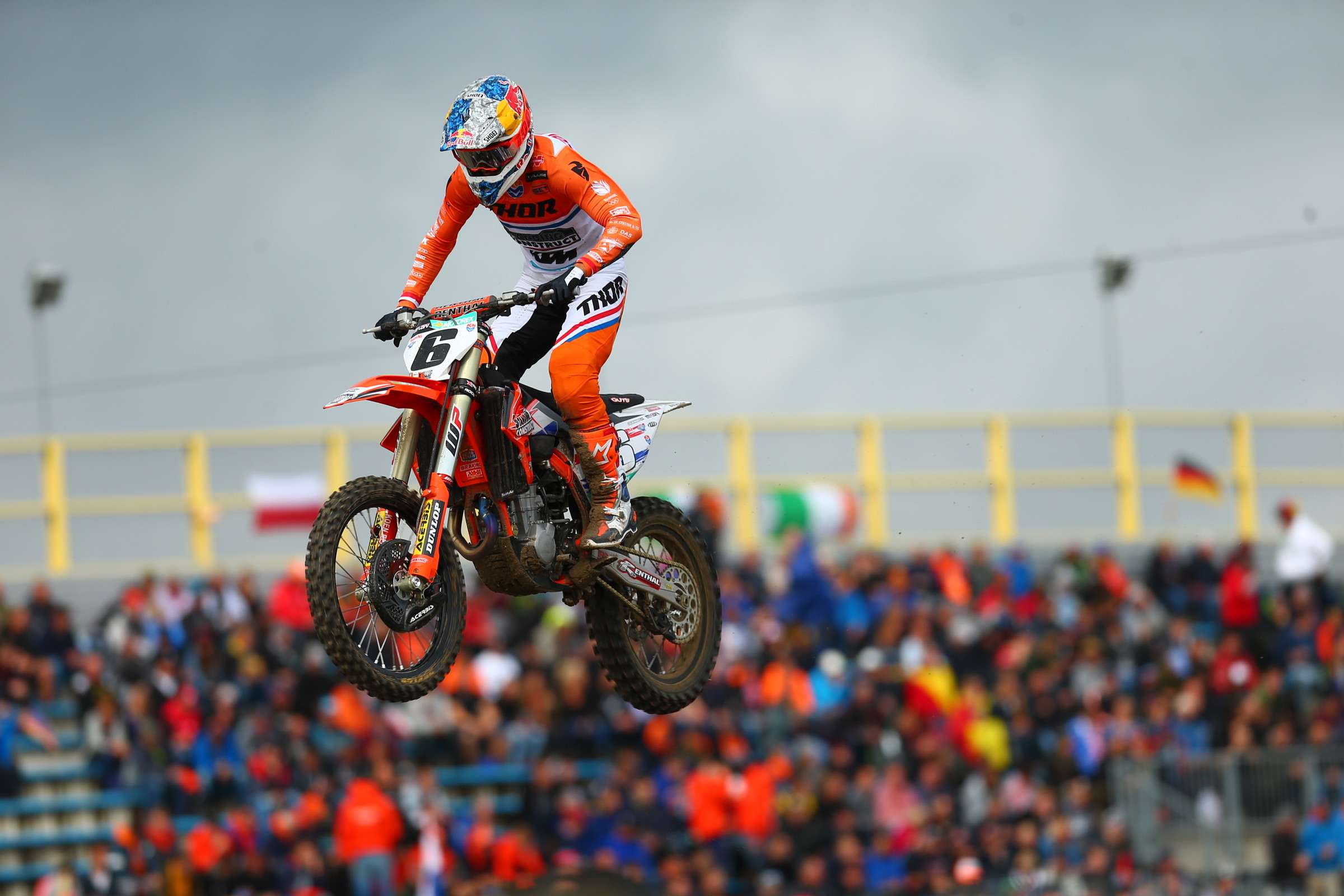 Third was Holland's Glenn Coldenhoff who, again because of the starting spot and track, took a while to get going but eventually was riding very well. Fourth was GB's Shaun Simpson.
Really, though Saturday means very little outside of getting into a good range of positions so that your gate pick is decent. It was the Belgians and the Dutch tied for points amongst the nations (Belgium carried a 3-2 and the Dutch a 2-3). Strangely enough, it was Herlings score that the Dutch had to drop (Vlaanderen and Coldenhoff went 2-3 and Herlings was fifth in his race). Who would've thought that?
Team USA was a very solid third, Australia a surprise fourth and Italy fifth.