Crawfordsville, IN
Ironman
AMA Pro Motocross Championship
Chasing a dream is a commonality in our sport. From amateurs to professionals, from privateers to factory riders, each one of these riders has some sort of dream. For guys like Adam Cianciarulo or Eli Tomac, the dream is to win championships. For guys like Dawson Ryker, the dream is simply to qualify for the afternoon program and line up against the best riders in the Lucas Oil AMA Pro Motocross Championship.
This past weekend at Ironman Raceway, the privateer out of Illinois quietly made his transition from amateur racing to the professional ranks of the Lucas Oil AMA Pro Motocross Championship. Unlike others, who have made highly anticipated pro debuts, Ryker showed up in Crawfordsville, Indiana, as a relatively unknown rider and now, a new resident of Privateer Island. Fresh off of top ten and top 20 overall scores at Loretta Lynn's in the College (18-24) and 250 Pro Sport Classes (Ryker finished sixth overall in College and 20th overall in Pro Sport), Dawson arrived at Ironman calm, but with expectations of putting himself into the afternoon's program.
Fortunately for him, he was able to get the job done—finishing fourth in the 250 consolation race—and would line up on the gate for his very first professional motocross race, making what was once a dream a reality.
We caught up with the #371 after the second 250 Class moto on Saturday to chat about his day.
Racer X: We're here at Ironman with Dawson Ryker. Dawson, your very first pro national. Tell us how it went.
Dawson Ryker: It went good. I qualified and finished both the mains, and that was a successful day in my eyes. I came in with the goal of qualifying and making it through the mains, and I did it so I'm happy.
Did you really have any expectations or thoughts coming into it, or just kind of whatever happens, happens?
I had expectations for myself to qualify and just do the best out there in those motos. The track, I've never ridden a track that gnarly before in my life. It was definitely eye-opening and showed me how much of a man you got to be to ride that track, really.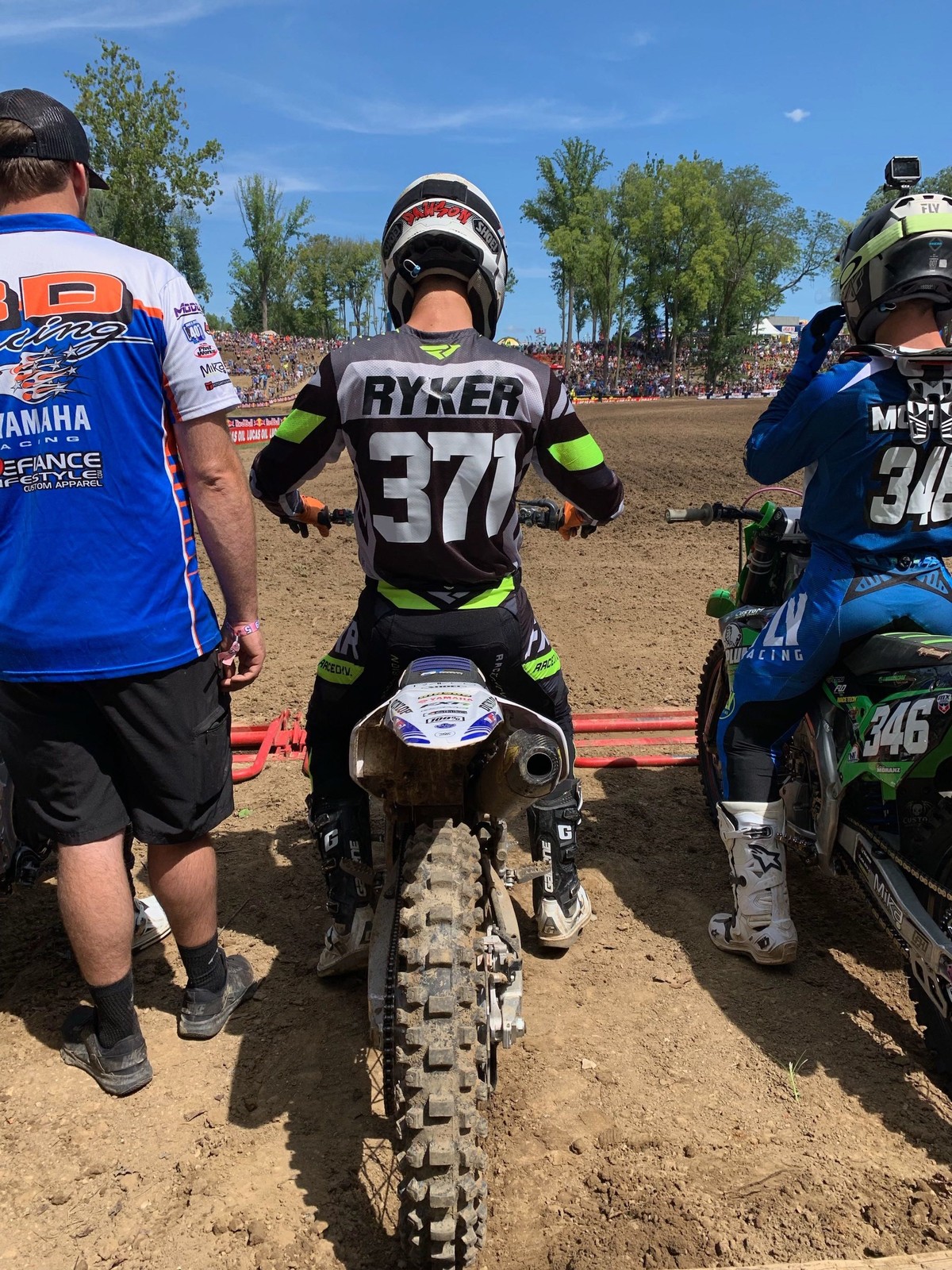 That kind of leads into my next question. Talk a little bit about the difference in not only the tracks, pro versus amateur, but the intensity.
At an amateur race you can get a 15th-place start and work your way up, or even at Loretta's and stuff like that, you can hold a spot there for a while. But here the track is so brutal if you slip up or you stand the bike up in a rut or you blow a turn or something, you're getting passed by three, four, five guys. So it's all about staying consistent but still running a really fast pace for 30 minutes plus two laps.
As far as the motos, did you finish where you thought you would be? I know the goal was just to make it in, but once you made it in, did your mindset change or was it just, 'Okay, we're here. Let's go have fun?'
Yeah. I kind of realized that the hard part of the day was over with qualifying in, and I was just ready to go out there and have some fun. I tried to have no expectation coming into this race just because it's my first pro race. Just give it all I got.
What is it like in your eyes out there racing with some of the best dudes in the world?
It was pretty surreal. It was a dream come true for sure. I can just remember going around on the sight lap and [Shane] McElrath being next to me and [Justin] Cooper a couple bike lengths in front of me. I was just like, 'Wow.' I'm literally riding with some of the world's best riders. It was very humbling.
Let's talk about your support system a little bit. How were mom and dad and mechanic and everybody when you got back to the truck after the consolation race? What was the feeling when you were like, 'Alright, I made it in?'
Finishing Loretta's and getting a top ten at Loretta's this year, that almost tops it, making it in the motos compared to a top ten at Loretta's. Just because I know so many guys that are going out there week in and week out and it's a struggle for everyone to get in these motos. For it to be my first one and to put it in was very exciting. Everyone when I came back was cheering, high fives, hugs. Mom was crying a little bit. Everyone was really happy.
Obviously, this is the last race of the year. Do you have plans for next year? Will we see you at all 12? Too soon to tell, or what's on the schedule now?
Too soon to tell as of now. Kind of just looking at keep riding my dirt bike and having fun with it.
Any plans for supercross, or that's still up in the air?
Somewhat still up in the air. Hopefully I'll race St. Louis Futures. I still need to get my pro points for SX. I think that would be really fun. I got to race Indy last year and didn't get the finish that I had hoped for, but I'm hoping that I can come in at St. Louis and do good.
Congratulations on making it on your first attempt. Anybody you want to give a shout-out to before we let you go?
I got to give a shout-out to my mom and dad. They are by far my biggest supporters. I wouldn't be anywhere without them. They really do help me so much. Travco Motorsports, Brad with Club 57 MX schools. All the dudes over there, Evan, JC. All the boys, Seth. Also want to give a big shout-out to FXR gear, FMF pipes, Hinson clutches, FCTN, Black Diamond MX Graphics, my girlfriend, and everyone else I forgot. Thank you.
---
Main Image Courtesy of Dawson Ryker