Crawfordsville, IN
Ironman
Lucas Oil AMA Pro Motocross Championship
We're once again firing off questions at long-time pro Jason Thomas for some opinions on the final round of the Lucas Oil AMA Pro Motocross Championship.
We finally saw a non-muddy Ironman. What did you think of the track and changes?
Yes, this track almost always gets pounded with rain at some point during the national weekend. That causes deep, soft ruts at minimum, or the full on muddy disaster like in 2015. This year was as close to ideal as we will probably get. Temperatures were in the mid-70s and the dirt was perfect. I liked the track changes, too. The corners were opened up and the sections nearest the finish flowed better than years' past.
I was concerned with the start being a right hander and disallowing use of the rear brake but it didn't seem to be a huge issue, thankfully. Overall, it was a great finale to the series.
The 450 title was wrapped up, yet the racing was incredible. What led to this?
For Ken Roczen, the weather definitely helped. We have seen a direct connection to his results and heat and humidity or lack thereof. With the mild conditions, he was able to push hard in both motos without his ailment derailing his day. For Eli Tomac, he has been on fire anyway. He won the previous round at Budds Creek, securing the 450 title a week early. That surely removed any pressure he would have felt, allowing him to ride free and clear. When the title is hanging in the balance, I believe most riders are always going to hold a few percent of effort back, not taking any unnecessary chances. With that won and done, he was able to go as far into the red as needed without fear of ruining the big picture. Finally, Marvin Musquin was on his game, too, in the first moto. He effectively stalked both Roczen and Tomac's battle, stunning both with a last ditch effort for the moto win. He sat back and watched both of his rivals, learned their lines, and made his move at exactly the right time. Unfortunately, his second moto ended on the first lap of the second moto and now we all wait for news on his apparent leg injury.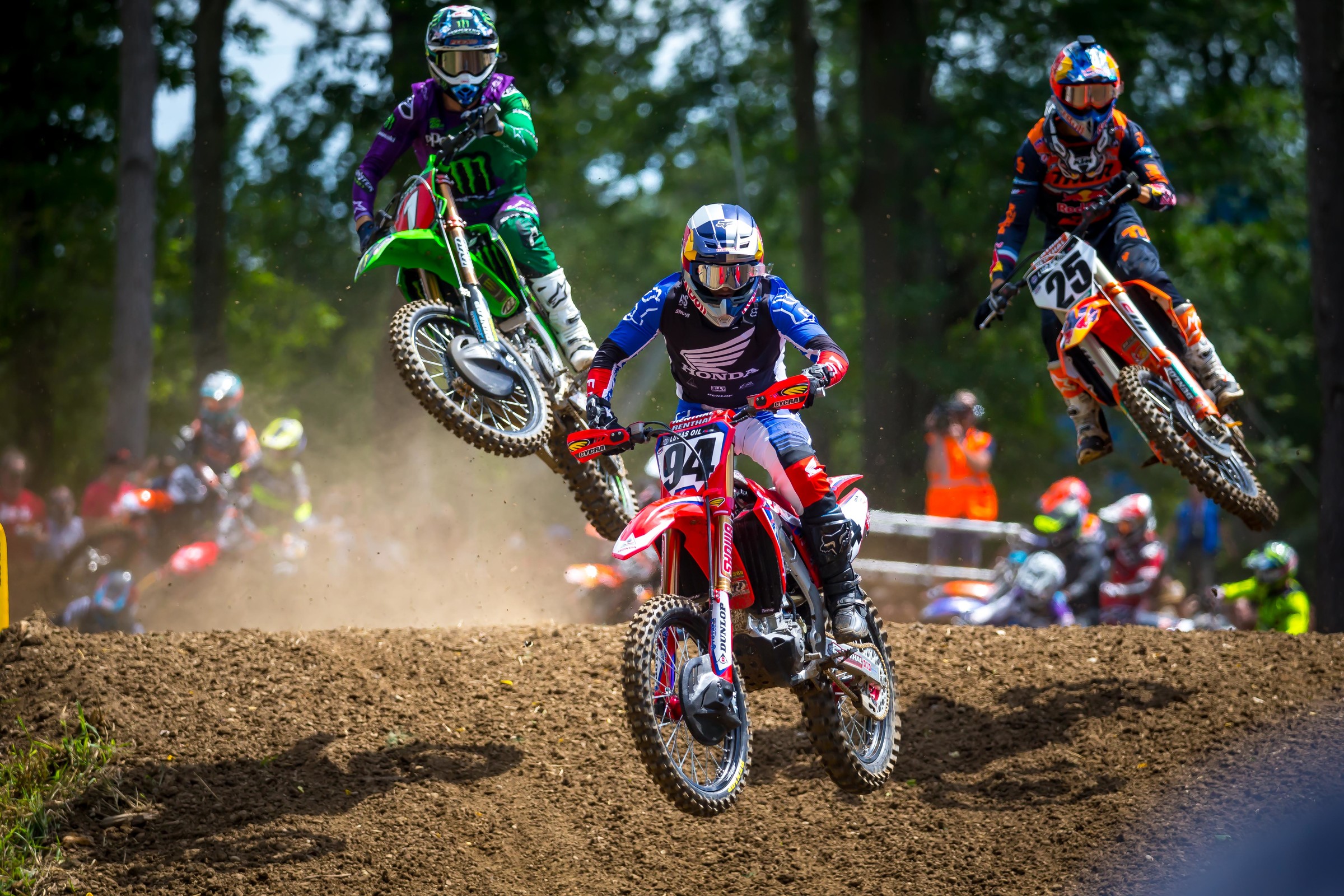 Speaking of that crash, Marvin and training partner Zach Osborne came together, leaving Marvin on the ground and holding his leg. What happened?
As they rounded the first turn, both riders came barreling down into the next left corner. They were both hoping to use the inside line and ran out of room. For Marvin, he made a direct line on the very inside and jumped fairly deep into the line considering his approach angle. Zach, who was just to his right and wanting the same line, let his momentum carry him deeper into the corner, jumping a touch further. I think it was a simple case of both riders wanting the same line and thinking they had the clearance to make it work. Marv jumped a bit deep in hopes of controlling the line but Osborne was already committed to jumping across the corner in a sweeping arc.
I believe Marvin was probably annoyed with Osborne's angle but there was no way for Osborne to know Marvin would push that deep at that sharp of an angle. Once Marvin commits to jumping that straight and Osborne commits to arcing across, they are on a collision course. I really don't see any foul here, just unfortunate circumstances. I have always felt it's nearly impossible to take someone out from the outside line and believe that mantra holds true here. It was a bummer for Marvin, obviously, but hopefully he didn't do any real damage and can prepare for SX 2020.
Justin Cooper was going for the win, passing Dylan Ferrandis in the first moto. He was unable to hold the lead and even was passed by AC92 late in the same moto. With a championship in the balance for Ferrandis, were you surprised by his aggressiveness early and the inability to hold off Cianciarulo?
With a 30-point gap, it would have taken a miracle for Ferrandis to win the title. With that in mind, Justin Cooper is racing to win for himself. Had it been a five-point gap or even 10, maybe you would see a different approach. Everyone knew it would take some sort of DNF from Cianciarulo to change the championship and had that happened, they could have messaged Cooper to back off. As for Cianciarulo passing Cooper late, I am sure that Cooper was doing everything he could to stay in second place. He just didn't have the pace and lost his intensity as he mentioned post-race. With such an unlikely chance of a Ferrandis' miracle, I think Monster Energy/Star Racing Yamaha went about things the right way. Let the chips fall as they may unless the craziest of scenarios unfolds.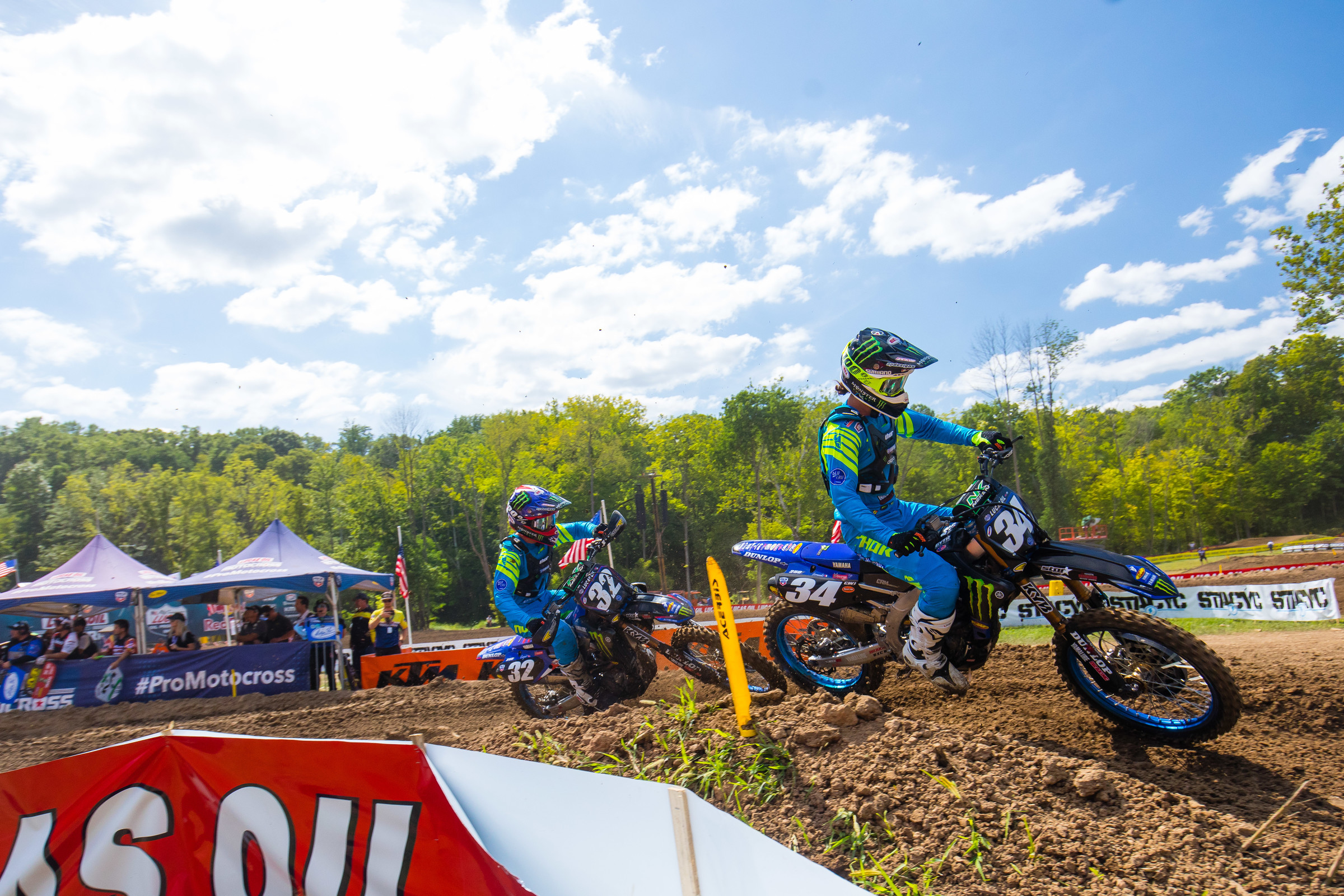 Speaking of Adam, what a journey this season has been. It has been a roller coaster for his entire career, really.
Growing up in Florida, I got to watch Adam race since he was four years old. He was jumping impossible things on a Cobra 50, serving notice that he was the next big thing for years. He won everything at every level and his jump to the pro ranks was anticipated long before he ever lined up in Arlington for his first supercross. Of course, Adam would go out and win his first race and put his projected course on an unrealistic trajectory. A few weeks later, he would suffer a shoulder injury and begin a very tough few years of unmet expectations.
This year was different, though. He looked more poised, more polished. He had speed but he also didn't have as many head scratching races. He still tossed a few races away that ended up being costly but it wasn't the same Adam. Going into the Las Vegas finale, he was on pace to win his first title and rewrite his own legacy. Unfortunately for he and his team, we know how that went. It was almost too much to believe. Adam's highs and lows have been maybe the most extreme on record. Many wondered how such a devastating blow would affect Adam's summer and beyond. Right on cue, he came out with a vengeance, his Vegas pitfall fueling a fire that would last months. His worst moto finish of the season would be afifth, changing his own prewritten narrative. He fought through adversity, overcame penalties, dominated at times, and truly controlled the series from start to finish. It was a heroic performance even without the anguish he suffered in early May. Factoring that in, it was an all time recovery and will forever quiet anyone wondering about his mental fortitude. He said all of the right things leaving Vegas and never wavered as his last summer on a 250 approached. He earned this championship in every sense. Job well done.
Now Adam moves up to join Eli Tomac at Monster Energy Kawasaki. How formidable is this tandem?
Tomac is the alpha dog, coming off of a gaggle of supercross wins and three straight Lucas Oil Pro Motocross Championships. It will be interesting to see how Adam slots in but it should be a smooth transition. Adam was already a Kawasaki guy and always has been. Tomac just finished working alongside Joey Savatgy in his rookie 450 season so it will be more of the same in that regard. Long term, I wonder how this dynamic plays, especially if Cianciarulo can become championship relevant. Most teams opt for a championship contender and then their "solid" top ten guy as the second rider. Adam has a chance to be better than that, possibly giving Kawasaki two riders at the front. Much like Cooper Webb and Musquin at Red Bull KTM, everyone surrounding the riders has to keep their egos in check and understand it's still a team effort. I think Tomac will still be the undisputed #1 over there for 2020, though.
Fantasy killers this weekend?
Fantasy motocross might end up being the death of me. I have a huge problem with riders deciding to quit mid-moto. "My goggle strap was on crooked," "My tire pressure was off by half a pound," "My number plate got scratched by roost," "My chain needed lube," etc. Go back and watch how many times you saw Jeff Stanton or Ricky Carmichael decide to just pull off and head to the pits FOR ANY REASON. Ricky Carmichael pooped his pants at Troy in 2001 and still finished top three in the moto. Some riders today would have probably quit racing altogether if that happened. I understand when there are injuries or the bike simply won't allow a finish, but I see so many other instances where a simple crash causes riders to basically give up. Where is the will to overcome adversity? Life is hard and isn't going to get any easier after racing stops. Fantasy aside, I just wish I saw more fight when things aren't going so well. Maybe this is my "get off my lawn" moment but I just never saw it being "okay" to quit. If the bike is still running and there is still a race to run, keep going! Quitting is a bad habit to form. It gets easier and easier every time you do it. I don't care if it's forfifth place or 25th place, if you keep trying when things are at their worst, you'll always have my respect.
What did you learn in Sweden at the MXGP over the weekend?
First, I had a great time. Sweden in the summer is really something special. The days are long and mild and for a country that has a brutally long, dark winter, everyone is out and about soaking it up. The conditions couldn't have been any better as Thursday and Friday brought rain to the area, soaking the track's hard surface. That slow rain penetrated that hard base and softened it much more than man-made watering could have. It was a great event to visit and I am glad I got the opportunity.
As for the racing itself, the level is extremely high in the MXGP class. There are several riders capable of winning and that's without legend Antonio Cairoli even participating. This is the deepest field I have ever seen in MXGP but for how long? Romain Febvre will be out now with a leg injury and Jeffrey Herlings made his return from a foot injury sustained in Latvia. The pace is so incredibly high that crashes seem almost unavoidable. Newly crowned champion Tim Gajser has had so many big get-offs this season, it's a miracle he avoided injury. The other contenders haven't been so lucky. Tony Cairoli left for the season with a shoulder injury, Herlings has been out for most of the season, Febvre just sustained a big injury yesterday, Glenn Coldenhoff is finally back on form after a big injury in the off-season, and on and on we go. I don't know what to make of that, if anything. The natural reaction is to attribute the crashes and injuries to the incredible pace that MXGP has at the moment. The past several years of MXoN should be an indicator of just how strong the motocross pace is currently in Europe. Our focus on supercross is another subject entirely but there is no denying a fundamental shift in the dominance that the USA had 10-15 years ago. With the injuries they are sustaining, though, how long will that continue?
On the MXoN front, France's team is now in chaos with Febvre's departure. Team Great Britain is in the same boat with injuries to both Ben Watson and Max Anstie. The Dutch are the favorites on paper, with Herlings hoping to be at full strength by then and Coldenhoff's recent emergence. Those two dominated the 2018 event and now Calvin Vlaanderen seems to be finding his legs, too. His race two win yesterday was his first in months, peaking at the right time. I am hopeful for Team USA as we slowly approach a showdown next month, but the Dutch are going to be a handful on home soil. They are firing on all cylinders and don't even have their wunderkind at full power yet. Team USA is going to need to be at their best.