Mechanicsville, MD
Budds Creek
AMA Pro Motocross Championship
Monster Energy Kawasaki's Eli Tomac has done it. He wrote his name into the history books—and he did so one round early. After finishing 1-1 at Budds Creek Motocross Park, and putting the figurative nail in the coffin, the 26-year-old became only the fourth rider in history to complete the three-peat in the premier class of the Lucas Oil AMA Pro Motocross Championship, joining Ricky Carmichael, Tony DiStefano, and Gary Jones.
Tomac added 50 points to his championship total, finishing the day with a total of 476 points on the season through 11 rounds, compared to Red Bull KTM rider Marvin Musquin's 426 and Honda HRC rider Ken Roczen's 421. Since Roczen's gap behind Tomac is 55 points, he is mathematically eliminated from the championship since there are only 50 points available next weekend at the season-finale Ironman National. While Musquin's gap behind Tomac is 50 points, it is possible for him to tie Tomac in points next week (it would be highlight unlikely because Musquin would have to go 1-1 AND Tomac would have to finish worse than 20th in both motos to not score a single point). But since Tomac has five overall wins on the season to Musquin's two (three would be his maximum if he wins next week, hypothetically speaking), Tomac would win the tie-breaker—so that eliminates Musquin from the championship as well.
As the #1 passed by the mechanics area with one turn to go in the second moto, Tomac got the message "3 TIME CHAMP!!!" on his pit board from mechanic Brian Kranz.
"I didn't know until the last lap, I still thought I needed one more spot on someone...gosh, what a way to finish off, 1-1," Tomac said on the podium afterwards.
"To get it done today and a race early is amazing...to go three championships in a row is pretty special and something I am proud of," he said later. "Each championship has been special in its own right, but man am I happy we got it done today. I can't thank the entire Monster Energy Kawasaki crew and the entire Kawasaki motorcycle corporation enough for all of the hard work and support all season long."
In the post-race press conference, Tomac was asked how he compares his titles to one another.
"It's tough to beat the first one, but they're always different and unique in their own way," he responded. "Every one is different. Last year I won more races. This year, this is the fifth overall, this year was all about the consistency and I never had that really bad result. Overall this is solid."
As he rode back to the team truck in the pits, the celebration revs coming from Tomac's bike could be heard over the audio in the 250 Class post-race press conference but for the most part, the celebrations were rather tamed. Tomac's goal was to clinch the title before heading to Crawfordsville for the season-finale next week but knew with a 40-point lead entering the day that it wouldn't be easy.
"I had no idea," he said on expecting to clinch the title early. "I knew the 1-1 and a couple things had to fall the right way. It just happened. Most of the time it doesn't happen. It was good."
Things just worked out in Tomac's way. Tomac took care of business in both motos, but in the second moto, Rockstar Energy Husqvarna's Jason Anderson passed Roczen for second as the Honda HRC rider started to struggle towards the halfway mark of the moto. Musquin passed Roczen to take over third place in the second moto, changing the landscape of the championship to Tomac's favor. Shortly after Musquin made his pass on Roczen, so did Zach Osborne and Justin Barcia. Roczen finished 2-7 to earn 36 points on the day and Musquin's 3-3 finishes earned him 40 points on the day, allowing Tomac to gain the ten-point advantage he needed to clinch the title.
Musquin has now finished second in the last two 450 Class championships (2018 and 2017) and third in the 2016 championship. Next week, he will battle Roczen for the second spot this year.
"It's just a tough day physically…it's definitely a tough track but we're going to keep fighting to try and get that second place," Musquin said.
Anderson, with 4-2 moto finishes, earned his first overall podium since finishing second overall in the RedBud National.
"For me, I've been fourth and fifth for the past ten motos," Anderson said, "so it was nice to get a good result and be back on the podium."
"I'm just trying to build my base heading into the next supercross season…to be on the podium here at Budds Creek, one of my favorite tracks, it feels great," he said during the TV interview following the second moto.
Unlike Anderson, the 2018 Monster Energy AMA 450SX Supercross Champion, Musquin and Tomac have both yet to win a premier class supercross title. I asked Tomac if this helped motivate him for the 2020 supercross championship.
"That's like the ultimate," he said. "That's something I would love to have. Every guy here wants to have it. It's a different goal. That's something we haven't accomplished yet. We get a little bit of time off. But yeah, always been hungry for that supercross title."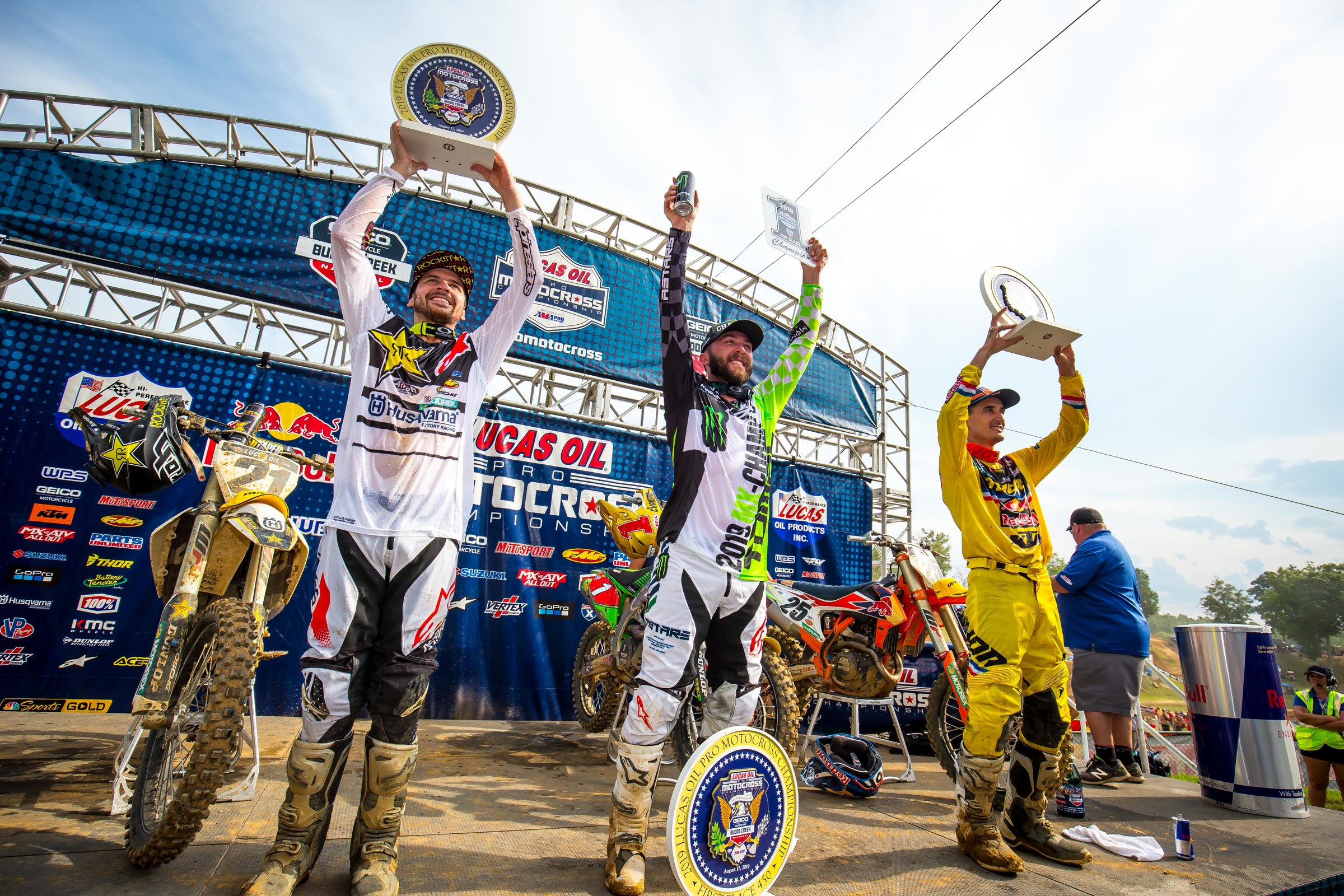 The Budds Creek National had a weird feel to it. Something just felt off about the day. In the 450 Class, when it seemed unlikely it would happen, Tomac did clinch the title. Who took advantage of the "off day" in the 250 Class? None other than Troy Lee Designs/Red Bull KTM's Shane McElrath, who had himself quite the day.
The 25-year-old has had his ups and downs this year, as he's struggled through injuries and problems getting comfortable on the new bike but he's continued to push through the hardships.
"It's conformation," McElrath said following the first moto. "We've still been working hard, regardless of our situation…It's a good day so far."
Prior to the start of the day, McElrath had one career overall (at the 2018 Muddy Creek National, where he recorded 3-2 moto finishes) and one career moto win (the second moto at the 2018 Washougal National). McElrath started up front at the Fox Raceway National in May when he ripped the second moto holeshot from the farthest outside gate, but he faded quickly before finishing the moto in tenth. However, when the gate dropped in both motos at the Budds Creek National, McElrath put himself in a good position at the start and kept a solid pace up front, running away from the competition.
"Good question," he said in response to the question 'What happened today?' "My day started off a little rough. We slept in an extra hour. My alarm didn't go off. We didn't leave the hotel until about 6:50. It was an off day in practice. I was struggling with the track."
While McElrath hasn't seen the results he's wanted to this point in the championship, he has been putting in the work and doing what he can to be ready for race day. When he had the opportunity this weekend to showcase that, he simply took care of business. Come the second moto, McElrath knew the hay was in the barn and realized a second moto and overall win were both in reach.
"Then we went into the second moto and it was kind of go time," he said. "It was like, this is right here in front of me. I had a really good start and I had to make it happen the first couple laps."
While we saw riders impacted by the brutal weather conditions again this weekend (the real feel with humidity reaching almost 100 degrees), McElrath said he's used to training in this type of weather and how much he could push himself.
"I felt really solid the second moto," McElrath said. "I felt looser on the bike. I just felt fluid. I think just with the heat and the humidity, I kind of know what my body is going to do out there. So in the second moto it was nice knowing where I was and what I had in front of me going into the second moto."
He went 1-1 and ran away with both motos, leading the last 13 laps of the first moto and the last 15 laps (of 16) of the second moto. He cruised to moto wins by 8.766 and 7.731 seconds, respectively, while the battels behind him were intense but he wasn't getting much heat from behind.
While 231 points down in the championship and out of the hunt entering the weekend, this is just what McElrath needed—an "off" weekend where things just go right. After finishing fifth in the 250 Class points standings in the 2018 Lucas Oil AMA Pro Motocross Championship, he had a tough go in Monster Energy AMA Supercross and ups and downs in the 2019 Lucas Oil AMA Pro Motocross Championship, a strong weekend at the end of the season might do wonders for him. Finishing the season with a bang could motivate McElrath this off-season to become a championship contender week in and out next year.
The other "off" thing about the day was the battle between Monster Energy/Pro Circuit Kawasaki's Adam Cianciarulo and Monster Energy/Yamalube/Star Racing Yamaha's Dylan Ferrandis. The two battled yet again but this time it for spots outside of the top five, not for first place. In the second moto, Ferrandis was right on Cianciarulo's tailpipe before making a block-pass in a turn to take over sixth place. The pass wasn't dirty as it was a rather slow block pass and neither rider went down, but Cianciarulo was asked about it in the post-race press conference.
"Even when it happened, I wasn't really mad or anything," Cianciarulo said. "At this point in the championship, it wasn't a super fast part of the track where he was going to injure me or him or something like that. I thought it was a fine move. It's what happens."
While a good start for Ferrandis is a rather rare sighting—although he has improved them significantly recently—seeing Cianciarulo not leading the pack early on is a little odd. Usually he's able to get himself into the lead or right behind the leader early on. This weekend it took him a little longer than usual but he still managed to finish second in the first moto. He was a little deeper in the pack at the start of the second moto, as he came through the first lap in tenth. After gaining two points on Ferrandis, who went 4-4 for fourth overall, Cianciarulo said he's still focusing on doing his best.
"My mentality is just to try to do the best I can every moto," he said. "Just try to not think too far into the future. I try to do that. Like I said last week, I try to do that with everything in my life. Just try to live for the moment and do the best I can. It's nice to have a little cushion, for sure. I think it takes some of the pressure off me, but at the same time in the end I love Indiana. I think I'm capable of winning there. So I'd like to go out and put in a good performance."
Justin Cooper recorded moto finishes of 6-2 for a quiet third overall. He, like several of the other riders who are typically up front at the start, struggled getting up to the front early on.
Coming into the championship, Cooper was expected to be a frontrunner but has fell off the pace in the last several weeks. Although he didn't get the win, he said this weekend he felt back to that level today.
"I felt more like myself today, but it was hard to pass in that first moto," Cooper said. "I got really stuck behind, I think it was Martin [Davalos] in the first moto. I was just eating a lot of roost. The track was a little bit hard to pass. No excuses. I should have tried to work a little bit harder to make those passes, but I kind of just put myself in a hole and finished sixth. Didn't really line me up for anything good. I got off to a decent start the second one and just put my head down. I think A-Mart and Shane were running a really good pace. So I was kind of surprised by it but I put my head down.
"It was pretty hot out there and humid," he continued. "The track was definitely pretty rough. Just put my head down and did the best I could and that was second in that moto. But hats off to Shane. I tried to put it in the lead, but his pace was pretty strong and consistent. Definitely got away from me. All in all, a good day. I just need to put two motos together."
His teammate Ferrandis was really struggling with his start as he spun his tire when the gate dropped and was around 20th place about halfway through the first lap. He managed to come through the finish line of the first official lap in 16th.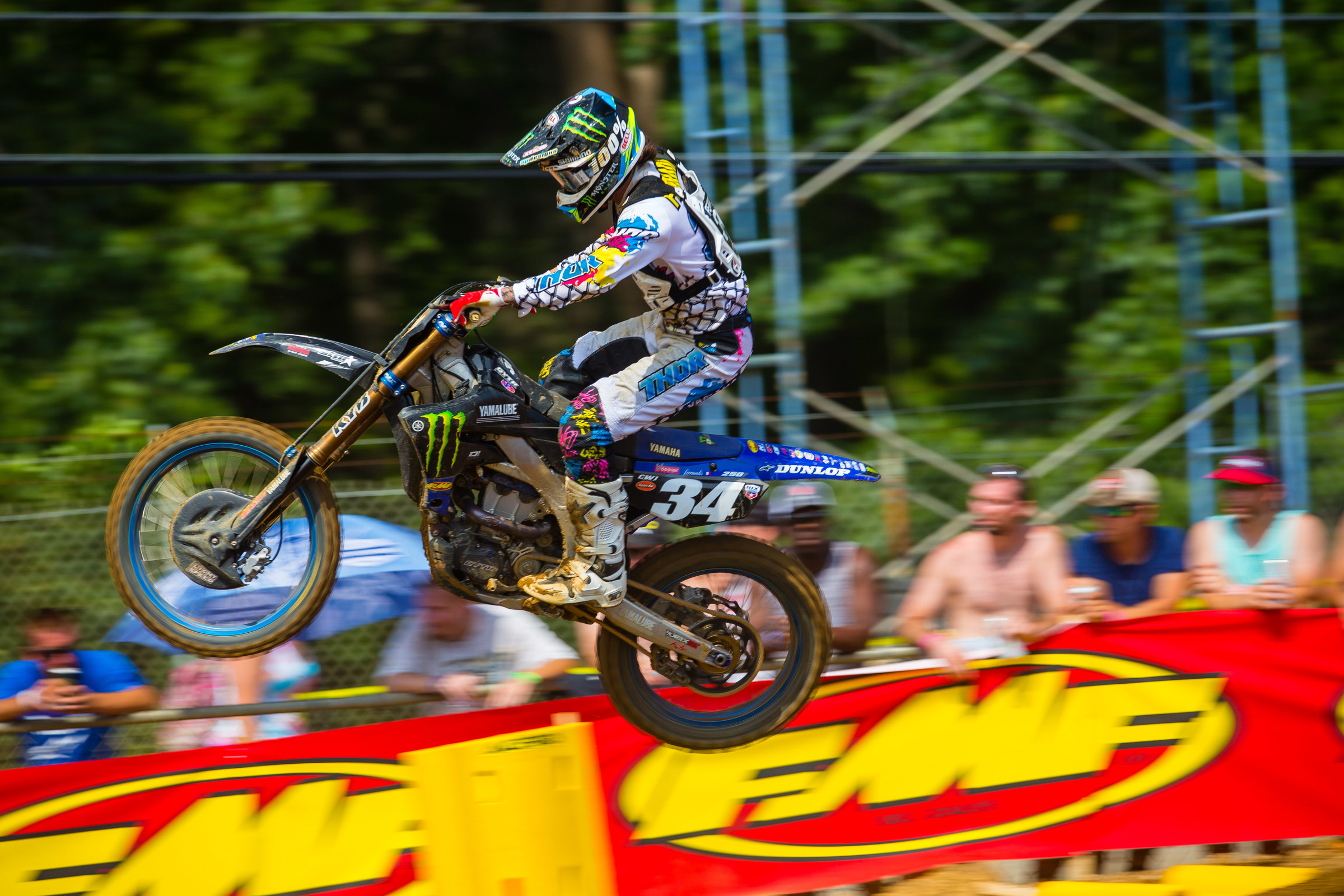 "The bad start I had in moto one really affected me," Ferrandis said. "Then in the second moto, I was in the wrong place at the wrong time when I had two riders crash in front of me. It was not really the day I expected."
Alex Martin finished the second moto in third but an 18th in the first moto ruined his chances at the overall podium. RJ Hampshire put in a great qualifying session in the morning and worked his way through the pack to a third-place finish in the first moto. In the second moto, a crash early on set him back to 36th on the first lap and he worked his way to an impressive eighth-place finish. Hampshire finished fifth overall. Aside from McElrath and a few others here and there, it seemed a lot of the class had one good moto and one bad moto. Chase Sexton finished 12-6 (seventh overall), Alex Martin's 18-3 (ninth overall), Michael Mosiman's 5-14 (tenth overall), Brandon Hartranft finished 15-7 (11th overall), Martin Davalos' 9-38/DNF (16th overall) are a few of the wild moto finishes on the weekend.
With one round remaining, will we see consistency or ciaos in the class next week? Either way, we'll crown a champion in the 250 Class next weekend at Ironman Raceway. Will it be Adam Cianciarulo or Dylan Ferrandis?