New Berlin, NY
Unadilla
Lucas Oil AMA Pro Motocross Championship
Yeah man, there's only four motos left in the Lucas Oil AMA Pro Motocross Championships. Seriously, go look it up for yourself. Where did the time go?
It was a beautiful day in New York to watch a motorcycle race for sure and the track was pretty soft from the rain the night before the race. It sure got ruttier than I ever thought it would. There was a tad bit of rain in the a.m. but then the sun came out and it was great.
Before I get into this too much, very sad news from Friday night when privateer Jonathan Mayzak was struck by a car crossing the highway that apparently had its headlights off at about 9 p.m. Reports say the driver was impaired. I didn't know Jonathan but he had raced up in Canada, and he had raced Lucas Oil Pro Motocross earlier this year (making the motos which means he was a bad ass) and it's so sad. Just 20 years old. RIP to my man Mayzak.
Let's take a look at the results shall we?
250MX Results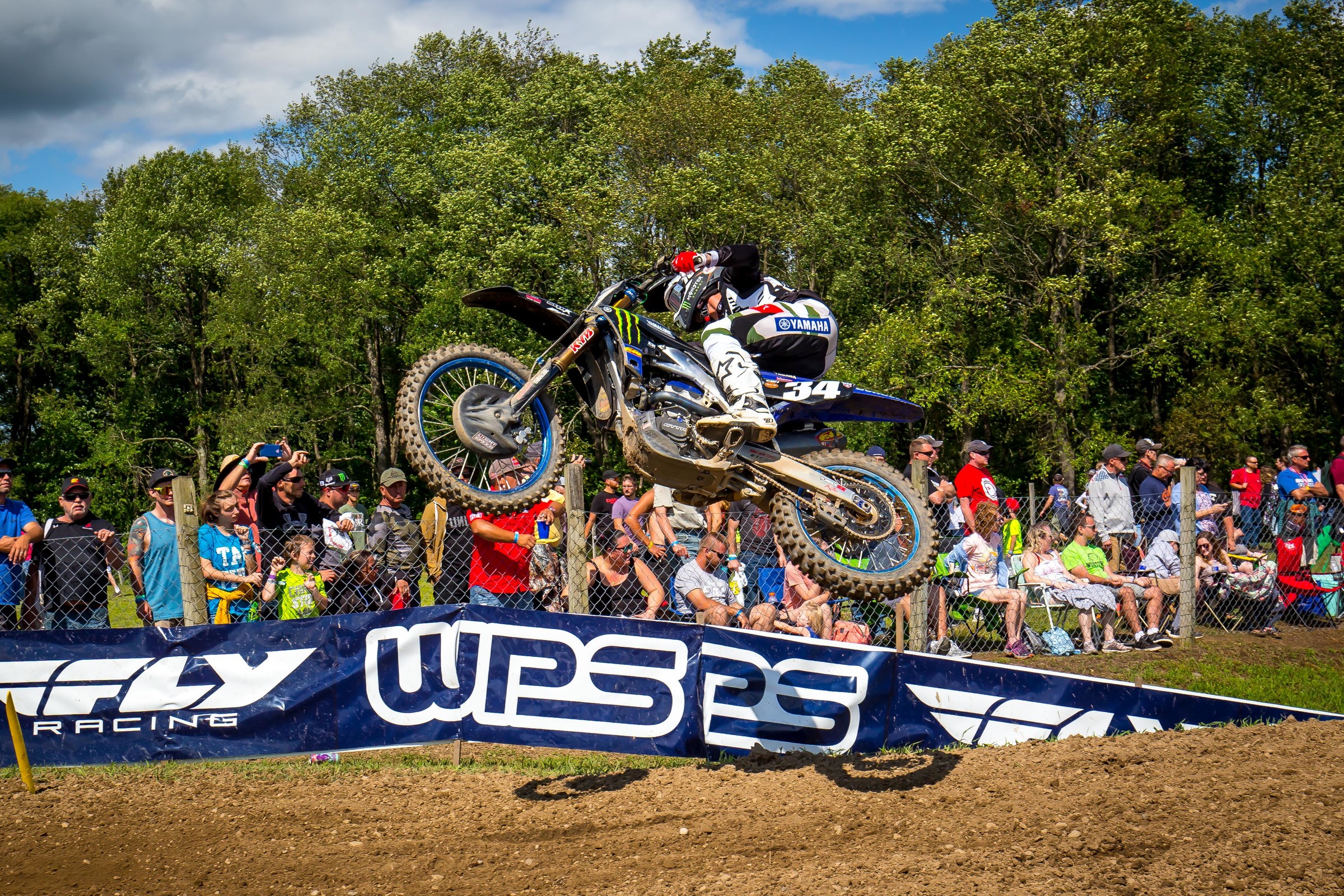 1st | 2-1 | 34 Dylan Ferrandis | France | YAM YZ 250F
Dylan wasn't that stoked about his overall win afterward because he couldn't find a way to get by Adam Cianciarulo in moto one to get those precious points. Man, the second moto both riders were so close to each other. AC made a couple mistakes and got held up by a lapper, but I think he needed a mistake by the 34 and Dylan didn't give him one. Pushing the issue on that track was not going to be the smart move. Does this thing get dirty before the end? I don't think so but stay tuned.
2nd | 1-2 | 92 Adam Cianciarulo | Clermont, FL | KAW KX 250
AC did what he needed to do and just matched Ferrandis in the points. Right now he and Dylan seem to be elevating their game over everyone else. I mean, AC's got one fifth place moto all year long and every other time he's made the podium (although he was docked two spots at Redbud after getting third) so maybe he's just a lock podium guy anyway but he seems to be getting even better with just four motos left.
3rd | 3-3 | 23 Chase Sexton | La Moille, IL | HON CRF250R
Sexton was stoked after his day and he should be. After his Florida overheating deal, he hasn't been the same. This race he was close to the top two dudes and that's a win for him after all he's been through. Going into the off-season with some podiums and challenging for wins (maybe) will put him on the right track. I hear whispers that he might ride 450MX next year for the factory guys but I don't think he's there yet.
4th | 4-4 | 32 Justin Cooper | Cold Spring Harbor, NY | YAM YZ 250F
Cooper holeshot moto one, and in front of his friends and family you'd think he'd be able to hold on for a podium spot at least. But he crashed and that was it. Second moto he was good but had nothing for the top three guys. There's no doubt that Cooper, while still very good, doesn't have the flash he did earlier this year and that's just the case of a long year catching up to the kid. Let's hope he gets the rest he needs before the MXoN.
5th | 5-6 | 39 Colt Nichols | Muskogee, OK | YAM YZ 250F
I thought Colt's first moto was great. He went from sixteenth to fifth and he rode his nuts off doing that. He should be happy with his day although he was a ways off the leaders. Funny to talk to him after the race and he mentioned how back a couple of years ago he never finished one time inside the top ten and now a 5-6 day is just "eeehhh" for him.
6th | 8-5 | 12 Shane McElrath | Canton, NC | KTM 250 SX-F FE
Talking to Shane at the end of the day and you could sense how frustrating the year has been for him. This is a dude that came into the year thinking he could win both championships and why not? Instead it's been some injuries, some unhappiness with the bike set-up, some uninspired rides by Shane, and he's going to Monster Energy/Star Racing/Yamaha next year for a fresh start. There's no doubt he's counting these last four motos down.
7th | 7-10 | 26 Alex Martin | Millville, MN | SUZ RMZ 250
Maybe the fact that "we" were eliminated from the title at Washougal caused "our" so-so day at Unadilla, I'm not sure. I went over to talk to Troll Train in the morning after first practice to find out what he thought, etc, but we just ended up making fun of Filthy Phil for the whole ten minutes and I never actually asked him anything about himself.
8th | 12-7 | 31 RJ Hampshire | Hudson, FL | HON CRF250R
I had to text RJ about his ride at Unadilla. No, not the seventh place in moto two, that's not that impressive for him. No, in moto one he was dead, dead last from two first lap crashes and rode his nuts off to get twelfth. It wasn't easy for sure but he charged hard all moto long, ate rocks, and got a pretty decent result. Stuff like that is always impressive to see.
9th | 13-9 | 61 Garrett Marchbanks | Coalville, UT | KAW KX 250
I get a sense in talking to Mitch Payton over there that he's not stoked on Garrett's outdoor season, but I could be wrong. To me, the kid missed all the nationals after High Point last year so he's heading to these tracks for the first time. Is he killing it? No, but I think he's been good, all things considered. There are some other teams out there with kids in their first or second year that would love to have Marchbanks' moto scores.
10th | 11-13 | 936 Ty Masterpool | Paradise, TX | YAM YZ 250F
Masterpool has had less flash as the Nationals roll on but he's still been pretty good. Quite day for Ty out there at 'Dilla.
11th | 15-11 | 52 Jordan Bailey | Orlando, FL | HQV FC250
Bailey's second moto was pretty good but he lost a few spots later in the moto, the team press release said he slid out. Hey man, it's something to build on week to week.
12th | 6-38 | 36 Michael Mosiman | Sebastopol, CA | HQV FC250
Pretty good crash for Mosiman in moto two. It looked like it really hurt.
13th | 21-8 |496 Jett Lawrence | Australia | HON CRF250R
Lawrence, who's probably not going to turn pro immediately and is riding these Nationals under the new amateur rule, had the best day out of the all the amateurs coming out of the ranch. He was fast in the first moto also but suffered some crashes. Second moto was way legit, and moved up into that eighth spot. Jett is just sixteen so there's no rush for him to turn pro…unless he keeps killing it and gets into the top five soon?
14th | 18-12 | 73 Martin Davalos | Ecuador | KAW KX 250
MARTY IS BACK! Carpal Tunnel surgery seems to have helped him out and in his first moto he crashed a couple of times and worked hard to get up there. Second moto was better for sure. It's weird that he got fixed up when he theoretically has three races left in his career. He says he's not racing without a good 450SX ride, which he doesn't have, and all the spots are full but hey, he's trying to go out with a bang. I'd put him on a MCR Honda for 450SX next year if I was Mike Genova.
15th | 14-16 | 233 Derek Drake | San Luis Obispo, CA | KTM 250 SX-F FE
Drake's trainer is Randy Lawrence. I was out mountain biking with Damon Bradshaw yesterday and he was telling me just how gnarly RL was on a bicycle back in the day when he was Doug Dubach's mechanic. It got me thinking how Randy has had such a memorable life, including time as a pro mechanic, trainer, downhill mountain biker, and whatever else he was doing off the track when he was MC's mechanic.
16th | 9-37 | 66 Mitchell Oldenburg | Staples, MN | YAM YZ 250F
Oldenburg had a bike issue that held him back in moto two. Probably Wil Hahn's fault.
17th | 17-14 | 55 Kyle Peters | Greensboro, NC | SUZ RMZ 250
[Note from Weege: Peters is buddies with Marshal Weltin and so they hooked up in a crazy battle in moto two. I talked to Weltin and it sounds like they were both really going for it! Peters came out on top. Beating your buddy always provides motivation!]
18th | 10-39 | 45 Brandon Hartranft | Brick, NJ | YAM YZ 250F
Hartranft got scraped up bad in a crash in moto two and that sucks for him because he had strung together some good motos and this was his hometown race. Afterward he hit me up to ask if his DNF really hurt his Pulpmx fantasy players.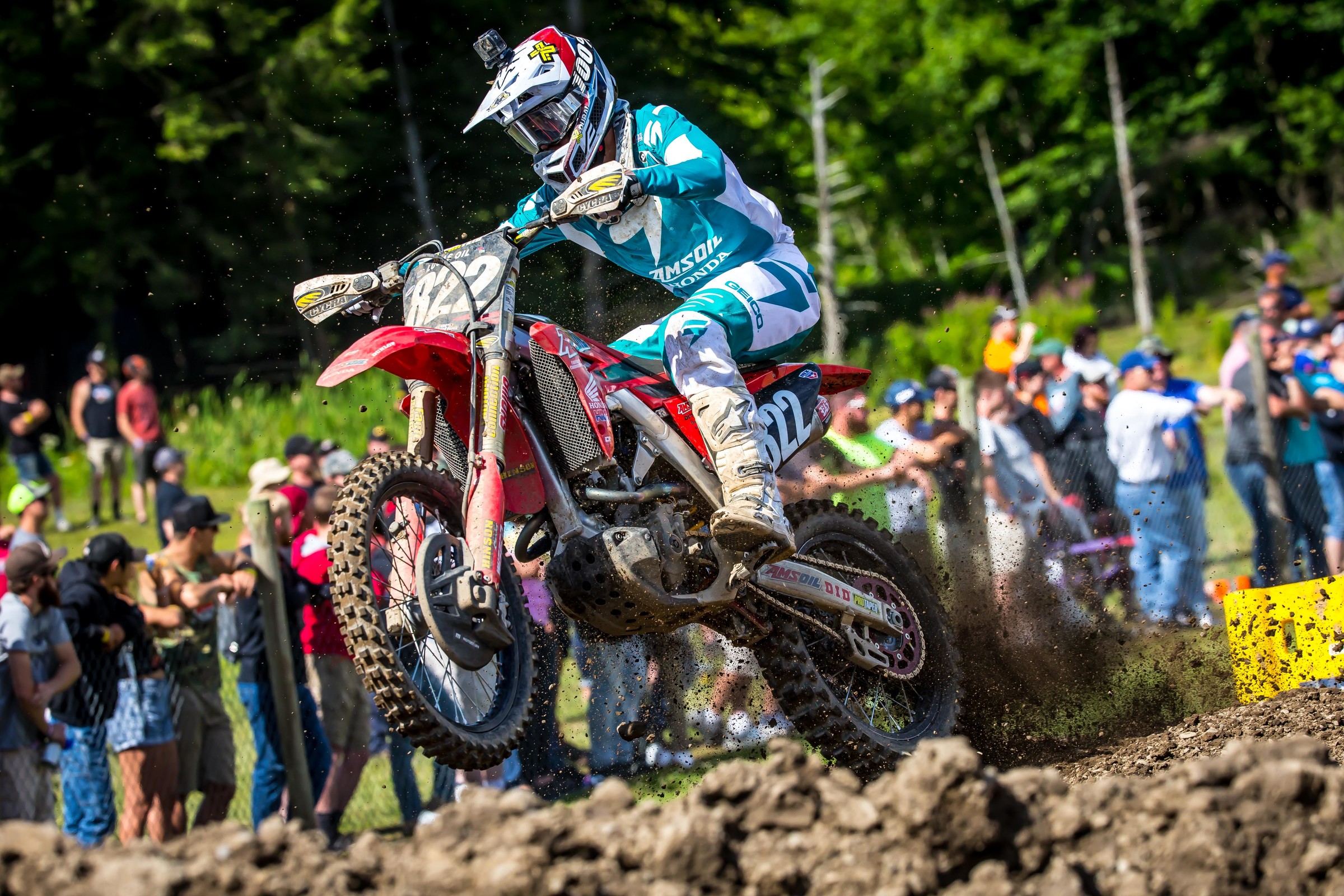 19th | 19-15 | 285 Marshal Weltin | Ubly, MI | HQV FC250
Weltin's been up in Canada racing and came down for his first National of the year as a privateer. I'd say two motos inside the top twenty is more than respectable right?
20th | 16-20 | 822 Carson Mumford | Simi Valley, CA | HON CRF250R
I like Mumford. He came into the race as, in my opinion, the least-heralded rookie out of Lawrence, Jalek Swoll and Jo Shimoda, and almost performed the best with two steady rides. Yeah, he looked tired out there in moto two but that's ok, he'll figure it out. (He told Weege he had literally done one 30-minute moto ever before this race). I don't think he'll turn pro, he's just using the new "amateurs can race pro Nationals for a bit" rule (which I don't like) but this was a good learning experience I'm sure.
450MX Results
1st | 1-1 | 94 Ken Roczen | Germany | HON CRF450R WE
Yeah, Roczen had one of those days that you dream about as a rider. We had Bradshaw in-studio this past Monday and he related what it was like as a rider to know that you're the best dude in the world on a dirt bike. Roczen was THREE seconds faster in qualifying, took off in moto one and then in moto two didn't even care that he started fifth or sixth. This thing was never in doubt and it was an awesome performance by Roczen. It was vintage Roczen, really. Actually it was 2016 RCH Suzuki Roczen. Amazing ride, great day, and Roczen made a comment about having this illness thing figured out a bit last race. What if he can get back to his old level? TOMAC VERSUS ROCZEN!!! GIVE IT TO US EVERY WEEK.
2nd | 2-2 | 25 Marvin Musquin | France | KTM 450 SX-F FE
Marvin rode very well at Unadilla, and like most days he would've won. But not on this day. Oh no, this day was all Ken Roczen, all day long. So if you're Marv, you tip your visor and move onto Budds because not even Jesus was beating Kenny at Unadilla.
3rd | 4-4 | 16 Zachary Osborne | Abingdon, VA | HQV FC450 FE
Zacho will take a 4-4 for third all day long. He and Tomac's second moto battle was intense for sure. Osborne was selected to Team USA for the MXoN and good for him. He's all in on that race and will rise to the occasion for sure.
4th | 7-3 | 1 Eli Tomac | Cortez, CO | KAW KX450
Tomac told Michael Antonovich after the day that in the first moto he dealt with arm pump. I mean, I don't doubt him but his slide from first to seventh was more than just arm pump. I have to wonder how much leading, then having Roczen blow by him and gap him immediately, affects his mind. You're not getting arm pump that early in the race. Most guys would just give the race to Kenny and take an easy second or maybe third (Marv was good), but with Eli, I have to think he gets in his head at the thought of anyone passing him and leaving him. Like, how could anyone be faster than him- a guy who's crushed so many races? I don't know bro, this is the latest theory that I have about Eli. I think it's theory #487 so far for his career. Hey, he's still going to clinch his third 450MX title either next week or after the first moto at Indiana.
5th | 5-5 | 21 Jason Anderson | Rio Rancho, NM | HQV FC450 FE
A steady day for Anderson out there. He didn't have any flashy moments but worked ahead in both motos and logged some consistent scores.
6th | 3-10 | 51 Justin Barcia | Greenville, FL | YAM YZ 450F
Good to see Barcia back in moto one as he worked up to grab a podium. That had to be a relief for him and the team. He rode great! Second moto he crashed in the same spot as last year and then did the best he could. When Dean Wilson snuck up on him though it was ON. These two have a long history of trying to break each others legs. We need to sell tickets to a Wilson/Barcia death race as an intermission deal, give all the money to Road 2 Recovery, and also cover both of their medical bills.
7th | 6-6 | 17 Joseph Savatgy | Tallahassee, FL | KAW KX450
Not quite as explosive as his ride at Washougal but it looks like Joey's turned the corner on his season. He's put four straight motos together and showed some speed in the process. With it looking like Honda's going to put Justin Brayton in the factory Honda truck for 450SX next year, I have to think we'll see Savatgy at JGRMX/Yoshimura/Suzuki Factory Racing for next year and beyond.
8th | 9-7 | 29 Benny Bloss | Oak Grove, MO | KTM 450 SX-F FE
Benny says Unadilla is his favorite track on the circuit and it certainly looked like it as he came from way, way back in moto one to a nice ride inside the top ten. His speed was impressive as I saw him just going around the outside of some dudes that are pretty good. Second moto saw a better start and a better finish for him. He was very good this weekend.
9th |10-9 | 19 Justin Bogle | Cushing, OK | KTM 450 SX-F FE
Bogle almost had the holeshot in moto one, or at least I thought he had it but I guess the line wasn't close to the first turn or something? I'm not sure but it was a great start to the day for him.
10th | 8-11 | 15 Dean Wilson | United Kingdom | HQV FC450 FE
Dean admitted after the race (I didn't know this) that his shoulder is still not where it needs to be for him to ride at the level he wants to in motocross. So he seemed pretty happy with his day, all things considered. Again, the Wilson/Barcia battle in moto two was great.
11th | 12-8 | 101 Fredrik Noren | Sweden | SUZ RMZ 450
Quiet day for Fast Freddie, who's ridden well for the JGRMX/Yoshimura/Suzuki Factory Racing guys (so well I wouldn't be shocked if the team splits he and Chad Reed's spot for 2020, Reed races supercross and Freddie outdoors) 450MX), but isn't it weird that his best day with the team came in his first race on the weirdest terrain (Southwick)? I don't know, these are things I think about.
12th | 11-12 | 37 Kyle Cunningham | Willow Park, TX | HON CRF450R
I'll be honest…I barely noticed Kyle this weekend but him coming out and finishing as the top privateer and beating guys like Henry Miller, John Short (both who have been killing it lately) goes to show you his talent when everything comes together. He can just show up without as much time on the bike and grab the title of best privateer on the day.
13th | 13-14 | 49 Henry Miller | Rochester, MN | KTM 450 SX-F
Generally speaking, Miller, Short, and Ben LaMay are all the same speed. Sometimes one of them kills it out there but usually they find each other at some point. If you could take Miller's MX skills with Short's endurance with LaMay's SX skills, you would have a great factory rider.
14th | 15-13 | 63 John Short | Pilot Point, TX | HON CRF450R
See above.
15th | 16-17 | 41 Ben LaMay | Wasilla, AK | HON CRF450R
See above.
16th | 14-19 | 700 James Weeks | Punta Gorda, FL | YAM YZ 450F
Weeks is underrated. Go ask your buddy who follows the sport to tell you three things about number 700 out there on the Yamaha and I bet he couldn't.
17th | 18-16 | 56 Lorenzo Locurcio | Venezuela | KAW KX450
I was paying close attention to Lorenzo this weekend because I may or may not have picked him in PulpMX Fantasy. He needed to get fifteenth or better in either moto to get double points so let's just say that when he got by LaMay late in moto two, I was really hoping for terrible things to happen to Bowers.
18th | 39-15 | 43 Tyler Bowers | Danville, KY | KAW KX450
Bowers had a bike issue in moto one and in the second moto he moved up a little bit and got by some guys that had been beating him lately so that's good. I said it before and I'll say it again, Bowers deserves some props for grinding it out as a total privateer out there. Eating dirt every weekend while he does the Nationals for the first time in, like, forever.
19th | 17-21 | 119 Isaac Teasdale | Robbinsville, NC | SUZ RMZ 450
20th | 31-18 | 7 Aaron Plessinger | Hamilton, OH | YAM YZ 450F
Oh man, AP's coming back from injury and trying to work on his speed but he's had a hell of a time keeping his bike running at the last two Nationals. He was inside the top ten in moto one when his Yamaha decided that was it. Second moto, with last gate pick, he got bad start and honestly didn't look like he really wanted to be out there. He's got to be a bit frustrated with everything right about now. Hey Aaron, Crawfordsville is coming up!
A few other news and notes:
Shout out to privateer Justin Winter who set the eleventh-fastest time in qualifying. The motos didn't work out so well but hey man, eleventh best is pretty cool. Always weird when you see a guy set a time like that and you realize that there's so much more to being a pro motocrosser than just how fast you can go in one lap, but that's still impressive.
Cade Clason was back! The privateer was suspended by WADA in late supercross 2017 for an issue with his TUE (Therapeutic Use Exemption) and since then he'd been up in Canada racing in the summer and working for FXR in the winter. I don't have enough time to get into his whole deal and what a joke it is with the FIM, but he's back and he raced his first USA race since being suspended. It had to be weird for him out there and he admitted being a bit nervous. He didn't finish in the points but he was close. Welcome back Cade!
Nick Gaines had a strong ride in the second moto and has generally been the top privateer in the 250MX class each week. Nick's been hurt a bunch, he's had some rides with teams here and there, but this outdoor season, he's been pretty solid. He looks to be in shape as well. Privateer life in the 250MX class ain't easy.
I wrote about Travis Preston, ex-factory rider turned Yamaha R&D man, helping out the factory guys with trying to get the Yamaha YZ450's working better. By the way, there's NO problem with the YZ250F's in case you're wondering. Anyway, I spoke with Barcia after the race to get a little more insight on what TP is helping with and here's what he told me:
Matthes: I talked to Travis Preston, buddy of mine, and he told me he's been helping a little bit with some stuff. What has he been helping you with, do you think?
Barcia: Yeah, huge shout out to Travis and the boys at the test department. We were just trying so much stuff and I think we were just kind of lost. I know what I want, but we weren't able to really figure it out. TP and our other test guy went to Washougal after the race and rode my bike, rode the new bike, did some testing, and got us a base setting, I would say. Then I came to California and rode it and progressed from there a bit. So I give that first moto to TP for sure.
One of the things he told me was he's not sure if you and Aaron, you know what you want but maybe you're not using the right words to tell the guys.
Yeah. That was the pretty cool thing after Washougal. They were there for the race and we had a meeting upstairs and TP was there. He understood what I was saying. I think the team does as well sometimes, but obviously riders… And I'm not the best tester in the world, by any means. It was good to have TP there and kind of talk moto lingo as riders. It was really cool because the things I said about the bike that I've been really struggling with, he felt those things at Washougal on Sunday. So at least I didn't feel like a complete idiot, making up things. So it was cool that he felt that and they were able to tackle those little issues. Are we fully 100 percent there? Probably not, but we're going to start on a new bike here soon and supercross is next.
Thanks for reading everyone, good times in New York and we'll see you same time, same place next week! Email matthes@racerxonline.com if you want to chat about this race or anything else.