I hate the alarm clock. I am not an early riser by nature, and even the softest, most soothing of tones always has a jarring effect as it violently and unapologetically rips me from serene, restorative slumber. But today was different. The alarm's blaring, 4 a.m. eruption came as a welcome jolt, signaling the time had come to leave Chico, California, and head to Boise, Idaho, for Fly Racing's Summer Camp.
So how do you get in on this summer camp, and what is it? Technically, it's a gear launch, but there's so much other cool stuff that goes on at the annual gathering a broader name was needed. I actually don't know if that last part is true, but let's just run with it. What I do know is, Fly Racing absolutely crushed their yearly gear launch, again. There's some motivation to show just how cool Fly's home in Boise really is, since it's outside the Southern California base of so many big industry brands.
The fun started Tuesday night in downtown Boise, where the folks from Fly had the latest gear on display, dinner and drinks, plus Weston Peick, Andrew Short, and Damon Bradshaw were on hand mingling. It was cool talking to Peick about all the different forms of insurance racers should have, and chatting with Short about racing a high-tech motorcycle through Third World nations. I didn't talk to Bradshaw—the dude is still scary.
After this photo was taken someone accidentally cleaned Andrew Short out as he was standing next to the track taking pictures. Don't worry, the biggest casualty were his dirty pants.

Simon Cudby
There were also gigantic slides to go down, because, you know, we motocrossers are all really just children in adult bodies and Fly even gave us all throwing axes. I got a few weird looks carrying the weapon through the streets of Boise as I walked back to my hotel (and even weirder looks on the elevator), but it was totally worth it. Since getting back home I've had so much fun throwing it in the back yard I've nearly chopped down my once-pristine sycamore tree.
When the alarm clock chirped its cheerful tune the next morning it meant it was time to head out to Skyline Park and rip some motos in brand new gear. Okay, in my case it was, cruise a lap or two, try to go fast in the corners where the cameras were, then pull off with paralyzing arm pump, but that's okay. The gear was okay too. Like, super comfy, good looking, and awesome, okay. I received a set of green and black camo Evo DST gear ($199.95 pants, $59.95 jersey, $39.95 gloves), paired with FR5 boots ($269.95) and Formula helmet ($649.95).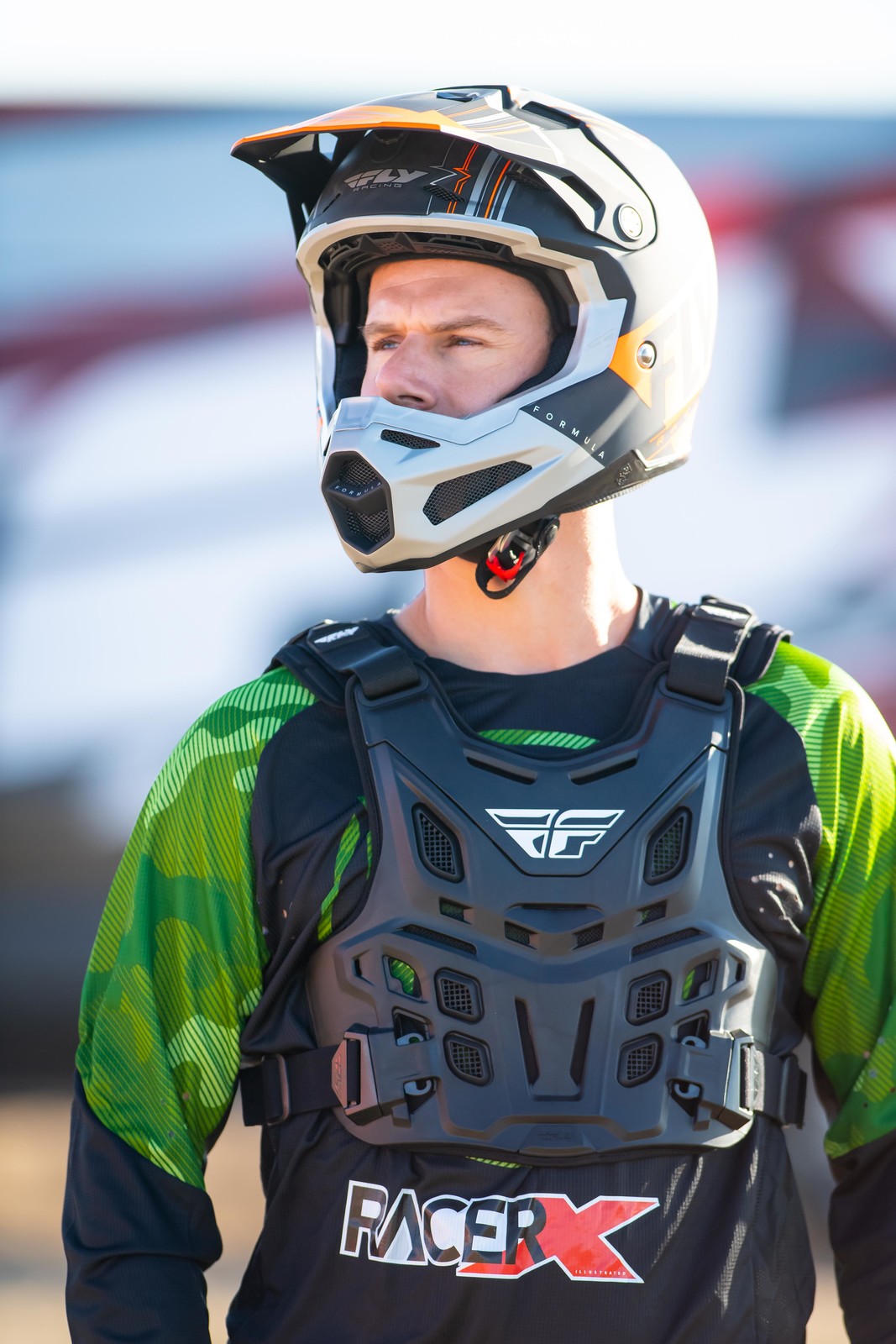 I knew it was July, but it sure felt like Christmas! I really liked the camo look and couldn't want to see how it felt on the track. Obviously, with only a few hours to ride I couldn't do any sort of long-term assessment, but I sure as hell gave it some durability testing! I found plenty of places to get cross-rutted and plenty of rollers to throw me sideways. Let's just say the eject lever was pulled more than once. Michael Antonovich from Swap Moto Live was kind enough to help out with this process by recklessly cleaning me out in a pit bike race. I hit the ground hard, forcing a sharp exhale and generating the type of dead thud that only 195 pounds of blubbery dad bod can.
This aggression would not stand, man, and, minus the skin on my right forearm, I quickly remounted, cut half the track, and waited for Anton to come around. When he did, I accelerated back on the track next to him, dove to the inside of the final turn, whacked open the throttle, and sent every malicious millimeter of my miniature machine into Anton. I couldn't really see what happened after that, but I do know I was successful in separating him from his bike and stirring up a pretty big dust cloud. Good thing we were both wearing the Formula helmet, which, if you haven't heard about yet, is pretty incredible. It's super light, very comfortable, and has performed extremely well in tests conducted in independent labs. Also in our takeout lab on the track! And the gear? It stood up to the abuse just fine, and I was especially thankful for the venting, which I could feel in my upper body and legs, especially in the knees. As for the results of the pit bike race, the joke ended up being on me. Despite the brutal takeout, Anton somehow went on to win and was even presented with a cool trophy afterward. #lifeofHansel
Other highlights from the day included feeling terribly inadequate on a motorcycle when Peick and Bradshaw both went blasting by me at roughly Mach 4, and watching Steve Matthes uttering, 'Ouch, ow, ouch!' as he sprawled underneath a motorcycle to prove his point that Marvin Musquin could have gotten out from under his bike faster when he found himself under it at RedBud. I also liked the track too, although it was a little windy, which made me avoid sending it on the two big jumps. [Editor's note: Yes, Aaron, it was the wind that prevented you from hitting those jumps that almost everyone else was doing. Let's go with that.]
With riding over it was time to hop back in the shuttles for the short ride back into Boise. Jason Thomas was driving my shuttle, and Matthes happened to be in the vehicle too. Those of you who listen to the Racer X Podcast review shows know that Matthes and Thomas frequently get into arguments. This is not a ruse for the podcast. They squabble constantly! The subjects they quarreled about in Idaho include, but are not limited to: real estate, Chevy Suburbans, Air Pods, restaurants, freeways, deadlines, whether or not JT was wearing his riding gear too long after riding, Las Vegas, suspension, Husqvarnas, Starbucks, and E-Bikes. When the quarreling occasionally does stop, a grinning Kris Keefer is always there to pull the pin on a verbal hand grenade and slowly tiptoe away as the bickering blazes back to life. JT, Matthes, and Keefer even sat down to record a podcast talking about the trip, which you can listen to below.
The next morning I awoke to the beautiful music of my alarm clock and exploded out from underneath the covers, anxious to get going on the day's activity—whitewater rafting. Some of the campers opted to go trail riding, but roller coasting for several hours down a churning river that was flowing higher than normal and getting tossed around a little bouncy boat with no seat belt somehow seemed like a good idea to me. It ended up being really fun! Our guide, though somewhat sadistic, was fun and somehow she even got everyone in the boat to take turns sitting on the bow, legs dangling over the front, as we went through sets of rapids. Everyone except me, that is. I've been pitched out of a boat in a raging river before and I didn't need to relearn how badly that sucks. I did learn a few other things, however; the Payette River is extremely cold, cotton shirts don't keep you warm when they're soaked, Jeff Northrop has superhuman abilities when it comes to powering through a hangover, and Cole Siebler has hilarious stories that aren't fit for print.
Later that evening I hopped on one of those Lime Scooters you can rent with your phone and cruised around Boise, which is a gorgeous city and is extremely fun to explore. The locals were pretty nice too, until they found out I was from California.
The next morning I was mercilessly yanked from my peaceful sleep by my evil, hateful alarm clock, notifying me it was time to head to the airport and leave Boise. After three days of fun, it was all over. It was definitely a bit of a downer to be heading out instead of embarking on more exciting adventures, but hey, everything has to come to an end sooner or later. And, in addition to some cool new gear, I was also leaving with plenty of cool memories that will last for years. Well, until Fly Racing's next Summer Camp, anyway.