Millville, MN
Spring Creek
Lucas Oil AMA Pro Motocross Championship
Millville, Minnesota was the home of round eight of the Lucas Oil AMA Pro Motocross Championship and as I wrote about in my MX Vice column this week, I think it's the BEST track of the series.
Not saying the best race the series, there's a lot of things that go into that prestigious honor than just the track, but I love this race track.
Well, except for this past weekend. Heavy rain Saturday morning made the track a quagmire with one practice session cancelled, one shortened, and then some of the track re-routed. Worse, there was quite a bit of lightning in the area and you can't take chances with that. In short, it was a mudder and mudders are never good for anyone. I didn't go to the race (I would bet that's only the first or second Spring Creek National I've missed since 1988) and truthfully, I was stoked that I didn't. It didn't look very high in the fun category. Man, there were some serious DNF's out there with bike issues, huh?
So because I didn't go and because it wasn't exactly a thrilling race, here are some random thoughts about Spring Creek, Canadian MX, MXGP, and heck, even some silly season stuff thrown in.
Cooper's Webb
Yeah, Cooper Webb! The Red Bull KTM rider captured his first 450MX overall podium, moto win, and overall on the weekend with a couple of great rides. He didn't need to pass Honda's Ken Roczen for the overall in the second moto but decided to go after him anyways. Yeah, sure he got great starts and that's huge in the mud but his speed was good. He's been just a tick off the top guys in the nationals but he's still been approximately 276 percent better on the orange bike in motocross than the blue bike. Very impressive day for Coop and he's now just five points behind Roczen for third overall in the points. A lot of the factory riders have top three series ending bonuses in the contracts (some just have two and some have win only but I wouldn't think Webb, coming off the year he had wouldn't have any less than a top three…maybe a top five even!) so the battle for top three in the points is on.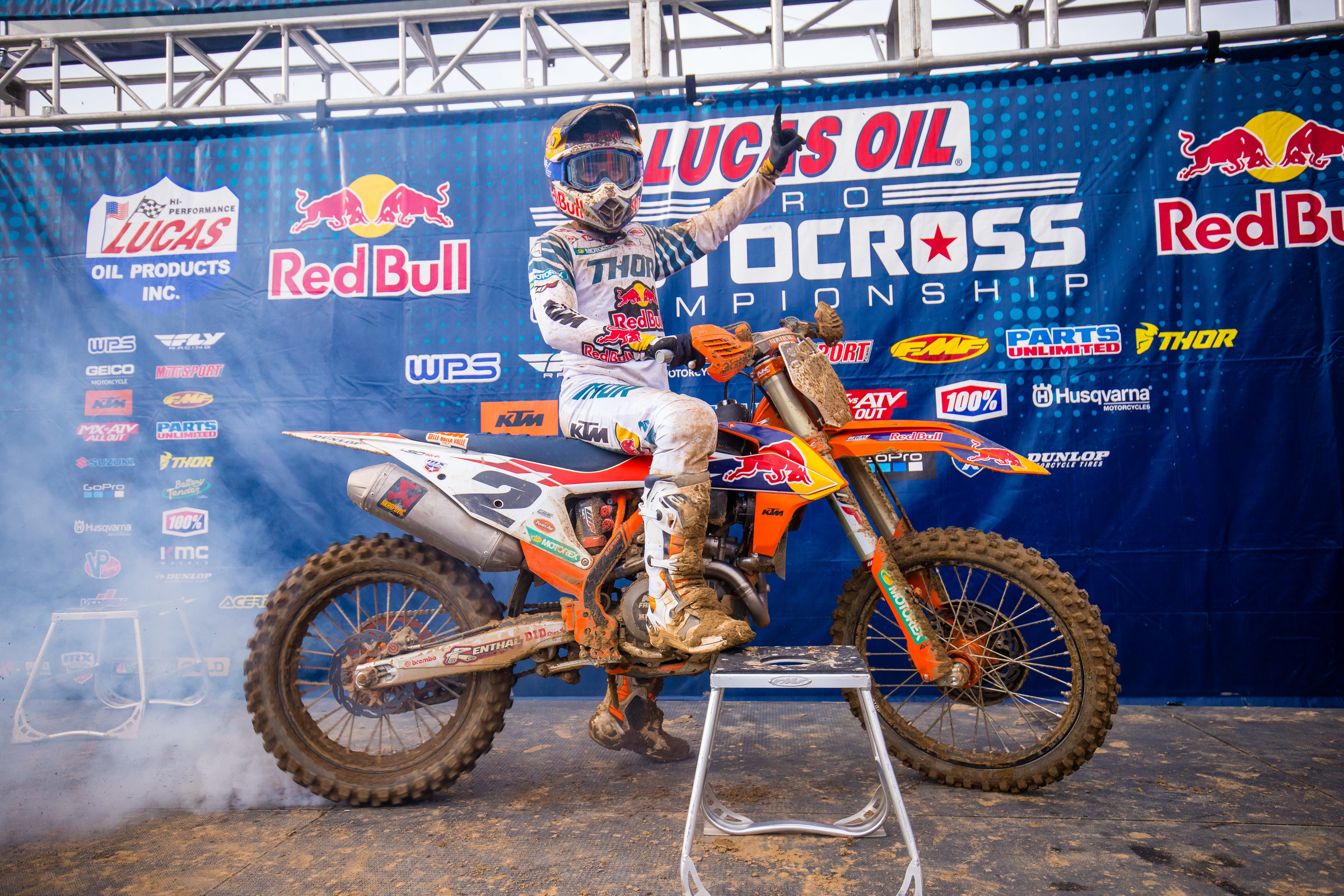 Wacko Zacho
Pretty impressive for the #16 to miss a round with a shoulder injury and then come back with only a couple of rides under him and get a second overall. The mud takes a lot of strength and endurance and one would think Zacho would struggle a bit to hold the pace. But a third place in moto two and second overall was a great result for Osborne who, when we last saw him, won the second moto at Southwick. What the great riders do… and I'm not saying Osborne is completely on the same level yet as the great ones, but what they're able to do is jump back in and run the exact same pace that they had before.
Tomac
Just an ehhhh day for Eli Tomac but third overall and he put points on Marvin Musquin in the championship. That's the important thing at this point. In the mud, anything can happen and so all the racers in position for the championship know that things could go sideways at any point. So Eli will take the 2-5 (so-so start in moto two) and his 38-point lead over Marv to Washougal. The bad days are what makes you a champion.
Adam "Clutchiarulo"
As I said, the mud can stress out anyone in a title fight because shit can go sideways and fast. Adam Cianciarulo's ride this weekend was very clutch even though he sort of fell apart in moto one. His 3-1 rides were huge to stop this momentum that Dylan Ferrandis had going with three straight moto wins and four out of the last five. He got great starts and held it together despite a crash in moto one. He added eleven points to his lead and now has a 36-point gap with six national wins this summer.
The Monster Energy/Yamalube/Star Yamaha guys didn't have a great day. I thought with the long start we'd see the typical four man Blu Cru around the first turn but that didn't happen.
Troll Train
Alex Martin's JGR/Yoshimura Suzuki squad found some horsepower lately and it's showing. Both Alex and Kyle Peters have been pulling starts and even though I'm not teaching riding schools like Gary Bailey, I know starts help a ton. Martin's back on track after a slow start and should've went 3-3 last race at RedBud and this weekend (without a penalty) would've gone 2-2. "We" started slowly but "we're" coming around and good for Martin, JGR, and Suzuki.
By the way, Martin got docked a spot in the second moto when he went wide in turn one and couldn't jump back onto the track quickly. A bunch of other riders did the same move in both motos but I never heard of any other penalties. A couple of things here: 1.) Is it just me or does it seem these guys are going off the track more than ever before? 2.) I don't understand the penalties. If you do well you'll get docked but maybe not if it's your first offence? If you're a three digit guy, never mind, you won't be penalized? I don't know, it just seems weird.
The Solution
My solution for this track cutting epidemic lays in the banners. What about making it mandatory that every 'X" number of feet (10? 15?) there is a two bike width gap in the banners and you have to jump back onto the track at the FIRST gap in the banners that you see. That would enable the riders a spot to get in, it would ensure they slow down as well to fit between the banners, and no one can say they didn't know where they should jump back onto the track. Bingo, bango. Add this to my SX net invention and clear my spot in the AMA HoF.
Hunter's Law
GEICO Honda had a rough day at Millville with two blown motors (Chase Sexton and Christian Craig in moto one) but the fact that Hunter Lawrence took off with the first moto win had to ease that pain a bit, yeah? Second moto he missed a shift off the start so he couldn't back it up, but we've seen flashes this year of his talent, it's just taken a bit longer to get going. I think 2020 we'll see a title threat Hunter Lawrence but for now, we'll get glimpses here and there.
Friday Night Blues
The GEICO guys haven't been stoked on their motors all year long so the team took to testing in an unorthodox way this past weekend with a team test on Friday before the race in Minnesota. Yes, you read that right! Hey, if it makes everyone happy then cool. Apparently they found a setting that was much improved over the old one so that's awesome but riding/testing before the race is a bit gnarly as well as the work that it puts on the team. Once again let me remind you that mechanics are the true heroes of the sport.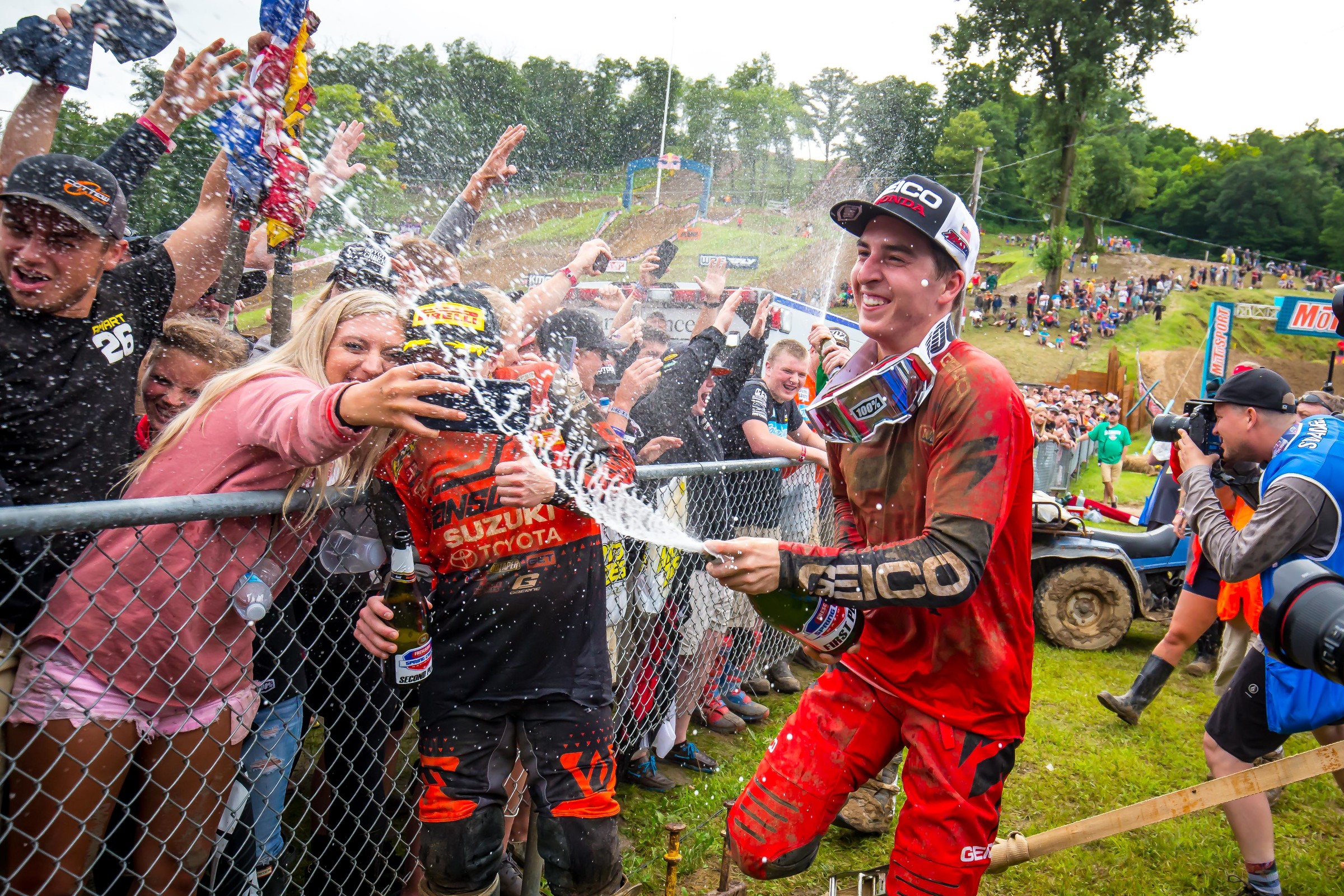 Moving Marv
Last year Marv never finished worse than fourth on his way to second in the championships. Musquin not that guys that goes balls out and puts his safety at risk. He's also a good starter and all of that equals the total package for consistency. But this year it just hasn't gone as smoothly for Moving Marv. He's already got five motos worse than fourth and he's crashed more this summer than the last two combined. The biggest thing is, his average start is 10.1, WAY worse than those guys around him in points. Part of that average comes from first-lap crashes but that's the stuff you get caught in when you don't get the holeshot. He looked like he rode well in Millville but what can you do when you're outside the top 20 to start?
Joey Savatgy Eyeing 2020
It's amazing the things that have happened to Joey lately. If he's not crashing out, his bike is breaking. Three DNF's due to bike issues in 12 motos is three too many for a factory team. Trust me, I've been on teams and it's not good. Then there was the crashing out at Lakewood, RedBud, and WW Ranch. Since jumping in late from a shoulder injury, Joey's had one race (High Point) that he'd be satisfied with and that's it. Bizarre outdoor season for the #17.
Here's the thing though: it doesn't really matter because he's the hottest property out there for 2020. His speed in 450SX was very impressive and teams noticed that. With Adam Cianciarulo moving to the Kawasaki's 450 program alongside Eli Tomac next year, Joey needs a ride and it's either going to be Honda or JGR Suzuki, as those are the only two teams that appear to need riders. I've heard the Honda deal is only for one year while JGR is offering multi-year deal and Joey has to weigh that out at the end of the day. Should be interesting to see what he decides.
Revenge of the Privateers
It was a weird day at Spring Creek with the mud again proving to be the great equalizer… and the privateers striking back! John Short went 6-8 on the day in a couple of amazing rides. Henry Miller scored a fifth in the first moto! Kevin Moranz had a great day, Zane Merrett was inside the top ten in the first 250MX moto before crashing six times in two laps and finishing 12th. Issac Teasdale ran up front both motos. It was a crazy day and good to see for the guys named above. The first 450MX moto it was Miller fifth, Short sixth, Noren seventh (yes, I know he's factory now but still…) and they weren't holding anyone up.
Really Prado?
Big news a few weeks ago in the MXGP circles when KTM's Jorge Prado committed to the factory team over there for four years. It was a bit of an odd signing to me because 1.) The kid has a contract for KTM that allows him to come to the USA if he wants to and 2.) Reports tell me he can ride supercross fairly well. 3.) He's going to walk to the MX2 title this year and has to, by rule, move to MXGP where KTM already has two very capable riders in Jeff Herlings and Tony Cairoli. So to me, why not try America for a year or two and see how that goes? By then Cairoli might be done and if it doesn't work he can go back and race MXGP. I guess Jorge, who's situated himself with Antonio and is based out of Italy, is happy and content where he is but if I was advising him, I'd say head east to USA and try that out so that you have no doubts later in life. Both Stefan Everts and Cairoli have told me they wished they had tried to go to USA earlier in their careers to see if they could've made it.
My contacts over there tell me it's not happening but can't you just see Youthstream (the MXGP promoters), with pressure from KTM, changing the MX2 rule to allow Prado to stay down? The kid's pretty young still.
Filthy Phil Goes Bananas
Our buddy Phil Nicoletti didn't have a great weekend in Canada's Rockstar Triple Crown Championship. He was tied for the series lead going into round five (of eight) but then crashed and destroyed his radiator in moto one while working his way up. In moto two he rode a great race to get into second behind eventual winner Matt Goerke. But somewhere out there Mike Alessi, while in second, took Phil off the track or something while Phil was trying to pass him. There was one big bump that was captured on video, but Phil says there were several other brake-check or cutting off incidents also. I didn't see it all so I can't comment on it. This angered Phil VERY much and after the race he let Mike know that in the cool-down by the podium (captured on video by Direct Motocross's Billy Rainford). It wasn't a good look for angry Phil and I imagine there will be a fine coming to him. So you had this incident and then you had another team manager (Steve Simms of OTSFF Yamaha) getting into a fight with Mike and Tony Alessi because they were down there early packing their gates for moto two. Drama is high in Canadian moto right now! The end result was Mike was docked five positions and fined for going backwards on the track when Phil was chasing him AFTER the moto! Phil's on probation and was DQ'd from the moto (a tad much in my opinion), Simms and Tony Alessi are both on probation. Canadian moto is going FULL WWE right now.
Phil's now a bunch of points down on the very consistent Colton Facciotti with six motos to go and he's only up one in the combined 450AX/MX/SX points on Cole Thompson. Phil had a Bad News Phil kind of day this past weekend.
Thanks for reading, good luck everyone picking the mud out of all the cracks in your body and see you this weekend in Washougal. We have a live show Friday. Email me at matthes@racerxonline.com to chat about this or more.