I love Canadian motocross. It's obviously something close to my heart being from there and I understand that a lot of you may not follow the series but I assume you know that Mike Alessi = controversy, right?
Well, like that pet tiger that you keep in your basement that seems to be cute and cuddly but then rips your face off because, well, it's a tiger and that's what it does, Mike Alessi went Mike Alessi this past weekend at Sand Del Lee MX for round five of the Rockstar Triple Crown MX Tour. Mike's been racing up in Canada for a few years now and has been keeping a low profile but this year, on the GDR Honda team with an MCR based machine, he's been a bit more of a factor.
Coming off an impressive 1-1 last weekend, Mike had pulled into third in the series points behind OTSFF Rockstar Yamaha's Phil Nicoletti and his teammate Colton Facciotti. Nicoletti and Facciotti were tied for the points lead coming into the race. At Sand Del Lee , late in the second moto he needed to hold off a charging Nicoletti to win the overall.
Phil passed Mike in a fast section of the track and the 800 cut back under him and hit Nicoletti hard sending him off the track. It was a bit greasy because Phil was going faster than Mike and had caught him from a long ways back but it wasn't that dirty. It wasn't nearly as bad as, say, Mike on Broc Tickle from a few years ago.
Already angry at that move, Phil caught back up to Mike and according to numerous witnesses, Alessi was moving side to side, brake checking and looking around trying everything and anything to hold off Nicoletti. None of it worked and Phil got by, finished second in the moto and salvaging a day where he had a mechanical problem in moto one that cost him his share of the points lead.
Nicoletti was enraged at Mike's "tactics" and according to eyewitnesses, waited for him on the finish line jump. When Mike crossed the line he didn't want to discuss this matter with Phil and took off towards an official or the scoring tower or something (anything to get away from Phil!) but in the process he went backwards on the track. Phil chased after Mike also going backwards while riders were finishing their race.
Once things got calmed down there in the staging area for the podium Phil again let Mike know that he wasn't happy and uttered threats towards Mike. Nicoletti didn't make it physical at all but it wasn't a good look for him, despite him having a right to be upset at Mike's riding. The key words? At one point, Phil, while pointing at Mike, screamed, "I will F&*$ing kill you!"
"[Mike] Alessi showed his consistent colors and the asterisks that are there against his legacy," GuaranteedMX.com's Ryan Gauld told me. "He's a great rider for sure but he does this semi-crazy incidents to make these things happen on him. Did he need to T-bone and brake check Phil to start the fire?"
(Full disclosure, Gauld also works for the series itself in the capacity of TV announcer and general do-it-all kind of guy.)
"I love Phil but he got way out of line, he let his emotions take over and in the 25 years of racing, or however many years he has, he should've known better," added Gauld. "There were kids there and everything. It was straight out WWE or something. I was waiting for Vince McMahon to pop up with Jim Ross or something. Everyone kind of lost their minds."
At the end of the day, Alessi got fined $250 bucks for conduct detrimental to the race (when trying to hold Phil up) docked five spots for riding backwards on the track, and put on probation (the team hasn't decided yet whether to appeal). Nicoletti lost spots for also riding backwards on the track, riding in an unsafe manner and of course, losing his mind on Mike afterwards with the cameras rolling. All of Phil's infractions ended up getting him disqualified for the day and ruins his title chances. He came into the race tied for the points lead, but left with zero points on the day (he would have DNFed the first moto anyway with the mechanical, but losing second-place points in moto two is very costly).
Nicoletti's team is going to appeal the penalties.
"I honestly think Phil should get more penalties. Looking at other sports, in the NHL a player did a throat slit gesture and said he was going to kill another one. It's a bit of apples to oranges but that was four games and a huge fine," Gauld says when asked his thoughts on the penalty.
"He's (Phil) a passionate guy but he lost his mind. Also, because it was Mike Alessi and his reputation, everything gets ignited ten times more than it needs to be."
Wait though, there's more. Before the second moto Alessi went to the gate to prep his starting spot before he was legally allowed to do so. This didn't go very well with Nicoletti's manager Steve Simms and there were words exchanged between Simms, Alessi and wait for it… Tony Alessi! Yes, Tony has been going up to Canada the last couple of weeks. At one point eye witnesses told me that Simms starting throwing a bunch of dirt onto Mike's nicely prepped gate because it wasn't time for the 800 to be down there yet. No word on whether clown wigs and noses were passed out though.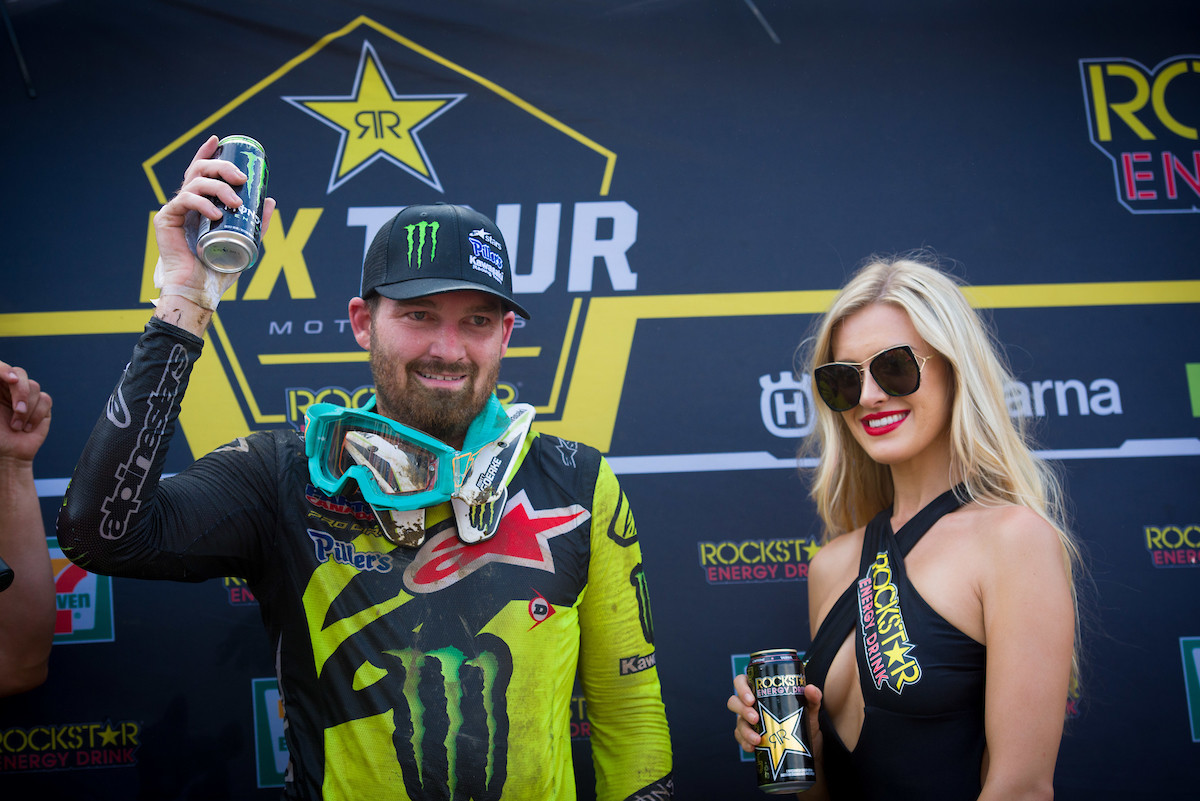 So Simms and Tony Alessi both got put on probation for that starting line incident that was apparently just the start of a crazy day for the series. There's talk of more serious charges possibly coming but that would surprise me, in my eyes I think DQ'ing Phil for harsh words after the race is a little much. There's been some horrendous things said over the years by racers after races, it's all in the heat of the moment and Mike was riding, while not illegal, like a bit of a dork so there's that.
The real loser of the whole deal is Monster Kawasaki's Matt Goerke who rode great to get the overall win but because of Phil and Mike's second moto penalties, Facciotti moved up in the second moto results, which boosted him into the overall win. Facciotti won even bigger, because his two main rivals both tried to out-stupidfy each other and got penalized, allowing Colton's lead to grow even bigger.
Stay tuned this weekend to see what else could possibly happen up in the Great White North.