Millville, MN
Spring Creek
Lucas Oil AMA Pro Motocross Championship
Considering he's this year's Monster Energy Supercross Champion, it seems way overdue for Cooper Webb to finally win in Lucas Oil Pro Motocross, but he's finally checked that box, and in a way it held some similarities to his indoor success, as well. In the stadiums, once Cooper got rolling with one win, the rest came in a hurry, and today at the Frescados Premium Tortillas Spring Creek National, round eight of the Lucas Oil Pro Motocross Championship, Webb took Moto 1 to score the first moto win of his 450MX career. Immediately after, he returned to win moto two. Webb feeds off confidence, and suddenly, it was there in a flash.
Absolutely crazy rain, thunder and lightning in the morning threatened to make of mess of this year's race, but cutting some practice, an hour delay of the motos, fortunate timing with the weather and great work by the experienced Spring Creek track crew helped clear it all up. It wasn't an impassible mudder, but it was still tough, and that played into the hands of Webb. He holeshot the first 450 moto—which he had already done five times this year—and held the lead while series' leader Eli Tomac tried to track him down. Tomac closed quickly, but Webb responded with just enough to keep the Monster Energy Kawasaki rider's charge at bay. Webb explained that at first, he was treating it "too much like a mud race" and riding conservatively, but he was able to feel where Tomac was catching him, step up his pace, and hold him off. Had Tomac caught and passed him, it might have changed everything, but Webb hung tough.
"First moto, even if it was muddy or whatever, I was still able to do it," said Webb. "It was a huge confidence gain. It's a 450 win, totally different to do it than on 250s. Mindset going into the second moto was, I knew I could do well, and I knew I could achieve what I was able to achieve."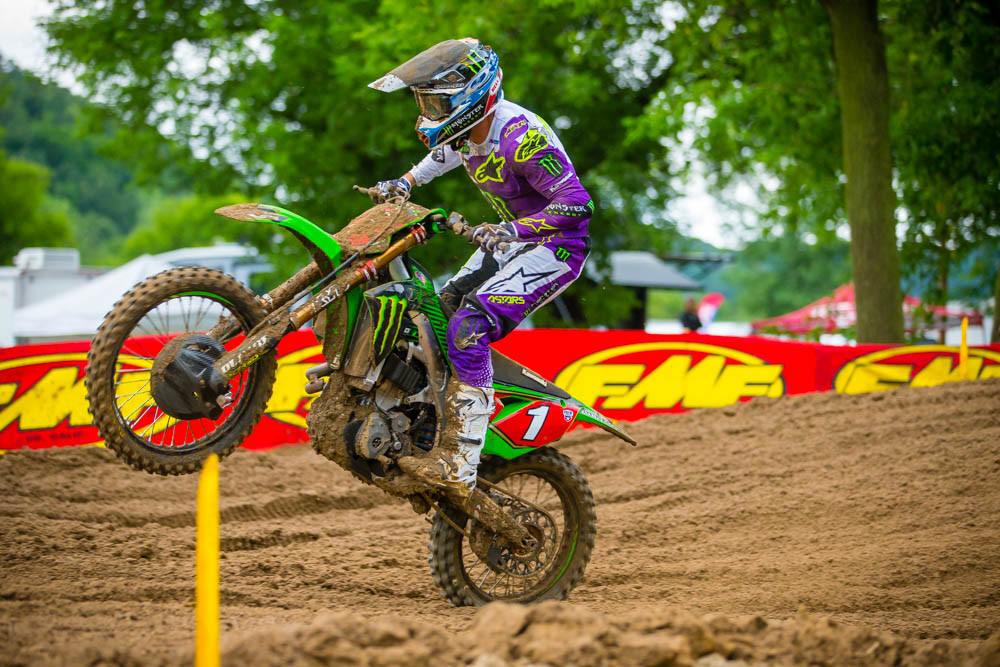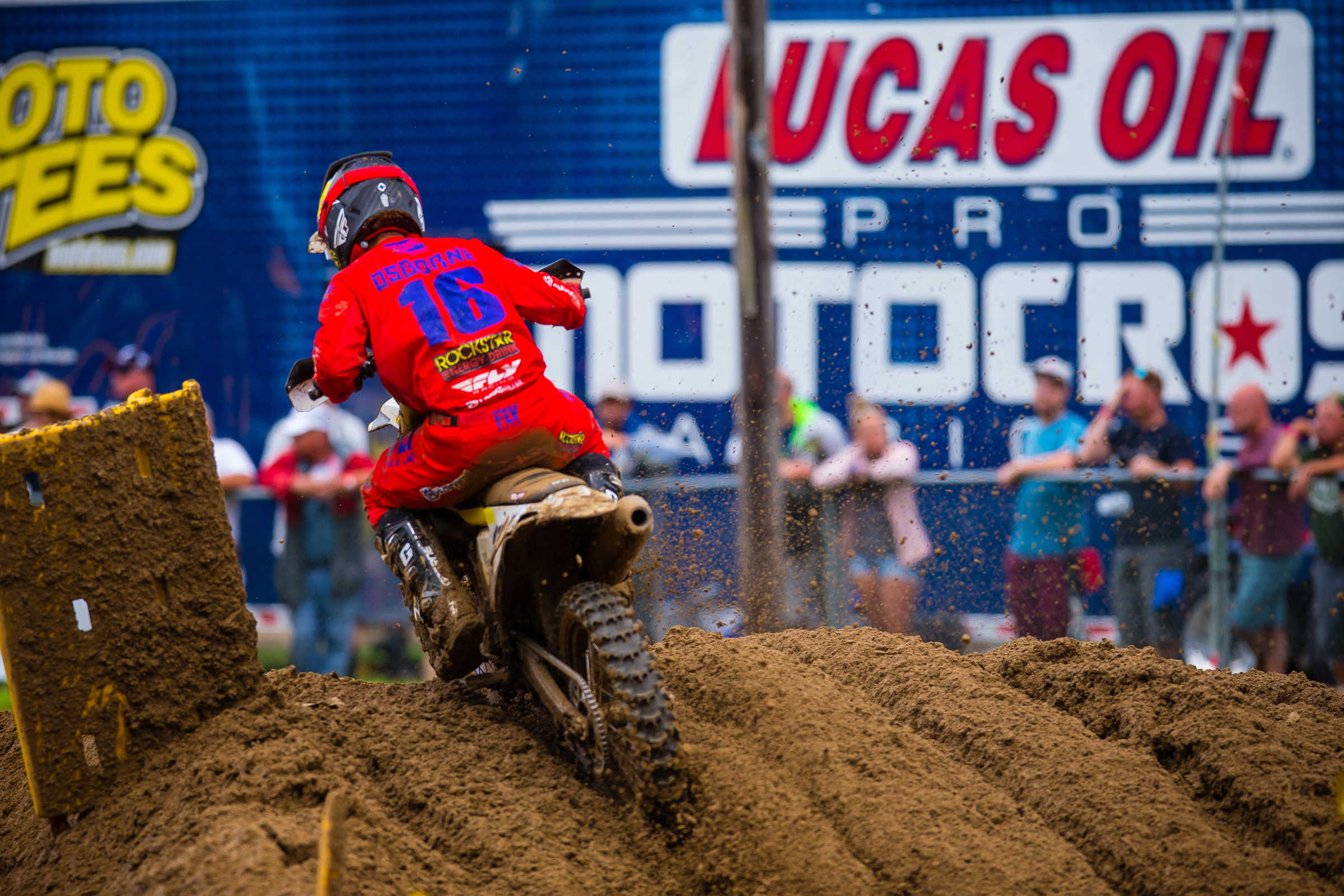 This gave Webb the boost for moto two, and he spent the whole race in a big battle with Ken Roczen for the moto win. They passed each other several times and Webb even had a crash, but would not be denied, passing Kenny with two laps to go to get the moto win by a slim margin of less than a second. Yeah, sound familiar?
"I crashed, I had a tipover and he was able to get around me," Webb said. "I felt good and I was able to catch him at the end. Definitely a hard charge, it was nice to make that pass. To have a 1-1 moto score is incredible."
How incredible? Well, this was actually the first career overall podium for Webb outdoors. Strange mark your first trip to the box with a 1-1, but Webb's first podium in supercross this year was a win. That's how it rolls for Coop.
Now, Webb did ride very well and earned the win—he did have to fend off Tomac in moto one, they both distanced themselves from Marvin Musquin, and in moto two he outdueled Roczen. These are three riders that have been able to beat Cooper fairly consistently outdoors this year. Still, it wasn't the best of days for any of them Tomac had a bad start and a quick crash in moto two, he still salvaged third overall with 2-5 scores but wasn't happy with his riding. He did stretch his point lead over Musquin, who took third in moto one and crashed off the start of moto two. "Today, second moto, it just wasn't good," said Tomac, who went 2-5 for third. "Big picture, yeah, I'm pumped, but little picture, I was frustrated, because I want to win, because I'm a racer."
Second place, incredibly, was Zach Osborne, who wasn't even sure he could race after jacking his shoulder just before RedBud. Osborne wasn't able to complete two 30-minute motos during the week, but he toughed it out and somehow delivered 4-3 scores on the day.
"I haven't actually done two motos since Southwick, actually," very fortune to get on the podium. Second moto there was a point where I thought I could go for a win, I put in a charge behind Cooper, but after two-three laps, that was it, that was all I had. Last five laps I was just hanging on for dear life, in a good bit of pain. It's good to see it pay of and get some reward."
So Tomac admitted he wasn't happy with his riding, Osborne was riding at less than 100 percent, and Musquin crashed off the start of moto two, and came back for seventh (fourth overall with 3-7 scores). "I'm definitely not happy because the riding today was pretty good but the result is not what I wanted," said Musquin, who also crashed early in the first moto at the last race and finished seventh. "I was looking forward to a good battle for the lead and to make up some points but that didn't happen. Next week is Washougal and we'll spend the week in California working with the team, so it will be good."
Jason Anderson was down off the start of both motos resulting in a lowly 12-10 for 11th overall. "This weekend was probably the roughest weekend I've had in a couple years," Anderson said. "I ended up crashing a lot in both motos and it didn't go my way at all, but I'm just going to move on and keep trying to be better."
As for Roczen, he was 14th in moto one, continuing his recent spell of tough finishes, but then somehow bounced back in moto two to nearly win it. The tough track, which was one-lined and quite sticky in moto one, didn't make life any easy on anyone.
Who took advantage besides Webb? Justin Barcia's second moto was his best of the season, he scored a flying fourth, and sixth overall with 11-4 scores. Barcia didn't want to just chalk it up to the mud, he said they made some big bike changes over the off weekend and it helped. Also, privateer John Short was an incredible 6-8 for seventh overall, and local product Henry Miller went 5-11 for ninth. Those are some great scores!
The tough track meant the riders in the 250 class would have their challenges, too. There was crashes all over, but once again the new, improved Adam Cianciarulo managed his mistakes better than the rest. He won for the sixth time in eight races this year, with his now-patented bounce back in the second moto. He recorded 3-1 scores, overcoming a crash in moto one to check out early in moto two.
"It was weird kind of being cooped up all day, and not being able to ride [much practice]," said Cianciarulo. "I think maybe I was a little too excited out there. I felt fine, I just had a bit of a vision problem. Scott [Goggles] they always do a great job, I've been with them for a long time. It just happens sometimes, in those conditions. I just got a big old clump of dirt stuck in between the roll off and the top of the goggle, I ended up having to ditch my goggles. God, I ended up off the track it seems like every two corners, again, and I'm already self-concious about it the way last weekend went. I was just trying to get back on the track, don't go too fast, [felt like] I spent half the moto with my hand off the bars, trying to put my hand up and give everyone the right of way. Hunter [Lawrence] rode great, Alex [Martin] got me there and I was mad after the first moto, I felt like I didn't get all I could out of it. Glad I was able to turn it around for the second one."
GEICO Honda's Hunter Lawrence grabbed the early lead in moto one and that was all he needed to jet away with the second moto win of his Lucas Oil Pro Motocross career. He blew the start in moto two, though, missing a shift off the line. From there, he fought to get to seventh, and third overall.
Lawrence was happy with the first moto, though. "Yeah it was pretty sick," he said. "We got a good start, a holeshot, and in a mud race your race can go two ways, and obviously you want it to start with a holeshot. I'm pretty stoked on that, the team has been working really hard and continues to work to get an engine package better. So that was cool to start the day off like that. I just tried to stay cool. Track was, for how much rain they had, it was pretty decent."
Alex Martin is officially back! He was a podium runner at the last race at RedBud and jumped on the box again at his home race, going 2-3 for second overall. Alex's starts on the JGR/Yoshimura Suzuki RM-Z250 have been great, also. In moto one, he took advantage of Cianciarulo's crash to take second. In moto two, he battled hard with Justin Cooper to try to take second, finally found a way to make a pass, but Cooper bumped into the back of him, sending both riders to the ground. Alex got up to finish second but was penalized one spot in the moto for going off track after the first turn. He was still second overall.
"It was a weird day, we sat around all morning, and it was down pouring," said Martin. "We went out for practice and I couldn't believe how good the track was. The plan was literally to just go out for practice, put in a time and go back to the pits. I ended up doing the whole practice and I had a good time. I just can't believe how lucky we got with the track, they did a great job. All in all, I feel like since RedBud we really hit our stride this season. We're not in the title hunt, but there's still a lot of bonuses on the line and a lot of points up for grabs. It's good to have this momentum, it's better late than never. Chassis wise from supercross it's not even the same bike, we did a lot of changes from High Point on, then we had a new motor package for WW. I haven't made any bike changes in a month, and there's a lot to say about being able to just ride and do motos. It helps your timing too."
Even bigger for Cianciarulo, his Monster Energy/Star Racing Yamaha title rivals both had days they wish had gone better. Dylan Ferrandis has said Millville isn't his best track, and while his starts weren't as bad as they were earlier in the season, he still had to make a few passes, and he suffered some small crashes while hanging it out and trying to make it happen. His 5-4 scores took him off the podium. Cooper's day was even worse with 7-10 scores for seventh overall. Cianciarulo now has 36 points on Ferrandis and 46 on Cooper. Lawrence is now tied for fourth with Colt Nichols, who struggled in moto one but rode well in moto two for second.