With the 2019 Lucas Oil AMA Pro Motocross Championship into its second half, with just five rounds to go, the title picture clearly shows Kawasaki riders Eli Tomac (450 Class) and Adam Cianciarulo (250 Class) out front and closing in on their respective championships. But history has shown us that a seemingly obvious title is never fully in the bag until the math says so. In other words, don't pull out those celebratory #1 T-shirts until the title is truly clinched! Here is a look back at some AMA title runs that were almost complete, only to go completely off the rails.
And don't think we're doing this to jinx Eli or Adam, because they are both on this list—and more than once! Eli has had both an AMA Supercross and a 450 Pro Motocross title slip through his seemingly clasped fingers, though his 2015 shoulders-breaking crash at Thunder Valley was only in the sixth moto of the championship, but he had soundly dominated everyone in the first five. And in 2014 Cianciarulo appeared to be headed towards his first title as a pro in the 250SX East Region, only to dislocate his should at the Toronto round. And then this past May in Las Vegas, well, you know...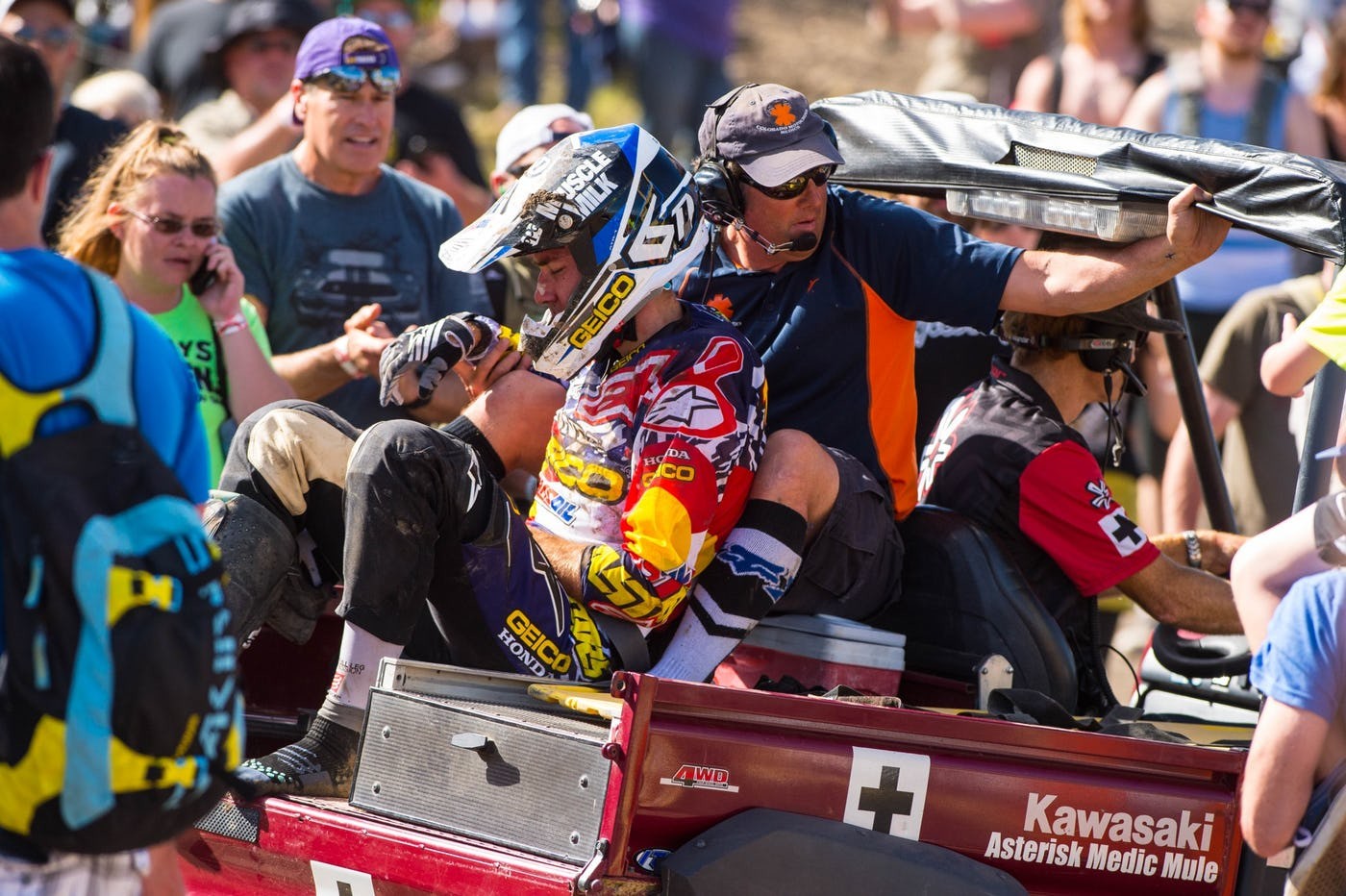 The 1982 AMA 250 National Motocross Championship fell to Team Honda's Donnie Hansen after points leader Rick Johnson over-jumped a steep hill in Colorado and collapsed his wheel, causing him to DNF and drop 25 points in the last round. Hansen took the title by just three points (300 to 297) with RJ's Yamaha teammate Broc Glover just three more points back.
In 1983, not one but two riders with a seemingly straight shot at the AMA Supercross Championship lost late and sizable points leads, but for different reasons. First, Team Honda's veteran Bob "Hurricane" Hannah was well ahead when he over-jumped a rhythm section at the Orlando SX on press day and snapped his wrist, ending his run at what would have been a fourth AMA Supercross title (Orlando was the 13th stop on the 16-race tour).
Suzuki's Mark Barnett took over as points lead in both the AMA Supercross standings as well as the combined Wrangler Super Series, which combined MX and SX points for a Grand National Champion. But then at the second-to-last round of SX in Foxboro, Massachusetts, the transmission on his Suzuki broke during the semi-heat when a rock got lodged up between the chain and the countershaft sprocket and he did not qualify for the main. David Bailey won and went from being 15 points down in the SX standings to ten points ahead. He also jumped up considerably in the Wrangler Super Series standings, going from 23 points down on The Bomber to six points ahead. (The Wrangler Series scoring including points for heat race wins and semi wins in SX.) A couple weeks later Bailey would clinch the AMA Supercross title in Pasadena with a sixth-place finish, beating Barnett by seven points. He would then add the Grand National Championship at the last MX round at Millville, Minnesota, where he finished second in the 250 Class while Barnett did likewise in the 125 Class.
Back in 1990, Jean-Michel Bayle had a sizable points lead in the AMA 125cc Nationals over Guy Cooper and defending series champion Mike Kiedrowski, his Honda teammate, as the Frenchman had won half the rounds going into Washougal. But then JMB crashed in the Washougal whoops and broke his forearm, ending a run at what would have been his first AMA title. The title went to Suzuki's Cooper instead, by one point over Kiedrowski.
Nineteen ninety-two was a tough year for title runs. First Yamaha's Damon Bradshaw threw away a massive points lead in AMA Supercross when he crashed at the RCA Dome in Indianapolis, the ninth round of the series. But the Yamaha rider still stayed in the hunt and even had the lead going into the last round at the Los Angeles Coliseum. Unfortunately, Bradshaw had something of a mental meltdown and could never get going on the LA track, and he subsequently lost the title to race-winner Jeff Stanton of Team Honda.
Later that summer, Mike LaRocco was more than 60 points ahead of Jeff Emig in the 125 Class standings, but at the last two rounds he first suffered a double DNF at Steel City, failing to finish either moto as his Kawasaki broke down in the first race and then the clamp holding his carburetor on fell off early in the second moto. LaRocco still had a shot at the last round at Budds Creek but he bent his shift lever on a trackside tire early in the first moto and could only watch as Emig rode away into the sunset with the race win and 125 National Championship title.
In 2001, Travis Pastrana was well out in front and on his way to successfully defending his AMA 125 National Championship, and he kept the hammer down throughout the day at Unadilla, winning the first moto and then enjoying a massive lead in the second. Unfortunately, on the last lap, Travis endoed up a hill, suffered a concussion, and began a downward spiral of injuries that would derail his racing career completely. It also cost him the '01 title to Pro Circuit Kawasaki's Mike Brown.
You can see Travis' big crash at the 1:22:00 mark on the video below:
In 2007, James Stewart, then a Kawasaki rider, was 24 points ahead of Ricky Carmichael after the seventh round at Colorado—though RC wasn't racing a full schedule in his retirement season—and Stewart had completely missed the Unadilla National (where RC didn't race) after suffering a concussion in practice. Carmichael was going to do just one more race, the Spring Creek National in Millville, Minnesota, so Stewart had an easy shot at the title. But at the next round at Washougal, Stewart blew his left knee out when he put his foot down in the corner near the mechanics' area, ending his season immediately. The eventual benefactor to Stewart's injury and Carmichael's early exit? Yamaha's Grant Langston.
In 2014, while riding for Monster Energy/Pro Circuit Kawasaki, Martin Davalos looked set to win his his first-ever AMA 250 Supercross Championship when he crashed while practicing (due to a bike problem), breaking both ankles and forcing him out of the series with two rounds to go. GEICO Honda's Justin Bogle would end up champion instead. Earlier in that series, it was Cianciarulo out front in points as a rookie, until a shoulder injury derailed his efforts.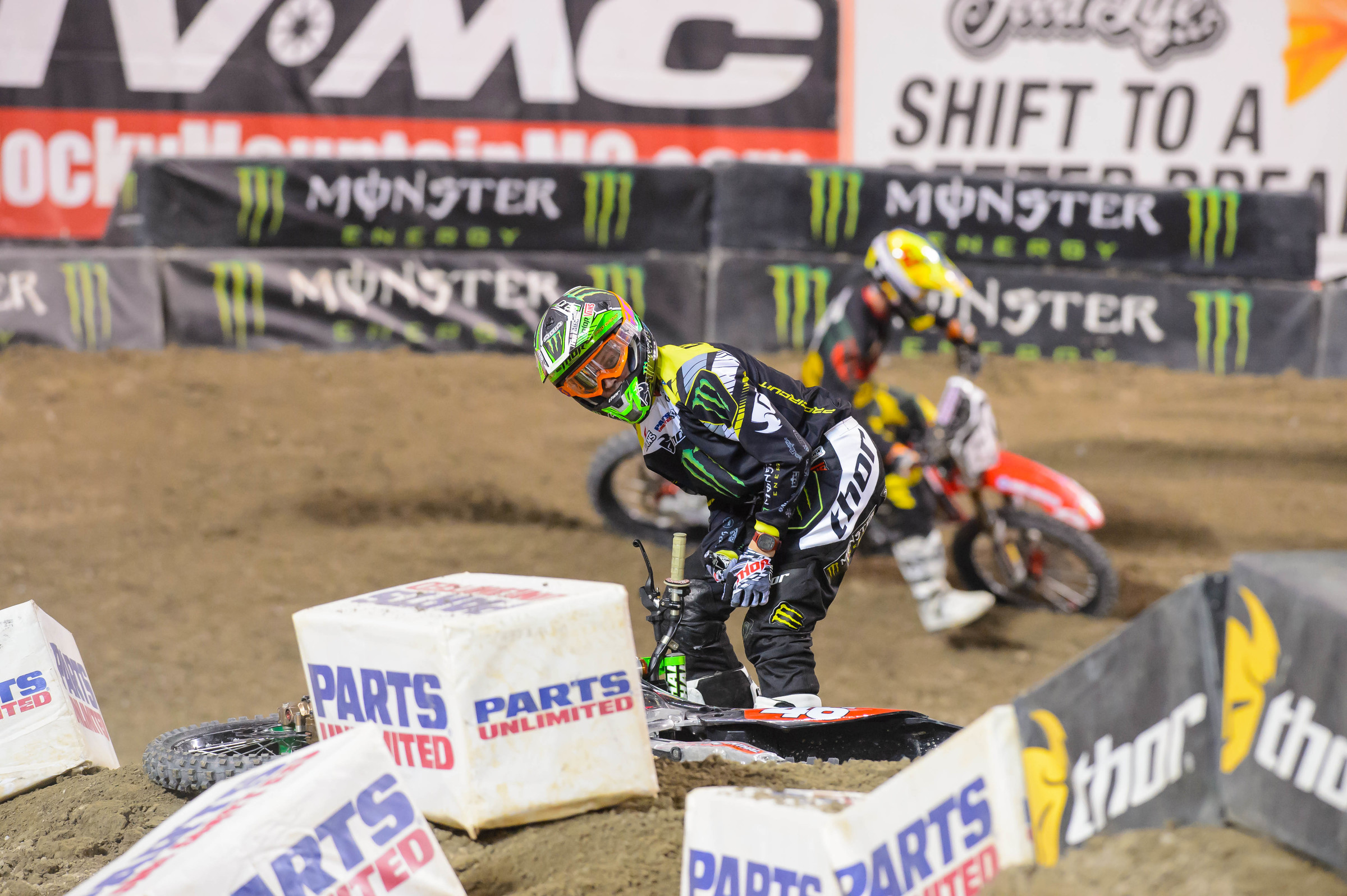 ---
Main Image: Rick Johnson at 1982 Colorado, courtesy of Dick Miller Archives