Nashville, TN
Nashville
Monster Energy AMA Supercross Championship
Rocky Mountain ATV/MC-KTM-WPS' Blake Baggett's five podiums this season in Monster Energy AMA Supercross match a career-high from last season. But this year has been different for Baggett. He's earned his first win in the premier class (and the first win for the Rocky Mountain ATV/MC-KTM-WPS team), been at the top of the board in qualifying, and proved he can run with the top pack.
On Saturday in Nashville, Baggett jelled well with the track and crushed the whoop sections that caused problems for a majority of the field. Baggett made a pass on championship leader Cooper Webb to grab second, his eighth top-five finish this season.
Our Steve Matthes spoke with him following the race.
Racer X: Nice ride, man. Great battle with Cooper Webb. Whoops were tough and you got them. You've got to be stoked with tonight.
Blake Baggett: Yeah, definitely. Just plugging away. Really trying to get back up there. The track was gnarly, for sure. Trying to get up there. The past two weekends have just not been clicking. Starts were off. The Triple Crown format, I don't know.
So your start's [were] off. That's normal. That's fine. But normally you can charge forward. We hadn't seen that.
No, we hadn't seen that since I got second at whatever round that was. So just, [the starts] were off two weekends. It was good to get back. I was off in practice, but I hope nobody goes by my practice times.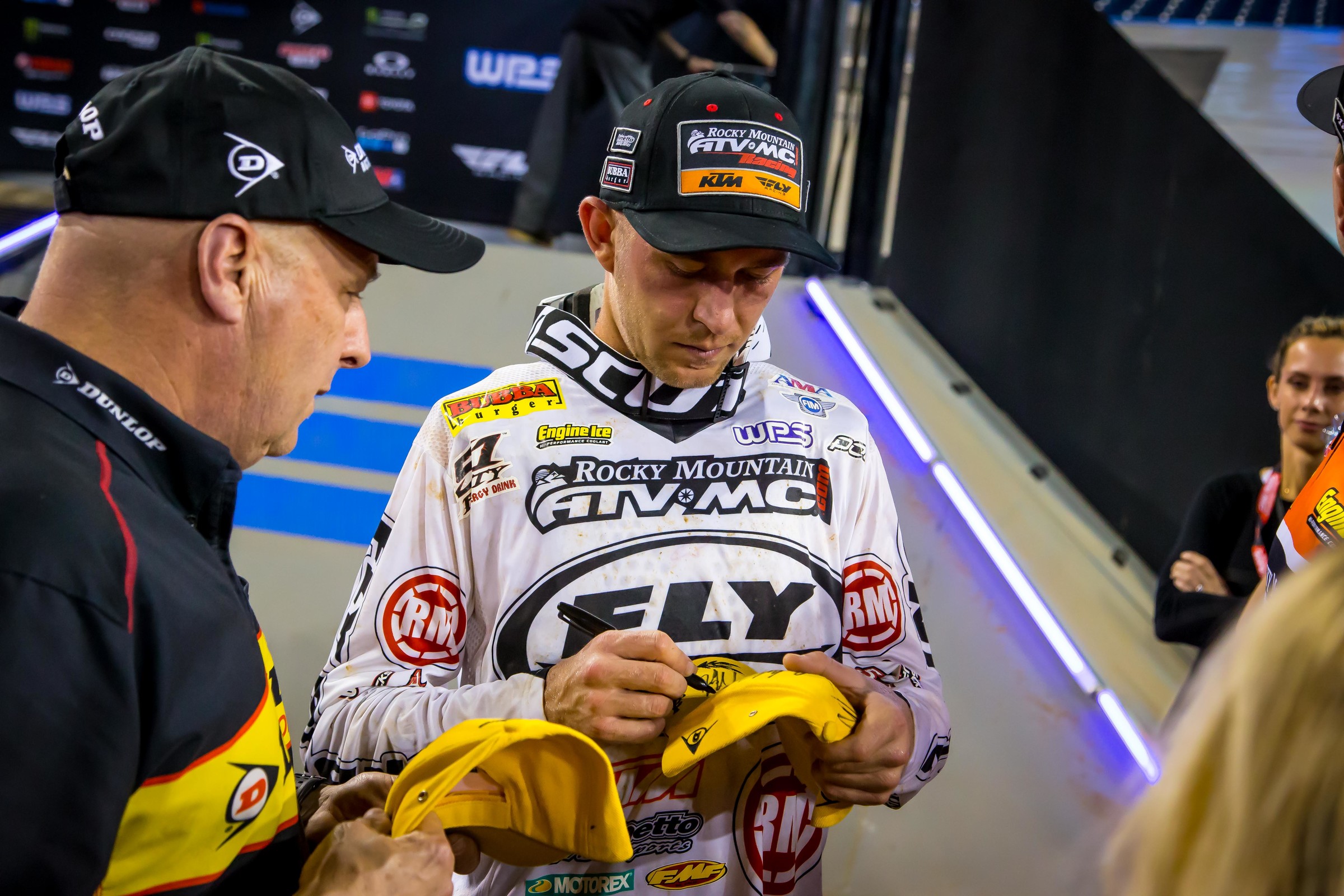 I thought a real key for you, whoops before the finish. You switched your line to the right somewhere around halfway and really found a good line there.
Yeah, it was working. It was working for sure. I just kind of ran out of time. Just took too long to get my passes. Otherwise, I felt like I could have had a good battle with Eli [Tomac]. I don't know if I would have been able to get him, but I felt like I could have got up there and battled. I felt like we had good spots of speed. He just zapped me kind of quick and then got the guys in front of me and it took me too long to get the guys in front of me and go. The whole Rocky Mountain KTM/Fly team has been good…51Fifty [Energy Drink]. I'm drinking a real one right now. Not water, real one. Bubba Burgers.
Spam during the week, I hear.
Yeah, this week we did eat some Spam during the week. Bacon flavored. If our World War II guys can eat it and battle all day…
Why not now?
Why not now? The stuff never goes bad, right? It's basically like plastic?
I think so.
It kind of tasted like it, but you know what? I did it. I did my motos. I felt great. I'm going to send you some. I think we should eat some together.
We can definitely try that. Battling with Webb, sort of your teammate on KTM. Leading the points. You've got to be a bit careful, right?
A little bit, but at the same time it does feel good to be… We're considered a factory-supported team, but we're not a factory team so it does feel good for myself as well as all our sponsors that put in to get our equipment that we're up there on the podium and not truly a factory-funded team. We're factory-supported, but not a factory-funded team.
That kind of stuff's in your mind. Like, hey, if this was anybody else, maybe I could be a bit more aggressive with him? At times I thought he was kind of holding you up.
Yeah. There were some spots. But then again, it was tough to pass tonight. The top of the berms were real hard, and then the marble was kind of falling down. It was real crumbly, so it was getting tough on that side of things. I almost threw it away when I passed Dean [Wilson]. When he hit me actually I think he did stand me up and actually held me because I think I was starting to fall down. He hit me pretty good. Licked me pretty good and stood me up and away I went. Just a tough night. I know there was some stuff, chaos happening in the beginning, but that's what the 450 class is all about now. It's basically like going to Vegas and gambling. You never really know what you're going to end up with, who you're going to be battling. It's weird.