Indianapolis, IN
Indianapolis
Monster Energy AMA Supercross Championship
Professional supercross comes with a giant learning curve; as much as these riders practice, sometimes it just takes a while to figure out. One rider who is quite familiar with this concept is Josh Osby.
Osby, a product of the now defunct Amsoil Arenacross series, has struggled a bit to dial in his supercross skills. In 2018, his season began with a first turn crash that garnered a lot heat for from fans and members of the media. Osby admits that the backlash from Arlington messed with him mentally. In 2019, however, he is starting to put the pieces together and has learned to slow things down in his mind while picking up the pace during race day.
This past weekend Monster Energy AMA Supercross made its annual visit to Indianapolis, Indiana—a home race for the CTR Motorsports rider—where Osby put together a stellar weekend. We caught up with him to chat about his weekend, living and training at ClubMX, keeping his family with him at the races, and more.
Racer X: Indy was your home race. You qualified 10th out of practice and then eighth in the heat, eighth in the main. Just walk us through the day a little bit.
Josh Osby: The day started off good. In practice one—I know it doesn't count for qualifying times, but I stayed on top of the board there for a couple minutes, which was nice. Just to see my time stay up there was cool. I haven't really had that yet this season. Then just still working on myself as a rider through the qualifying practices. I kind of let excitement get the best of me and honestly don't ride that well. So I'm trying to work on that. But this weekend was pretty good. I was happy with 10th in qualifying and then went into the heat race and got bottled up there on the start. Came from quite a ways back. I honestly thought I was going to the LCQ just because heat races are so short, and in Indy there wasn't a lot of passing. Then I ended up making it in [to the main event].
The main event I was really pumped on my start. I actually ended up jumping off the track. I got together with, I don't even know who it was, somebody on a Yamaha on the start. It shot me off the track, and when I got back on I was still in a pretty good spot. I passed some guys, got passed back a little bit. I was probably around the fifth, sixth, seventh area and unfortunately got cleaned out by somebody. Not really sure what their intention was with that. I thought I made a really clean pass. They just came across the supercross triple and took me off the track, which I was bummed about just because I felt like it was going to be a good end result for me, which I'm happy with eighth but I definitely feel like I have more in the tank to show. I felt like Saturday night was going to be that for me. But I got up in 13th or 14th and just started hammering my way to the guys and went as hard as I could until the end. I almost caught up to seventh, we just ran out of time. So eighth was the end result, which I'm happy with. But like I said, I feel like there's more there. I want to use these next few weeks to be better and hopefully run with the top guys here and to come natural.
What did you think of the way the track kind of played out for the night?
We've had the same exact start configuration a couple times now this season. I think Detroit was the same exact way. I just think it makes for… coming that fast into a turn, and as everyone knows I'm not very good at hitting my brakes coming into the turns anyway. As you saw like [Austin] Forkner in the one heat, he obviously had the holeshot and just jumped off the track. Just because you're coming in there pretty fast and the turn comes really fast. I'm not really a fan of those just because I feel like they can be pretty sketchy. I was fortunate enough to jump off the track, but I thought it could have been a lot worse for me. So not really a fan of that. Then just a lot of 90's this weekend, a lot of 90-degree turns, I guess you could kind of pass in some spots. Like after the whoops you could cut across on somebody to where they couldn't go on-off. But other than that, it was pretty hard to pass. But I would say they did a pretty good job with managing the soft conditions. I don't feel like Indy was as soft as years prior to this year. So I think that made it a little better. When you get gnarly ruts like typical Indy, sometimes you just get in a rut and you're stuck for the entire straightaway. So I think you could kind of move around better this year, which still made for some pretty good passing. But passing was hard for sure.
Going back to qualifying and your results, you qualified in the top 10 and you finished in the top 10. Obviously, you feel like a top-10 guy, do you feel like you should be up a little bit higher? What's your overall thoughts as far as where your results have been?
I feel that top 10 is a pretty good result for the situation I'm in. Once you get into the top five you're battling with factory bikes and it's a hard spot to be competitive in. Not that I don't feel I can be there. Just trying to figure myself out at the races a little bit more. It really comes down to you got to get a good start to even run with those guys. That's why I was really disappointed in getting cleaned out this weekend just because I felt like I finally had that start to kind of latch onto those guys. There's not very many people that can come from behind and catch up to those guys, just because they are going so fast. I just need to get a good start to where I can try to latch onto those guys. I think that top five will be difficult, but I don't see any reason why it can't be accomplished. I just need to, like I said, get a good start and latch onto those guys. I think if I can latch onto them, my fitness is good so just try to hopefully get up there and stay there.
It seems like this year you're just kind of gelling a little bit better with supercross and kind of getting things figured out a little bit more. Do you attribute that to just pounding out motos at ClubMX? In your mind, what's played a factor in you just kind of maturing a little bit as far as a supercross racer goes?
Yeah. Really good question, actually. Arlington last year being the first ever supercross for me there was obviously a lot of nerves. I think that if everyone went back and looked at that first turn and saw the situation, if you really slow it down, I know everyone says I really didn't hit the brakes, but I was fully on the brakes. I just couldn't go left. There was a finish line landing there, but that's a whole other situation. But dealing with so many people coming after me after that, it really plays a part in your mind like you don't feel like you're one of those guys. You just feel like literally a C rider while you're out there. I think that messed with me for a little while, honestly. Then there towards the end I just started to try to forget about that and had two sixth-place finishes. I was pretty happy with that.
I think for me, this year I came in and I'm just letting it come to me each weekend. I think just race craft. I'm trying to learn race craft. I think Justin Brayton has been a huge help to me with that. That guy shouldn't be able to do what he does on a motorcycle at his age. I think his birthday was last week. Thirty-five now, I think. So, he shouldn't be able to do what he's done. To think about him winning Daytona [last year] is incredible. To have a guy like that that can do that, I think it truly comes down to his race craft and it shows how good he is at it. I'm just trying to learn that and how to manage a race. There's a lot of things that come into it. Obviously hammering motos at Club is huge for me, but when you go to the races it's so much different. I think everyone that races knows that. You can practice and be the best guy on the practice track, but once you show up to the races you really have to have it figured out as a racer, or else they can be miserable. You can go have the best week ever, but if you're going to the races without a plan and not understanding it, the races can be very, very tough. So I think for me, I'm just trying to learn the race craft and how to manage myself throughout the main event, and honestly through the entire day. Obviously, it's still a learning process but I think I'm slowly but surely figuring it out.
Did that change your mindset going into the races? Since you're working on your race craft and you feel like you're starting to be one of those guys where you belong, does that kind of boost your confidence and give you a higher self-esteem as you head into Saturday?
Yeah, absolutely. I think what it really is, is I come into the weekends more composed. When you don't really have it figured out, you come in kind of scatter-brained, not really sure how to slow everything down, as stupid as that sounds. But you really have to slow everything down and understand it. I think that's one thing that I'm finally starting to realize and learn. To be able to show up to the weekends and have a better understanding for it and learn how to slow things down, learn how to understand things, I think it makes the day a lot less stressful. I think last year I showed up to a lot of races just really stressed out, and this year I really have been so care-free. Even sitting on the line, just understanding it makes it to where I haven't really even been nervous all year, which is nice just because as nerves get flowing, you're not your same… In the practice track you're with the same people every day and you're not going to get judged for anything. You can be that care-free rider that rides really well. So I think that carrying that over into the races and caring less, if you will, has been a huge help for me.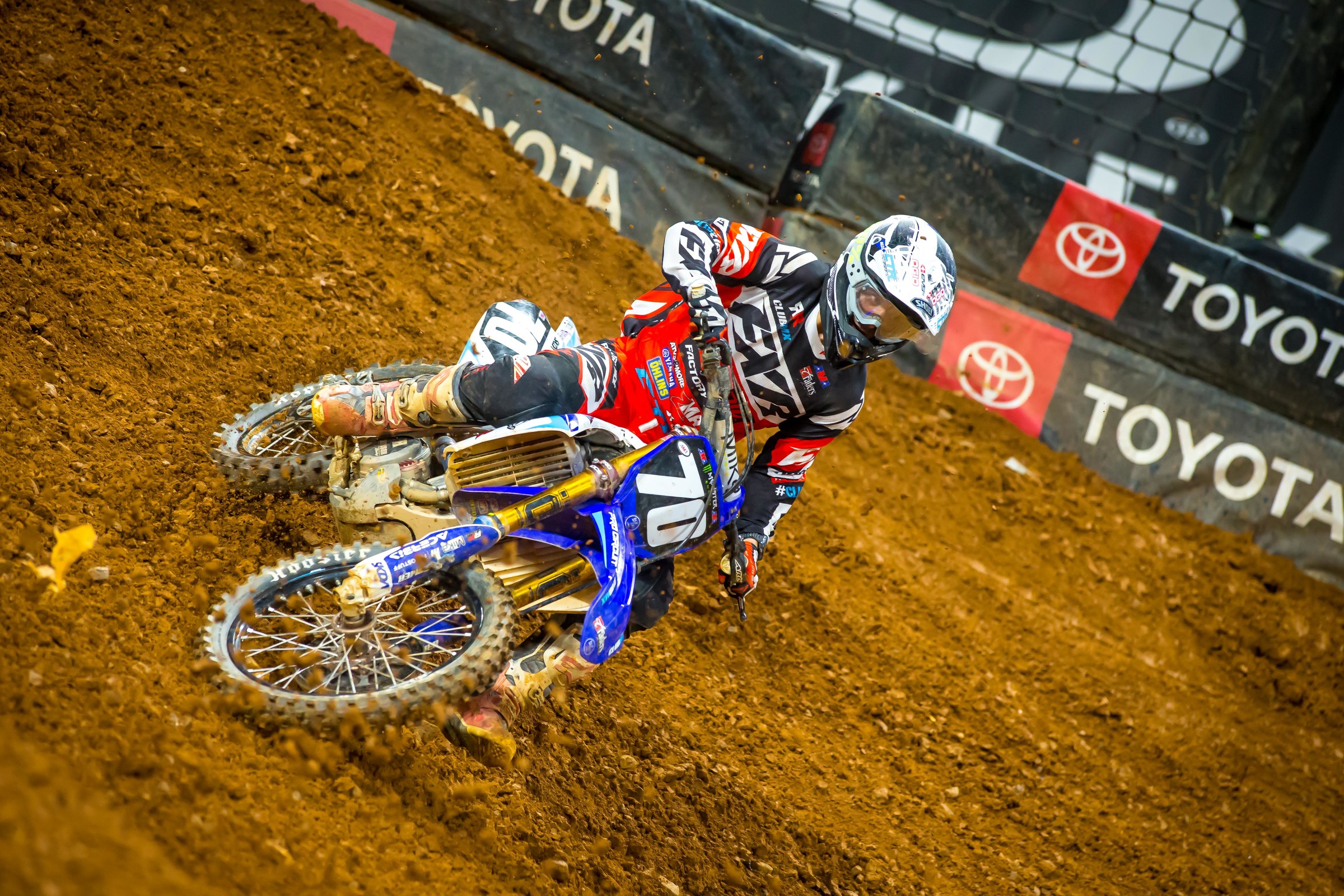 Before when you were an amateur and before you moved to Club you were just riding in a field basically in your town behind Walmart. What's the transition been like, having that structure, riding with Brayton and those guys, and then also training with your teammates?
Like you said, I went from loading up by myself to we had a turn track that a friend of mine, a trainer, built literally behind a Walmart. I just went and hammered motos on that before Loretta's. That's all I pretty much rode. I'd go to some public tracks. It was just load up, go for the day, come home and that was pretty much it. I didn't really do much training or anything other than that. So being at a facility like Club where you can wake up, you've got a gym on-site with a trainer in the gym, and then once you're done with the gym you have a shop.
Everything's here, which makes it nice. I spent a little bit of time out west and I didn't really enjoy where you have to leave and drive to the gym, and you have to leave and drive to the track, and then if you want to go road biking… You're always going somewhere, and here it's just all here. You have a shop here. You have trainers here. You have the gym here. You can go swim in the pond if you want to. You can ride stand-up jet skis in the pond. Multiple supercross tracks here. Multiple outdoor tracks here. We've got a sand track when it rains. For me it's just like the most complete place where I don't have to think about anything. I just wake up and do what needs to be done and everything else is handled other than that. That for me is enjoyable.
Is it pretty structured in the fact that when you wake up on Monday morning you know what you're doing every Monday, every Tuesday? You kind of get in a routine? Or do you guys mix it up a little bit?
Club is super structured. Every single Monday we have a Monday morning meeting and in that meeting they go over what everyone's doing for the week. You have a structured time, so when you're riding, when everyone's in the gym. It's all laid out every single week on Monday. If you're not there to do what you need to be doing, then you're going to be gearing up in all of your gear and running laps. I've seen a lot of kids run a lot of laps around this place in the middle of summer.
Have you ever had to?
I ran one lap. I try to keep myself pretty honest with myself and straightforward and I try not to slack off too much. We have chores to do every single day. I try to keep my program as tight as I can. But I've run one lap around here and I will never want to run a lap again. When it's a hundred and something degrees, humidity is crazy high, and you're literally goggles on, head to toe in gear running a lap around the track or multiple laps, it will make you never want to slip up again.
You've been a KTM guy for a while. Your team switched to Yamahas. Has switching bike brands helped you with getting comfortable in supercross like we were talking before?
I would say that was honestly a big stress in the back of my mind coming into this year. I've obviously spent quite a lot of time on KTMs. There's been a couple little times in my racing career where I've been on other brands, but other than that I started riding Orange Brigade a couple years back and stayed on KTMs. Went to Canada on the KTM, and then obviously last year on a KTM. So a lot of time was spent on a KTM. I really thought it was going to be a hard transition. I wasn't even sure if I was going to be able to do it, honestly. But I've been really pumped on the transition. I think you get used to one bike and you're really comfortable on that, and you just get scared about going to the unknown and not sure if it's going to be as good or if you can gel with the bike the same. So you get comfortable with the comfort of what you have. But I think that going to another brand has been really good for me just because obviously I've had some decent results last year. Not as good this year, but we've kind of backed them up. I've felt like I've been riding pretty good. So that in my head makes me happy that I know I can go from brand to brand and still get somewhat of the same results.
You're fortunate to have your whole family at the races. Does that kind of help you stay grounded and stay comfortable? I know your dad and your sisters and mom are a big part of your program.
Yeah, they're a huge part of my program. I think since I turned pro my parents have literally missed one race. They've literally been there every single weekend, whether I've gone to Australia, Canada, anywhere. So just to have that comfort. I guess some people have their girlfriends or whatever there to help them. It makes your day easier. You always need somebody there to help you. I'm just blessed enough and thankful that I have three of those people. I've always had a super supportive system through amateur racing all the way into pro and just to have those three there every weekend, it takes a lot of stress off my plate which is really nice.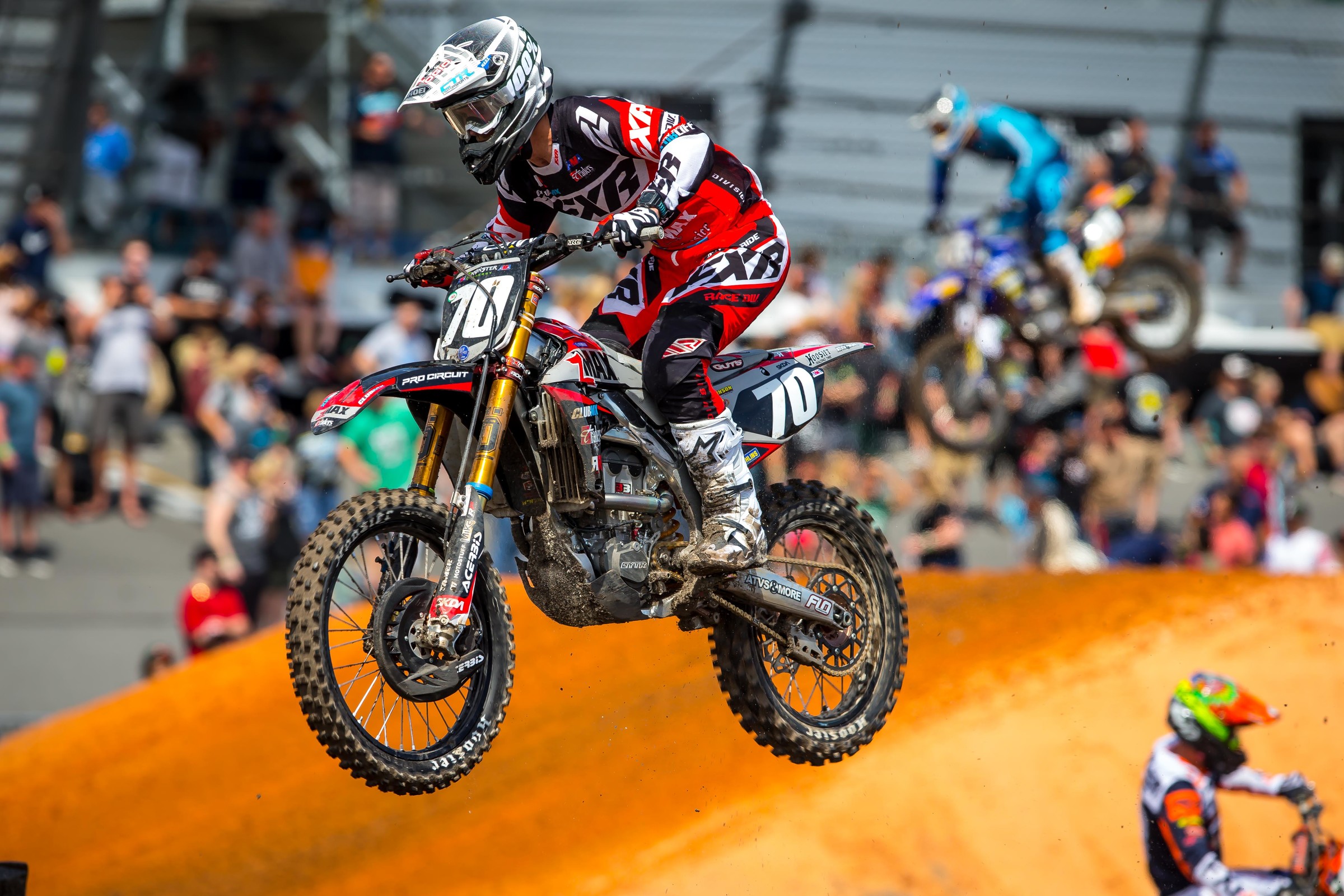 Does it kind of make it feel a little bit more like the amateur ranks when it's still a family event for you?
Yeah. I love it. I think that some people turn pro and they just try to get away from all that. I love spending time with my family. I love seeing them. I literally see them every single weekend. We go to dinner together, stay together. I love having my family as part of my program just because I'm a family guy. I've always been that way. If I could be home with my parents and family right now, I would do that just because I'm kind of a homebody. Don't get me wrong—I enjoy being by myself, but just to have their support and that loving vibe around is nice.
Set a goal for the rest of the year. By the time we get to Vegas, what do you hope to have accomplished this year?
I would say a realistic goal for me by the end of the season is a top five. I think that would be a good, realistic goal for me. Obviously, I would love to be on the podium. I don't think that's completely out of reach, but there are a lot of good guys in the class. It's going to take a really good ride out of me to get a podium, so I think a top five will be a realistic end goal. I'd be happy about finishing the season there. Hopefully that can spark some interest in maybe a factory team or something for next year.
Josh would like to say thank you to: ClubMX, Traders Racing, Redemption Racing, FXR, ATVs and More, BluCru, Zmax Race Products, Ohlins USA, Hoosier Tire, Jeffery Homes, Shoei, Rims Plus Wheels, Mika Metals, SK Designs AUS, Flo Motorsports, J&B Pallet, Wohletz Lawfirm, Brewer Cycles, Bundy Built, Defiance Lifestyle Clothing, Hinson Racing, VP Racing Fuels, Acerbis, 100%, Engine Ice, Alpinestars, Guts Racing, ARC Levers, DT1 Filters, Substance, MotionPro, Ogio, Motostuff.com, XTrig, GET Data, Tamer Holeshot Device, Matrix Concepts, Rec MX, EVS Sports, and CTR Motorsports.