Minneapolis, MN
Minneapolis
Monster Energy AMA Supercross Championship
Honda HRC's Ken Roczen finished in second place in round six at Minneapolis on Saturday. Although he has yet to get a main event win this season, his consistency of 2-3-4-5-3-2 through six rounds has given him the points lead for the second time this season.
Our Steve Matthes caught up with Roczen after the race.
Racer X: I thought you could have won tonight. [Cooper] Webb rode great and he deserves the win, but you were going as well as him and gaining on him and then Joey [Savatgy] rode great. Couldn't get by him quick enough.
Ken Roczen: Yeah. The track was brutal. I had more fun all day here than I did in the previous races. It was fun to be back on the East Coast dirt. It really helped out a lot. I felt great on the bike. Obviously in qualifying my time wasn't really there, but I wasn't worried about that. I always go off of how I feel.
We don't worry much about your qualifying time.
Yeah. Then you see tonight I felt like I actually rode pretty good. We brought some big intensity in the heat race already. Jumped out of the gate really well. Even in the main, I got a good start but I kind of wheelied a little bit. After that, being in third I actually had a couple of good run-ups on Cooper and stuff, but just couldn't really make it stick. I was trying really hard and then I think Cooper got by Joey and Joey might have gotten tight or tired, whatever it was. But he was still going good enough to where I had a hard time passing him. I feel like if I could have gotten by there just a little bit earlier, I could have rode a lot more like how I wanted to ride. I was so close. When I was behind Cooper, I was really close. I actually almost jumped on him on the dragon back. It was really close. We were so close. Same with Joey. Once I got by him I had some clear track.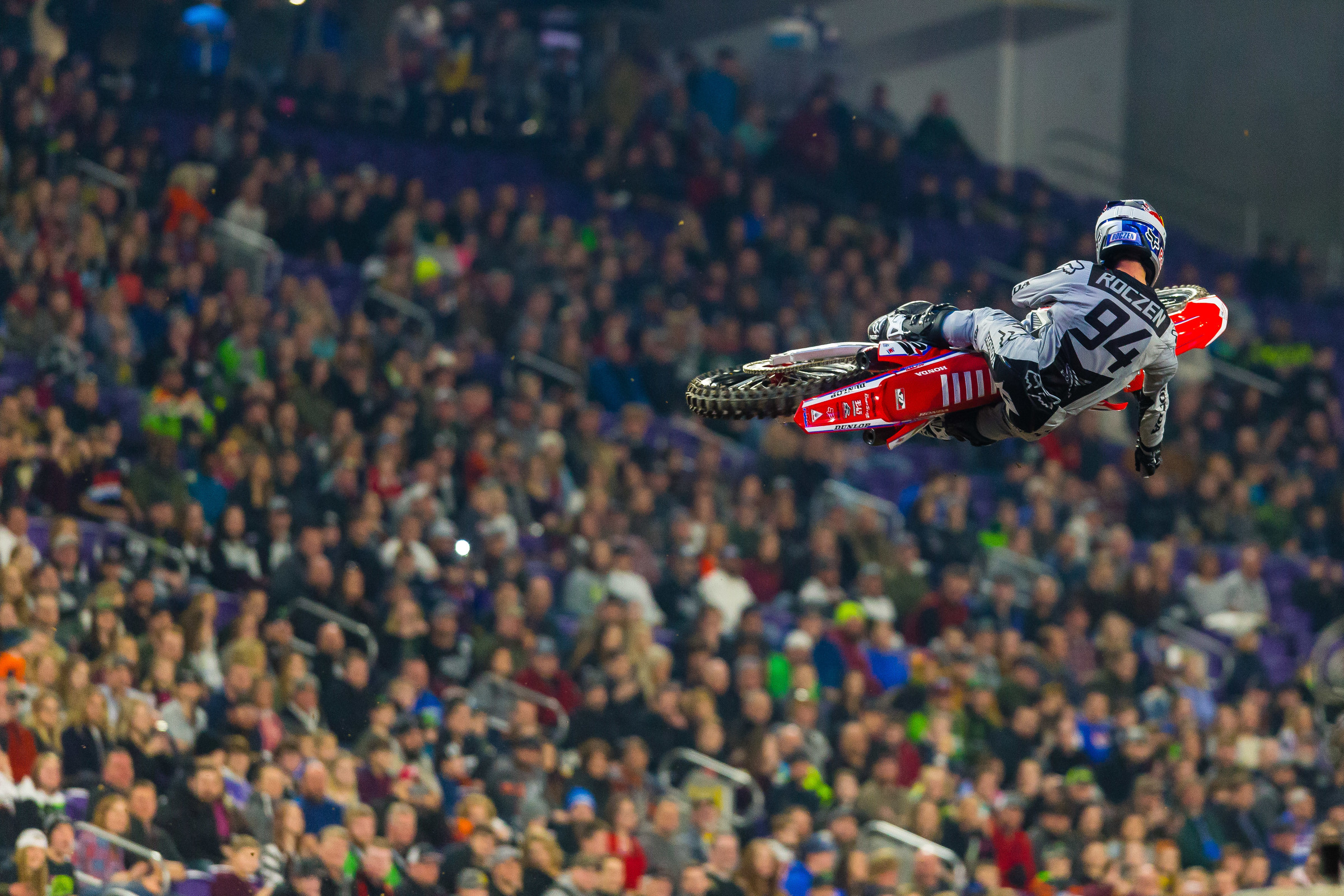 I feel like if I would have had that earlier I could have charged forward a little bit more. But all in all, I'm not bummed about the second place. It's totally cool, even though we do want to win and we had a good chance. I only rode once this week. I just explained that we always ride Monday, Tuesday, and Thursday, and you're in your groove. I can not ride Monday, ride Tuesday and be completely fine, but the fact that I was off the bike for four days, you feel kind of odd coming back, especially [since] I traveled from West Coast to East Coast, so then the East Coast dirt… Everything's just kind of different. You always take a little bit to break everything back in. Came here and obviously the circumstances here with the stadium and it being freezing cold and we're in the stadium all day, it was different. So I'm just glad to get out of here healthy and a second place and a pretty solid race. I can't complain.
Burns are better now?
The burns are better. I still had to cover up my nipples. There's fresh baby skin there, so the chest protector definitely rubs on it. So still cover that one up. But my ass actually got better. It was terrible for four days, and then after that it kind of just went a lot better. I am on antibiotics actually since it looked like it was getting infected.
Feld came out, apologized. They offered privateers some money. Not everybody's taking it. It's a controversial topic in our sport. Are you happy with what you heard from [Dave] Prater, [Mike] Muye, those type of guys? It was a mistake. Where do we go forward from here?
It was definitely a mistake. Everybody knew it was going to rain on Saturday. You can dry up a damp spot with some lime, but if the whole track's under water, we're going to shower with it. I think there's a lot more to it than even just the lime. So for right now, we're going to have to just get together and make some more plans and be prepared what our discussion is going to be with Feld also on some other things. We want to be professional and just bring up whatever is on our minds and on our plate, just to make it better for everybody. That's all we want.
Another nice job. You got the red plate tonight again, so that's got to be a nice addition.
Yeah, everything's so close up there, it's crazy. We're just keeping it steady. I'm super happy how the team and I have just been so good. I know we haven't had a win and we're looking for that, but it is so fun to just be in the hunt. Two thousand sixteen was a great year for me. After the first two or three rounds, I was 20 points behind. So that's a whole different story. Right now, we're in the lead. Without any wins, but it's all good.
We keep saying it's coming for you. It just seems like one small thing every week…
I really tried tonight. I really wanted it.
I swear I saw you one time shake your head like, "I can't do this."
Honestly, when we race we kind of have an empty mind. When somebody said if we thought about how… We were in such a battle that I didn't think of anything. In the end now that I think about it, the race did feel long, but in the heat of the moment, I hardly ever looked even on the pit board. Oscar [Weidman, mechanic] hates when I say that. I've told him before, the entire race I did not see it once. And he's like, oh.