Glendale, AZ
Glendale (Phoenix)
Monster Energy AMA Supercross Championship
A back injury limited 450SX rookie Aaron Plessinger this off-season, but he still scored a sixth-place finish last weekend in the rain. This weekend he struggled and rode to an 11th.
Justin Bogle, the fill-in rider for Benny Bloss with the Rocky Mountain ATV/MC-KTM-WPS team, simply hasn't had the practice time on the bike like the other riders had during the off-season. Bogle's first day of testing on the 450 SX-F was on December 31, with A1 only a few days later. Bogle said the limited time on the bike has impacted his performance through the first two rounds.
We talked with both after Glendale.
Aaron Plessinger | Eleventh in 450SX
Aaron Plessinger: It was pretty rough. I didn't really get a flow all day and struggled with bike setup. We changed a lot going into the heat races. I thought I rode pretty good for what it was. Considering the weather last week, this is kind of my first dry 450SX race. I think I rode solid, just didn't get a good start. Then the restart did me dirty! I was pretty happy with the way I rode and getting out of here healthy is pretty important.
Racer X: On the restart, is it hard to get the blood flowing again?
That was my first one. It was a little weird, but I think the blood is pumping pretty good the whole time. You kind of cool down, your heart rate comes down a little bit, but you're still in that race mentality, you're still in it. It doesn't change much, you just have to get that heart rate back up right off the bat.
You're two races down in 450SX now. Are there any specific things you can point at so far as being different than 250SX?
[Laughs] There's not too many things different; overall you're still racing dirt bikes. But going into the heat race, I was the ninth-fastest guy and they were all pretty much factory guys in front of me. It's a lot… It's a lot more. A lot more factory guys and a lot more speed. Cooper Webb and I, I was trying to catch him for tenth place. Usually when I was chasing him in the 250 days it would be for first. There's a lot more talent out there.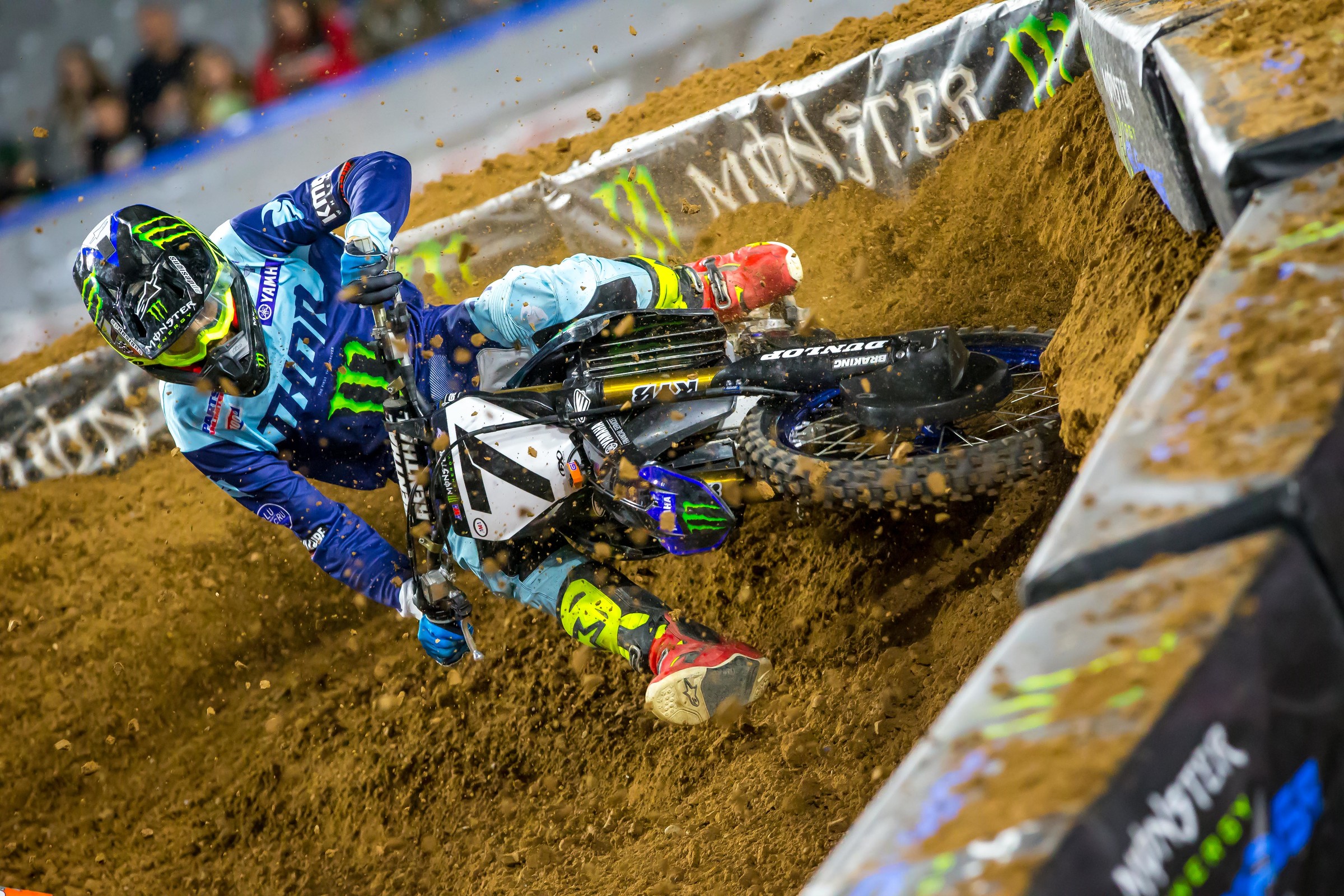 Justin Bogle | Fifteenth in 450SX
Not a good start. I tried to be patient the first few laps, but that's tough when you're in the very back. A lot of things happen and a lot of people are going everywhere. As soon as I was settling in the restart happened. I don't have enough laps, as far as on the bike training and interval stuff goes. I haven't ridden much at all yet, and it was tough to regroup. Once we took off again I immediately got passed by a couple guys and was in almost last. I made a few passes and ended up 15th, got through the night, and we're healthy. I made some progress. It's a little frustrating when you're out there because I know what I'm capable of. Right now it's not me. I have to understand this process is going to take time, and if I get through the weekend then we can get better during the week and hopefully do better the next weekend. That's kind of our plan right now. Nothing too monumental happening tonight, just slow and steady in 15th.
So it's fair to say you're still in a learning curve with the new bike and everything?
Yes, the whole entire program is a process at the moment. I've only got a handful of days on the bike. This whole off-season, I'm running on not too many laps. I think most people probably thousands of laps put in at this point and I'm running at like a hundred. It was a very rough off-season in getting things figured out. Understanding that, and understanding that I wasn't planning on racing yet, I just got the call and showed up. So I'll do as good as I can do. We all understand the process and that's a beautiful thing. I'm thankful for this team. Everyone here understands this process and where I'm at. They know what I'm capable of, but they also know what this is right now.