Cole Thompson Wraps Up Rockstar Energy Triple Crown SX Title in Hamilton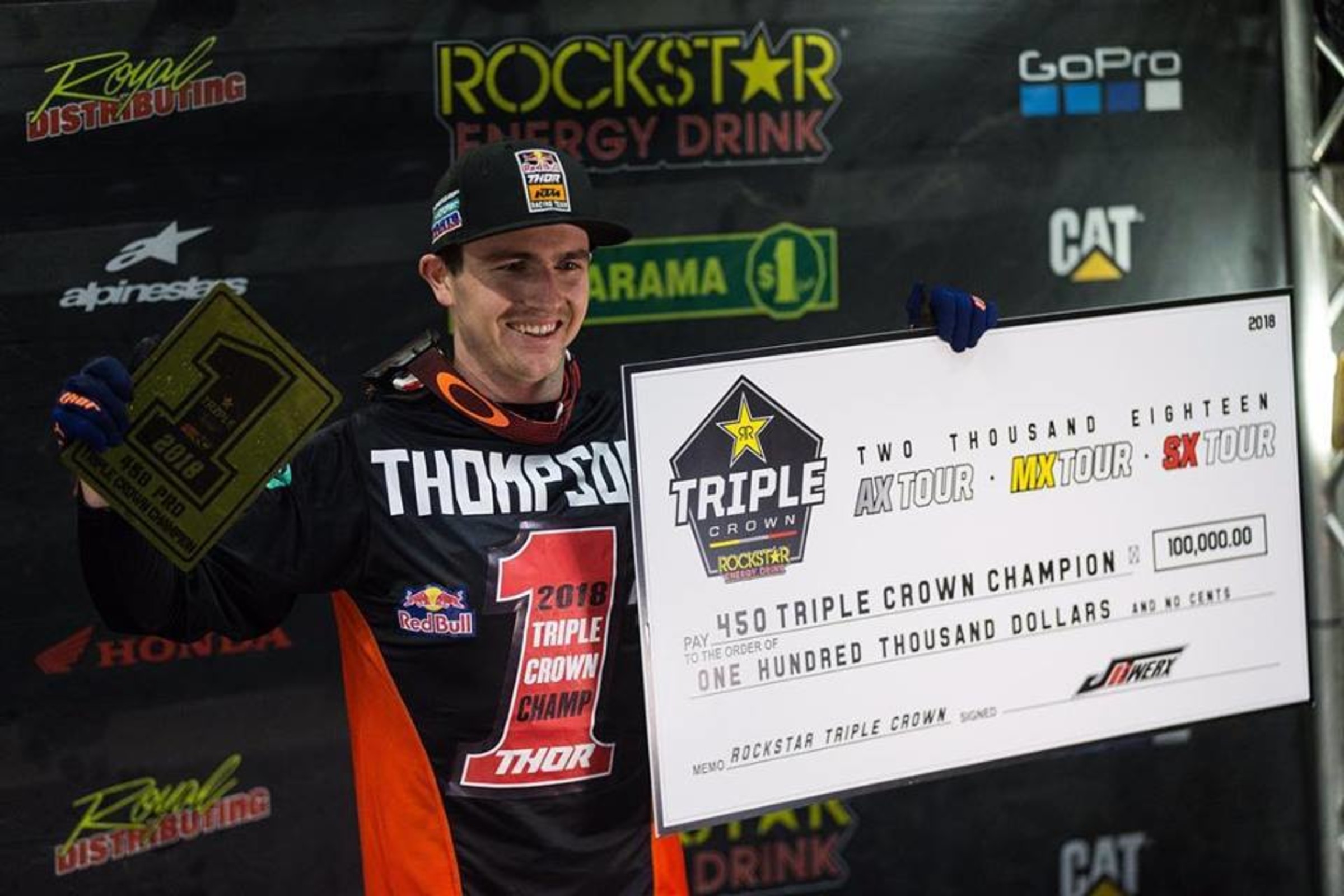 The final round of the supercross portion of the inaugural Rockstar Energy Triple Crown Championship wrapped up last night in Hamilton.
Cole Thompson, who already claimed the $100,000 as the overall series winner, won the SX1 main event and the supercross title. Phil Nicoletti took second with Matt Goerke third.
In SX2, Shawn Maffenbeier claimed the win over Tanner Ward and SX2 champion Jess Pettis.
SX1 Overall
| | |
| --- | --- |
| Pos | Rider |
| 1 | Cole Thompson |
| 2 | Phil Nicoletti |
| 3 | Matt Goerke |
| 4 | Daniel Herrlein |
| 5 | Mike Alessi |
| 6 | Cheyenne Harmon |
| 7 | Cody Vanbuskirk |
| 8 | Eric Jeffery |
| 9 | Tommy Dallaire |
| 10 | Keylan Meston |
SX2 Overall
| | |
| --- | --- |
| Pos | Rider |
| 1 | Shawn Maffenbeier |
| 2 | Tanner Ward |
| 3 | Jess Pettis |
| 4 | Cade Clason |
| 5 | Marco Cannella |
| 6 | Logan Karnow |
| 7 | Richard Jackson |
| 8 | Jack Wright |
| 9 | Wyatt Wadell |
| 10 | Guillaume St Cyr |
SX1 Championship Standings (Final)
| | | |
| --- | --- | --- |
| Pos | Rider | Points |
| 1 | Cole Thompson | 113 |
| 2 | Phil Nicoletti | 92 |
| 3 | Matt Goerke | 83 |
| 4 | Cody Vanbuskirk | 76 |
| 5 | Colton Facciotti | 74 |
| 6 | Tyler Medaglia | 72 |
| 7 | Cheyenne Harmon | 53 |
| 8 | Donald Turner | 44 |
| 9 | Daniel Herrlein | 43 |
| 10 | Davey Fraser | 40 |
SX2 Championship Standings (Final)
| | | |
| --- | --- | --- |
| Pos | Rider | Points |
| 1 | Jess Pettis | 115 |
| 2 | Shawn Maffenbeier | 107 |
| 3 | Logan Karnow | 99 |
| 4 | Marco Cannella | 86 |
| 5 | Tanner Ward | 86 |
| 6 | Jack Wright | 67 |
| 7 | Chad Saultz | 64 |
| 8 | Guillaume St Cyr | 56 |
| 9 | Wyatt Waddell | 54 |
| 10 | Sam Gaynor | 49 |