2018 Paris Supercross Entry Lists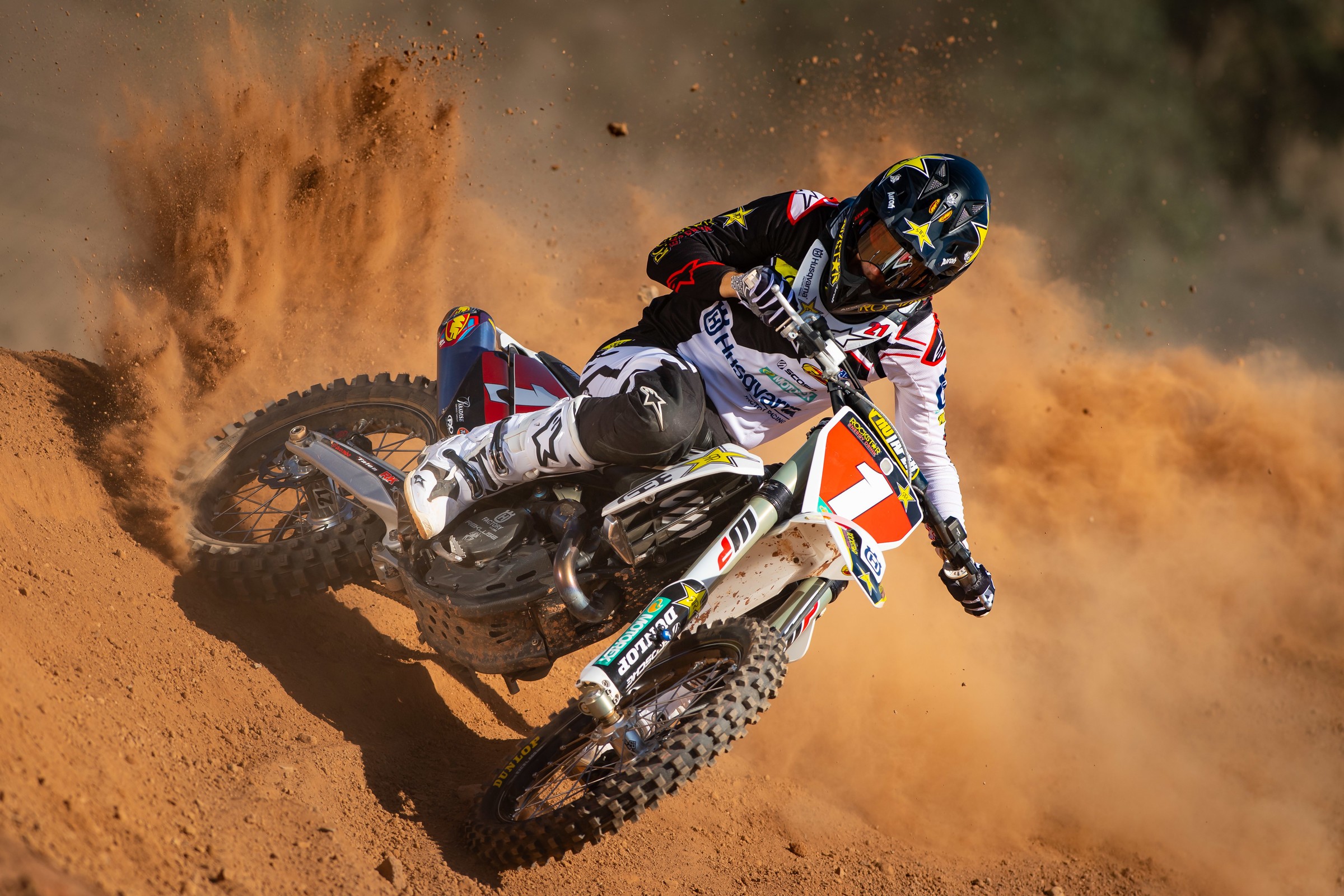 The famed Paris (formerly Bercy) Supercross takes place this Saturday and Sunday inside Paris La Defense Arena. And, as is standard at this historic off-season race, it features a ton of American talent.
Unfortunately, two-time defending King of Paris Marvin Musquin has withdrawn from the race due to a knee injury. JGR/Yoshimura Suzuki riders Weston Peick and Justin Hill were quickly signed to fill his spot. Also on the roster: 2018 Monster Energy Supercross Champion Jason Anderson, three-time Australian Supercross Champion Justin Brayton, two-time 250SX Champion Zach Osborne, Dylan Ferrandis, Tyler Bowers, Jace Owen, Ben LaMay, Cameron McAdoo, and more.
Check out the entry lists for SX1 and SX2 below, and keep checking our site for the latest updates. Racer X's Steve Matthes will be in France all weekend providing coverage, so make sure to check back. For more info, visit www.supercrossparis.com.
[Update: Musquin is out due to a knee injury. Hill and Peick are in.]
SX1
# 1 JASON ANDERSON - USA - HUSQVARNA ROCKSTAR
# 25 MARVIN MUSQUIN - FRANCE - KTM RED BULL
# 16 ZACH OSBORNE - USA - HUSQVARNA ROCKSTAR
# 10 JUSTIN BRAYTON - USA - HONDA SMARTOP MOTOCONCEPTS
# 24 DYLAN FERRANDIS - FRANCE - YAMAHA STAR RACING MONSTER ENERGY
# 43 TYLER BOWERS - USA - KAWASAKI BUD RACING MONSTER ENERGY
# 42 VINCE FRIESE - USA - HONDA SMARTOP MOTOCONCEPTS
# 911 JORDI TIXIER - FRANCE - XX
# 85 CEDRIC SOUBEYRAS - FRANCE - SUZUKI JPM - MONSTER ENERGY
# 6 THOMAS RAMETTE - FRANCE - SUZUKI SR75 UK
# 871 FABIEN IZOIRD - FRANCE - HONDA SR
# 20 GREG ARANDA - FRANCE - KAWASAKI SN MOTORSPORTS
# 121 XAVIER BOOG - FRANCE - HONDA SR
# 737 VALENTIN TEILLET - FRANCE- KTM VRT
# 3 NICOLAS AUBIN - FRANCE - SUZUKI AMEXIO
# 25 FLORENT RICHIER - FRANCE - HONDA FR25 SUTTEL
# 41 BEN LAMAY - USA - HONDA FR25 SUTTEL
# 17 GAETAN LE HIR - FRANCE - HONDA
# 747 HUGO BASAULA - PORTUGAL - KTM
JUSTIN HILL - USA - JGR SUZUKI
WESTON PEICK - USA - JGR SUZUKI
SX2
# 773 THOMAS DO - BOS RACING
# 945 ANTHONY BOURDON - HUSQVARNA CBO
# 137 ADRIEN ESCOFFIER - HONDA SR
# 975 JULIEN ROUSSALY - KTM
# 14 ARNAUD AUBIN - SUZUKI AMEXIO
# 420 PIERRE LOZZI - HUSQVARNA
# 516 FRANCOIS DORE - KAWASAKI
# 322 JULIEN DUHAMEL - KTM
# 11 CALVIN FONVIEILLE - KTM LR 17
# 921 MELVIN REGNIER - KAWASAKI
# 384 LORENZO CAMPORESE - ITALY - KTM
# 707 ROBIN KAPPEL - KAWASAKI
# 662 MICKAEL LAMARQUE - HONDA
# 851 CLEMENT BRIATTE - KAWASAKI
# 225 BRIAN STUBHART-MOREAU - KAWASAKI BUD RACING MONSTER ENERGY
# 81 BRIAN HSU - GERMANY - KAWASAKI BUD RACING MONSTER ENERGY
# 5 JACE OWEN - USA - KAWASAKI BUD RACING MONSTER ENERGY
# 53 or # 44 CAMERON McADOO - USA - HONDA SR
# 92 VALENTIN GUILLOD - CH - KTM